First Drive review: Skoda Superb Estate (2016)
No need to squeeze up in this family estate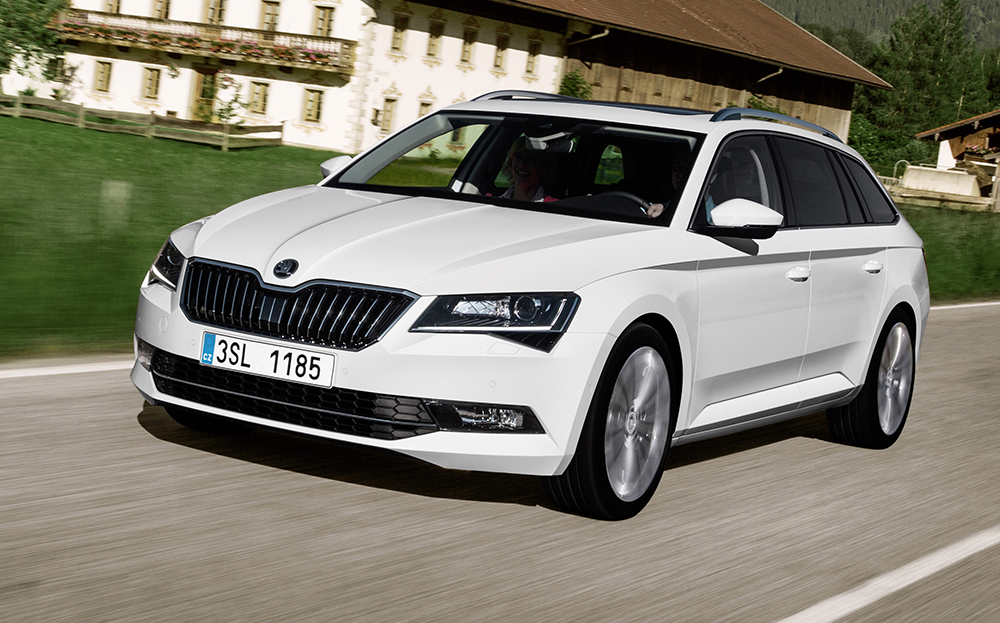 2016 Skoda Superb Estate at a glance
Handling: ★★★☆☆
Performance: ★★★★☆
Design: ★★★☆☆
Interior: ★★★★☆
Practicality: ★★★★★
Costs: ★★★★☆
---
IF THERE was ever a car that didn't really need any more space, it is the Skoda Superb. The hatchback version, which went on sale in the UK last month, already sits at a gargantuan 4,833mm long, boasts 157mm of rear leg room and can swallow 595-litres of luggage with the rear seats in place. It's so big, there's enough room inside to swing a Bengal tiger, let alone a cat.
---
Browse the used Skoda Superbs for sale on driving.co.uk
---
Some drivers, however, are never satisfied. If you're one of them, and load-lugging abilities are top of your car-buying agenda then prepare to get packing, as your local Skoda showroom will soon be crowded out by an estate version of Skoda's largest family car.
The Superb Estate, as it is snappily titled, features similar styling to the hatchback, with razor sharp creases now running along the flanks, bold LED headlamps nestled at the front and pronounced wheel arches. The effect is to give the once humble Skoda a more aggressive stance on the road.
In fact, when parked shoulder-to-shoulder with the previous generation, the changes are quite striking. The new model is 47mm wider than its predecessor (and the current hatchback) and thanks to a miraculously malleable MQB platform — shared across the Volkswagen group of car companies — the wheelbase has been stretched by some 80mm.
This means the chunky alloy wheels —available up to 19-inches, if you fancy — sit deep in each corner, thus reducing the overhangs and giving it a much sportier appearance.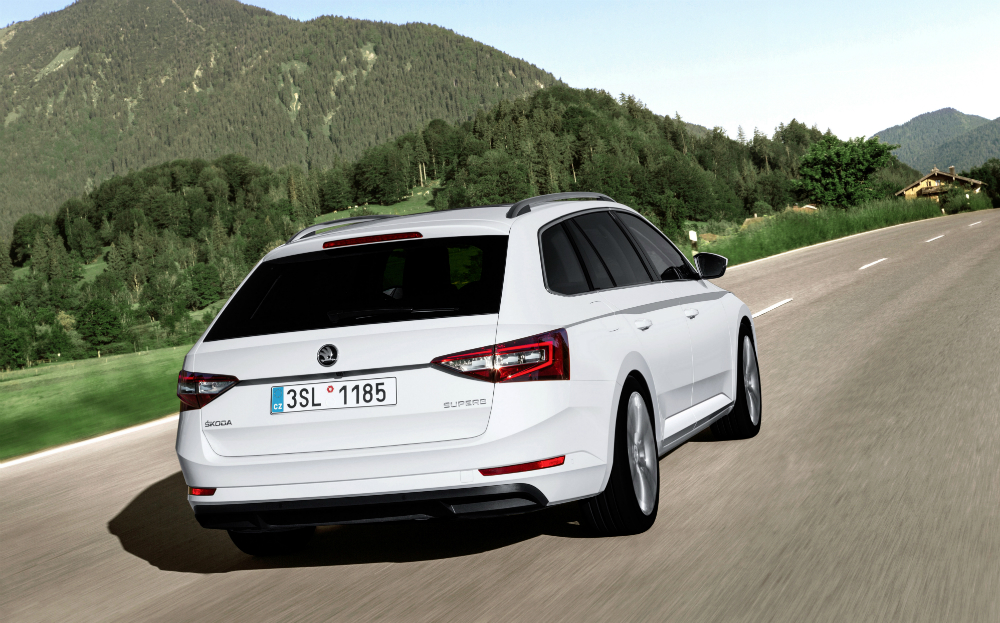 A testament to the work done by the Czech design team is the fact that a driver of a previous generation Superb went out of his way to overtake, slow down and overtake again so he could have a good gawp during part of our test run on the German autobahn. This display was followed by the universal sign of approval, an enthusiastic thumbs-up, so that's one potential taker.
The engine line-up is shared with the hatchback, starting with a 123bhp 1.4-litre TSI petrol that costs from £19,840 in standard S trim.
The same petrol engine can also be specified with an output of 148bhp in SE and SE L Executive models, while a 2-litre TSI petrol with 217bhp comes with the most lavish trim of the lot, the leather clad Laurin and Klement,  at £31,840.
There is another more powerful and expensive petrol-powered version, but Skoda doesn't expect it to sell like hot cakes. It's the £35,940, 276bhp 4×4 version, which features the same engine as the Seat Leon Cupra 280.
A driver of a previous generation Superb went out of his way to overtake, slow down and overtake again so he could have a good gawp
More practical diesel engines include a 1.6-litre TDI that develops 118bhp and costs £21,240 in basic S trim, or a 2-litre TDI that develops either 148bhp or 187bhp.
It is the lower powered 2-litre diesel engine that will likely be the best seller in the UK and it will cost potential owners £23,290 in SE Business trim, which comes with many niceties as standard, including an Amundsen satellite navigation system with 6.5-inch colour touch screen.
The engine blends strong performance with impressive frugality, returning a claimed 68.9mpg on the combined cycle and emitting 109g/km of CO2. It is particularly smooth when mated to the excellent optional six-speed DSG automatic gearbox but you'll need to part with £1400 for the privilege. Customers can also opt for permanent four-wheel-drive versions should the school run be particularly treacherous.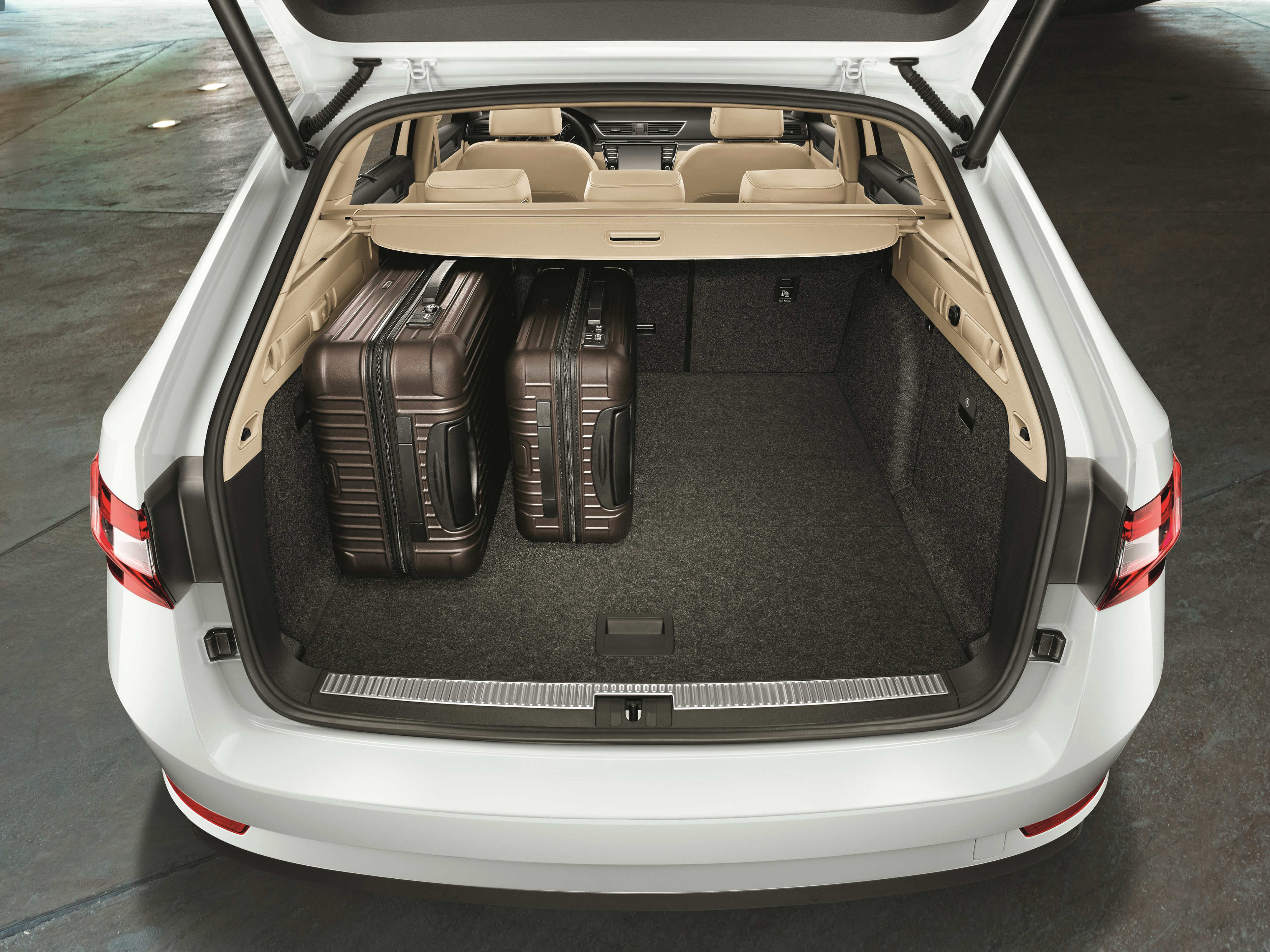 But economical engines and eye-catching design aside, it will be the overarching theme of practicality that will attract buyers to this elongated Superb. Skoda claims that the new Superb has 11 'Simply Clever' innovations in its boot alone, including the ability to fold the rear seats flat effortlessly by pulling a lever with one hand, thus liberating a whopping 1,950 litres of space.
To make things even easier, that cavernous boot is accessed via an electronically operated tailgate that can be opened with the key fob, a button inside the car or a kick of the foot under the rear bumper.
---
Click to read more REVIEWS or search NEW or USED cars for sale on driving.co.uk
---
There's even the option to set the tailgate opening height, which is particularly handy for owners parking in a garage with a low ceiling or those who are vertically challenged, like myself.
There are umbrellas stowed in the frames of the front doors which is an elegant trick only shared by Rolls-Royce
Once inside the boot, owners will discover other handy features, such as a removable torch, Velcro dividers to stop items rolling around, lashing points, cargo nets, an adjustable boot floor and much more.
There are also umbrellas stowed in the frames of the front doors (standard on SE trim models) which is an elegant trick only shared by Rolls-Royce, a 'one-handed' cup holder that grips a bottle for easy 'one-hand' opening and an ice scraper that is stored inside in the fuel filler cap.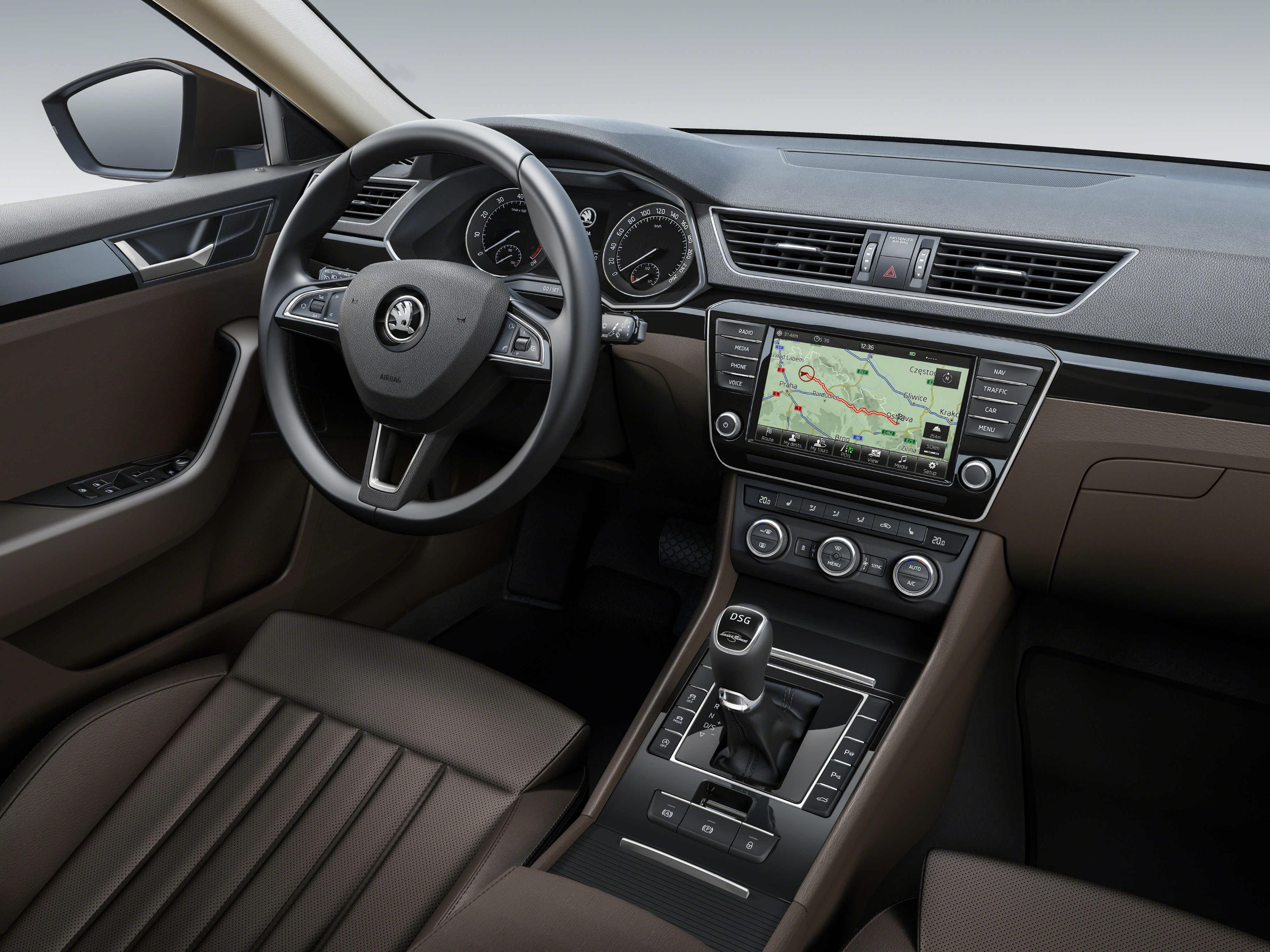 Even the infotainment system packs a few party tricks, with the optional 8-inch colour touchscreen system offering up the latest version of Apple CarPlay and Android Auto, meaning smartphone functionality, such as Spotify, maps, Podcasts and online radio can be beamed through the system.
The sheer weight of clever little touches is enough to distract most drivers from the whole business of, erm, driving, which just so happens to be very pleasurable thanks in part to a range of engines that offer strong performance as well as a well-sorted chassis.
It remains planted around corners and the driver can further tweak settings via a driving mode selector switch that adjusts steering weighting and throttle response.
Skoda's Superb Hatch came under fire for offering up a slightly too comfortable ride i.e. wallowing through corners and bouncing over imperfections in the road, but the engineers seem to have addressed this for the estate.
However, the test cars featured the £750 optional Dynamic Chassis Control (DCC), which can firm up the suspension to improve performance or slacks it off for a more relaxed ride.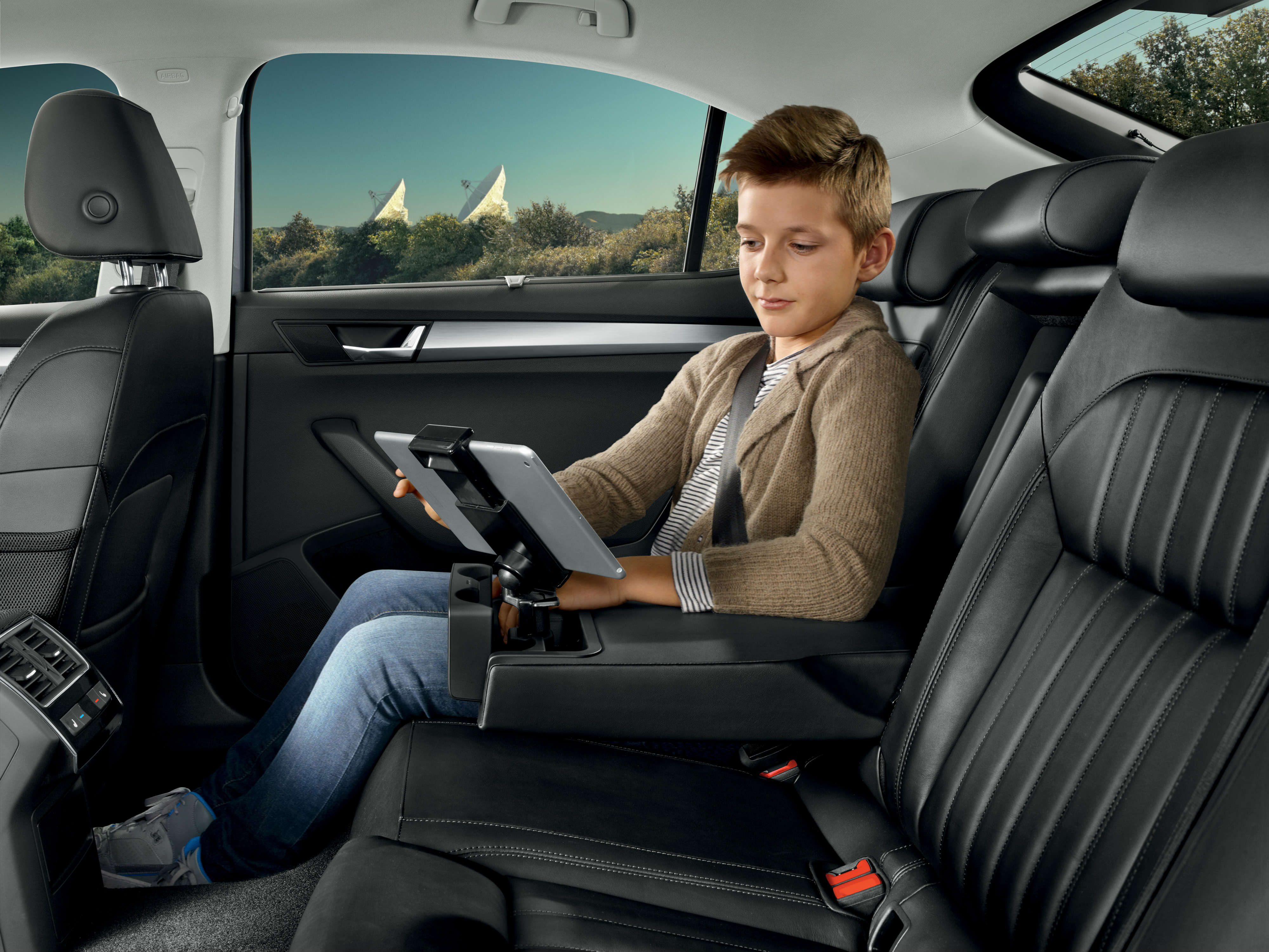 Engineers say that the ride on standard models is the same as the DCC cars in 'Comfort' mode, which was perfectly acceptable for everyday driving.
The Superb Estate is an important car for Skoda, with 61 per cent of all previous generation customers gravitating towards the larger model, and at just £1,200 more than the hatch and with as much boot space as the class-leading Mercedes E-Class Estate, it seems like a very clever choice.
2016 Skoda Superb estate 2.0 TDI SE Business specifications
Price: £23,290
Engine: 1968cc, fou-cylinder turbo, diesel
Power: 148bhp @ 3500rpm
Torque: 250Ib ft @ 1750rpm
Transmission: Six-speed manual, front-wheel drive
Performance: 0-60mph: 8.9sec
Top speed: 135mph
Fuel: 68.9mpg (combined)
CO2: 109g/km
Road tax band: B (free for the first year; £20 thereafter)
Release date: On sale now
---
Browse the used Skoda Superbs for sale on driving.co.uk
---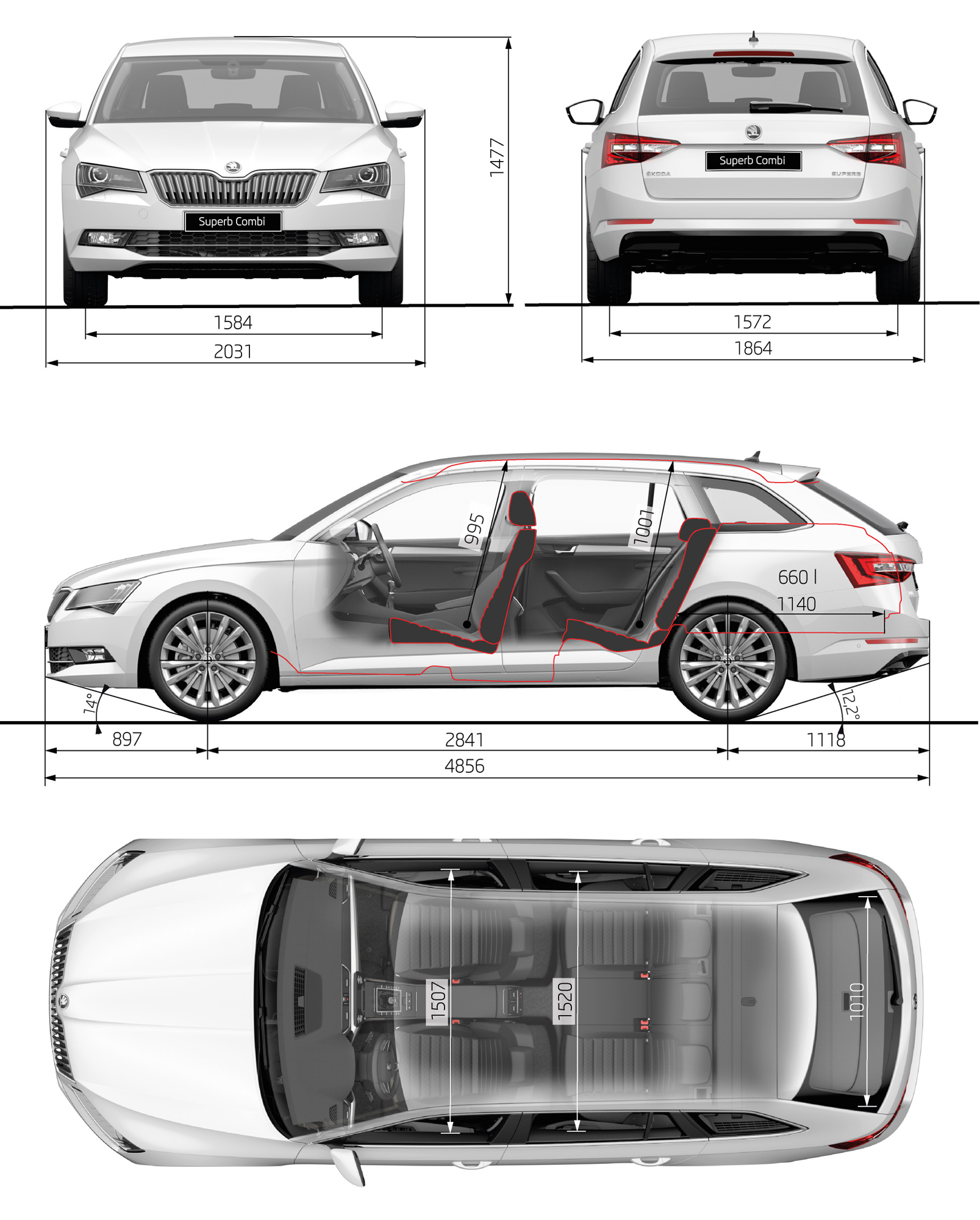 2016 Skoda Superb estate rivals
Ford Mondeo estate 2.0 Duratorq, £25,045 (view cars for sale)
For Powerful diesel engines, impressive performance, more responsible roadholding than Skoda
Against Cheap-feeling interiors, smaller boot
BMW 316d ES Touring, £27,575 (view cars for sale)
For Premium badge, smart interior and improved performance
Against Expensive and not as well equipped, small boot