First Drive review: Rolls-Royce Ghost Series II (2015)
A bottom massage for Jeeves
---
Published 05 January 2015
ROLLS-ROYCE sold 260 motorcars in Britain in the first half of last year, which is 64 more motorcars (the company does not refer to them as mere "cars") than it sold in the same period in 2013. And logic insists, surely, that not all of them were bought by Lord Sugar.
There's also no questioning the key part played in this new-found viability by the Ghost. Smaller than the Phantom and less obviously tilted towards senior members of the royal family, and less of a gin palace than the Wraith, the Ghost is, to employ a couple of terms the Rolls-Royce people would probably rather chew off their own fingers than use, the "entry-level" or "baby" Rolls.
Since its introduction six years ago, it has worked hard to tickle up some younger custom for a brand that has rarely played to the youth market, with the possible exception of footballers and a lottery winner with a sense of humour. And indeed the Ghost appears to have slashed the age of the average Rolls-Royce customer from approaching 60 to . . . well, approaching 50. But it's a start.
How different is this 2015 Series II version? Well, it's not radically different, because that would be vulgar. It has just been given a little light "contemporising" — which is to say, not much has happened. This is, in the words of the company's director of communications, "a subtle refresh" of a vehicle "that didn't really need it" — which is very honest and very Rolls-Royce.
The headlights have gone out wider to give the car a more imposing breadth, and they have been narrowed slightly, for a greater sense of purpose, and given a lick of eyeliner in the form of a new strip of underlying chrome. There are new bespoke possibilities involving the hi-fi and the wood veneers. There's a greater level of connectivity to ensure that the car continues to function as a mobile office, and there's a pair of sweetly integrated 10¼in HD screens in the back for on-the-move market-monitoring or watching Madagascar 2, depending.
But what crucially persists in the Ghost is the sense it provides of absolute seclusion when you drive or, perhaps equally important, are driven in it. It's hard to account for the unique sensation of being in the back of a Rolls-Royce just after its door has shut. (And, of course, your chauffeur doesn't have to do anything so brutal as slam the thing, nor even close it, frankly, by any ordinary definition of the term. He merely has to bring the door into the vicinity of the frame and let the door's own cunningly weighted automation take over and finish the job with the click of a jewellery box.)
It's like being sucked into an airlock. The world falls entirely, eerily still and you sit there, ankle-deep in soft carpeting and needing to speak or cough or something to ensure that you haven't gone deaf or lost consciousness. Rolls-Royce claims that the Ghost provides "an oasis of calm in an entrepreneurial storm" and indeed the world beyond your tinted side windows could be entirely on fire and you would be impervious to it.
After a day of driving, I was not merely unstrained but possibly even fresher than when I started, and, certainly, with thoroughly massaged buttocks
Around you, the interior is a harmonious symphony of exquisite craftsmanship — with the exception of the clock on the dash. Apart from Aston Martin, maybe, no luxury car builder has got its dashboard clock right. They nearly all look as if they have been prised off a Teasmade.
But there's compensation in the form of the new Spirit of Ecstasy rotary controller — a knob-cum-touchpad to the driver's left with the great and abiding symbol of Rolls-Royce sunk into it in a slither of crystal. This device is preferred to a touchscreen on the dash for the magnificent and correct reason that those tend to collect "unsightly fingerprints at driver and passenger eye level".
Furthermore, in a big moment for synergy, you can use your Spirit of Ecstasy rotary controller to operate the actual Spirit of Ecstasy — raising the hood ornament to its position of in-flight glory or stowing it safely away from the fingers of souvenir-hunting oiks.
As for the seats, does anything as comfortable exist, within or without a motorcar? Rolls-Royce unhesitatingly claims that these are the best seats it has built — reworked from the bottom up, veritable thrones in leather. Though the traditional automated back massage is available in the back of the car, interestingly (possibly even controversially) the driver's-seat massage function is buttock rather than back-oriented. You trust this most scrupulous of companies to have done its research on where today's business mogul most enjoys being pressed. But even if it hasn't, it's right: it's not a torpor-inducing back-rub that a driver needs; it's a strategic and enlivening pummelling from below to keep his thighs from seizing up and pins and needles from enveloping his lower abdomen.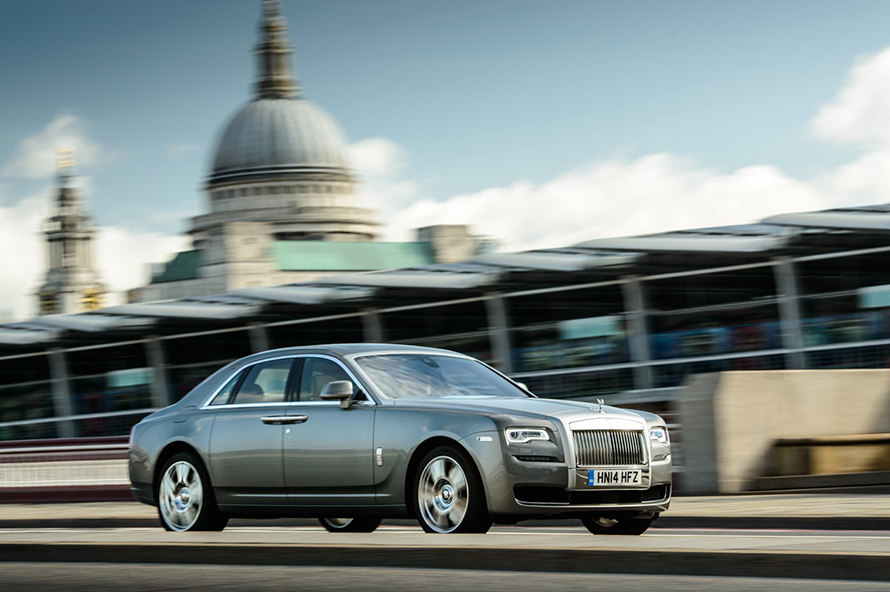 Under the bonnet is a 6.6-litre V12 twin-turbo engine, but you would barely know. Work the accelerator to overtake and the engine clears its throat before ushering you, your leather throne and your carpets towards the nearest horizon with utterly untroubled haste. You know petrol and oil are involved somewhere, but, really, if you learnt that the car was wind-powered it would not surprise you.
The eight-speed automatic gearbox is GPS-linked, reading the road ahead of you and thinking about the gearing you'll need to cope with that hill or stretch of swervy road or sudden traffic build-up. It's hardly surprising, then, that the power always seems to be exactly where you need it at any point. It's like the butler walking in with the tea tray even as you extend your hand to ring the bell.
Maybe you have to get involved with the steering wheel a little more than you might on the bigger Rollers, working the car in and out of roundabouts and tight corners. But abidingly the experience is one of light-fingered, light-footed ease. After a day of driving, I was not merely unstrained but possibly even fresher than when I started, and, certainly, with thoroughly massaged buttocks.
Rolls-Royce Ghost Series II specifications
Engine 6592cc, V12
Power/Torque 563bhp/575 lb ft
Transmission ZF 8-speed automatic
Performance 0-60mph: 4.7sec
Top speed 155mph
Fuel 20.2mpg (combined)
CO2 327g/km
Road tax band M
We like Supreme sophistication, comfort and calm
We don't like Diabolical fuel consumption
Rating ★★★★☆
Price £216,864
Release date On sale now
The rivals
Bentley Flying Spur W12, £153,500
For Astonishing performance; exciting image
Against Less refined than the Roller
Browse the used Bentley Flying Spurs for sale at driving.co.uk
Mercedes S 600 AMG Line L, £140,615
For Unshowy; bursting with futuristic tech
Against Not as luxurious as the Ghost
Browse the used Mercedes S-class for sale at driving.co.uk