First Drive review: Renault Kadjar (2015)
You've crossed the line, mate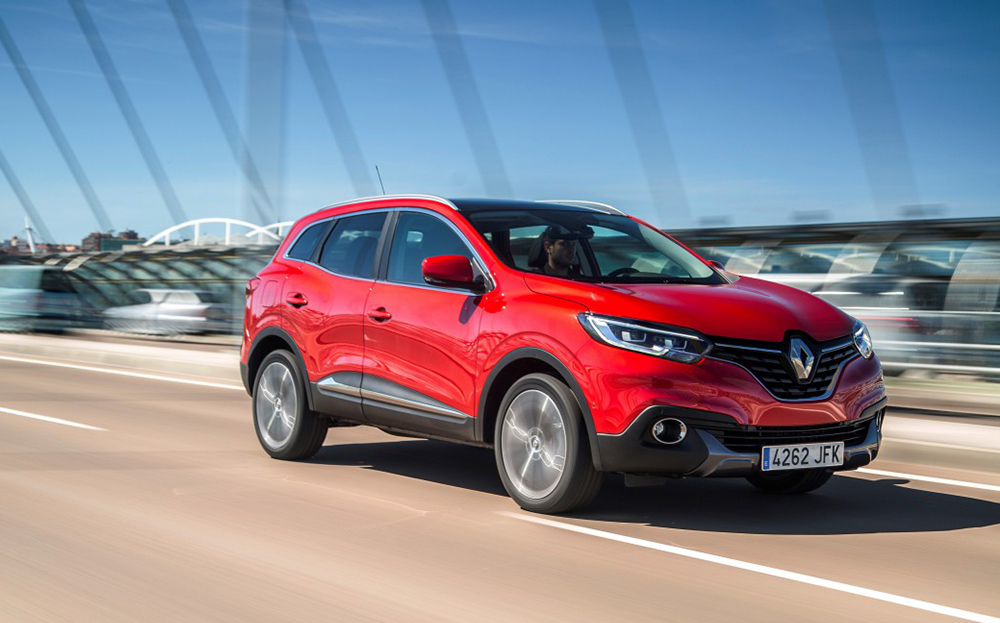 Renault Kadjar, from £17,995
THINGS for which this is indisputably a golden age: high-quality, critically acclaimed television drama (such as Bloodline, Mad Men, The Affair . . . the list runs riot); shower gel (a greater range of more creative combinations, available over the counter, than at any time in human history — fact); breakfast cereal (same situation as with shower gel); and crossover cars.
---
Search the used Renaults for sale on driving.co.uk
---
You will know by now the attractive proposition represented by the crossover. Essentially a reformed hatchback, it contrives to provide many with the key seductive and aspirational features of the SUV (the commandingly high seating position; the sense of fortitude and superiority; the prestigious driveway presence). But it provides them in a scaled-down, less road-monstering, more socially acceptable form, rendering its owner less prone to accusations of ecological insensitivity and to being sniped at for having wildly over-imagined the danger and complexity of getting his or her children to and from swimming lessons.
And the world has gone for it. This was a category type that didn't exist a decade ago, yet now one in five cars sold around the world are crossovers. People are especially hot for them in China, apparently, where crossovers account for 26% of the market. And as whatever makes money in China now drives the global business, don't expect to see fewer crossovers any time soon. The crossover is the mango and black pepper body-drench of cars. Or the hand-formed hazelnut and redcurrant granola. It is the vehicle of and for our times.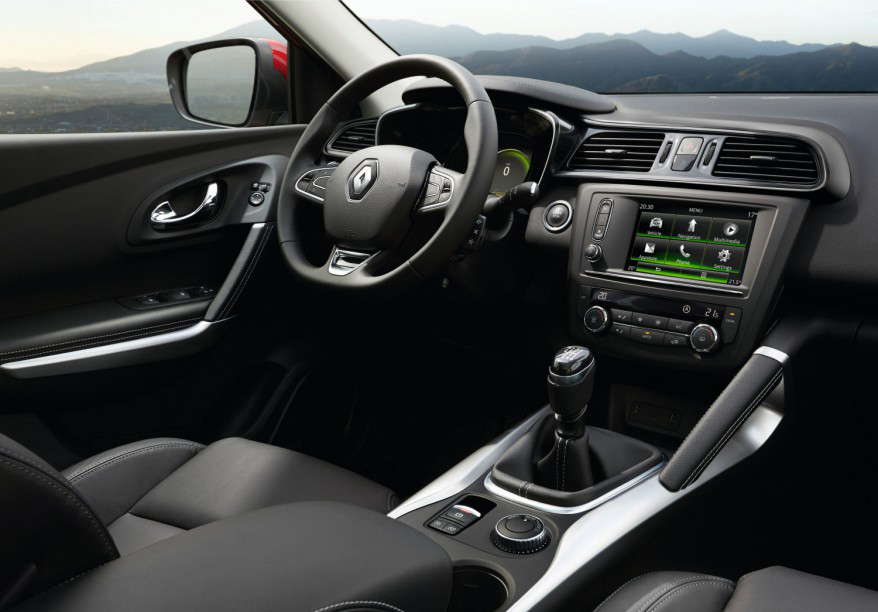 The question is, at what point in the process of being reconstructed from the floorplans for a humble hatchback does a crossover cease to be a crossover and start to become what we would, in darker times, have nervously called an SUV? When — to put it another way — does a crossover cross back over?
And the answer, perhaps, is, right here, with the Renault Kadjar. But first, a brief note on that name. The agreement seems to be that we pronounce it "Cadge R", and resist the temptation to go with "Kaja", as in "Kajagoogoo". As for the name's provenance, though, it's probably best not to think too hard. People in French-speaking markets, Renault assures us, will hear a trace of the French for four, as in four-wheel drive, as well as an echo of the French word agile, as in agile.
---
Click to read more REVIEWS or search NEW or USED cars for sale on driving.co.uk
---
For those of us in non-Francophone markets, though, the name is just a vaguely exotic noise, which now seems to be the sole aspiration for a car name in a globalised marketplace. Qashqai, Tiguan, Kadjar . . . soon we will arrive at a point where the name for every popular middle-market car sounds either like a suppressed sneeze or something that a baby might come out with shortly after mastering "dadda".
Back to that question about inflation, though. Renault's first adventure in crossover production was the B-segment Captur in 2011. Having the shape of an SUV, but not being very big, it fitted the bill exactly. Renault sold 178,000 of them last year alone. But now the Captur gets a "big brother". Which, on this scale, looks and behaves suspiciously like an SUV.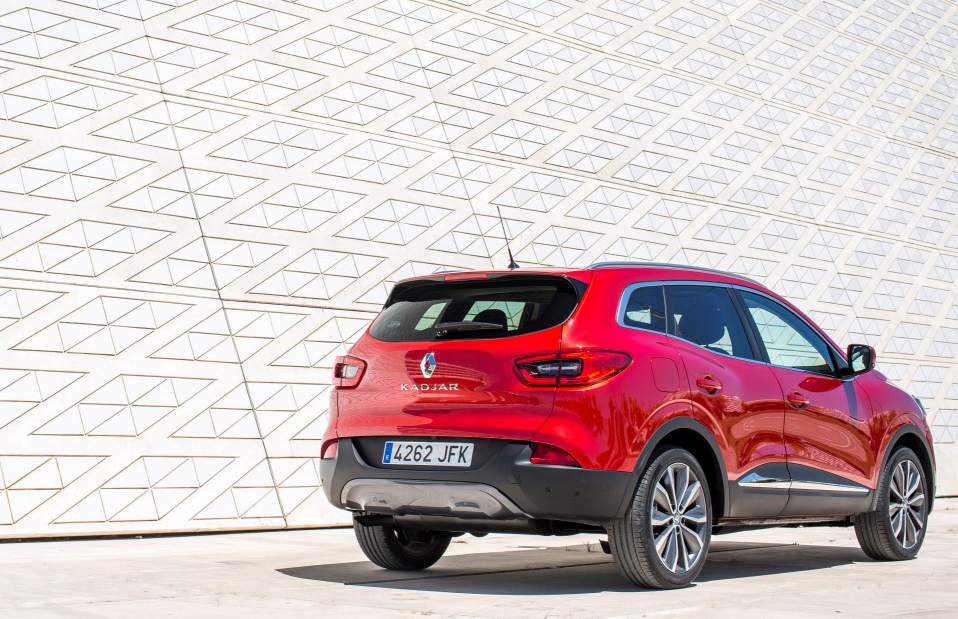 Whatever it is, it's quite handsome — distinctively bulged and sculpted and prominently badged. Its interior is pleasingly high-end and more inclined to squeezy fabrics than brittle plastics. And it drives well and can take a bit of off-road pounding. We steered it across the plains near Zaragoza, where Spain meets Arizona, complete with buttes and striated red-rock outcrops — the location, understandably, for a million spaghetti westerns, although today's director would need to frame his shots carefully around the wind farms.
The Kadjar crunched gamely across the rocks, the automatic four-wheel-drive setting shifting the grip accordingly, and pulled willingly by its 128bhp diesel engine. (Quiet diesels: another thing for which this is a golden age.) And it came out the other end the right way up and in one piece. Just like an SUV, really. But, of course, it's a crossover.
It's just a bigger one, that's all.
2015 Renault Kadjar Dynamique S Nav 4×4 dCi 130 specifications
Price: £25,095
Engine: 1598cc, 4 cylinders, turbodiesel
Power: 128bhp @ 4000rpm
Torque: 236lb ft @ 1750rpm
Transmission: 6-speed manual
Performance: 0-62mph: 10.5sec
Top speed: 118mph
Fuel: 57.6mpg (combined)
CO2: 129g/km
Road tax band: D (free for the first year; £100 thereafter)
Release date: On sale now
---
Search the used Renaults for sale on driving.co.uk
---
Renault Kadjar rivals
Ford Kuga Titanium 2.0 TDCi 180PS AWD (view cars for sale)
For Better engine, ride and handling than the Kadjar
Against Infotainment system is fiddly; more expensive
Nissan Qashqai n-tec+ 1.6 dCi 130PS 4WD (view cars for sale)
For Practical; reliable; has a smart interior
Against Becoming ubiquitous; quite pricy