First drive review: Range Rover Evoque SD4 Pure auto (2014)
Give the baby a medal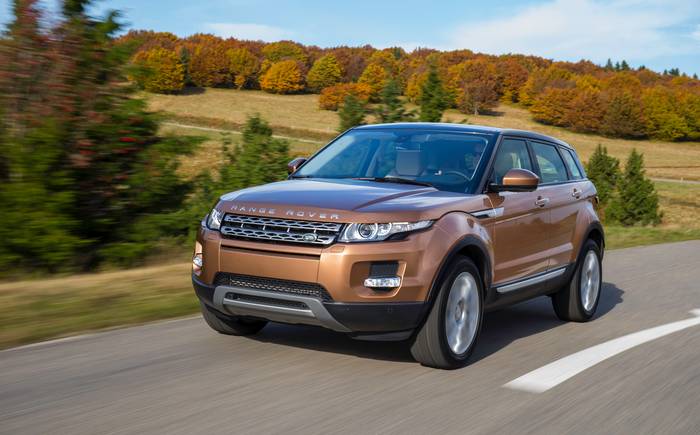 THE OTHER day I drove a Range Rover Evoque down a ski jump in Germany. Why? Because I could, or rather, because the Evoque could. I simply selected Hill Descent from the car's generous menu of 4×4 driving modes and responded to the instruction to keep my feet well away from the pedals.
After that, with the Evoque rolling forward and seemingly almost vertically downwards of its own steady volition, my role was pretty much limited to clutching the steering wheel and swearing in that mixture of panic and disbelief familiar to anyone who has ever been a reluctant passenger on a theme-park ride.
Of course, when I say "ski jump" I don't mean the take-off ramp — the bit from which skiers launch themselves into the freezing air. Keen though Land Rover clearly was to demonstrate to British journalists the robust adaptability of its compact SUV in its refreshed 2014 form, the company drew the line at allowing us to fly it in the direction of a pine forest, Eddie the Eagle-style.
---
Search for and buy a quality used Range Rover Evoque on driving.co.uk
---
Nevertheless, the selected site for this controlled experiment in unfeasible driving was the landing slope below the chute — a 35-degree descent about 220 yards in length, which was quite steep enough, thank you very much. Indeed, as the car plunged over the brow and the view through the windscreen became purely earth and frosty grass, the slope proved perfectly capable, in its own sweet way, of impersonating a lift shaft.
This, I just about had time to reflect, was not a manoeuvre one would have happily attempted in, say, a Nissan Almera — nor even, I would suggest, on skis, unless one had been the beneficiary of several years of national lottery funding and was being fast-tracked for a place in the 2018 Winter Olympics team.
The Evoque, though, attacked the problem nervelessly. Ignoring my screams, it pottered down the cliff, never once losing grip or showing any inclination to reach the bottom in a flurry of somersaults before bursting into flames. When I was confident that the ground had completely levelled off and the windscreen again contained a sensible proportion of sky, I deselected Hill Descent and drove off the piste to a car park. Then I went indoors and had a cup of coffee and a German biscuit.
The reason for this piece of staged bravado on Land Rover's part was not hard to discern. It was designed to quash once and for all any impression one might have formed in the two years since its launch that the Evoque is the big, tough Range Rover's namby-pamby little sister.
Yes, it may be prettier and smaller and its roof may be cutely tugged down like a beret, and it might not remotely resemble — as the Range Rover does — a brick that is about to be chucked through a window.
And yes, the Evoque has mostly impressed the world as a brilliant piece of niche marketing, as catnip for flush, middle-class urbanites, especially those who felt magnetically drawn to the Range Rover but didn't quite have the cash or the space or the country lifestyle for one.
But none of that should be allowed to blind us to the fact that the Evoque is, like everything that Land Rover produces, first and foremost a piece of battle-ready mechanical engineering. We should realise that the so-called baby of the range — for all that it can't help looking like a birthday present from Ashley Cole — is built to a tough enough spec that it could find work with the UN in far-flung trouble spots, if only the UN were a bit more preoccupied with social aspiration and ready to say "go hang" to the expense.
Note, accordingly, how in its next instalment the Evoque gets Land Rover's butch Wade Sensing equipment — a sensor on the underside of the wing mirror that looks down and reports when the car is out of its official depth in liquid (50cm or 19.6in, which these days is the average rainfall in Gloucestershire most autumn afternoons).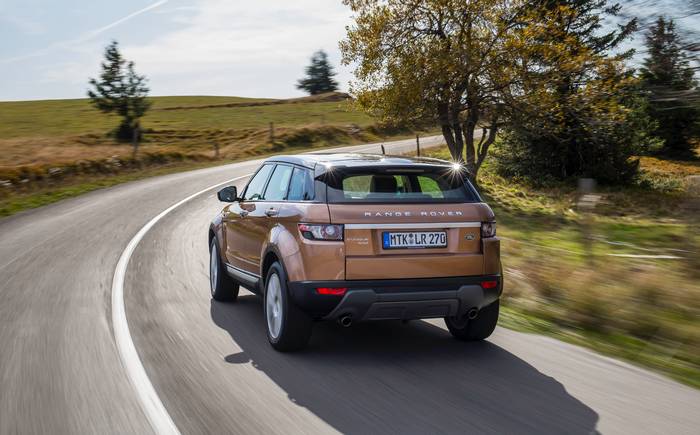 Moreover, having formerly offered six speeds, the automatic gearbox now goes all the way up to nine. Fuel economy is improved by up to 11.4% and CO2 emissions are reduced by as much as 9.5%, although the inclusion of an engine stop/start system as standard helps achieve these figures. The Evoque also comes with Active Driveline which, at appropriate moments, will let the car operate exclusively in front-wheel-drive mode, the rear wheels joining in only when required. This extra flexibility, too, saves fuel and cuts emissions. It will be available only on petrol models at first, but will subsequently appear on the diesels.
Other upgrades are, frankly, minimal. There's a new suite of electronic driver aids to get you up and down motorways and in and out of car parks relatively unscathed, but the interior appears largely untouched. Still, by cushioning its occupants in thickly stitched leather, it remains an exceedingly pleasant place in which to pass the time — more characterful, in some respects, than the cabin of the Range Rover, the crisp buttons on its dashboard being more engaging, to my mind, than the latter's blank-faced, piano-black and soon smeary touchpad.
Mind you, earlier in my visit to Germany, I had taken one of next year's revised Range Rovers onto an off-road course with a number of water hazards deep enough to attract the interest of Jacques Cousteau. At certain moments the car seemed to be afloat like a tug — I could feel the waves slap against the doors and wouldn't have been surprised to see a lighthouse heave into view.
The Range Rover, of course, churned on unperturbed — a sobering reminder that, when the biblical flood comes, only Range Rover owners will be spared. But for most other eventualities, including unexpected Winter Olympics, an Evoque will do just fine.
Verdict
★★★★☆
Going downhill, but in a good way
Factfile
Engine:

2179cc, 4-cylinder diesel

Power:

190bhp @3500rpm

Torque:

309lb ft @ 1750rpm

Transmission:

Nine-speed automatic

Acceleration:

0-62mph in 8.0sec

Top speed:

121mph

Fuel:

47.1mpg

CO2:

159g/km

Road tax band:

G

Dimensions:

L 4355mm, W 1965mm, H 1635mm
The rivals 
---
Audi Q5 2.0 TDI (175bhp) quattro SE, £32,220
For Handsome styling is more restrained than the Evoque's Against Relatively slow; fuel economy could be better
Buy a quality used Audi Q5 on driving.co.uk
---
BMW X3 Xdrive 2.0d SE, £31,875
ForFun to drive; punchy and frugal diesel engine Against Can't match the Evoque's sheer pose factor
 Buy a quality used BMW X3 on driving.co.uk
---