First drive review: Porsche Panamera S E-Hybrid (2013)
Now it's a plug-in ugly blighter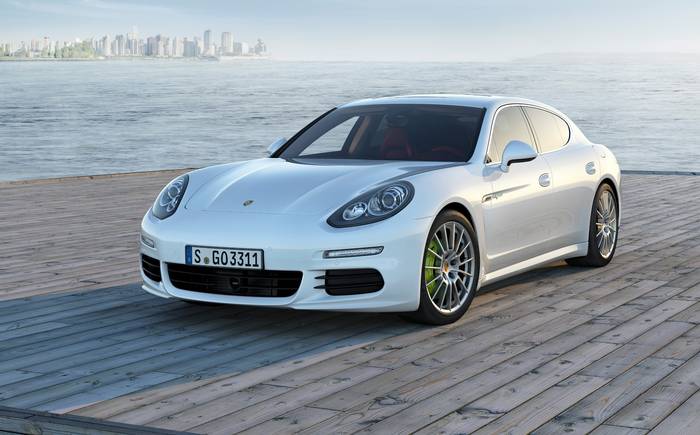 When, in 2009, Porsche brought out a four-door grand tourer, some of the car's harsher critics  balked at its hard-to-love looks. They declared the company would be hard pressed to sell 10,000 units a year. The happy news is the naysayers got their calculations wrong: Porsche recently rolled out the 100,000th factory-fresh Panamera.
Where did they all go? UK sales of the Panamera last year numbered 985, so at least a couple must have ended up in Surrey. China apparently accounted for a third of the total sales. America accounted for a quarter and Germany for quite a few of the rest. (If any car seems to assume a life of unregulated autobahn-monstering, it's the Panamera.)
---
Search for and buy a quality used Porsche Panamera on driving.co.uk
---
A palpable hit, then, of sorts — to the chagrin, no doubt, of the purists who prefer it when Porsche devotes itself to the long, slow evolution of its fine sports cars and believe that the company shouldn't really be getting involved in anything that has more than two doors, especially if the result is as ugly as the Cayenne SUV or indeed the Panamera.
But, of course, the purists don't have a globally active company to run, or sales in China to think about, and here inevitably comes the Panamera remix, currently available in no fewer than eight assorted versions, ranging from the casually murderous (a 4.8-litre twin-turbo V8) to the meekly conscience-stricken (a plug-in hybrid that is a world first in the luxury market) and all likely to appeal in their various ways to prestige-seeking speed nuts on the other side of 50 who like their leather-clad bucket seat to come with a bit of legroom.
I'm not sure it's got any prettier. In fact, for quite a long time, I wasn't sure whether it was different in appearance at all. At the presentation of the car in Munich recently Porsche took the bold step of screening photographs of the original model and the new one side by side, in the same colour and even with the same numberplate, thereby inadvertently presenting the room with one of the hardest "spot the difference" challenges witnessed outside the Puzzler magazine.
I struggled with it for ages. Still nothing. It was only by cheating and using the orange highlighting eventually superimposed by our lecturer that I was able to check off a few of the changes — specifically some slightly wider air intakes in the front grille and a lower rear numberplate bracket. Maybe we should just nod knowledgably, agree that Porsche has subtly but importantly "tightened" the car's lines and leave it at that.
Under its skin, though, the Panamera S E-Hybrid really is unmistakably different. It combines a 94bhp electric motor with a supercharged V6 petrol engine and a fat (and heavy) lithium-ion battery. You plug the car into a socket at home, leaving it charging overnight along with your mobile phone, and the next morning you're driving the closest thing to a milk float Porsche has built. (It's a very quiet and comfortable milk float, it goes without saying, and Porsche has apparently worked hard to diminish road noise, which is, of course, cruelly exposed by electric driving's eerie silence.)
The Panamera enables you to hold the electric supply in reserve and choose when to use it — upon reaching a built-up area after a motorway drive, for instance. The system appears to have been conceived in preparation for the day — perhaps not far off — when cities won't let you in if your car emits anything stronger than a whiff of pine-scented air-freshener.
Now, with other, non-plug-in hybrid systems (mentioning no Lexus SUVs), one has searched for full electric mode and found it to be merely a vague and ultimately unconfirmable rumour. You'll hit the "E" button and be told the battery's not ready for you yet. Alternatively, the battery will be ready, but it will get you only 200 yards before it runs out of breath and the engine has to carry you the rest of the way.
However, the S E-Hybrid genuinely does work as a plausible electric car. On a trip across a Bavarian valley (mostly as flat as Holland, admittedly), we travelled almost 25 miles before the last bar dropped off the picture of the battery in the visual display and the engine took over. It's plausible, then, that you and three of your fellow board members could commute to work every day and never use any petrol. In a Porsche. Wonders will never cease.
I should add, though, that our 25-mile figure (two miles or so more than the car's official zero-emissions range) was achieved by driving at a steady 30mph and overtaking nothing — which in an £88,967 Porsche could possibly be described as a counterintuitive experience, or even a flatly self-contradictory one. But maybe that's the future.
Also coming up in the Panamera range are two long-wheelbase versions, including the Turbo Executive, which has rear doors that are 15cm wider as well as 12cm more legroom in the back, and for which you will probably require council planning permission. Those who struggle with the aesthetics of the standard model will be biting the backs of their hands even harder here.
It is surely larger than any car with visible brake callipers was intended to be. Accordingly, I'm cautiously predicting sales in the UK of this particular version of six. But in China, I don't know. Eight million?
Verdict ★★★☆☆
Still ugly. But batteries now included.
Factfile
Porsche Panamera S E-Hybrid
Release date:

On sale now

Price:

£88,967

Engine:

2995cc, V6 plus electric motor

Power:

410bhp @ 5500rpm

Torque:

435 lb ft @ 1250rpm

Transmission:

8-speed Tiptronic auto

Acceleration:

0-62mph in 5.5sec

Top speed:

167mph

Fuel:

91.1mpg (combined)

CO2:

71g/km

Road tax band:

A (free)

Dimensions:

L 5015mm, W 1931mm, H 1418mm
The Rivals
Lexus LS 600h L Premier, £99,495
For

Luxurious cabin; smooth hybrid drive; impressive dealership service

Against

Continuously variable transmission is irritating; no plug-in version
Buy a quality used Lexus LS on driving.co.uk
BMW ActiveHybrid 7 M Sport, £71,610
For

The appeal of the 7-series as a luxury conveyance remains intact

Against

Fuel economy of 41.5mpg means a diesel would be a better buy