First drive review: Porsche Cayenne S (2014)
Fire up the launchers: Billy Goat Thrust is go
---
Published 22 September 2014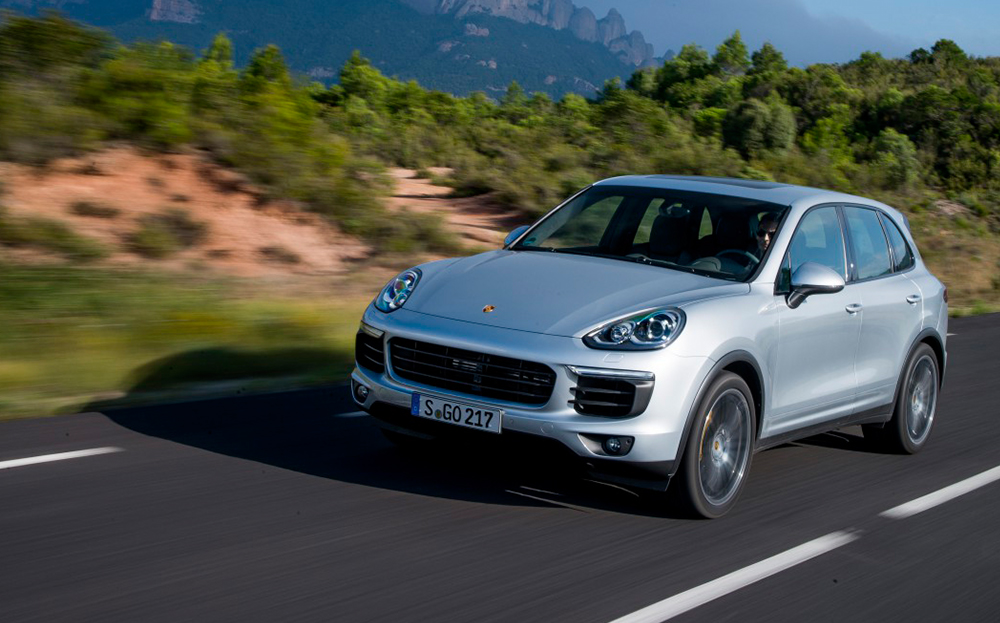 IS ONE ever going to be able to experience unconflicted joy in an SUV? Or is this just one of those things in life that are doomed to be forever filed under "guilty pleasure", like Milkybars and records by Nik Kershaw?
While hearing the dissentient voices and entirely understanding their arguments, I can nevertheless find myself from time to time, despite everything, feeling the allure of the SUV dream and its magnificent temptations: the lofty driving position with its extensive views of adjacent counties, the instant and effortless status enhancement and the peerless, splash-free cupholder stability. (Unquestionably, there is no better automobile in which to carry a large latte.)
And then, even as those feelings flicker, I will remember a passage from High and Mighty, the monumental work of excoriation published in 2002 by the American motoring journalist Keith Bradsher, which set down the following claims about SUV buyers: "They tend to be people who are insecure and vain. They are frequently nervous about their marriages and uncomfortable about parenthood. They often lack confidence in their driving skills. Above all, they are apt to be self-centred and self-absorbed, with little interest in their neighbours or communities . . . They seldom go to church and have limited interest in doing volunteer work to help others."
---
Search for and buy used Porsches
---
And that wasn't just Bradsher indiscriminately sounding off, as people will about SUV drivers, especially when they have just been squeezed off the road by one. He was quoting the evidence of detailed market research undertaken by the American car industry.
Still, call me insecure, vain, nervous about my marriage, uncharitable, godless and so on, but I was once again behind the wheel of an SUV last week, in Spain, and once again, despite everything, I was feeling the magnetism.
What's more, the SUV in question was a Porsche Cayenne. I know: this of all SUVs. Back in 2002, when Porsche decided to branch out from its core mission — the gradual evolution of ever more refined sports cars — and to enter the noisy marketplace for family transport, it seemed a watershed moment for people in the business of taking exception to other people's cars.
Here was perhaps the world's most divisive car brand making the world's most politically antagonistic vehicle type, outside a nuclear submarine. "You're saying it's an SUV — and it's a Porsche?" We were looking potentially at a perfect storm of obnoxiousness and a surely unmissable opportunity for knee-jerkers to jerk both their knees simultaneously.
Consequently it could be argued that it's the Cayenne, in all its hulking glory, that now funds the development of all those other precious sports cars.
And so it largely proved, although we should also note that as far as Porsche is concerned the Cayenne (marketed as the SUV that thinks it's a sports car) has been a relative success. The company has sold well over half a million of them — and not exclusively to people reluctantly conceding that their 911 no longer fits their lifestyle or, more particularly, their children's lifestyle.
Consequently it could be argued that it's the Cayenne, in all its hulking glory, that now funds the development of all those other precious sports cars. In this light even the most adamant purists who thought Porsche shouldn't be dabbling in those grubby waters ought to be glad it's out there.
Either way, here's a new version, looking prettier than the first one did. The lolloping tongue of the original bonnet was tamed in the second-generation version in 2010 and now displays some rather refined, sharp crimps. The car has come to look less thunder-thighed around the wheelarches too. It still seems somehow too big for itself, but it is less like a swollen thumb than it originally was. Also, as long as there is such a thing as a BMW X6, any car keen to claim the crown of the ugliest on Britain's roads is going to have to work a lot harder than the Cayenne now seems prepared to.
The car will come in five flavours, including a plug-in hybrid, although Porsche isn't letting the press near that version for a few more weeks. There's a demand-led entry-level diesel, a punchier diesel S, a tarmac-monstering Cayenne Turbo and, between those, the model I spent most time in, the Cayenne S, its 3.6-litre V6 biturbo engine smaller than the outgoing model's V8 yet, thanks to some blessed latter-day alchemy, both more potent and more frugal.
---
Don't know your BHPs from your MPVs? Click to take a look at our car jargon buster
---
That engine's note under acceleration isn't yob-pleasingly boisterous, but it's low and rounded and it throbs enough to be engagingly tangible through the pedals and the steering wheel. And much though the car will rapidly reach warp speed and stay there, it's in the short muscle-flexes it can make while overtaking that you sense the sports car in its pedigree.
You put your foot down, there's the briefest moment while the engine gathers its breath and the automatic gearbox considers its options and then you, your luggage, your family and two tons of precision German manufacturing breeze away in a long, unbroken surge of gutsy power. It's hugely and almost bafflingly impressive, and frankly whatever else one ends up thinking about the Cayenne, one shouldn't lose sight of the sheer mind-boggling feat of engineering involved in getting something so big to go so fast so quickly without bits springing off all over the place.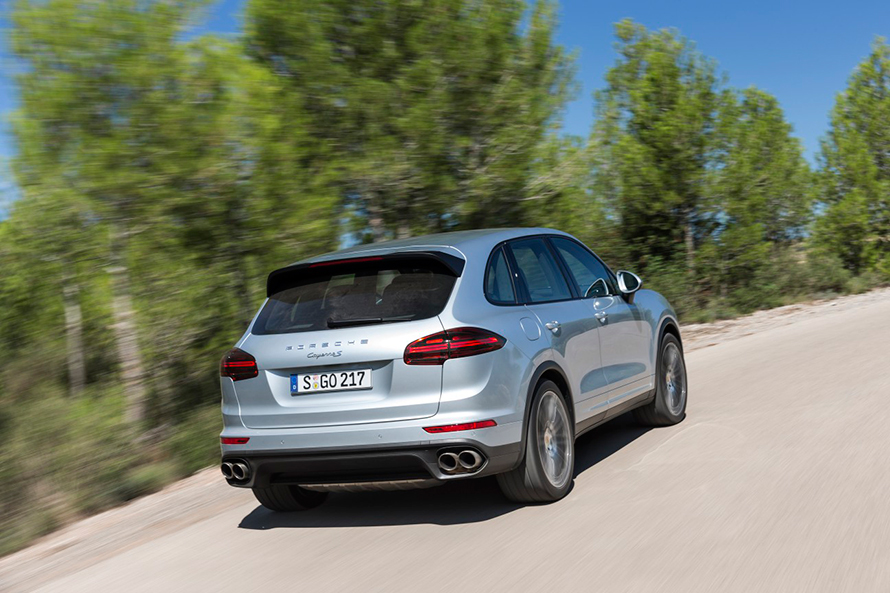 The suspension has had a thorough overhaul, and as a consequence the car seems to sit more tautly on the road, with none of the spongy and slightly queasy squidginess that is the curse of the format. I would hazard that on long family journeys it won't be the lateral motion that makes your children feel sick, although it could well be your feats of acceleration.
Of course, within the whole sports-car-meets-SUV concept there's no use pretending that we don't border fairly constantly on the realm of the unnecessary. For instance, does the race-ready leather driver's throne need to grab you by the kidneys quite so hard and cushion you against corner roll quite so insistently? Probably not, if we're being honest.
Or take the presence on the new model — with the optional Sport Chrono package — of launch control, or Performance Start, as Porsche likes to label it.
The Cayenne can, if required, be all tractor and no Chelsea — robust enough to function as a proper, wellington-boot-wearing agricultural implement, even if you're more inclined to be someone who says, "Off-roading? I have people to do that for me."
The deal with launch control is that, having forewarned the car of your intentions, you press your feet flat down on the accelerator and the brake at the same time, wait for the engine to start howling in agony and the rev counter to come poking out of the Perspex and then, at the time of your choosing, come off the brake. At which point your neck hits the headrest and the car throws itself at the horizon like a pellet out of an air rifle. And then, about a mile up the road, deeply thrilled by what this harmonious collaboration between man and machine has achieved, you pull over and phone up to order a new set of tyres.
Now this may be a reasonable sort of thing to get up to in a sports car on a track. And no doubt it could also have its moments in a pub car park after closing time. You have to wonder, though, why you would fit it to an SUV — unless, like Porsche, you were feeling the need to fly the flag for the car's resolutely sporting credentials as high as it will go, to the point of basic illogic.
Still, there's no arguing with the build quality. There will come a moment inevitably when you find your travels as a Porsche Cayenne owner bring you to the edge of a sheer mud chute, many yards long and bottoming out in 3ft of brackish water, with a plain of jagged, goat-infested rocks beyond, as far as the eye can see.
Or maybe not. Maybe your travels will never take you much beyond southwest London. But let's say you do reach a mud chute. At this point you will lean into the rather crowded bank of buttons on the centre console, select not Performance Start (though it would be interesting to see what would happen if you did — to you, the car and perhaps especially the goats) but the four-wheel-drive setting and maybe nudge the button that ups the clearance height. And then you will steadily pilot yourself through the mud and the goats and get home.
The point being that the Cayenne can, if required, be all tractor and no Chelsea — robust enough to function as a proper, wellington-boot-wearing agricultural implement, even if you're more inclined to be someone who says, "Off-roading? I have people to do that for me."
But can we love it? Are we even allowed to? While my test model was briefly parked up at a tourist viewpoint overlooking Barcelona, a Frenchwoman walked all round it and pronounced it "beautiful". And then, just as one was silently wondering about the soundness of her mind and judgment in this area, she produced a photo on her phone of her own runabout: an unutterably cool Sixties-era lime-green Lambretta moped.
So take that, Keith Bradsher and the market research departments of the American car industry: it seems that stylish people who are entirely at ease in their own skins can warm to Cayennes. Well, I came across one who did. One and counting.
Verdict ★★★★☆
Beauty is in the eye of the cupholder
Porsche Cayenne S specifications
Price: £60,218
Release date: On sale now
Engine: 3604cc, V6, twin turbo
Power: 414bhp @ 6000rpm
Torque: 405 lb ft @ 1350rpm
Transmission: 8-speed automatic
Acceleration: 0-62mph in 5.5sec
Top speed: 160mph
Fuel:  29.7mpg (combined)
CO2: 223g/km
Road tax band: K
---
Search for and buy used Porsches
---