First Drive review: 2015 Peugeot 308 GTi 270
Peugeot hatches a hottie
---
Published 02 October 2015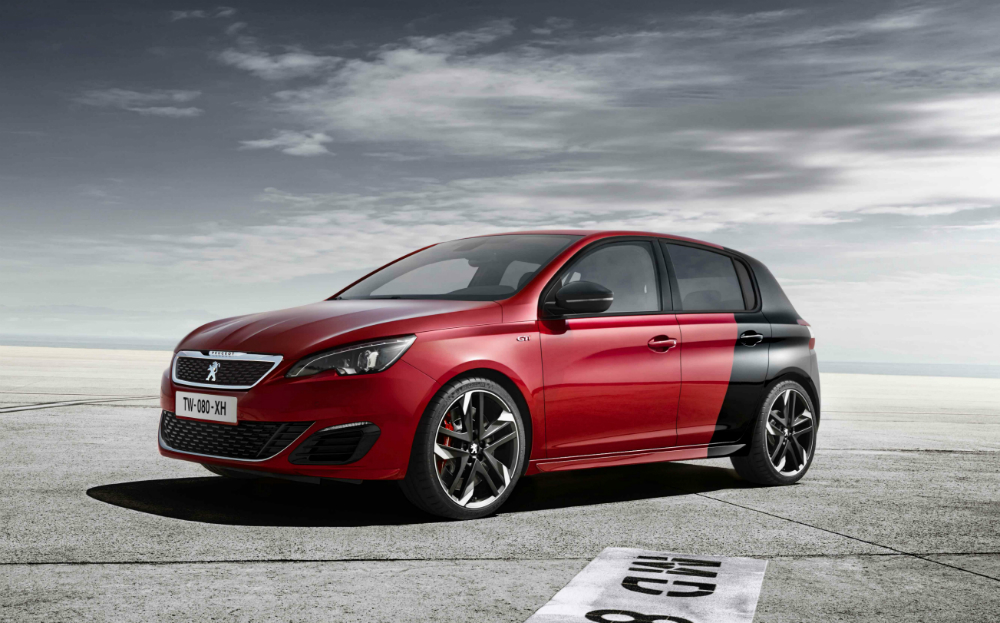 Peugeot 308 GTi 270, £28,155
Handling: ★★★★★
Performance: ★★★★★
Design: ★★★★☆
Interior: ★★★☆☆
Practicality: ★★★★☆
Costs: ★★★★☆
---
PEUGEOT USED to make some of the best hot hatchbacks around. Cars that were laugh-out-loud fun – machines such as the 205 GTI, which charmed not just car nuts but anyone who loved the feel of a fast, frisky car.
---
Search for used Peugeot 308s on sale at driving.co.uk
---
Then something went terribly wrong. Peugeot lost its mojo, the cars became boring and the company's hard-earned reputation for making affordable fun cars was destroyed by a succession of disappointing – at best tepid – hatchbacks.
So the French car maker has a lot of ground to claw back. Some of it has been recovered by the little 208 GTi, released in 2013, which is certainly made of the right stuff. Now comes the next stage: the 308 GTi.
Much has changed since the 205 GTI of the mid-1980s. That car's 1.6-litre engine had just over 100bhp; today a small hot hatch needs 200bhp to be taken seriously, a bigger one a good deal more than that.
1.6 litres may not sound much yet the engine delivers a rousing 269bhp
For many the Volkswagen Golf GTI remains the hot hatch gold standard, but there's no shortage of choice: the Ford Focus ST, the Audi S3 and the Seat Leon Cupra, this last with a mighty 277bhp. (Check out Driving's Hot Hatch Buying Guide.) All of those have 2-litre turbocharged engines. Peugeot's newcomer does things differently.
Under the 308 GTi's bonnet is an engine of just 1.6 litres. That may not sound much in a car costing £28,155. Yet the engine delivers a rousing 269bhp, with consistent and mighty thrust from just under 2000rpm to the top of the rev counter's scale. Not only that, but this light car's CO2 emissions are officially lower than any rival's. Sounds promising so far, but a good hot hatchback is about much more than mere numbers.
The very best are created by engineers who want to do it, not by those who do it because their sales and marketing departments tell them they must. They'll be creative thinkers, often with a background in motor sport, such as those clever people at Renaultsport who made their Mégane Trophy such a driver's delight.
Peugeot has a direct equivalent – called Peugeot Sport, of all things – and the Peugeot 308 GTi is its latest creation, after the RCZ R coupé and its enhanced version of the 208 GTi.
Unlike Peugeot Sport's enhanced 208 GTi, which comes out of its own workshop, the 308 GTi is built alongside all the other 308s. That's because it's intended to have a broad appeal and be built in sufficient numbers to make some money for the company. So the tuned-up engine, bespoke suspension parts, strengthened gearbox, Torsen limited-slip differential and racy, red-stitched, heavily bolstered seats mix on the factory conveyor belt with more prosaic parts. So do the revised steering components, the 19in wheels with their Michelin Pilot Super Sport tyres and all the other bits and pieces that Peugeot Sport has engineered.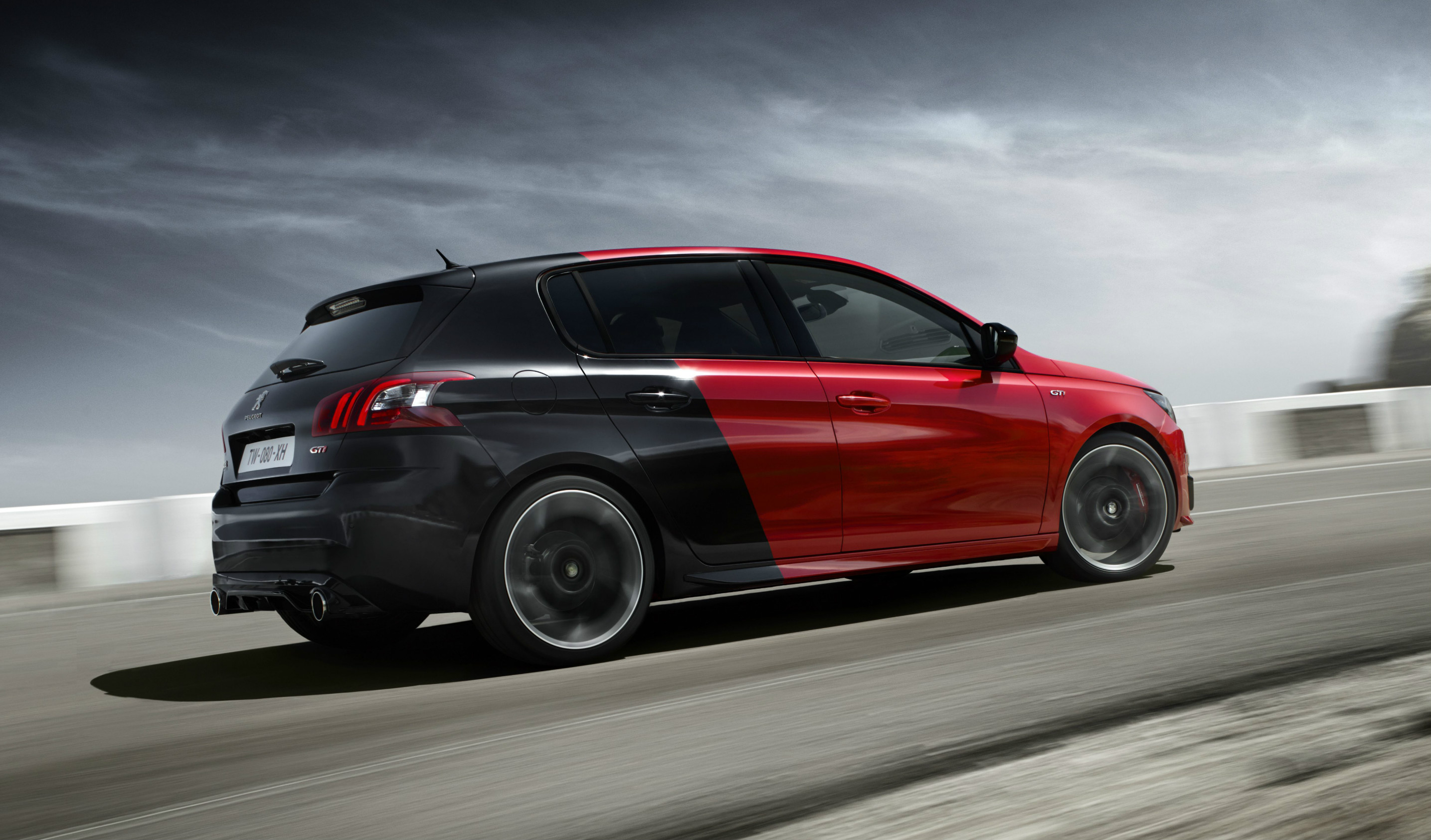 This is a good-looking car, not showy but low-set, hunched, revealing its character through black-spoked wheels, a red-lipped front spoiler (unless the GTi is red itself) and red details in the otherwise black cabin.
The 1.6-litre engine fires with a deep, slightly offbeat burble. It is linked to a six-speed manual gearbox, the better to let the driver bond with the machine instead of merely triggering switches, and the engine pulls through the gears with the breathy, insistent bluster typical of turbo engines.
The 308 GTi is quick – 0-62mph in six seconds – and brilliant at overtaking, but it's also civilised. Despite having suspension that's lower and firmer than a standard 308's, and larger wheels, it gives a fairly comfortable ride.
The wheels are spaced further apart than is standard, and they lean inwards slightly at the top to make the Peugeot more eager to turn. Perhaps the comically small steering wheel fitted to all 308s will prove more than a gimmick in the GTi.
The standard 308 can feel twitchy, its steering too light. The GTi has a heftier feel. You feel instantly confident as the front wheels point the Peugeot precisely, and they keep on gripping hard even as you accelerate out of a corner. That's the Torsen differential at work.
The GTi has an ESP stability control program, but if you switch it off – on a track, for example – the Peugeot feels barely any different. This suggests the engineers have got everything set up perfectly. The brakes are mightily effective, too.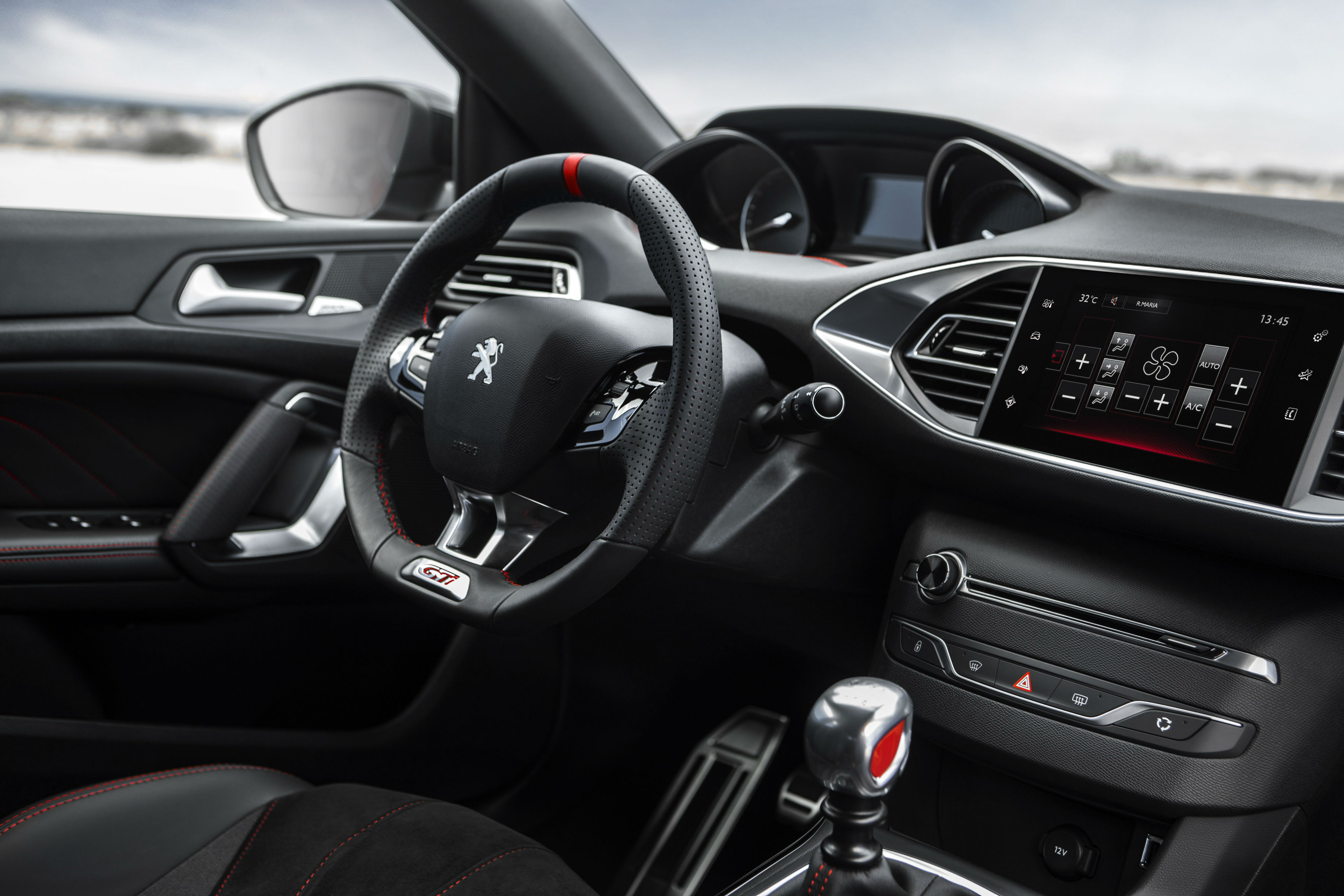 On the centre console is a Sport button. It makes the dials turn red, the engine becomes more responsive still and the loudspeakers transmit a lightly enhanced version of the engine's sound under acceleration. It's a gimmick that the 308 GTi doesn't need.
There are flaws, too. For instance, the sporty seat gives a nice low driving position, but you can't see the bottom of the dials unless you have the steering wheel in your lap.
Still, this is a riotously entertaining hot hatchback which also manages to be a capable family car. It's a car that represents its creators' beliefs rather than trying to cater for all tastes. That's why you can't adjust the suspension's firmness or the steering's weighting, for example. There's no need, and it would disrupt the harmony.
All that said, Peugeot offers a slightly milder, cheaper version at £26,555. It has 247bhp, 18in wheels covering slightly smaller brakes, simpler front seats and no Torsen differential. But you'd be bananas if you didn't find the extra £1,600 for the full-fat version.
2015 Peugeot 308 GTi 270 specifications
PRICE: £28,155
ENGINE: 1598cc, 4 cylinders, turbo, petrol
POWER: 267bhp @ 6000rpm
TORQUE: 243 lb ft @ 1900rpm
TRANSMISSION: 6-speed manual
ACCELERATION: 0-60mph in 6.0sec
TOP SPEED: 155mph
FUEL: 47.1mpg (combined)
CO2: 139g/km
ROAD TAX BAND: E (£130 a year)
RELEASE DATE: On sale November 5
---
Search for used Peugeot 308s on sale at driving.co.uk
---
Peugeot 308 GTi 270 rivals
2015 Honda Civic Type R, £29,995 (view cars for sale)
For Spellbinding speed and mind-blowing grip
Against Extreme boy-racer looks
Volkswagen Golf GTI 220 TSI BMT, £27,500 (view cars for sale)
For The gold standard
Against Not as powerful as rivals; a touch clinical