First drive review: Nissan Leaf Tekna (2013)
There's more spark in the tank but it can't escape that elephant
BY NOW, everybody knows what the two scariest aspects of electric car ownership are: not knowing exactly when you are about to run out of range or how big the bill will be when the batteries pack up.
In addition to the issue of upfront affordability, this latest generation, pure-electric Nissan Leaf is looking to confront both of those bogeymen, while also featuring over 100 key changes. Those tweaks are almost exclusively under the skin; there are no visible changes to the body apart from the unique 17in wheels that grace the top-spec Tekna model. And that's the other significant departure. Unlike the previous model that came in one trim level, there are three grades for the new car: Visia, Acenta and Tekna.
---
Search for and buy a used Nissan Leaf on driving.co.uk
---
Prices start at £20,990 for the entry-level Visia and rise to £25,490 for the range-topping Tekna (all after the government's £5000 Plug-in Car Grant). So the entry-level model is £5000 less than the outgoing model (albeit less well equipped). But here's where it gets interesting: to make the Leaf even more affordable and to provide reassurance to customers worried about the potential cost of battery failure, Nissan says you can now lease the battery, starting from £70 per month on a three-year contract with an annual mileage of 7,500. Sound familiar? It should do, because Nissan's partner Renault won't sell you an electric vehicle any other way
You can still buy the Leaf outright if you want, but go for the lease deal and the upfront cost of your entry-level Leaf drops to £15,990 (post grant).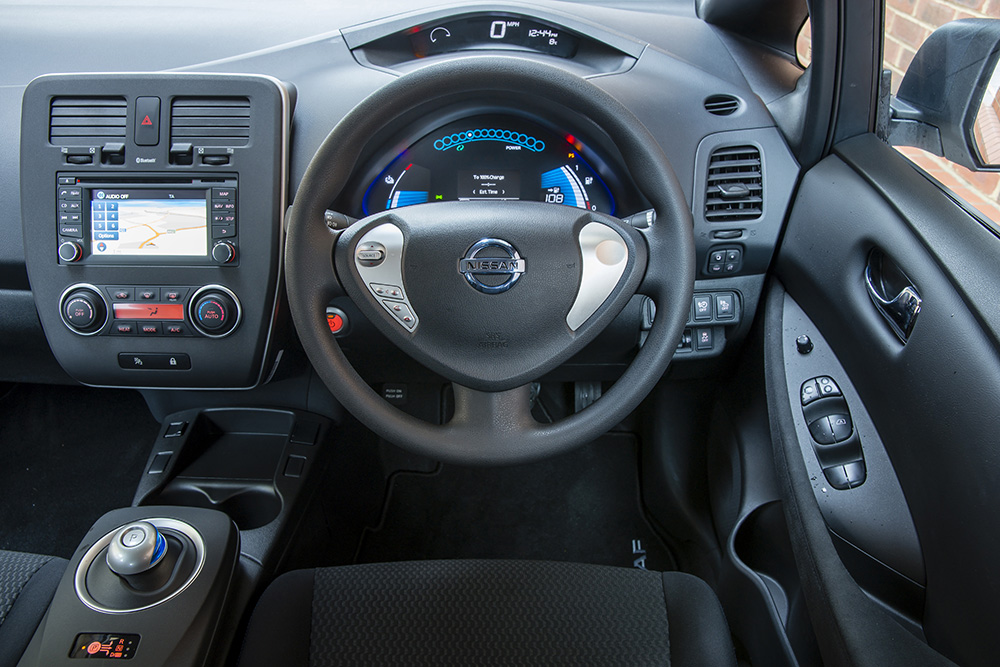 But there's more to this new Leaf than a clever finance option and some new trim. First of all, it's 32kg lighter, typically, than the previous car and with the battery charger unit moved to the front under the bonnet, there's more luggage space in the rear. The front seats are much more supportive, too, with more aggressive bolsters while in the back, there's more space under the seats for feet. The top-spec Tekna gets leather seats while for those owners keen to burnish their eco-credentials, the mid-grade features seat material that is derived from sugar cane and is 100% recyclable.
The suspension has also been retuned to suit European tastes and the steering, which previously felt too light, has been recalibrated for better feel at higher speeds. The new Leaf is a little quicker with 0-62mph coming up in 11.5 seconds but top speed is very slightly down at 89mph.
---
Don't know your BHPs from your MPVs? Click to take a look at our car jargon buster
---
The result is a driving experience that is even more competitive with conventional petrol hatchbacks. Sure, it's not a Focus or a Golf but this Leaf is noticeably more composed and tied down. Those new seats feel so much better, too. There's also a new powertrain mode that gives much more aggressive regenerative braking. In B-mode, even going down a fairly steep hill, the Leaf wants to slow down unless you apply throttle. But when you need a lot of engine braking, it's really quite handy.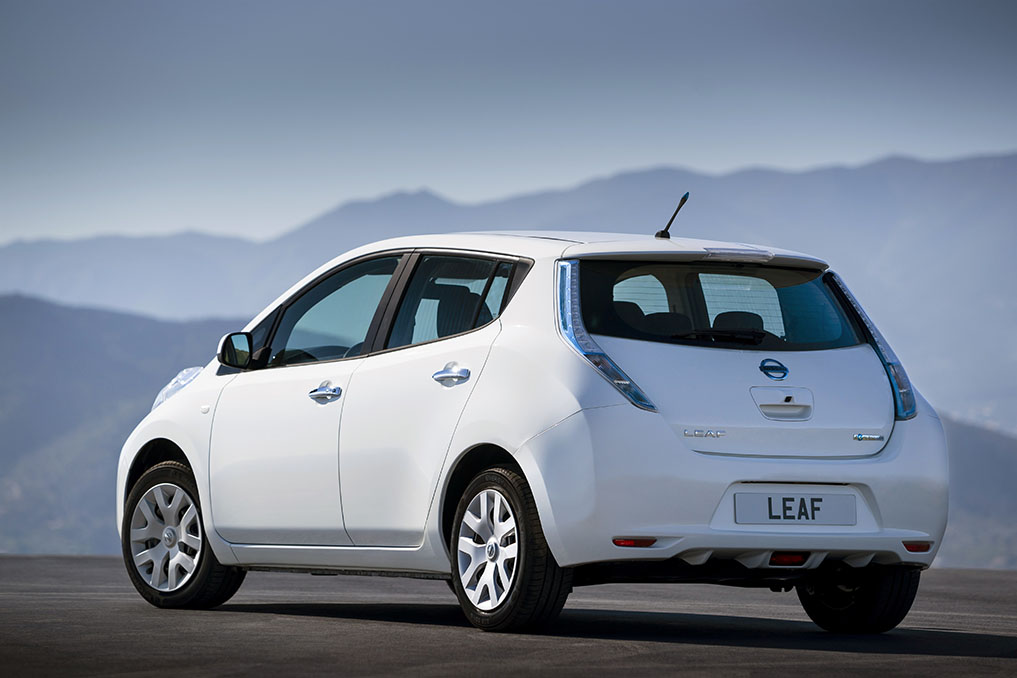 And now to the other elephant in the room: range. Nissan says the new Leaf can go 124 miles on a full charge, compared with the previous model's 109 miles. That's mainly thanks to a heat pump that cuts the heater's energy use by up to 70%. So that's 15 miles extra, which isn't exactly a game changer.
Where does that leave the state of play for the scary bits of electric car ownership? Well, that marginally increased range isn't going to change the minds of potential owners who thought the previous Leaf's 109 miles wasn't enough. The reduced upfront cost of £15,990 looks attractive but there's still an additional £2,520 to pay in battery lease costs over three years or 22,500 miles.
But the Leaf does now go further on a charge and the battery lease does bring some welcome reassurance to those worried about the cost of repairing or replacing it. Together, these improvements could just make the difference.
Verdict ★★★☆☆
More affordable but the increased range is still marginal
Nissan Leaf Tekna specifications
Price: £20,490 (with grant) plus £70/month battery lease over three year
Engine: Electric AC synchronous
Power: 109bhp @ 3008-9800rpm
Torque: 206lb ft @ 0-3008rpm
Transmission: single-speed automatic
Acceleration: 0-62mph, 11.5sec
Top speed: 89mph
CO2: 0g/km at tailpipe
Dimensions: L 4445mm, W 1770mm, H 1550mm
Nissan Leaf rivals