First Drive review: Nissan Juke Nismo RS
A sedate utility vehicle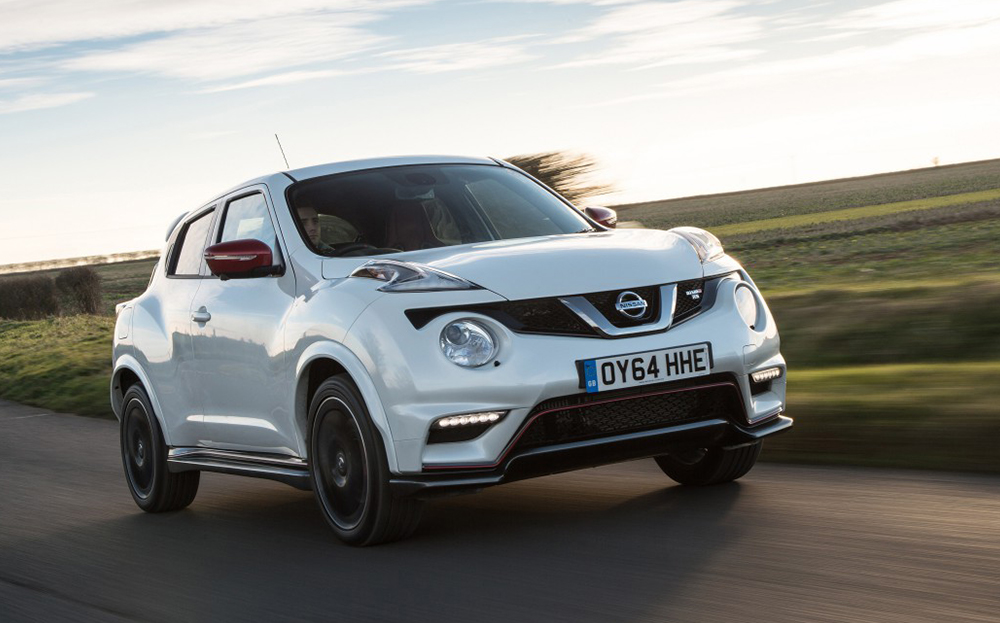 Nissan Juke Nismo RS, £21,650
AS THE shrunken offspring of the ubiquitous Qashqai, the Nissan Juke can make a legitimate claim to have been the first B-segment SUV. Before the Juke in 2010 there were no boil-washed sport utilities. Now 140,000 Jukes can be found beetling around on the UK's roads, plus numerous imitators and follow-ons in a similar vein, albeit that nothing looks quite like a Juke.
Apparently 80% of those 140,000 Juke owners were new to the Nissan brand and simply liked what they saw, which is to say a perky, left-field, bunked-up hatchback with a shape somewhere between a child's training shoe and a sculpture of two bugs, mating.
---
Browse the used Nissan Jukes for sale at driving.co.uk 
---
Then, somewhat counterintuitively, Nissan decided the Juke was also a performance car. In 2012, looking for a European platform on which to display the work of its sports research offshoot, Nismo (short for Nissan Motorsports International), the company chose the Juke as its launch model.
Incidentally, Nismo may not always be the first name to come up when the conversation turns to car racing, but don't underestimate the depth to which the brand has penetrated, particularly among younger people. Indeed, unofficial figures suggest that by the time they are old enough to pass their driving test about 62% of British males will have totalled at least 175 Nismo-badged models by wiping them down various pieces of Armco during games of Need for Speed on their Xboxes.
Anyway, out came the Juke Nismo and the even hotter Juke Nismo RS. And out it comes again now in revised form — and simplified, in the sense that every Juke Nismo is now a Juke Nismo RS. A sense of enigma remains, though. Part-hot hatch, part-crossover, the Juke Nismo RS is a . . . well, what? A crossover hatch? A hot hatchover? A hot cross hatch? Whatever we agree to call it, it's a segment unto itself. Until Vauxhall heats up its Mokka or Renault plugs a flame-shooting exhaust into its Captur, the Nismo RS sits alone in its field, over-revving itself.
The new one shares the more innocent Juke's recently facelifted nose but adds red door-mirror housings and 18in wheels with sultry red brake callipers. There are liberal servings of suede, including the seats, in which department you can go for Nissan's standard, slightly spongy sports numbers or wrap yourself in the hard-bodied embrace of the optional Recaro bucket-style specials.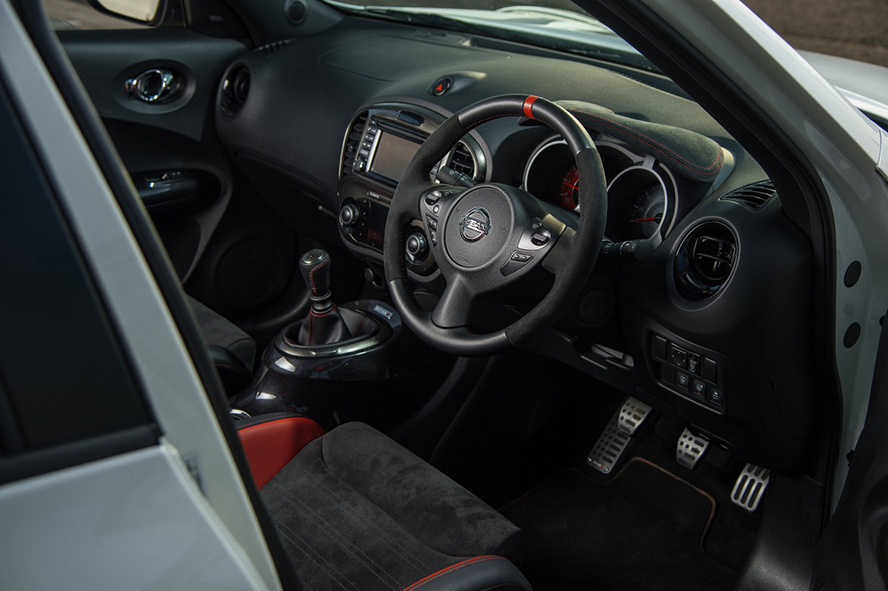 There's a broad, clean sat nav screen and below it a drive-mode monitor that priapically celebrates your choice of the ritzier settings by glowing red. The big changes, though, are undercover: the body stiffening, the firmer springs, the new mechanical limited-slip differential to spread the power between the wheels under stress and, of course, the engine — the Juke's turbocharged 1.6-litre DIG-T four-cylinder unit, now tuned to provide an extra power.
There's an automatic version with all-wheel drive but on the principle that a performance car needs to be properly manhandled we were glad to be given the front-wheel-drive six-speed manual version. Even here, though, we struggled to entertain ourselves.
The Nismo tag line is "Innovation and excitement for everyone". One accepts the innovation while wondering about the excitement. There is no arguing with the Juke's speed: it rips away from a standing start in a way that a small, four-door family car probably ought not to. But beyond that, things quickly become rather less interesting.
There's no fruity rasp in the engine — just an uninvolving drone. And while all that stiffening has clearly paid off, it's a strangely sedate and unquickening experience. A lot of effort seems to have gone into safety and manageability, which perhaps isn't going to make this car catnip for the hot-headed.
As such, you wonder how it will fare against the obvious, hunkered-down, hot-hatch competition. The Nismo RS is more expensive than a Ford Fiesta ST or a Peugeot 208 GTi, both of which are more involving to drive. And if you're in the market for something that shouldn't really be a performance car but somehow is, maybe a Mini John Cooper Works Countryman would be more practical.
The thing is, though, none of those looks like a Juke. And if you're after a car that goes fast and looks like a Nissan Juke then, really, as Nissan must have happily realised, you can't do any better than to buy a fast Nissan Juke.
Giles's verdict ★★★☆☆
We like Rapid acceleration puts it in a class of its own
We don't like Droning and dull to drive
Nissan Juke Nismo RS specifications
Price: £21,650
Engine: 1618cc, 4 cylinders
Power: 215bhp @ 6000rpm
Torque: 206lb ft @ 3660rpm
Transmission: 6-speed manual
Performance: 0-62mph in 7.0sec
Top speed: 137mph
Fuel: 39.2mpg (combined)
CO2: 165g/km
Road tax band: G (£180 a year)
Release date: On sale now
The rivals
Ford Fiesta ST, £17,395
For A hoot to drive; one of the best-value cars money can buy
Against Cluttered interior
Mini John Cooper Works Countryman All4, £28,870
For Smooth power delivery; fun to drive
Against Expensive; blunt styling
---
Browse the used Nissan Jukes for sale at driving.co.uk 
---