First drive review: Mercedes S 350 (2013)
The leading man trips up on the red carpet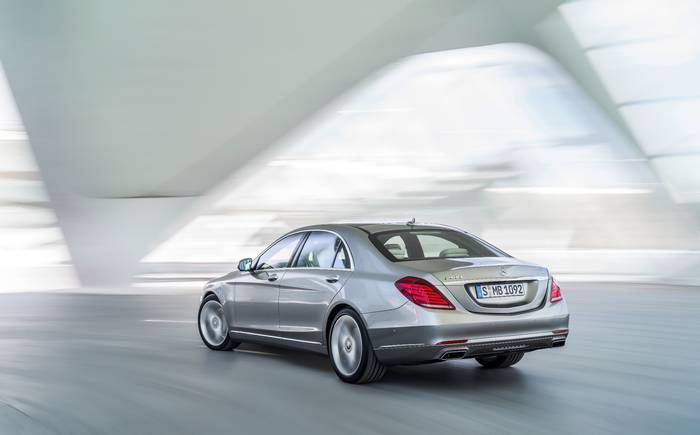 The bad news for BMW, Audi, Jaguar, Lexus, Range Rover and any other brand hoping to topple Mercedes from its dominance of the luxury car market is that the S-class has pulled even further ahead of the competition.
---
Search for and buy a quality used Mercedes S on driving.co.uk
---
The options list alone gives some idea of how far this car advances the art of the luxury limousine. You can choose suspension that uses cameras to read the road ahead and adjust its settings to absorb every bump. In long-wheelbase versions you can specify a front and rear seat that recline and combine to create the closest thing to a bed that crash legislation will allow. There are seats that will simulate a hot-stone massage and ones that allow you to warm your kidneys and cool your backside at the same time. Or vice versa. Even the armrests are heated. A fragrance dispenser hasn't been news since the days of the dreaded Feu Orange, but the big Benz has one whose perfumed molecules are claimed to be too big to cling to your clothes. It's almost disappointing when you turn on the cruise control that little mechanical hands don't pop out of the pedals and give your brogues a quick polish.
Most dramatic of all the options is the Burmester 3D surround-sound music system. It pumps the power of the standard system up from 100W to 1,540W and blasts it through 24 speakers spread around the interior of the car, from the footwells to the headlining.
But a luxury car cannot be defined by the length of its equipment list, and, despite all the technical wizardry, Mercedes has actually played quite safe with the new S-class. Although it is correct to consider it a new car, it has retained the previous generation's wheelbase. At launch there will be a choice of three engines — one petrol, one diesel and one petrol hybrid, with seven-speed automatic transmission for all. It will be next year before there's a diesel hybrid or AMG version and the year after that before new nine-speed gearboxes are available.
The interior has taken a big step forwards with TFT (thin-film transistor) dials and a 12.3in central screen that displays the Comand operating system. It's unquestionably more advanced than anything else on the market but I'm not sure that it's an improvement. Comand was invented to reduce dashboard clutter while maintaining ease of use, but the S-class now requires so many submenus to allow you, for example, to control your air ioniser or change the backdrop instrument lighting that it appears close to capacity. If, for instance, you have navigation instructions on the screen and want to select the next music track on your playlist, it requires a minimum of three operations. I'd rather just press a button.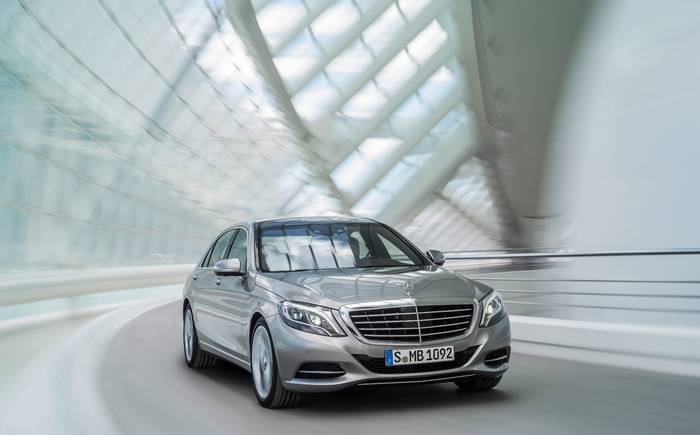 Even so, reputations among cars such as this are not built on ergonomic efficiency. The twin towers of luxury car capability are ride and refinement, and Mercedes' ability to make a car quieter and more comfortable best explains how it came to be the class leader more than 20 years ago and has stayed there since. On its deathbed the old S-class still rode better than any Audi, Jaguar or BMW, and this new one has taken the next step. Even if you don't option in the road-reading cameras, the S-class rides like nothing this side of a Rolls-Royce. All you need do is watch how the car in front bobs over each imperfection and wait to see how the S-class copes. Time and again you'll think you missed the obstacle altogether until you realise that somewhere between the tyres and your body it was soaked up by the Mercedes' extraordinary suspension. As for refinement, the company states that it is simply the most aerodynamically efficient and quietest car in the sector; after many hours at the wheel, I have no reason to doubt it.
It must also be the safest. Collision and lane-keeping alerts are nothing new, but the S-class has been given a new suite of safety armour. Measures include rear seatbelts that are airbags in disguise and rear-facing cameras that can tell if you're about to be rear-ended and will tighten your belts and jam on the brakes before impact. The car can even keep a lookout as you cross junctions to see if you're about to be T-boned and brake to a halt to prevent it.
Technologically, then, the S-class is the tour de force its rivals feared it would be. There may be little new from the engines or gearbox, but even the cheapest diesel S-class provides stirring performance and class-leading fuel consumption and emissions.
Subjectively, though, there is greater cause for hope among the opposition. For however impressive the S-class is, it remains what all S-classes have always been: a machine tool for doing a specific job better than any car that similar money can buy. What it is not is an object of desire. The sense of occasion that greets you when you first see a Jaguar XJ or Range Rover, and then open the door and view a fabulously stylish and inviting interior, is the one piece of the S-class puzzle that remains down the back of Mercedes' sofa. You'd prefer to drive anywhere in the Merc, but you'd want to arrive in the Jag or the Rangie. It is the one factor standing between the S-class and a five-star verdict.
This won't bother Mercedes unduly, because this is just the start of its S-class adventure. Unlike earlier generations that have stood alone, this one will spawn an ultra-long wheelbase version — to replace the Maybach — a six-door version, a coupé and a convertible. One senses it won't stop until total domination of every corner of the luxury car market has been achieved. What you see here is just the first step, and it is in entirely the right direction.
Verdict
★★★★☆
Not the most desirable in the class, but the best
Factfile
Mercedes S 350 BlueTec SE Line
Price:

£62,650

Engine:

2987cc, diesel, 6 cylinders

Power:

254bhp @ 3600rpm

Torque:

457 lb ft @ 1600rpm

Transmission:

7-speed double clutch

Acceleration:

0-62mph: 6.8sec

Top speed:

155mph (Limited)

Fuel:

51.3mpg (combined)

CO2:

146g/km

Road tax band:

F (£140 a year)
The Rivals
BMW 730d SE £58,120
For Clearly laid out interior; handles well Against Lacks the ride quality to convince as a luxury car
Search for and buy a quality used BMW 7 Series on driving.co.uk
Jaguar XJ 3.0 V6 Luxury diesel, £58,865
For Striking appearance; world-class interior ambience Against Lumpy ride quality; thirsty engine
Search for and buy a quality used Jaguar XJ on driving.co.uk