First Drive review: Mazda2 (2015)
Status update: I've gone all posh
---
Published 22 December 2014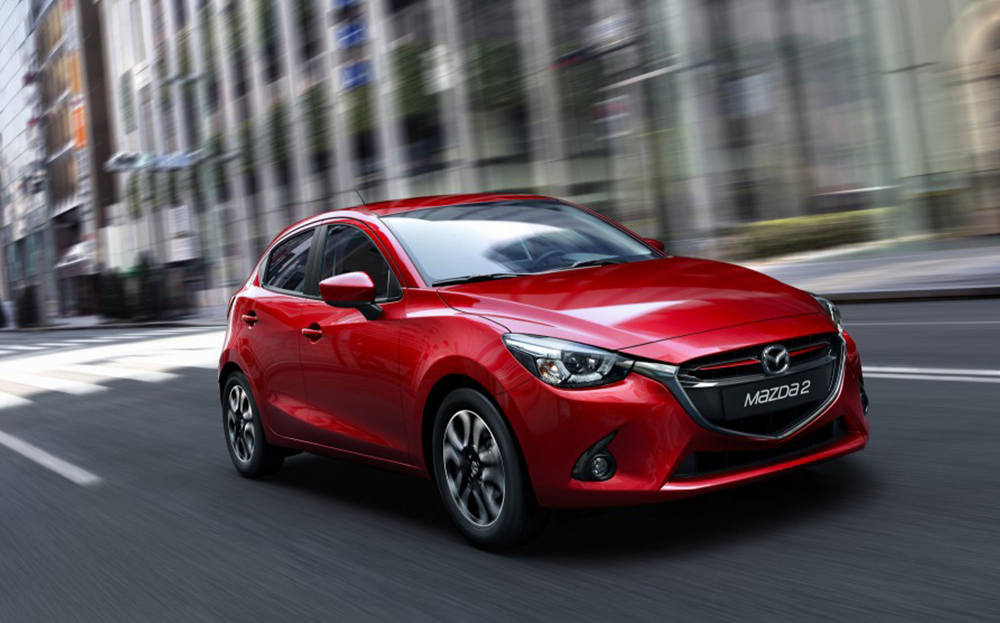 CURVY OF flank, muscular of grille and piercing of headlamp, here comes the all-new Mazda2 supermini — or "Mazda Demio" as the Japanese prefer to call it. And here also comes a slight shift of approach.
The outgoing third-generation model (with us since 2007) shared its mechanical gubbins and, to a certain extent, its social aspirations with the Ford Fiesta. This time all the building work is Mazda's own and, if we're reading the signals correctly, the plan is to nob up slightly (no disrespect to Ford) and go full bore after the Volkswagen Polo in the loftier sub-premium area of this potentially lucrative market segment where plastics are soft and silky, screws are properly tightened and keyless entry is more than just an option.
Mazda has certainly moved smoothly upmarket with the car's appearance, which allows it to pull up alongside the recent well-received overhauls of the CX-5 crossover, the Mazda3 hatch and Mazda6 saloon. The design is Japanese-led, with further input along the way, apparently, from Germany and America, and Mazda is blowing its trumpet quite loudly about having shifted the A pillars back about 8cm and thereby torn up the rule book on supermini design and bravely commenced anew.
---
Browse the used Mazda2s for sale at  driving.co.uk
---
Well, maybe. But there is definitely something appealingly coupé-like about the domed roof easing back off the now relatively elongated bonnet, especially in combination with the folds and bulges that have replaced the straight-line side-crimps that somewhat stiffly characterised the old version.
The resulting bodywork would also have to be accounted emphatically funkier-looking than that of a Toyota Yaris, and slicker by far than a Vauxhall Corsa. Note also, though, that the Mazda2 has grown 14cm longer and now comes only as a five-door, so whatever conventions have been brazenly defied on the drawing board, it's clear that the manufacturer has pushed right up close to the point where a car stops being a supermini and starts unashamedly being a hatchback.
Through some now familiar sleight-of-hand in the engineering department, the car somehow shucks off that extra bulk to come out lighter, more rigid and more sustainable. It features, among other clean-living breakthroughs, Mazda's ambitiously named i-Eloop system — ambitiously named because the word is impossible to say without sounding as if you're struggling to consume a toffee. The moniker is a compression of the term "intelligent energy loop", and what it offers, besides an opportunity inadvertently to bite your tongue in half while telling people about it, is energy recuperated from your braking.
Mazda has certainly moved smoothly upmarket with the car's appearance
Courtesy of such measures, fuel consumption is down all round and the 1.5-litre diesel engine, which arrives in the spring, has an emissions figure of just 89g/km, at which nature itself can afford to rejoice. I had the 89bhp 1.5-litre petrol version, which sits between the 113bhp and the 74bhp versions and is likely to be the most popular, compromise choice. It pulled engagingly while keeping its voice down. The steering, through the pleasantly chunky wheel, was light to the point of hazy but the gearbox was soft, easy company, even while the cabin took its routine hit of road noise and M25-generated wind-rush. The sense, though, that this is a car that you could flick around the city and whip in and out of implausibly small parking spaces was largely gone. It drove like a hatchback — one with some spice and verve, but a hatchback nevertheless.
Still, it can be bountifully equipped. If you opt for the upscale models, you'll find that the leather extends beyond the fabulously comfortable front seating and across the dashboard in generous swathes. In that context, the pinched air-conditioning controls appear to come from an earlier, less generous era, yet there are blind-spot indicators and a lane departure system and rear parking sensors that are broad enough in their sweep to be alert to passing cross-traffic in those potentially expensive car park situations.
There's also a clean and clear touchscreen for the sat nav, and the generous provision of three years of free updates for the software should spare you, at least for a while, the experience of fuming in nose-to-tail town-centre traffic while other people are gliding around the newly opened bypass.
The Mazda2 also offers the boundless delights of internet radio and access to Facebook, which could lead you to feel that car makers really are beginning to get their acts together connectivity-wise. That said, I took my test drive in the same week that a news report revealed Facebook has seen a fall in its number of users aged 16-24.
It was hard to suppress the dim suspicion that, ultimately, one's car will, in a manner of speaking, forever be a cassette player in an MP3 world
That reported decrease was fractional (0.5%) but, even so, as a sign of shrinkage it was something to think about, not least for the in-car technology people who, hitched to the industry's ponderous development cycles, are achingly familiar with the experience of cracking things just as they go out of fashion.
So even as one pottered around Surrey in the Mazda2, internally celebrating this new-minted freedom to post status updates joyously and unrestrictedly without having to fish out one's mobile in a lay-by, it was hard to suppress the dim suspicion that, ultimately, one's car will, in a manner of speaking, forever be a cassette player in an MP3 world. That's just the way cars are.
They do get you places, though, unlike even the most advanced phones and tablets. And, in the Mazda2's case, they do this while looking good as well. There's still a niche for that.
Giles's verdict ★★★★★
A supermini that's super, if not particularly mini
Mazda2 specifications
Engine 1496cc, 4-cylinder petrol
Power 89bhp @ 6000rpm/ 109lb ft
Transmission 5-speed manual, front-wheel drive
Performance 0-62mph: 9.4sec
Top speed 113mph
Fuel 62.8mpg
CO2 105g/km
Road tax band B
Price £14,395
Release date Spring 2015
---
Browse the used Mazda2s for sale at  driving.co.uk
---
The rivals
Ford Fiesta Zetec 1.0T EcoBoost 100PS S/S 5-door, from £14,545
For Low CO2, good mpg, great to drive
Against Rear seats could be roomier
Browse the used Ford Fiestas for sale at driving.co.uk
VW Polo SE 1.2 TSI 5-door, from £14,360
For Small car with a robust big-car feel, good engine, smooth ride
Against Less fun to drive