First Drive review: Mazda MX-5 2.0 SE-L (2015)
Built around the best driver aid of all: your hands
---
Published 14 September 2015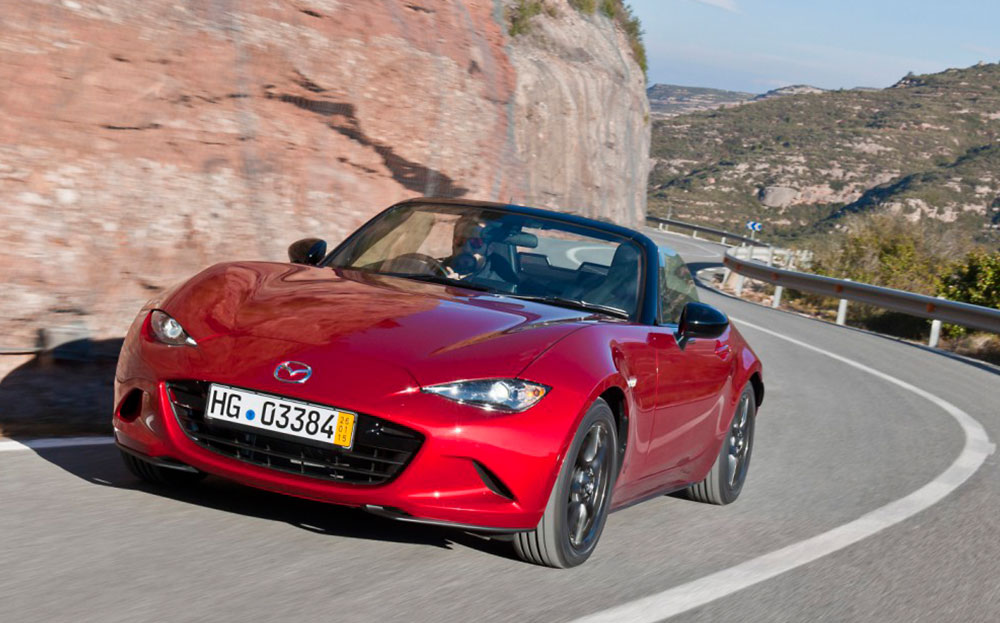 Mazda MX-5, from £18,495
THEY SAY you never forget the first sports car you drive, and I remember mine clearly. It was a Mazda MX-5 in Mariner Blue, but I'd been anxious about sliding behind the wheel and zipping along country lanes because the car was more flea-infested than my first shared student flat. It was owned by a certain Andy Wilman — he of Top Gear fame — a man notable to this day for his threadbare underwear. Presumably he has better things to do than go shopping for pants.
---
Search for used Mazda MX-5s for sale on driving.co.uk
---
We worked at Auto Express magazine in the early 1990s, he as a features editor, me as a dogsbody car tester. Andy liked the MX-5 so much that he'd bought one, but he didn't like it enough to treat it to a sponge, a bucket of warm, soapy water and a vacuum cleaner every so often. No matter. I braved it one summer evening, roof down, wind whipping my ears and pop-up headlights raised. The twin-cam engine had a distinct rasp and the gearshift made every other car's feel like a tractor's.
Fast-forward a good 20 years and those sensations are flooding back. The new, fourth-generation MX-5 is just as small and nimble as the original car; smaller even, whereas everything else on the road has grown freakishly large, making the sub-13ft roadster feel like a sycamore sapling in a forest of redwoods.
I should mention that I'm testing the MX-5 in slightly unusual circumstances. I've borrowed one from a dealership — Magna Mazda, of Canford Cliffs, Dorset — which has been kind enough to let me put it through its paces.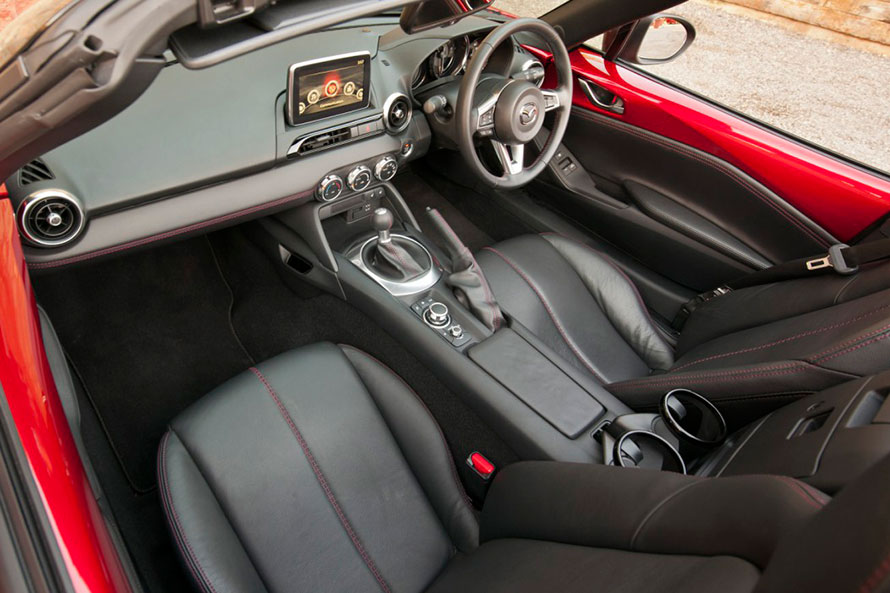 Some vehicles are so boring that I'd rather read my accountant's monthly newsletter than take them for a spin. Not the MX-5. You could merrily wind your way across Britain in it without ever taking in a main road, revelling in the poise of the chassis and the zingy character of the four-cylinder engine, which has the perfect amount of power — 158bhp in the 2-litre version — to make this 975kg machine a zippy rear-wheel drive that never feels scary and certainly doesn't rely on its traction control. By contrast, these days many other two-seat sports cars are so overpowered that you'd be well advised to make out a will before turning off their electronic safety aids.
Drivers who prefer to pootle and pose will also find a lot to like about the MX-5. The roof doesn't have heavy, complex electronics; simply unfasten a catch and shove it back, exposing yourself to the elements in all of two seconds. Putting it up again is more of a hardship — it takes at least, ooh, three seconds to close.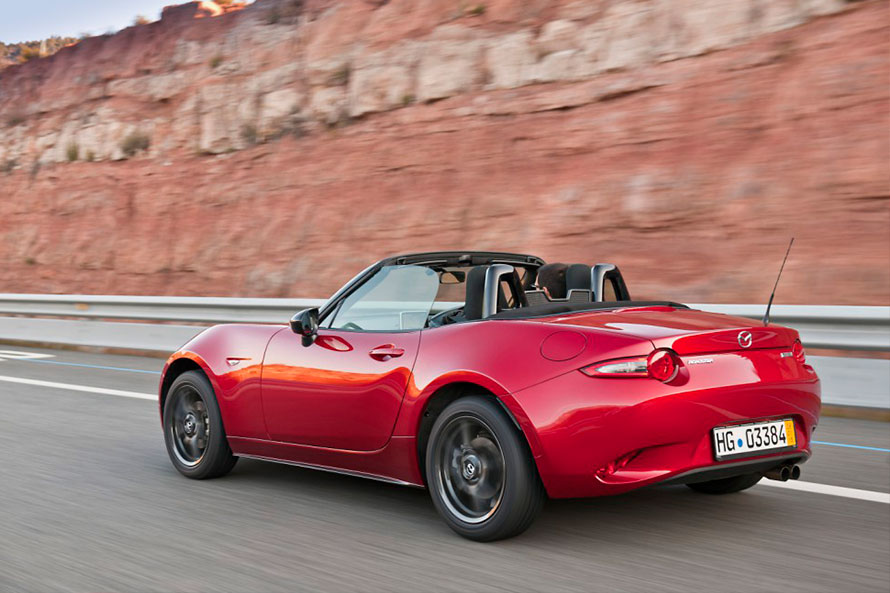 The powerful heater and heated seats extend the "top down" season well into autumn. Plus there's enough space on board to store more than a toothbrush and a clean pair of smalls. The pop-up headlights of the Mk 1 were outlawed years ago, but the new bodywork has wings that rise up — much like an old Porsche 911's — giving you something to aim at the horizon. The view is as intoxicating as in the original car with its lights raised.
Perhaps the most reassuring thing is that while the new MX-5 captures the simple charm and fun of the original, it is more robust. The old MX-5 would wobble about and didn't seem much more sturdy than a Converse trainer. In the new model there's no body flex and you get the impression it wouldn't crumple up in an accident. Though I still might hesitate to jump into one that hadn't been cleaned for a year or three.
2015 Mazda MX-5 2.0 SE-L specification
PRICE: £20,095
ENGINE: 1998cc, 4 cylinders
POWER: 158bhp @ 6000rpm
TORQUE: 147 lb ft @ 4600rpm
ACCELERATION: 0-62mph: 7.3sec
TOP SPEED: 133mph
FUEL: 40.9mpg (combined)
CO2: 161g/km
RELEASE DATE: On sale now
---
Search for used Mazda MX-5s for sale on driving.co.uk
---