First Drive review: Mazda CX-5 (2015)
New and improved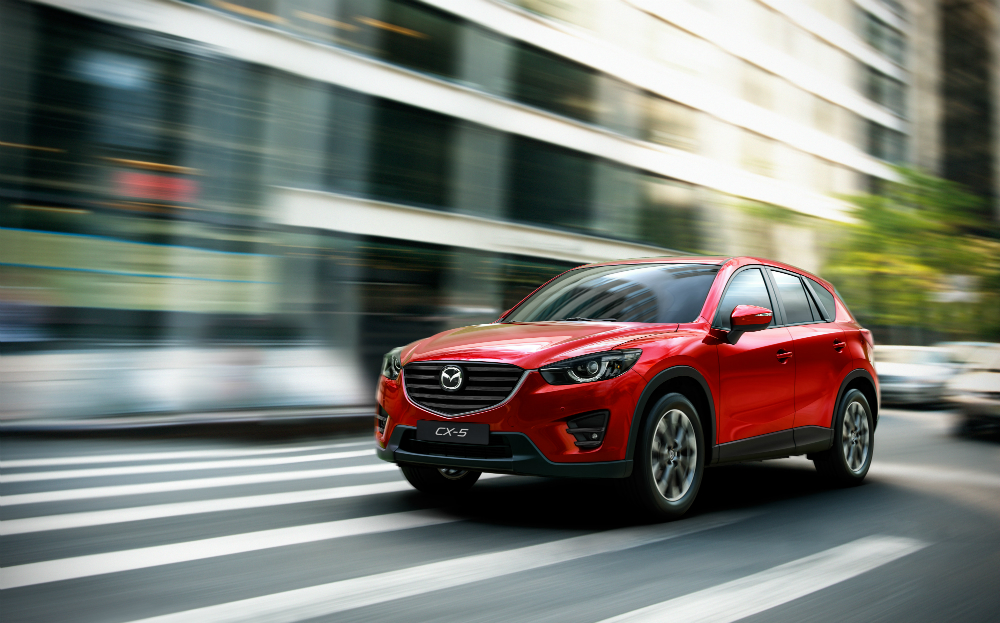 IT'S ALWAYS a bit worrying when a mainstream manufacturer announces that it is going 'premium'. More often than not, this means they've stuck a bit of plastic chrome on the coin tray, or added an 'LX' to the badge. So when Mazda introduced the new CX-5 by saying "our journey to the premium segment continues," I put my sceptical hat on.
To be fair, it could be a logical move. The small crossover segment is a bitter battleground with the likes of the Nissan Qashqai, Kia Sportage and Ford Kuga slugging it out for advantage. And while Mazda has done well with the CX-5, it can't afford to coast. So the new car is looking to raise its game significantly, all in the hope of moving toward that premium holy land.
---
Browse the used Mazda CX-5 for sale at driving.co.uk
---
There hasn't, though, been a dramatic re-think of the car that was originally launched in 2012 – for example, no sheet metal has been altered. Tweaks include a new horizontally slatted grille, distinctive full LED front and rear lights and new 19-inch alloy wheels. It's a good-looking car, and those new wheels are particularly handsome, if such things can be considered handsome.
Hop inside and the cabin does actually feel expensive (don't want to use the 'p' word yet). Virtually everything you touch in the course of driving the CX-5 delivers a really good tactile experience, and the alloy-like trim also feels and looks convincing. Mazda has also ditched the manual handbrake lever for an electric version, which looks more swish and frees up some space. So the cabin is a nice place to spend time, and finding an ideal driving position is easy, especially as there is a rake and reach adjustable steering wheel.
Mazda has also upgraded the infotainment system, with a better quality, larger 7-inch colour screen, new DAB radio, Twitter and Facebook audio feeds and a navigation system with expanded destination search features. Nice, but one has to wonder, with all that going on when owners will actually find time to drive the car.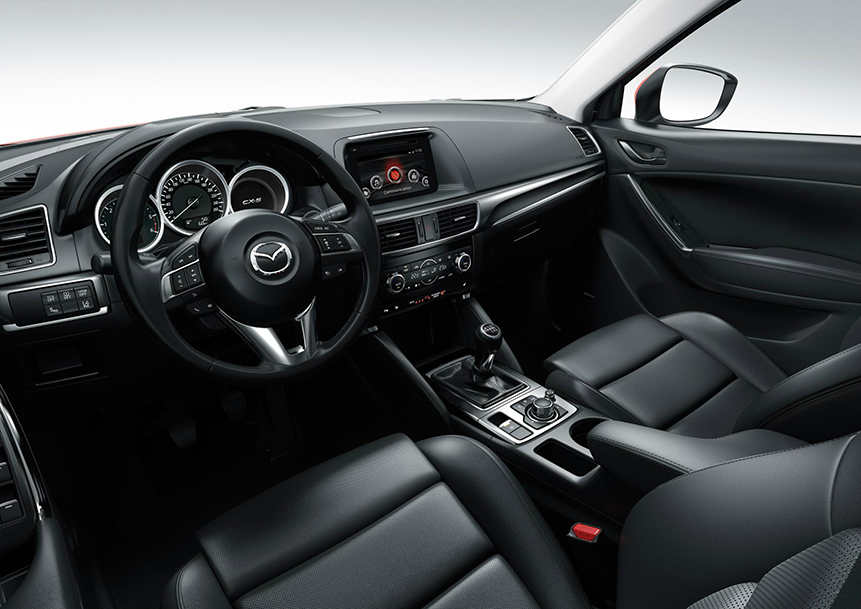 The engine lineup for the UK includes a 163bhp 2-litre petrol and a 2.2-litre turbodiesel with either 148 or 173bhp. The front-wheel drive 148bhp really is the pick of the bunch. With 280lb ft of torque on hand from as low as 1800rpm, it's a relaxed cruiser with quite strong performance – it feels much quicker than the 0-62mph figure of 9.2secs would suggest. Refinement at a motorway cruise is good, too. And 61.4mpg with the manual gearbox fitted is pretty decent, although that drops to 53.3 if you opt for the automatic.
There is also the option of an all-wheel drive transmission, which automatically sends power to the wheels with grip in nasty conditions. In normal cruising, power goes to the front wheels to maximise fuel economy. That's helpful, because an all-wheel drive 148bhp 2.2 gets 7mpg less than its front drive sibling and it's a bit slower to boot. However, unless you really, really need all-wheel drive, I'd give it a miss.
One of the most common complaints about the previous CX-5 was a lack of refinement at cruising speed. Here, Mazda has put in a big effort – there is more sound proofing material under the bonnet, in the door panels and in the headliner. Even the rear door glass has been thickened to keep noise to a minimum, and in a bid to tame wind noise around the wing mirrors, smaller ones have been fitted.
I managed to commandeer a previous generation CX-5 at the launch of the new one, and driving new and old back to back, the reduction of both road and wind noise is really noticeable – it's the difference between having to raise your voice to be heard, and not.
Mazda has tried to address another typical criticism, namely that the ride quality of the previous CX-5 was too firm, particularly at low speed. So they've done some work on the front and rear dampers to help smooth out the ride. The result isn't a total success – the new CX-5 still feels a bit nervous, particularly over broken surfaces. I suspect that might be partly due to the big 19-inch wheels on the cars available for testing.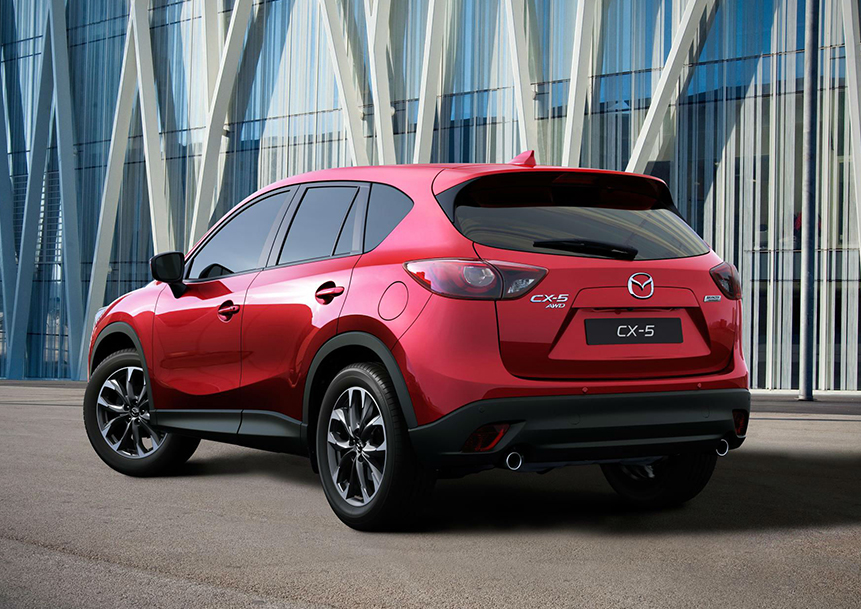 Otherwise, the new CX-5 handles reassuringly, with no nasty surprises if you lift off the throttle going quickly around a corner (and electronic intervention if the system thinks you're about to oversteer into the Armco). The steering has a really nice weight to it as well, with reasonably good feel and feedback. The CX-5 has always been and continues to be quite a good steer.
Prices start at £22,295 for the 2.0-litre petrol and £24,095 for the 150ps diesel. Even at entry level, the CX-5 is well equipped with 17-inch alloys, front and rear parking sensors,  that 7-inch colour screen, electric parking brake, Bluetooth, dual-zone aircon, rain-sensitive wipers and more.
Mazda really has made genuine efforts to improve the driving refinement of the CX-5 and the experience you'll have in the cabin. And as a step in Mazda's 'journey' toward premium, it's a much more credible attempt than slinging a bit of plastic chrome at the coin tray.
Gavin's verdict ★★★★☆
Better on virtually every count
Mazda CX-5 2.2 S-EL specifications
Price: £24,095
Engine: 2191cc, four-cylinder turbodiesel
Power: 148bhp @ 4500rpm
Torque: 280lb ft @ 1800-2600rpm
Transmission: 6-speed manual
Performance: 0-62mph in 9.1sec
Top speed: 119mph
Fuel: 61.4mpg (combined)
CO2: 119g/km
Release date: April 1
Mazda CX-5 rivals
Ford Kuga Zetec 2.0TDCI, £24,195
For One of the best to drive in the class
Against Very busy, cluttered dashboard
Nissan Qashqai n-tec 1.5 dCi, £23, 450
For The 1.5-litre diesel returns a remarkable 74.3mpg
Against Anonymous styling, boot space is a bit tight
---
Browse the used Mazda CX-5 for sale at driving.co.uk
---