First drive review: Jeep Renegade (2015)
Finally, a compact SUV that can venture off-road
---
Published 22 September 2014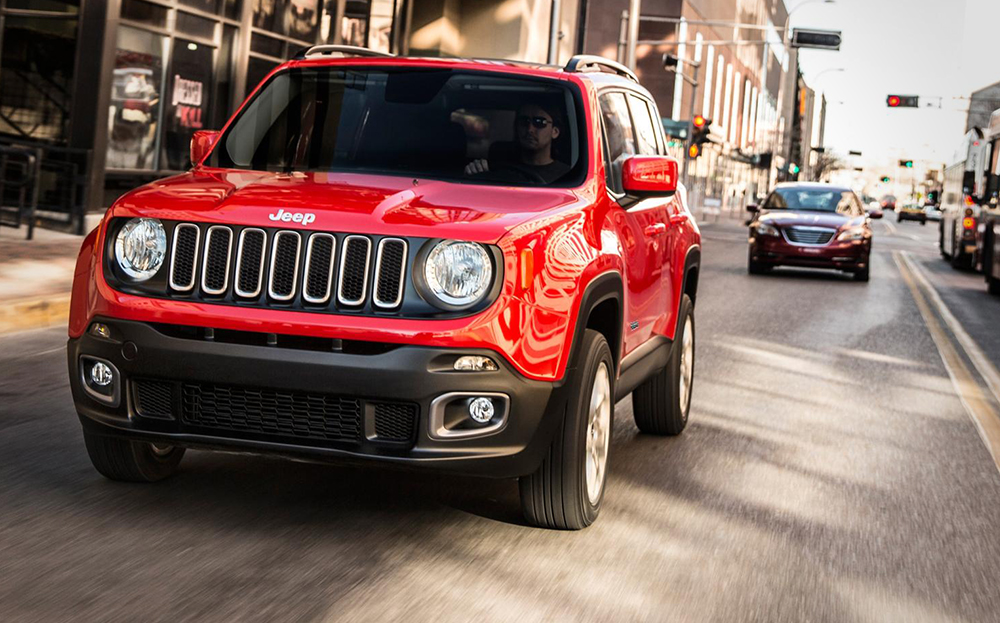 DON'T BLAME Nissan, Kia or even Land Rover for the unhealthy amount of SUVs you see clogging up the school run on a daily basis. Blame Jeep.
The marque responsible for the Willys MB US Army vehicle in 1941, which single-handedly went on to win the Second World War, if Jeep's marketing department is to be believed, also created the Cherokee in 1984.
Said vehicle, with its unique lightweight "unibody" design, ensured the rugged off-roader could also be used on the daily drive, thus opening the floodgates for a number of American-built copycat models.
---
Don't know your BHPs from your MPVs? Click to take a look at our car jargon buster
---
Jacked-up family cars soon began replacing regular hatchbacks in the UK and the SUV revolution began. But somewhere in this strange automotive evolutionary process, the modern Sports Utility Vehicle lost its ability to venture off-road. It adapted to the issues of raised kerbs and inner-city obstacles with an increased ride height and chunkier body addenda but lost the all-important all-wheel drivetrain, increased articulation angles and low-ratio gearbox that are essential to traversing rugged topography.
Jeep's answer to this potentially non-existent problem is the Renegade, a vehicle that embodies the cute and playful appearance of modern SUVs with its Tonka Toy styling, eye-popping exterior hues and funky interiors, yet maintains rugged underpinnings for a proper, mud-plugging experience.
The Renegade embodies the cute and playful appearance of modern SUVs yet maintains rugged underpinnings for a proper, mud-plugging experience
It's difficult to even start a conversation about the Renegade without mentioning the styling. It appears designers drew inspiration from the sort of chunky plastic toys toddlers scoot around the garden on. It's boxy, aggressively playful in places and packed full of subtle nods to the Willys Jeep of old. Scour the interior and you'll spot a number of jerrycan logos embossed on various surfaces, for example.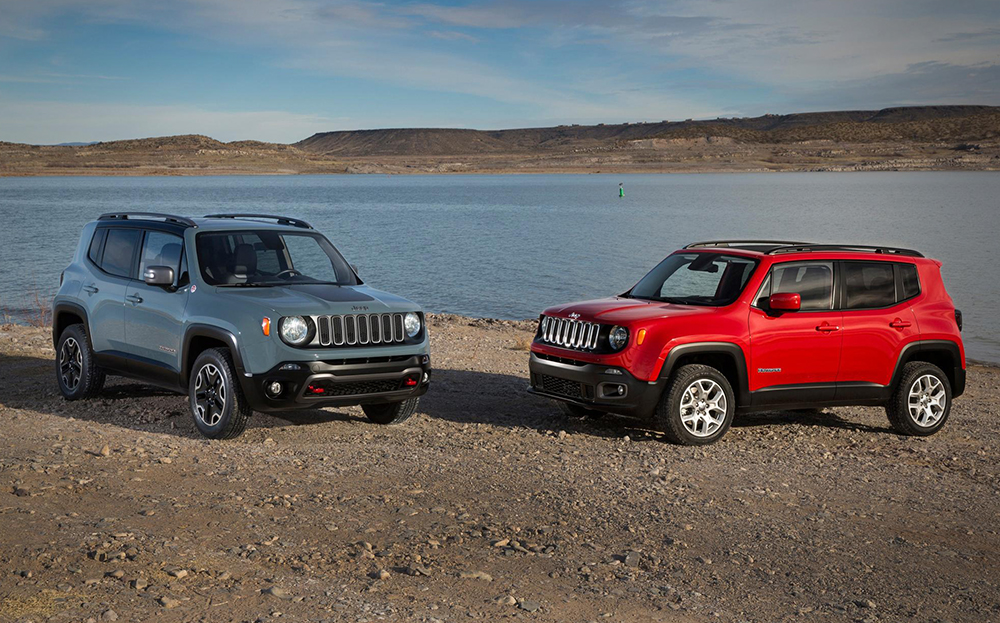 Customers will either love or detest the looks but it's fair to say the Renegade lacks a mature touch inside. Entry-level Sport models get a tiny monochrome screen that takes care of the basic infotainment system, meaning even more cheap plastics are required to fill the space. Limited and Trailhawk models fare much better with leather-like material covering the seats and a large TFT screen nestled between the instrument binnacles, which interacts with the 6.5in touchscreen in the centre stack.
---
Search for and buy a Jeep on driving.co.uk
---
But it's all very sensitive to spec, with plenty of garish colours tempting customers to spoil the interior of their new car. Plus, there's no overlooking the "mud splats" on the speedometer and the legend "to new adventures", embossed on the ignition switch surround. No need Jeep, no need.
Powering the range is an extremely complex line-up of engines. It starts with the 138bhp 1.4-litre MultiAir2 turbo petrol, a more powerful 168bhp version of this unit and two diesels. The first is a 1.6-litre MultiJet II, which develops 118bhp or 138bhp, and a 2-litre MultiJet II in 138bhp or 168bhp states of tune.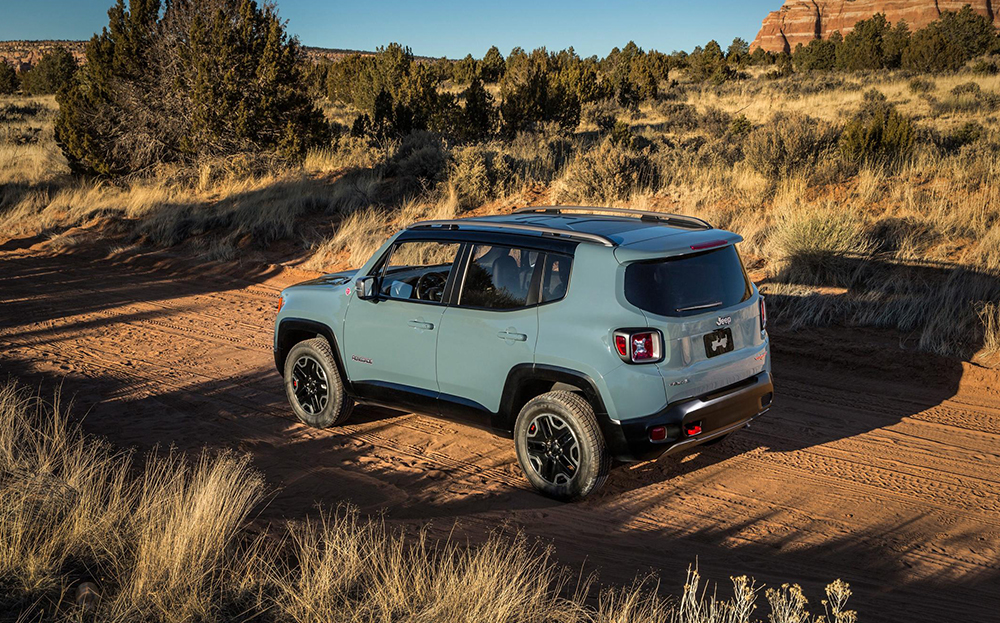 Things get even more convoluted when you start talking about gearboxes and drivetrains. The basic 140bhp petrol engine comes with front-wheel drive only, with the option of either a six-speed manual gearbox or dual, dry-clutch transmission. The basic 118bhp, 1.6-litre diesel also comes only in front-wheel drive configuration but this time with just a manual gearbox.
Those looking for the true off-road experience must head for the more powerful engines, which are not only mated to a four-wheel drive system that automatically disengages the rear axle when not required, but also the excellent nine-speed automatic transmission.
This sheer weight of choice is bound to baffle the consumer but it boils down to whether the Renegade in question is actually going to tackle anything more taxing than an underground car park in its lifetime. For most people, the answer is surely "no", hence why the manual 1.6-litre diesel in front-wheel drive only is predicted to be the best seller in the UK.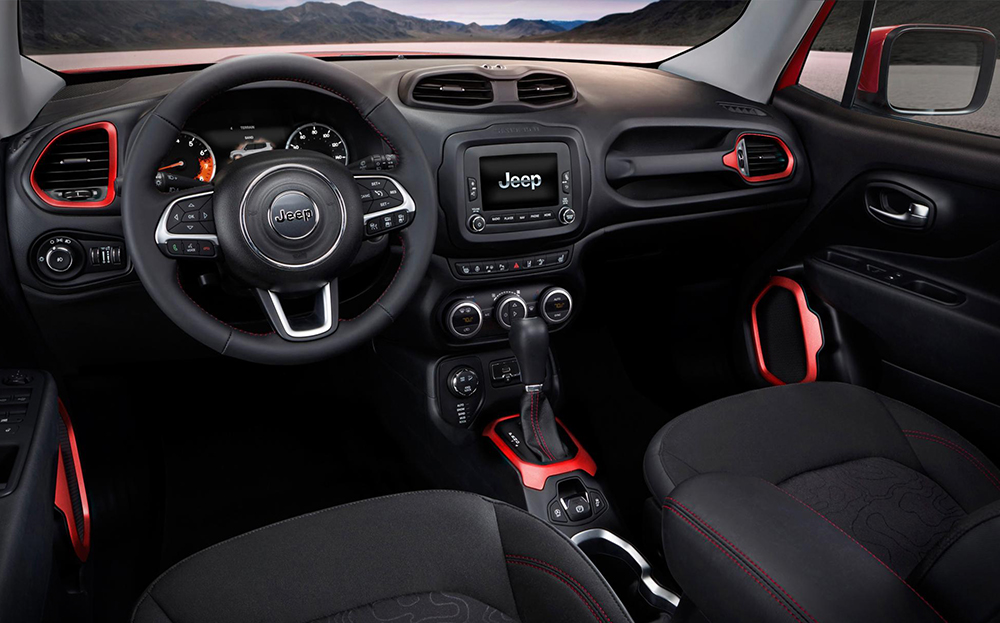 If their answer is "yes", customers should look towards the 138bhp 2-litre diesel MultiJet II engine with Jeep's extremely capable Selec-Terrain system. This handy click wheel, which is situated just beneath the air-conditioning controls, allows the driver to manually select the perfect driving mode for the terrain ahead.
Is the Renegade actually going to tackle anything more taxing than an underground car park? For most people, the answer is surely "no"
Land Rover customers will be well versed in this kind of innovation but a system as capable as this has rarely been seen in the compact SUV segment.
The off-road course at Fiat's typically Italian Balocco proving ground involves several 30-degree inclines, moguls and a steeply banked wall that does its best to topple the car over. The Renegade handled all that was thrown at it, even when left to fend for itself in automatic mode, quickly deciding the perfect amount of torque and traction to apply to each wheel.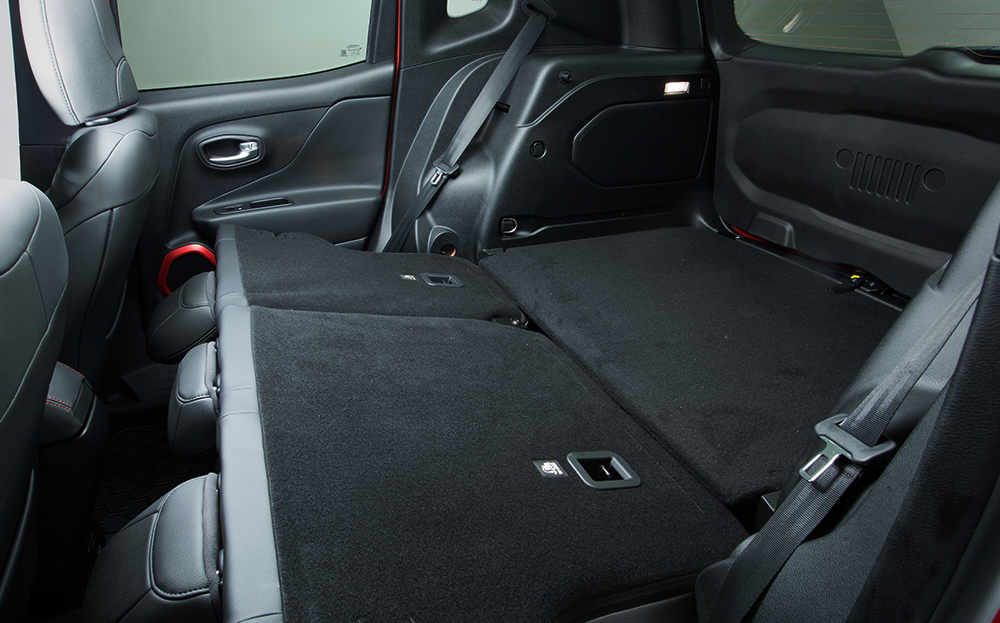 There's no denying that Jeep has got the muddy bits right but the car's biggest downfall is its on-road characteristics. There's a lot of wind noise around the huge wing mirrors, the interior feels a bit childish in places and the raised ride height means it wallows slightly through corners.
It's also going to be priced to rival the likes of Skoda's Yeti and Mini's Countryman ALL4 when it goes on sale early next year. That means it will also step into the ring with the Volkswagen Tiguan, Kia Sportage and Nissan Qashqai, all fantastic cars in their own right.
So, unless your school run involves climbing a small mountain and traversing a stream or two, you're highly unlikely to encounter many Renegades clogging up the daily commute.
Verdict  ★★★☆☆
Better in a ravine than on a road
Jeep Renegade 1.6 MultiJet II Limited FWD specifications
Price: £18,000 (est)
Release date: Early 2015
Engine: 1598cc, four-cylinder
Power: 118bhp @ 3,750 rpm
Torque: 236 lb ft @ 1,750rpm
Transmission: Six-speed manual
Acceleration: 0-62mph in 10.2 sec
Top speed: 111mph
Fuel: 42mpg
CO2: 120g/km
Vehicle tax band: Free for the first year, £30 thereafter
Jeep Renegade rivals
Mini Cooper SD Countryman ALL4, £23,830
For It's got the looks, personality and all-wheel drive ability Against Cramped inside, expensive and poor approach and departure angles in comparison
Search for and buy a used Mini Cooper SD Countryman ALL4
For A brilliantly made SUV that's reliable, economical and stylish Against Can't really handle the rough stuff unless you opt for four-wheel drive versions
Search for and buy a used Skoda Yeti here
---
Search for and buy a Jeep on driving.co.uk
---