First drive review: Ford Focus (2014 facelift)
Current Focus gets some mid-life updates
---
Published 09 September 2014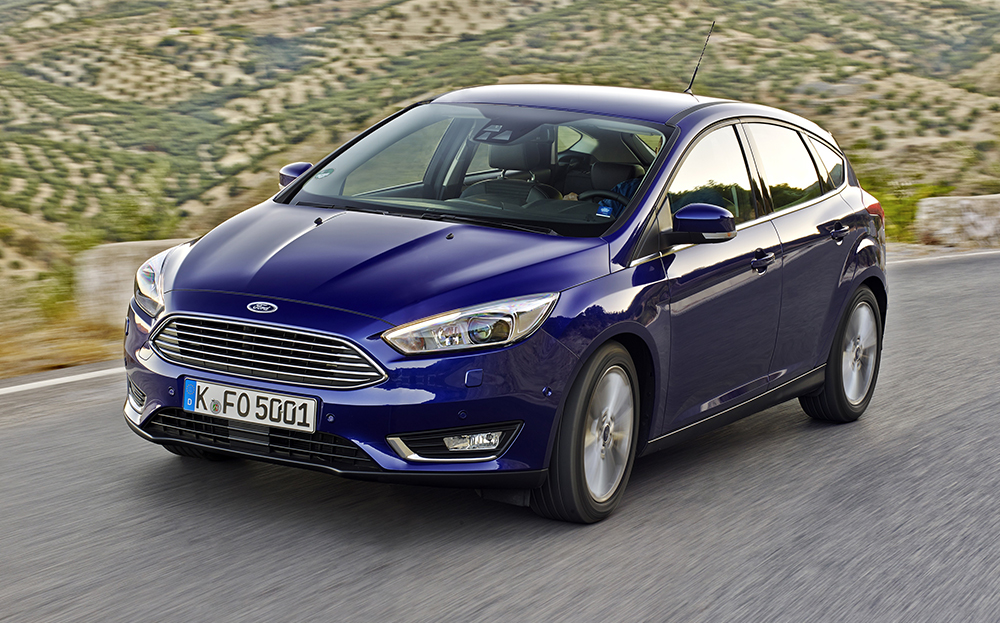 WAS IT really 16 years ago — the same year as the £2 coin was introduced and the first DVDs arrived in Britain — that Ford launched the original Focus? Apparently so.
When it arrived in 1998, the Focus shook up the small-family-car market. Here was a car that could ride, handle, steer and go at a price that rivals couldn't match. It looked good inside and out, and, unlike some predecessors from the company whose name critics unkindly quipped stood for "fix or repair daily", it had excellent build quality.
Now in its third generation, the Focus is Britain's bestselling small family car, and this new version is set to keep the Focus name burnished. In truth it is merely a mid-life facelift — Ford describes it as an "evolution" rather than a "revolution" — although quite a number of changes have been made to its design and engineering.
---
Search for and buy a Ford Focus on driving.co.uk
---
Where to start? How about the most noticeable tweak: the larger, "open-mouthed" grille? We've already seen it on the Fiesta, and it'll be on next year's new Mondeo, but in combination with a more sculpted bonnet and a lower, wider stance, it makes the Focus looks surprisingly fresh. The sharper, sportier look is emphasised by a "waistline" that runs above front and rear wheelarches, helping to create a more upmarket appearance.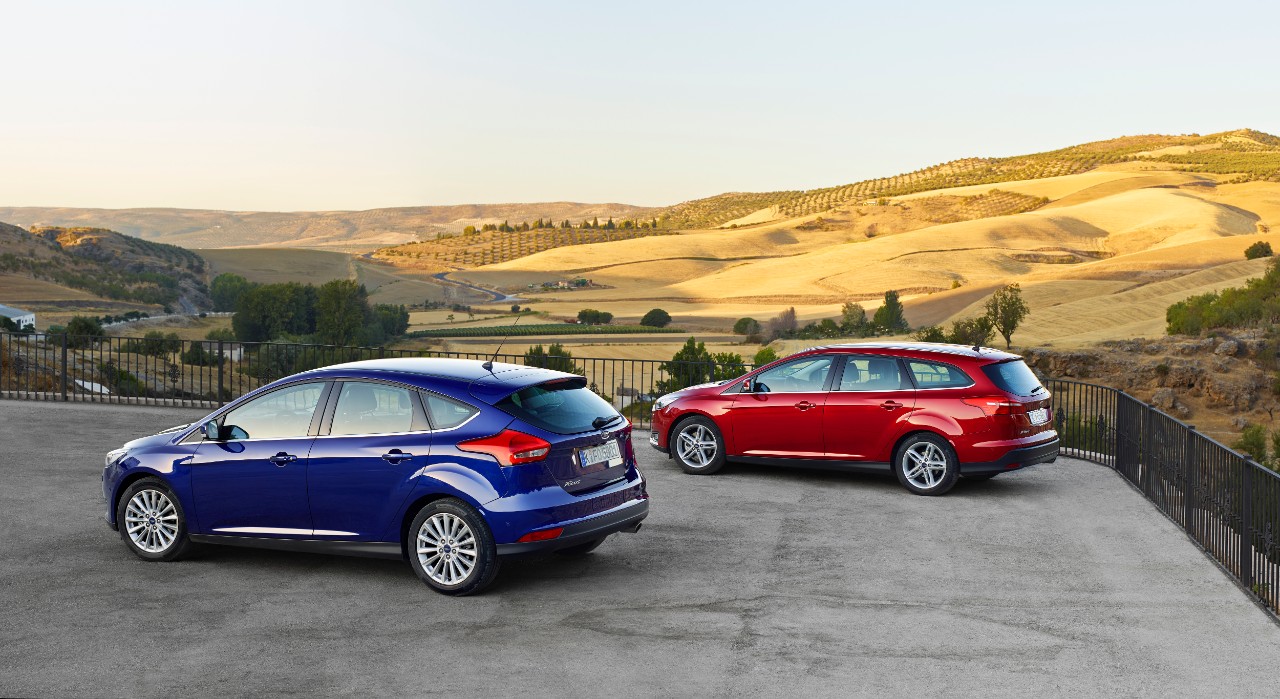 It's much the same inside the car. If you exclude the ritzy top-of-the-heap Titanium X specification that accounted for 20% or so of the current generation's sales (the bestselling trim was Zetec, with 50%), the new car's cabin is a pleasant place and has a tidier, calmer fascia than before.
Key to its appeal is a redesigned centre stack with a new 8in touchscreen that is home to most core functions and a lot more besides. It couldn't come too soon: if anything shows how the game has moved on, it's the old Focus's reliance on buttons and a monochrome media interface display, which compare unfavourably with BMW's and VW's easy-to-use touchscreens.
With the new interface comes a raft of driver-assistance features (on high-spec models) that would shame a Mercedes S-class. The Focus has everything from parking assistance systems to active braking (which warns the driver and slows the car if it senses an imminent impact) and adaptive lighting (which gives a long search-beam on motorways and a shorter, wider one to illuminate urban pavements better).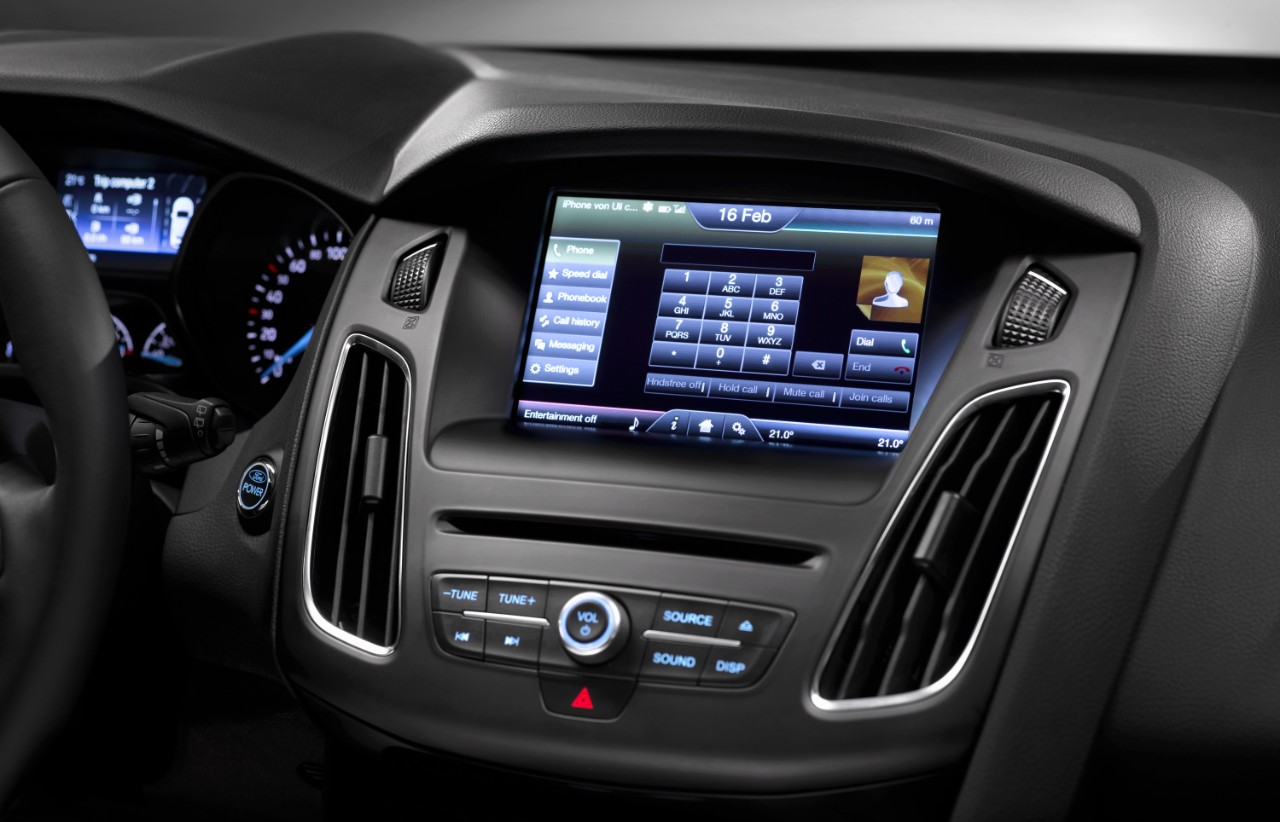 It also has what's claimed to be an industry-first technology: Enhanced Transitional Stability predicts when a car might skid and helps to stop the driver losing control in the first place.
So much for looks and tech, but how does the new Focus perform? Privately, Ford engineers say they benchmarked it against the Volkswagen Golf, which brings to mind the VW ad that asks: "Why drive something like a Golf when you can drive a Golf?" A fair question, except that there's nothing like having a choice, and with the new Ford Focus that choice is becoming quite a bit harder to make.
The old model was always impressive on the road, and its replacement is 5-10% more so. The steering is a little more communicative, the ride a tad more cushy, the brakes a touch more progressive and the handling more entertaining — and the grip levels are astonishingly high.
On top of all that, it's quieter too, certainly with one of the new petrol engines under its bonnet. While the 1.0T EcoBoost engines continue, they are joined by two 1.5T EcoBoost units of 148bhp and 180bhp. A 1.5-litre TDCi diesel appears for the first time, in 94bhp and 118bhp variants, alongside an improved version of the 2-litre TDCi. All are cleaner and 7 -15% more fuel-efficient. Next year's Focus ST hot hatch will be powered by a 247bhp 2-litre petrol engine and a diesel — the first under the ST badge.
The 1.5T EcoBoost is honey-smooth, quiet and impressively torquey through much of the rev range. There's a pleasant rasp at full chat but it's never raucous. It's not punchy like a diesel, but it will cruise in sixth gear at 70mph at a relaxed 2500rpm. If you don't do a high mileage, it's a better choice than a diesel and, being lighter, helps the car's handling.
So, for all these improvements, is the new Focus on a par with the Golf? The answer is: not quite. The new Focus still lacks the solidity, timeless elegance, mature driving behaviour and, above all, image of the German car, which was relaunched last year.
There are just two body styles: five-door hatchback and estate. The three-door accounted for just 6% of the old model's sales, so that has gone the way of all flesh. For the record, Ford expects the five-door hatch to take 85% of sales.
Prices will range from £13,995 for the 1.6 Studio hatch to £24,610 for the high-power automatic version of the 1.5T EcoBoost Titanium X estate.
For a fleet favourite such as the Focus, resale values are a hot topic, and here again the Golf is the car to beat. According to Ford, the used-car valuations company CAP predicts that a three-year-old Focus will be worth as much as a Golf of the same age, and as evidence it points to a recent decline in Golf residual values and a stiffening of those of the Focus.
Stranger things have happened, but while the Focus has taken a further step on the road to perfection, the last great hurdle — image — is yet to be leapt. That still seems to be a work in progress.
Verdict ★★★★☆
More grown up and better in all areas but still not as classy as a Golf.
Ford Focus 1.5 T EcoBoost 182PS Titanium X 5dr specifications
On sale: November 2014
Price: £23,440
Engine: 1498cc, 4 cylinders
Power: 180bhp @ 6000rpm
Torque: 177lb ft @ 1600-5000rpm
Transmission: 6-speed manual
Acceleration: 0-62mph in 8.6sec
Top speed: 138mph
Fuel: 51.4mpg (combined)
CO2: 127g/km
Vehicle tax band: D (free for first year, £110 thereafter at current rates)
Ford Focus rivals
VW Golf 1.4 TSI GT, £23,650
For Great image and performance
Against Not the roomiest in its class; not as agile as the Focus; predictable
Search for and buy used VW Golf here
Vauxhall Astra 1.6i, £21,240
For Pleasant styling; large boot
Against Dull to drive; high emissions; bland image
Search for and buy used Vauxhall Astra here 
---
Search for and buy a Ford Focus on driving.co.uk
---