First drive review: Ford EcoSport Titanium 1.0T EcoBoost (2013-on)
Oh what a humble way to feel high and mighty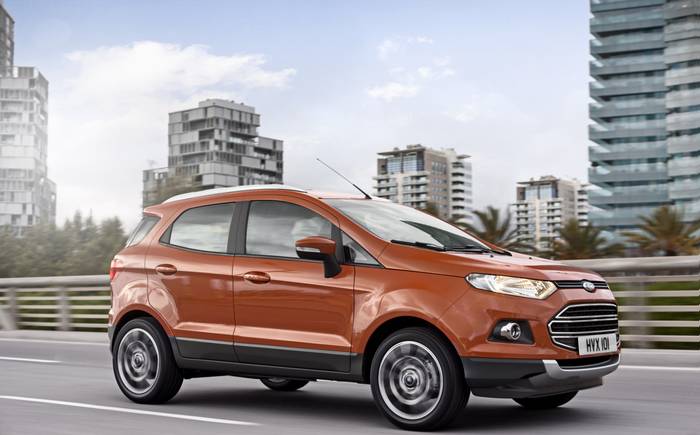 As the Evoque is to the Range Rover, so the EcoSport is to its big SUV brother, the Ford Kuga — although it's a fraction of the price of an Evoque and set to battle for custom with the Nissan Juke, the Renault Captur, the Vauxhall Mokka, the Mazda CX-5, the Uncle Tom Cobley and all those other chunky but shrunken vehicles mushrooming at tempting prices on British streets.
You can see the appeal of the format. The boil-washed 4×4 offers a healthy serving of the style and status of 4×4 driving, but risks less of the opprobrium that can come burning through the windscreen at you when you're at the wheel of, say, a Volvo XC90 in a narrow street.
---
Search for and buy used Ford EcoSport on driving.co.uk
---
Altogether more polite, and self-consciously resistant to hatred, the EcoSport is chubby, daringly snub-nosed and, from certain angles, reminiscent of a toddler's training shoe. The chassis is hoisted high enough to wade through 55cm of water, which could make the car a handy place to be during the next tidal surge. But it's strictly a front-wheel-drive machine with no implication that it is structurally ready for its owner to dip off-road or employ it as a part-time fracking tool.
Nevertheless, even in the absence of "robust" plastic cladding, the EcoSport majors even more spectacularly than its rivals on those big, SUV-style cues. These are what chiefly separate it, too, from the smart, similarly priced Ford B-Max MPV, which may be a more practical package, with its groovy, pillar-free side openings, but doesn't come with a spare wheel mounted on its back door. Nothing waves an "active lifestyle" in the world's face quite like driving around with a tyre stuck to your car's backside — even though, in this case, the prime effect of its additional length is most likely to be to complicate judging a tight parking space at Waitrose.
Still, the weight of all that rubber makes opening the side-hinged back door (despite its snazzy integrated release button) a minor upper-body workout with special benefits for the deltoids and pectorals. And you can always commission a bespoke illustrated wheel cover — perhaps of coyotes, or your kids.
Your EcoSport can also come with a 1.5-litre engine, in petrol or diesel flavour. But the bigger story is that, when fitted with Ford's canny, widely garlanded and impressively frugal EcoBoost unit, the EcoSport becomes a 4×4-style vehicle powered by a 1-litre engine, which may well be a global motoring first and is certainly a proposition that would have seemed barkingly implausible as recently as half a decade ago.
Here's a development with interesting social and political ramifications. If the ecological objection to 4x4s, which has always formed the mainstay of the frequently bitter argument against their existence, continues to fall away at this rate, people will have to start owning up to what they really resent about them — such as, for example, the way cars of this type betoken a level of success and prosperity that people would sometimes rather their neighbours didn't have.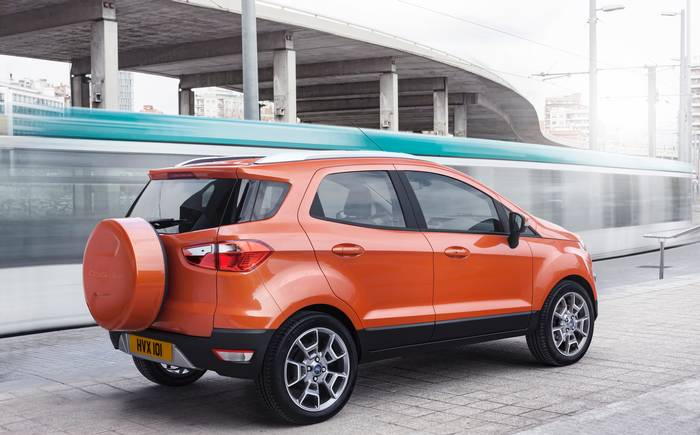 That's all in the future, though. For now, Ford has decided that the likely customers of the EcoSport will be "active online" and interested in "staying connected". Accordingly, they have developed a system called Sync AppLink that can leach a small amount of content from your mobile phone and strain it through the car's communication system, thereby offering you voice-activated access to a handful of familiar applications, including Spotify, the music streaming service.
As a practical demonstration of the system revealed, what this means in practical terms is that if you shout at your car loudly enough and long enough, it will eventually stop playing James Blunt. This has to be accounted some kind of breakthrough.
Still, even as Blunt fell magically silent, it was hard not to feel underwhelmed. In about 15 years, cars will probably be as good at connectivity as mobile phones are now — although mobile phones will long since have been replaced by chips in our eyes.
To drive, the car was unsurprising to the point of being almost completely ignorable (which is meant as a compliment). You won't be looking for thrilling power surges, so you won't be disappointed. The 1-litre engine revs high at cruising speeds, so thrumming along the motorway in an EcoSport isn't the most relaxing experience, but the fact that it can tug something on this scale at all, let alone so easily, means you've got to applaud the engineering.
The boot is square-sided and junk-friendly, and the back seats generously acknowledge the possibility that your passengers will have legs and feet. And all of you will feel high and mighty — but not that high and mighty. Which is a good feeling, isn't it?
Verdict
★★★☆☆
South America loves it already ‒ little wonder
Factfile
Price:

From £15,995 (Correct at time of publication)

Engine:

993cc, 3 cylinders, turbo

Power:

123bhp @6000rpm

Torque:

125lb ft @ 1400rpm

Transmission:

5-speed automatic

Acceleration:

0-62mph in 12.7sec

Top speed:

112mph

Fuel:

53.3mpg

CO2:

125g/km

Road tax band:

D 

Dimensions:

L 4241mm, W 2057mm, H 1696mm
Ford EcoSport Titanium rivals 
Hyundai ix35, £16,995 (Correct at time of publication)
For Nice diesel engine; roomy cabin; five-year warranty
Against Noisy; distinctly average driving experience
Check used Hyundai ix35 car prices on driving.co.uk
---
Mini Countryman, £16,615 (Correct at time of publication)
For Fun to drive; good diesel engines; long options list
Against Cabin is smaller than rivals', as is 350-litre boot
Check used Mini Countryman car prices on driving.co.uk
---