First drive review: Fiat Panda Cross 1.3 (2014)
Give it a cuddle on the cliff face
---
Published 13 October 2014
FIAT'S PANDA city car has long suffered the indignity of being labelled cute and cuddly, but the member of its family with the best off-road capability strikes a much bolder pose. And this latest version is the most gnarly yet — the Panda Cross (in white, it actually looks a bit like a panda that's cross) leaves no doubt as to its 4×4 aspirations.
Along with prominent black body cladding and a front skid plate that would do a Hummer H1 proud, the Panda Cross sports an extraordinarily busy nose, what with LED running lights, faired-in fog lights and two tow hooks that are finished in what I can describe only as motor-sport red. Visually, this Panda has it all going on, plus it's high riding, with 158mm ground clearance.
---
Don't know your BHPs from your MPVs? Click to take a look at our car jargon buster
---
The Cross is available with either a two-cylinder 0.9-litre TwinAir petrol engine or 1.3-litre MultiJet diesel. The petrol sports a six-speed manual while the diesel makes do with five speeds.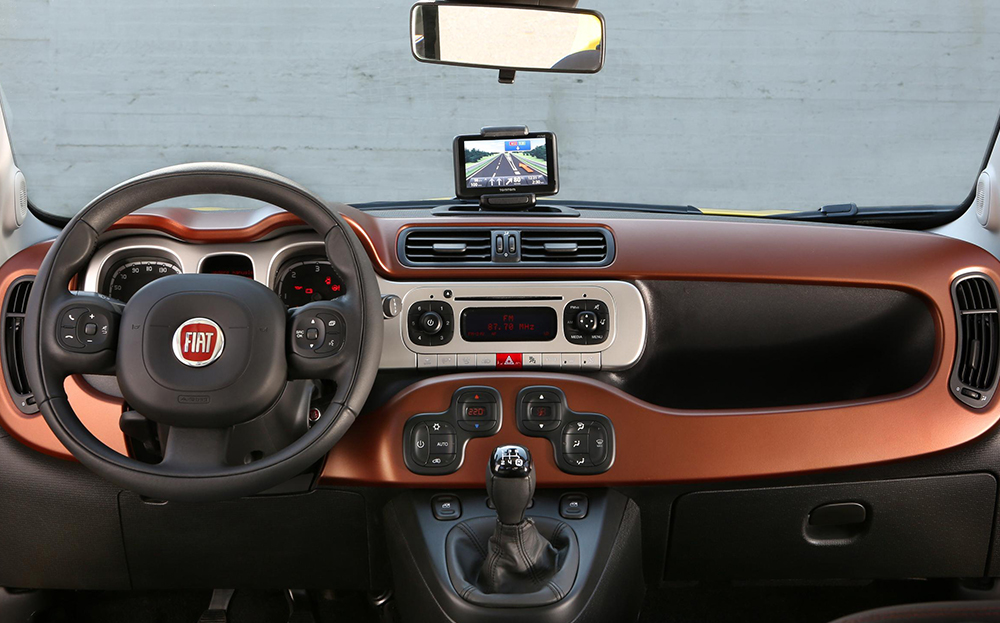 Inside, the Panda Cross has a copper finish on the dash, which looks exactly like what it is — plastic doing a bad impression of metal, although there are also splashes of alloy-like finish that raise the tone somewhat. And while some of the materials feel a bit dubious, the general level of fit and finish seems quite robust.
There is also a generous level of equipment, including climate control, Bluetooth connectivity, leather steering wheel, sat nav docking station (without the sat nav, mind) and a wizardly clever four-wheel-drive system Fiat calls Terrain Control.
And that needs a bit of elucidation, as it's the heart and soul of this little mudder. The system is accessed through a knob on the centre console with three selectable modes. "Auto" adjusts torque, leaving the Panda Cross pretty much in front-wheel-drive mode unless it detects a slipping wheel, at which point it redistributes torque to the wheels with grip.
We took the Panda Cross to a working quarry in the Cotswolds where Fiat had constructed an off-road route that was frankly hilarious in a "you've got to be joking" sort of way
If conditions demand it, all of the engine's torque can go to the rear axle. In "off-road" mode, the car is permanently in all-wheel drive up to 30mph, the electronic differential is locked and the stability program brakes slipping wheels and directs torque to the wheels with grip. "Hill descent" gets you down a greasy slope by managing the slipping wheels to make sure they don't go into an uncontrolled slide.
We took the Panda Cross to a working quarry in the Cotswolds where Fiat had constructed an off-road route that was frankly hilarious in a "you've got to be joking" sort of way. The night before there had been heavy rain, so there were fords that had us pushing bow waves to near bonnet height. There were mud-slicked inclines of ridiculous steepness, slopes that looked more like cliffs and rocky outcrops that looked like potential car killers.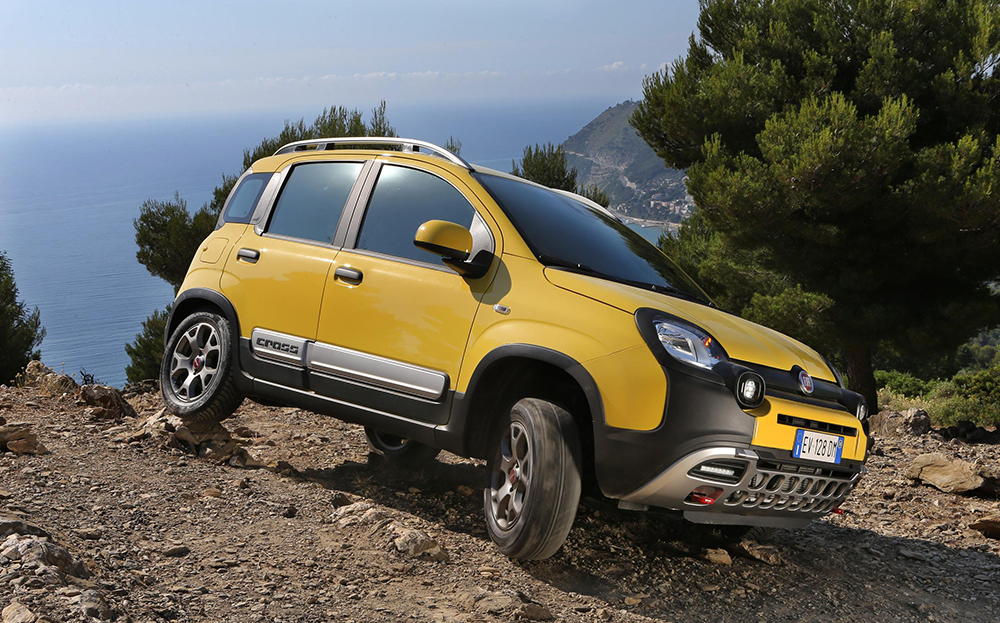 The little Fiat's capability in these conditions was, I have to admit, pretty astonishing. The car was unstoppable, leaping from rock to rock and then down a muddy sluice, through ponds, up gravel slopes, bounding around like a deranged mountain goat on a mission. My only regret is that there wasn't a Range Rover around — I think the Fiat could follow it further into the rough than you'd believe possible. Now there's a challenge.
Fiat claims the Panda Cross can handle a maximum gradient of 70%, which is crazy (although that wouldn't be a slippery gradient, obviously). Fiat also says it will deal with a lateral (sideways) slope of up to 55%. I hasten to add — not with me in the car.
---
Search for and buy a used Fiat Panda on driving.co.uk
---
But here's the reality — just as the overwhelming majority of Range Rover owners will never encounter anything rougher than a damp field at the gymkhana, so the Fiat Cross owner is unlikely to experience what the car is capable of. What it must do, though, is deliver the goods as an all-round practical performer.
The turbocharged 84bhp TwinAir petrol engine fizzes away with spaniel-like enthusiasm. It develops maximum torque at relatively low revs, which means it responds more like a diesel at low speed. It is, though, a frenetic engine to keep on the boil, so swift progress is hardly a relaxed affair (some call this character. Others call it noise). And because you need to work it hard, the TwinAir is unlikely to return anywhere near the claimed 57.6mpg combined.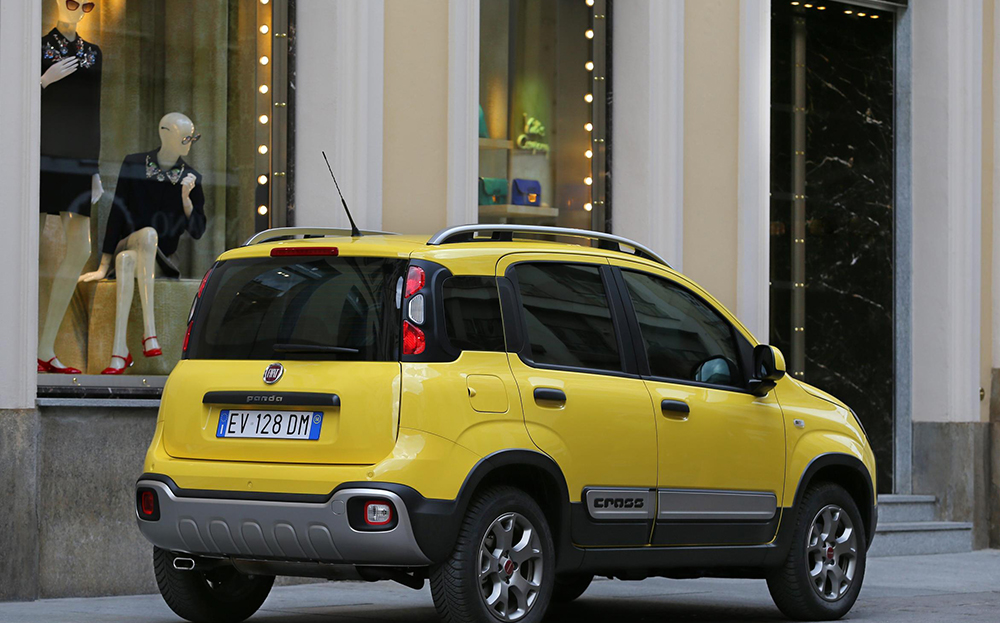 At a cruise, the petrol Panda Cross suffers from tyre roar and wind noise. Its diesel sibling provided a more relaxed experience, with lower levels of cabin noise and a less frenzied power delivery. It'll also be easier at the pumps, although you will pay a £1,000 premium for it. Even so, I think it would be a better car to live with day to day. And while its 0-62mph sprint time appears absurdly slow at 14.3 seconds, it feels much livelier than that figure suggests.
Both models give a reasonably comfortable ride, but don't expect sharp handling — there is a lot of body lean and understeer when you're really pressing on. The interior is spacious up front, although I couldn't find my ideal driving position because the steering wheel adjusts for rake but not reach, so I found myself leaning forward. What's more, the boot is tiny — though at least the split rear seats fold down — and room for adults in the back is quite tight.
But then of course space is a bit tight throughout. The Panda Cross is, after all, a city car underneath all that tough-guy cladding. It's just that after its lion-hearted performance in the mud, I found it easy to forget that the Cross comes from such humble roots.
Verdict ★★★☆☆
Take that quarry shortcut on the school run
Fiat Panda Cross 1.3 MultiJet
Engine: 1248cc, 4 cylinders, diesel
Power:  79bhp @ 4000rpm
Torque: 140lb ft @ 1500rpm
Transmission: 5-speed manual
Acceleration: 0-62mph in 14.3sec
Top speed: 99mph
Fuel:  60.1mpg (combined)
CO2: 125g/km
Vehicle tax band: D
Price: £16,945
Release date: On sale now
---
Search for and buy a used Fiat Panda on driving.co.uk
---
Fiat Panda Cross rivals
Suzuki Jimny 1.3 SZ4 auto, £14,195
For A classic 4×4 look and pretty capable with it Against Dated and not great on-road
Search for and buy a Suzuki Jimny on driving.co.uk
Dacia Duster Ambiance dCi 110 4×4, £13,995
For Spacious; good value Against A desperately unrefined and noisy cruiser
Search for and buy a Dacia Duster on driving.co.uk