First drive review: BMW i3 Range Extender (2014)
All they forgot was the soft rock
My battery has been primed overnight with three hours of low-tariff electricity, and you are to imagine, of course, that I have pre-heated the cabin to my preferred temperature before leaving the house by using the app on my smartphone. Below the windscreen in my roomy, bright-despite-the-weather pod, the twin tablets that pass for a dashboard in this highly covetable four-seater are beaming a ticker-tape of news to me on the state of my battery, the range of my possible voyaging and the regenerative energy-banking feats of my braking.
---
Search for and buy a quality used BMW i3 on driving.co.uk
---
Meanwhile, the ConnectedDrive system is monitoring the road ahead and calculating the battery's life in relation to such variables as the weather (wet), traffic (awful) and topography (southeast London). If the worst should happen and the battery drain before I reach my destination, the screen will offer me the location of the nearest station and the time of the next train. (No kidding.)
Fortunately, though, I'm in the REx, or range-extender, version of the i3, and therefore carrying about my person a 647cc two-cylinder petrol engine, worth about 100 more miles of road if the juice runs out. I'm not likely to get stranded, then, unless I really put some effort into it. (When the range extender eventually kicks in, there will be merely a distant, obedient rumble, as of next door's tumble dryer.)
So on I potter, my driving carefully monitored by the car on my behalf. When I recklessly depress the accelerator a little sharply, a sign comes on the dashboard: "Tip: accelerate moderately." Later on in the drive I will be instructed as follows: "Tip: take foot off accelerator: speed limit ahead." (You can switch off "eco tips" and drive untipped, and I imagine many people will take the opportunity to do so quite early in their relationship with the car.)
Still, over-tipping aside, I feel relaxed; reassured. My panels are in crash-resistant carbon fibre. I am travelling without generating smog in a car built with eco-sensitive processes in eco-sensitive manufacturing plants. My travels are troubling the balance of the world as little as they plausibly could, short of me staying at home and completing my journey online.
Pretty much the only thing nagging at me is the sense I have of being slightly underdressed — in jeans and a jumper rather than in what the car seems to call for, which is perhaps some kind of pale-blue interactive plasma jumpsuit, or at the very least a Mr Spock outfit. (Interestingly, the i3's bashed-flat key fob — more a tab, really, than a fob — has a fair amount in common with the Starship Enterprise crew badge.)
BMW's i3 is without question a quantum leap for the plausibility of electric personal transport, and the jump-off point is its appearance. Traditionally the biggest problem with electric cars has been the extent to which they look like electric cars.
Wasn't it always obvious that the sooner they looked like everybody else's cars, the quicker a sceptical and anxious public would sign up to the dream? The genius of the i3, with its signature kidney grilles, lies in the way it is unquestionably a BMW, while remaining just quietly eccentric enough (the dipped rear windows; the U-shaped daytime running lights) to betray its world-saving mission.
After all, even if people in the main don't want their car to look as batty as a Reva G-Wiz (no matter where you saw it, that pioneering electric vehicle only ever appeared to be trying to find its way back into a comic book), some mark of distinction is going to be important. If you're forking out the extra to spare the planet's resources (and even with the government's £5,000 plug-in car grant subtracted at source, the i3 cannot be counted as a cheap vehicle), you might as well let people know about it and take some credit somewhere down the line.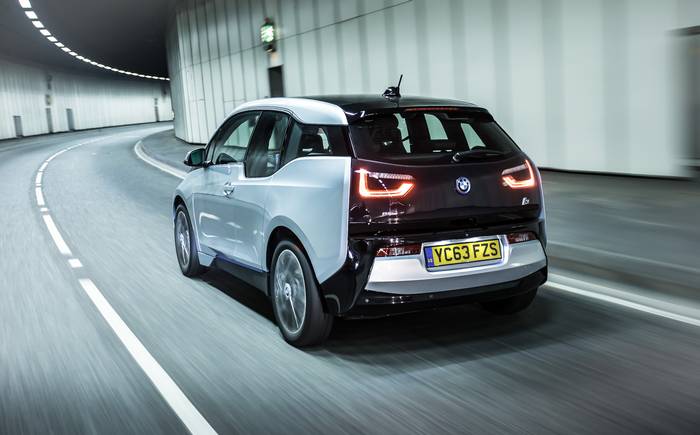 Beyond the covetable looks, though, the i3 is also engaging to drive. It has agility to a degree that I think it's safe to say the G-Wiz never did. In a series of tests at Brands Hatch the i3 whipped competently through a slalom, coolly changed lanes at 40mph without complaining and beat a BMW M3 from 0 to 50mph in a sprint. There surely has never been an electric hatchback that wears its earnestness so lightly.
Moreover, it decelerates firmly when you lift your foot off the accelerator, making it possible, especially in city traffic, to drive without touching the brake, thus sparing you the standard, slightly wearying tap dance between accelerator and brake pedal.
BMW has clearly thought hard about the things that concern people in relation to owning an electric vehicle. There's a smart ownership package — at an extra cost — that allows you to borrow other BMW cars on those occasions when you needed something bigger and wider-ranging. The company is trying to address the infrastructure by encouraging car parks to turn over spaces to charging units, making it just that little bit more plausible for someone without off-street parking to run an electric vehicle. (Otherwise, people in tower blocks are going to need a very long extension lead.)
So the future is free of anxiety, quite sporty, virtually silent and, one might add, almost completely without snacks. Because, while we're unreservedly celebrating the i3 and the bold blow it strikes for a cleaner, more sustainable tomorrow, it's worth reflecting on the impact on the nation's lifestyle of a car you seldom take to a service station.
Petrol these days is just one minor aspect of what one likes to think of as the holistic service station experience. Rare are the times when one doesn't additionally leave with a carton of milk, a Twirl and a slashed-price, bin-end DVD of John Candy in Uncle Buck.
I suppose, again, you're saving money and possibly even improving your diet. At the same time, where will we go for our discontinued CDs of 20 Driving Classics? It seems to be the only thing BMW hasn't thought about.
Verdict
★★★★★
Petrol stations ‒ meet your nemesis
Factfile
Engine:

647cc, 2 cylinders

Power:

168bhp

Torque:

184 lb ft

Transmission:

Single-speed automatic

Acceleration:

0-62mph in 7.9sec

Top speed:

93mph

Fuel:

470.8mpg (combined)

CO2:

13g/km

Road tax band:

A 

Dimensions:

L 3999mm, W 1775mm, H 1597mm
The Rivals 
---
Vauxhall Ampera Positiv, £28,750 (with plug-in grant)
For Range-extender powertrain gives maximum distance of 360 miles Against Expensive, Vauxhall badge
Buy a quality used Vauxhall Ampera on driving.co.uk
---
Toyota Prius Plug-in Hybrid, £28,245 (with plug-in grant)
For Batteries need only 90 minutes to charge; full-size fuel tank and 1.8-litre engine give 500-mile range Against Heavy and slow; electric-only range of just 15.5 miles.
Buy a quality used Toyota Prius on driving.co.uk
---