First drive review: BMW i3 (2013)
It'll send the voltmeter crazy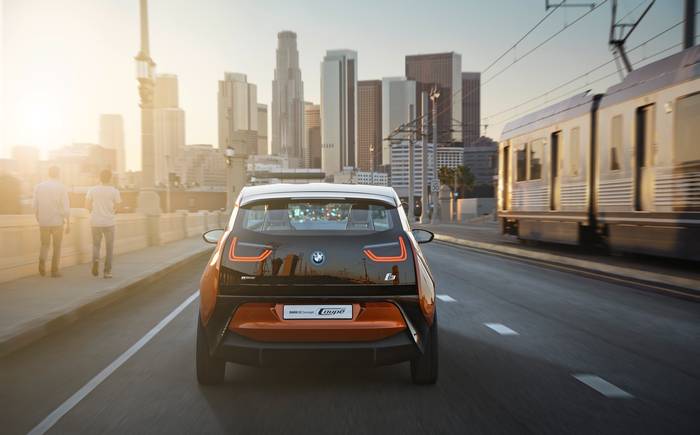 WELCOME TO a vision of the future — according to BMW. A future where the skyline is dominated by megacities. Where lightweight cars made from exotic materials such as carbon fibre and eucalyptus wood scurry in silence from street corner to street corner, powered by electricity from renewable energy sources. And a future where men with beards and classic cars hold rallies to save petrol stations from closure.
The car powering this utopian vision is the i3, the first of a new family of electric cars that BMW is preparing to sell to British drivers. The i3 is about the same size as a Mini hatchback and will be offered in two versions: an electric model, which is the most affordable and is reviewed here; and an electric model with a two-cylinder range-extending petrol engine, which claims to double the i3's 100-mile range.
---
Search for and buy a quality used BMW on driving.co.uk
---
Both versions go on sale at the end of this month, although deliveries won't start until November. The all-electric i3 will cost from £25,000 (which includes the government's £5,000 plug-in car grant). The range-extending version will be about £2,500 more.
The i3 will be compared with battery-powered vehicles such as the Nissan Leaf, Toyota Prius Plug-in and Vauxhall Ampera. But unlike these rivals which, on the surface at least, look like little more than conventional shopping cars, BMW has been bolder, creating a machine unashamedly for the 21st century; one that is different to look at, exciting to sit in and devilishly clever beneath the surface.
There is a light but strong aluminium chassis that houses the electric motor and battery pack (centrally mounted to achieve a balanced weight distribution) and a body of carbon fibre-reinforced plastic. It's the same futuristic story inside. Where the Mini injected a retro helping of fun into the dreary world of car interiors, the i3's looks like the work of a hip hotel interior designer, with funky fabrics, eucalyptus wood trim, door panels made of a natural fibre mix and a pair of rectangular display screens that do a passable impersonation of an Apple iPad and iPad Mini. The little one sits behind the two-spoke steering wheel and tells the driver how economically he or she is driving. The big one (10.25in) is the interface for the BMW iDrive infotainment system.
The car is spacious enough for four adults, although the shallow boot and rear suicide doors (ones hinged on the edge closest to the car's rear) will take some getting used to. The i3's setup also suffers a design flaw likely to infuriate many parents: you can't shut the rear doors if the front ones are already closed.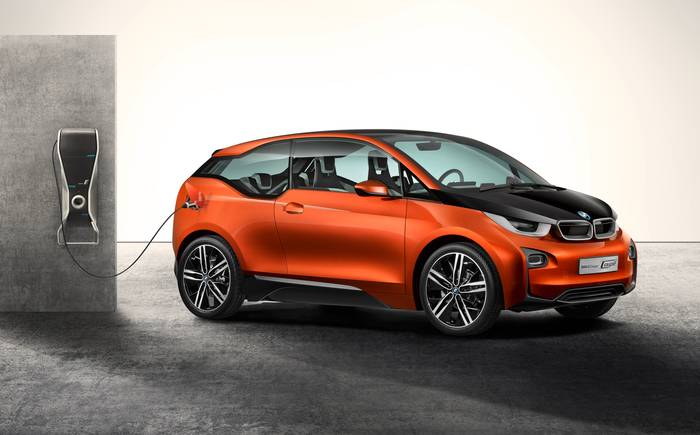 The gearlever has been moved to the steering column, as has the start/stop button. Press it and the screens wake up, but that's the only sign of life. This being an all-electric car there is an eerie silence. Flooring the throttle confirms what nearly every review of an electric car has said: they are quick off the mark. There is 184 lb ft of torque available from zero revs, more than the peak torque of a Mini Cooper S, and the i3 zips up the road like a cat that's just had its tail stood on. The road-tester's yardstick — acceleration from 0-62mph — takes just 7.2 seconds.
Coming from the creators of the "ultimate driving machine", not to mention the masterminds behind Mini, it's no surprise to find that the i3 feels agile and responsive. Its trim figure helps: the i3 weighs 1,270kg, which makes the Nissan Leaf look in need of a diet.
Any judgment about comfort will have to wait until it can be driven on broken British roads, rather than a mirror-smooth test track. Of equal significance to the painfully cool crowd of early adopters that one imagines would frequent megacities such as London, the i3's electric motor drives smoothly and can be slowed most of the time simply by easing off the throttle — allowing the motor to recuperate kinetic energy and charge the battery pack — and the car has an impressive turning circle.
The navigation system has been programmed to adjust itself according to the driving and traffic conditions, the battery range and which of the three modes the driver has chosen — Comfort for regular clean-living souls, Eco Pro, for hyper-milers, and Eco Pro+ for Swampy. It also pinpoints public charging points, but isn't (yet) able to reliably tell drivers struck by a bout of range anxiety whether the charging station is available.
As for the range, well, on a (very) good day, expect 100 miles on a full charge. On a bad day, when the weather is freezing cold and wet, or roasting hot, and the car's energy-draining systems are being put to full use, expect that figure to fall significantly. However, BMW claims that trials on a fleet of electrically powered Minis showed that the average driving range of 1,000 drivers in an urban environment is less than 30 miles a day. The i3 will plug into your home socket and recharge in about eight hours. But if you have the space, then BMW (or many energy suppliers) can install a stylish-looking system that, from 2015, will be able to charge the batteries to 80% capacity in an hour, although the company admits quick-charging will shorten the life of the battery pack, which has a warranty only for eight years or 62,000 miles.
There's also the problem of where drivers get their car's electricity from. If it is not from a renewable source, BMW engineers admit that CO2 emissions will be equivalent to about 80g/km. The issue illustrates how rule makers and car makers are still feeling their way when laying down regulations for matters such as the UK's £5,000 grant for electric, plug-in hybrid and hydrogen cars, which has a qualifying emissions level of 75g/km of CO2.
Will enough drivers plug into BMW's vision of the future? Judged on its innovative style alone, which is refreshingly modern and unlike any other car on sale today — Nissan take note — there's good reason to believe that BMW won't be able to build enough of its i3. Here, at long last, is an electric car that is — whisper it — desirable.
Verdict
★★★★☆
With its funky design and clever technology, the futuristic BMW i3 promises to turn the electric car market on its head.
Factfile
BMW i3
Release date: July 29
Price: From £25,000 (including plug-in grant)
Motor: Synchronous with recuperation, 22kWh lithium-ion battery pack
Power: 168bhp
Torque: 184 lb ft
Transmission: Automatic single speed, rear-wheel drive
Acceleration: 0-62mph in 7.2sec
Top speed: 93mph
Maximum range on a full charge: 100 miles
CO2: 0g/km
Road tax band: Exempt
BMW i3 rivals
Nissan Leaf Tekna, £25,490 (includes plug in grant)
For  Latest Leaf claims a range of 124 miles; practical and well equipped Against Uninspiring to look at and drive; heavy
Buy a quality used Nissan Leaf on driving.co.uk
Vauxhall Ampera Earth, £29,995 (includes plug-in grant)
For Range extender powertrain gives maximum range of 360 miles Against Even the cheapest model (listed here) is expensive
 Buy a quality used Vauxhall Ampera Earth on driving.co.uk