First Drive review: BMW 3-series plug-in hybrid (2014)
A hooligan in holy camouflage
---
Published 02 December 2014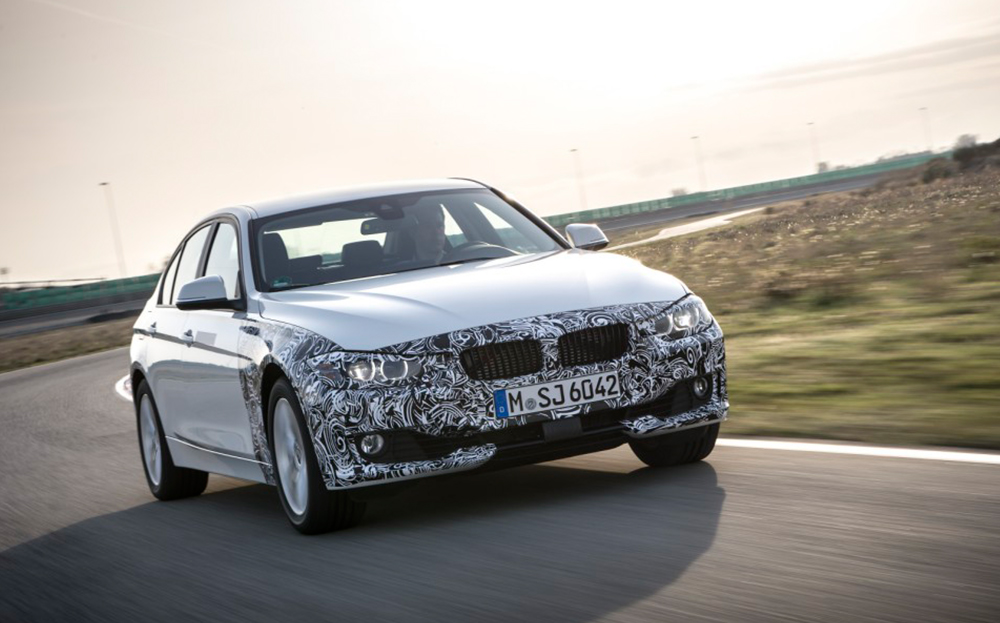 THE BMW you're looking at is no niche eco-vehicle but a crucial car for the German manufacturer. The 3-series is the bestselling premium saloon in the world and the company needs a version with low CO2 figures to meet ever tougher European regulations on average emissions across a manufacturer's range. The low-selling i8 hybrid supercar and its smaller i3 sibling aren't going to make much of a dent, so a 3-series hybrid looks a sensible move.
I'm not sure why BMW bothered to camouflage the prototype because the only thing that will eventually distinguish it from a standard 3-series is a hybrid badge and a flap on the front wing under which the charging socket lives. But BMW has always had a bit of a camouflage fetish.
---
Browse the used BMWs for sale on driving.co.uk
---
The remarkable achievement is that the only compromise on interior space is a boot floor a little more than an inch higher than in the standard car. Otherwise, all the usual practicalities such as folding rear seats are carried over. That's because BMW has taken a novel route with its plug-in hybrid.
Whereas Audi, Volkswagen and others have opted, in their plug-in hybrids, for a range in the 30-mile region on pure electric power, BMW reckons that most people most of the time can get by with just 22 miles. So the battery can be smaller. The other benefit, apart from more space, is that the car can be recharged in 3½ hours from a household socket, which is much quicker than for most hybrids.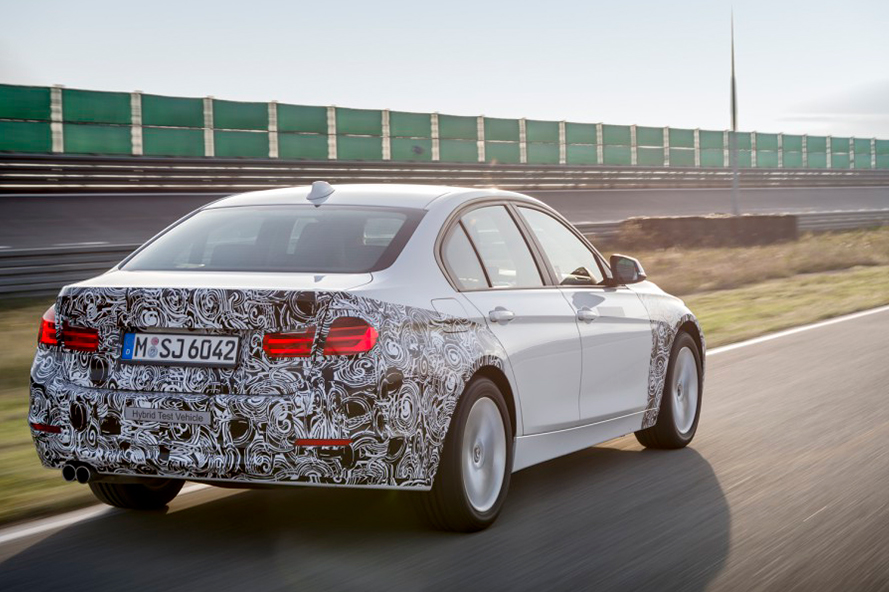 BMW's approach means that the batteries weigh less and cost less. It also believes that people aren't willing to pay more without gaining more power, which is why it plans to pitch the hybrid at around the same price as the similarly powerful petrol 328i, which costs £32,270 in Luxury trim.
The hybrid is not going on sale here until the end of next year, but BMW's target price is also close to that of rival premium hybrid cars.
The 3-series hybrid is an intriguing proposition — a 2-litre turbocharged petrol engine teams up with an electric motor to give a combined output of 242bhp. Add to that a very healthy 295 lb ft of combined torque and an allusion to high performance by one of the BMW demonstration team isn't quite as optimistic as it first seemed. All of the power is delivered through BMW's slick eight-speed Steptronic. As is the norm with hybrids, there's no manual on offer.
There are three modes … each does what you would expect, setting gearchanges and the combination of electric and petrol power according to how seriously you want your trousers to be on fire
And so to BMW's private track near Marseilles, in the south of France. As with the Audi and VW plug-in hybrids, you can apply quite a large amount of throttle in pure electric mode without the petrol engine joining the proceedings. And with that electric motor delivering all its torque from zero revs, the BMW launches with a great surge of boost: it's really quite good.
There are three modes, Comfort, Sport and Eco Pro. Each does what you would expect, setting gearchanges and the combination of electric and petrol power according to how seriously you want your trousers to be on fire.
I did one lap of the test circuit, starting on pure electric power, which rocketed me to the maximum electric-only speed of just under 75mph. If you floor the throttle, the engine joins in, spinning immediately up to about 3500rpm.
The transition from purely electric to the default setup, a mixture of electric and petrol power, wasn't the butter-smooth experience you might expect, but BMW says it's working on that and I'd be pretty confident the technicians will nail it by the time the car goes on sale.
The engineer in the passenger seat gave me a crooked, let's-be-a-bit-naughty smile and suggested Sport mode, which delivers full beans from both petrol and electric motors.
The car hoicked up its skirts and flew round some of the track's quickest corners — with its extra low-down torque, the hybrid is almost as quick as its 328i sibling, with 62mph reached in an estimated six seconds. Top whack should be in the region of 150mph, although BMW isn't talking official figures yet.
]And while the hybrid is 165kg heavier than the standard 328i, it doesn't feel heavy, and it behaves in the balanced and neutral way that a 3-series should. The steering is fine, except that it feels slightly artificial when you wind on lock at speed. The engineer said BMW was working on that as well.
I realised I was having quite a good time, and that I'd forgotten this BMW was a holier-than-thou plug-in hybrid
Then two things happened in quick succession — I realised I was having quite a good time, and that I'd forgotten this BMW was a holier-than-thou plug-in hybrid. It's just a proper old-school, rear-driving hooligan 3-series. (Stand by for smoky sideways sequences, courtesy of Top Gear or similar. It was raining when I was driving; otherwise . . .)
As we weren't allowed on public roads with the prototype, I can't really comment about the ride quality, except to say that it was rather good on a smooth-surfaced track — as you would expect.
Yes, it's fun, but this hybrid also makes sense in terms of value. The headline figures of 140mpg and 50g/km of CO2 should please company-car folk — especially considering that cars must now emit no more than 75g/km of CO2 to qualify for exemption from the £11.50 daily London congestion charge.
The car's 22-mile pure-electric range is a reasonable compromise for what is a light, cheap, well-packaged hybrid. If BMW can keep the price to the projected £32,000, this could be a real contender. And with the government's £5,000 plug-in car grant extended until 2017, the price drops to just £27,000. That's a bargain.
Conway's verdict ★★★★☆
BMW dynamics, value for money – eventually
BMW 3-series plug-in hybrid specifications
Price: £27,000
Release date: Late 2015
Engine: 1998cc, 4 cylinders, turbo; plus electric motor
Power/Torque: 242bhp/ 295 lb ft
Transmission: 8-speed Steptronic auto
Performance: 0-62mph: 6sec
Top speed: 150mph (estimated)
Fuel: 140mpg (combined)
CO2: 50g/km
---
Browse the used BMWs for sale on driving.co.uk
---
The rivals
Volvo V60 D6 AWD Geartronic SE Lux, £44,975 (after grant)
For Good-looking, refined and practical
Against Far too expensive
Volkswagen Golf GTE 1.4 TSI £28,035 (after grant)
For Fun to drive; great in electric mode
Against Because batteries need space, the boot is quite small