First Drive review: BMW 1-series (2015 F20 update)
BMW hatches its updated hatchback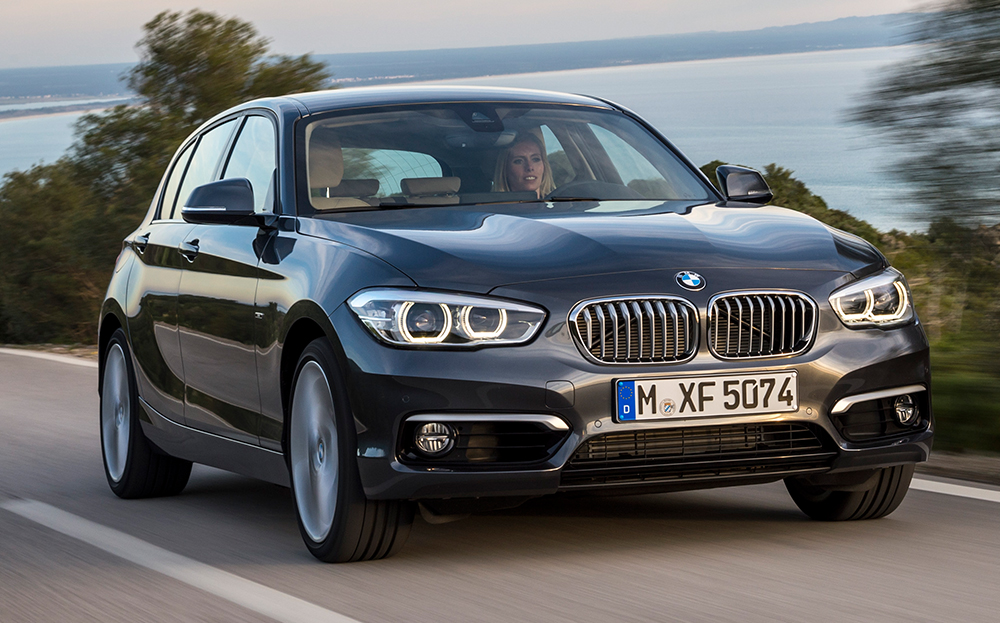 ---
2015 BMW 1-series at a glance
Handling: ★★★★☆
Performance: ★★★☆☆ (116d) / ★★★★★ (M135i)
Design: ★★★☆☆
Interior: ★★★★☆
Practicality: ★★★☆☆
Costs: ★★★★☆ (116d) / ★★☆☆☆ (M135i)
---
BRITISH DRIVERS like family hatchbacks. The Ford Focus, VW Golf, Vauxhall Astra and even Audi A3 all held a place in the 10 bestselling cars last year, as their sensible formula of affordability, space, comfort, style and performance makes them as everyday as bread and butter or tea with one sugar.
---
Browse the used BMW 1-series for sale on driving.co.uk
---
And the 1-series? No. BMW appears to have realised that the smallest member of its family has been overlooked like a toddler in a family of 15 children. It has taken the three and five-door hatchback back in hand and lavished plenty of attention on it, and the result is a car that feels as though it has finally come out of its shell.
One of the first tasks was to improve the range of engines, making them less polluting and more fuel-efficient so that company-car drivers, who scrutinise such figures with the focus of a hawk searching for its next furry-tailed snack, would consider the 1-series over a Golf or A3.
The pinnacle of the range, the M135i, is an absolute blast to drive. Its ability to breeze past slower traffic and whip through corners remains impressive
Diesel drivers get a choice of five new powerplants. They can have either a standard 116d or an upgraded 116d Efficient Dynamics Plus. The differences are subtle: while both produce 116bhp, BMW says the standard car achieves 78.5mpg and emits 94g/km of CO2 whereas the Efficient Dynamics can return 83.1mpg and emits just 89g/km of CO2. You pay a premium on the forecourt for the ED Plus's extra mpg, of course – it's £850 dearer (they cost £21,710 and £22,560 respectively).
In addition there are the 118d, 120d and 125d versions, which pack a 2-litre four-cylinder diesel developing 148bhp, 187bhp and 221bhp respectively. The last is faster than a Golf GTI, for heaven's sake, dispatching the 0-62mph sprint in just 6.3 seconds.
If the heady aroma and distinct rattle of oil-burning engines aren't your thing, don't worry: there is a wide range of turbocharged petrol engines. These include a 1.6-litre four-cylinder unit that develops 134bhp and 168bhp respectively in the 118i and 120i models, and the punchier 218bhp 2-litre unit in the 125i.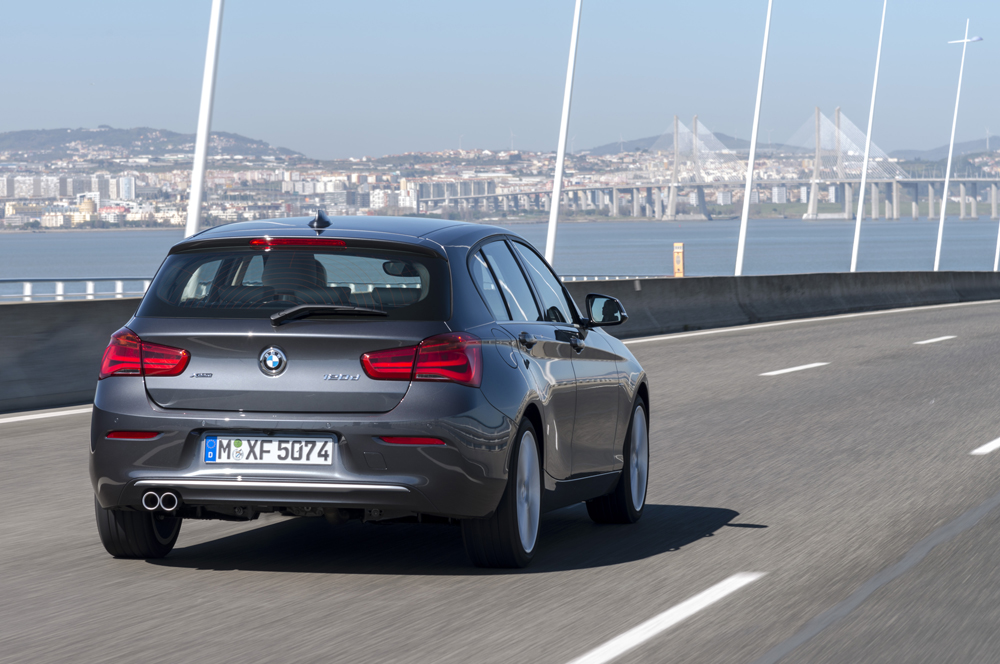 The choice is impressive and should cover most customers' needs. Those looking for a sedate long-distance cruiser won't go too far wrong with the comfortable lower-powered diesels, while the 118i and 120i petrol models do a good job of providing warm hatch thrills without the associated bills. BMW even offers a 120d with its xDrive four-wheel-drive system, ideal for those that live in the countryside and face the challenge of slippery lanes.
Both petrol and diesel engines can be mated to BMW's brilliantly crisp six-speed manual or a new eight-speed automatic gearbox that, taking a leaf out of Rolls-Royce's book, is in constant communication with the satellite navigation system to ensure the car remains in the most suitable gear for the road ahead.
The 116d we drove, with its 114bhp and feather light steering setup, is as sensible as BMWs get. Whereas the hotter petrol models, especially with the optional adaptive M Sport suspension fitted, have the fizz to put a smile on a driver's face when they're faced with a winding road.
The pinnacle of the range is a car that has something of a cult following. It's the M135i, and, boy, does it deliver on paper and on the road. Its 3-litre turbocharged powerplant develops 322bhp – up by 7bhp on its predecessor – and it can spin its back wheels and charge from standstill to 62mph in just 5.1 seconds.
It's an absolute blast to drive. The extra few horses teased out of the revised engine may not be noticeable but the car's ability to breeze past slower traffic and whip through corners is impressive. The low-slung driving position, chunky steering wheel and short-throw manual gearbox make it feel a genuine member of the M family, yet it will happily play the role of comfortable cruiser when it needs to.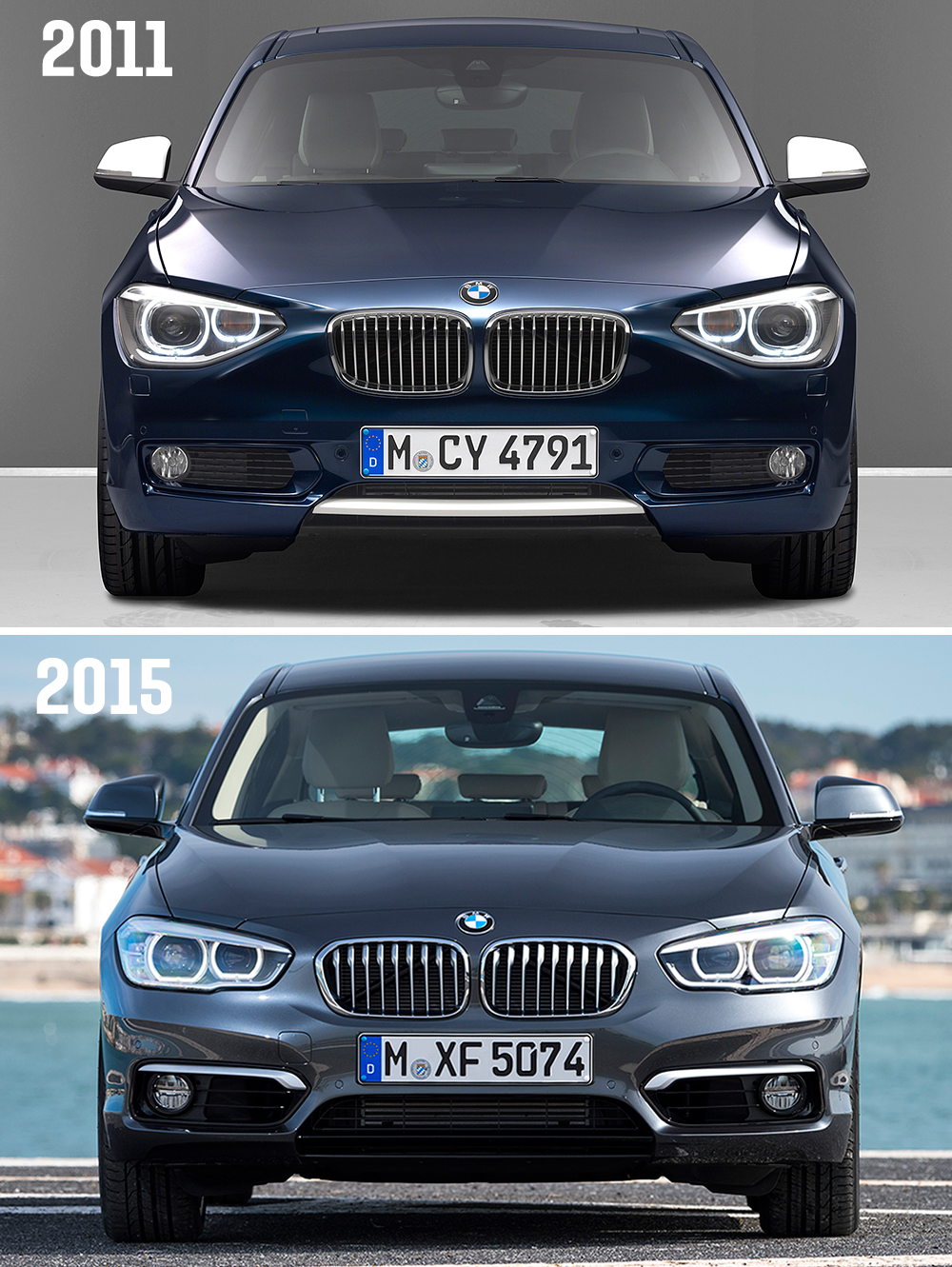 The 1-series body has had a mild facelift rather than a full-blown makeover. The front end sports more attractive headlamps with daytime LED running lights as standard, BMW's "kidney" grille is wider, and the back gets new LED lamps. It's mostly a case of "spot the difference", though.
Inside, all cars receive a gloss black finish to the centre dash and additional chrome accents that add to the upmarket ambience. And, a sign of the times, BMW will offer satellite navigation as standard in all its cars from September, so even entry-level machines have a simplified version of the marque's excellent iDrive infotainment system.
Of course, it's possible to go wild with the options list and upgrade to the Professional Navigation System, which adds an 8.8in display and a touch-sensitive pad for inputting data, as well as a host of concierge services typically found in more expensive rivals from Mercedes and Audi.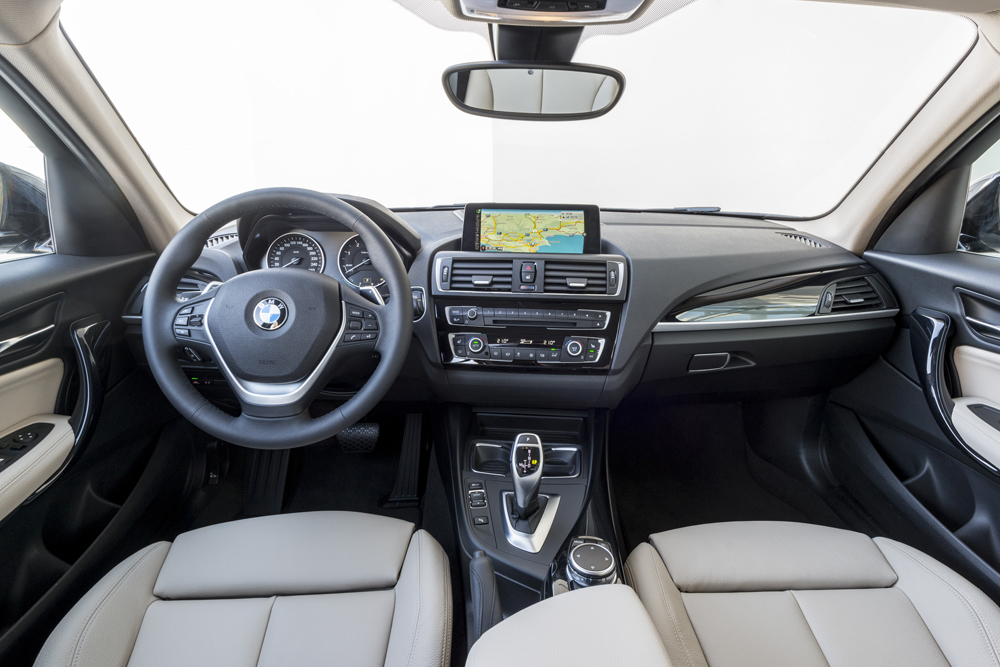 Standard equipment also includes a built-in 4G Sim card, which gives customers access to BMW's Intelligent Emergency Call service. If a crash is detected, the system will automatically contact the emergency services and relay the vehicle's whereabouts and the severity of the accident.
The 1-series feels a car that's improved in nearly all the right areas – with just one serious snag. Audi and VW offer considerably cheaper entry-level variants of their A3 and Golf, so buyers could save several thousand pounds if they aren't fussy about the spec of the car. Little wonder they're so popular.
---
Browse the used BMW 1-series for sale on driving.co.uk
---
The one to buy
2015 BMW 116d 5-door SE specifications
Price: £21,710
Engine: 1496cc, 3 cylinders, turbodiesel
Power: 114bhp @ 4000rpm
Torque: 229 lb ft @ 1750rpm
Transmission: 6-speed manual
Performance: 0-62mph in 10.3sec
Top speed: 124mph
Fuel: 78.5mpg (combined)
CO2: 94g/km
Road tax band: A (free)
Release date: On sale now
---
BMW 1-series rivals
Volkswagen Golf GTD, £26,935 (view cars for sale)
For GTI performance with official fuel economy figure of 67.3mpg
Against Interior isn't as luxurious
Mercedes-Benz A 180 CDI SE, £21,790 (view cars for sale)
For Better performance from diesel engines
Against More expensive to tax and run