First drive review: Bentley Flying Spur (2013)
It tells you much of what you need to know about Bentley's priorities for its new Flying Spur that these words are brought to you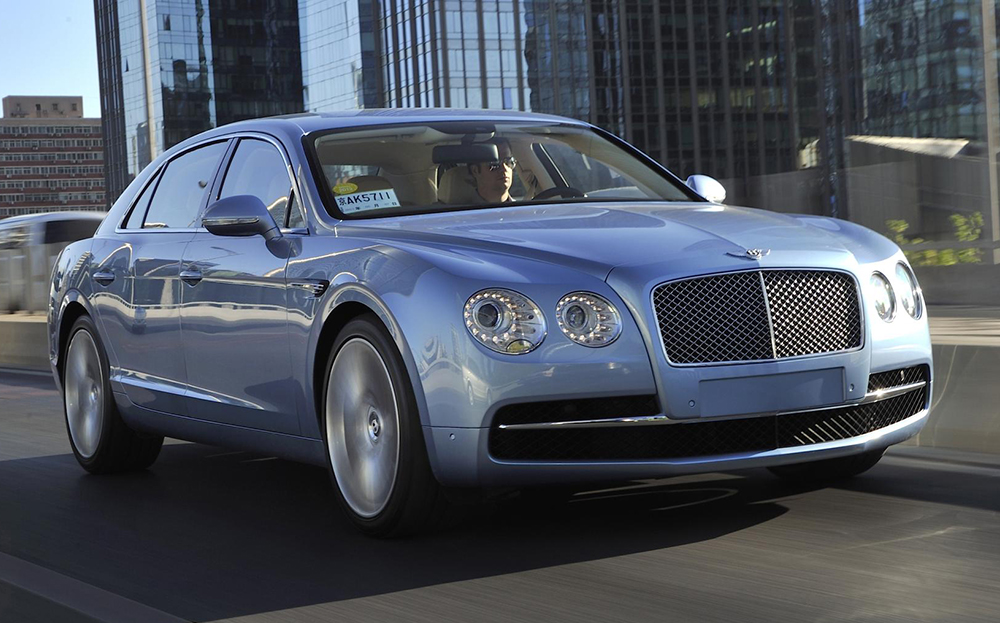 Bentley Flying Spur £140,900
IT MAY not be the ideal environment in which to test a 616bhp super-saloon but it is the most relevant: Bentley will sell more in China than anywhere else in the world (in 2012 sales of the previous Flying Spur in China outnumbered those in its home British market by 10 to one) and those who own them will rarely, if ever, drive them.
It is this knowledge that has driven Bentley to turn the new Spur into a car that, for better or worse, is quite unlike its predecessor.
The original Spur was always a street fighter in a smart suit: traditional, tough and, deep beneath the surface, actually quite rough. It was too noisy and uncomfortable to command credibility as a luxury limousine next to civilised types such as the Rolls-Royce Ghost but still sold because its 6-litre twin-turbo W12 could rip your neck muscles.
---
Search for and buy a used Bentley Flying Spur on driving.co.uk
---
Not that this is any good to you in your Beijing traffic jam. So every body panel has been changed to smooth out the shape in the hope that at least people will want to stare at you going nowhere fast. There's a new and more suave interior in which only the grab handles, sun visors and arm rests of the original car remain, so you have a better view too.
But you'll realise how changed this car is only when you finally break free of the city limits. The ride quality has not been improved so much as transformed. With softer springs, anti-roll bars and even suspension bushes, it now glides down the road on its higher profile like the next-best thing to a Ghost. Bentley has never made much fuss about the way its cars have ridden in the past, one suspects largely because so many have been so lousy in this regard, but this is one to pander to the needs of even the softest-bottomed plutocrats. And that is something you'd never say about the flagship Mulsanne.
More noticeable still is cabin noise, or, rather, its absence. By using acoustic glass and acoustic cladding under the car and by stiffening its entire structure, Bentley claims to have improved refinement by 40%. It shows. Driving out of Beijing, you are aware of no wind noise and only the faintest far-off thunder from the engine. Indeed the single largest sound in the cabin is tyre roar, which might be grounds for complaint until you realise the tyres making the noise are those fitted to the lorries with which you are sharing the road. If you believe that the twin pillars upon which every luxury car must build its case are ride and refinement, there is no question that this is Bentley's greatest luxury car to date.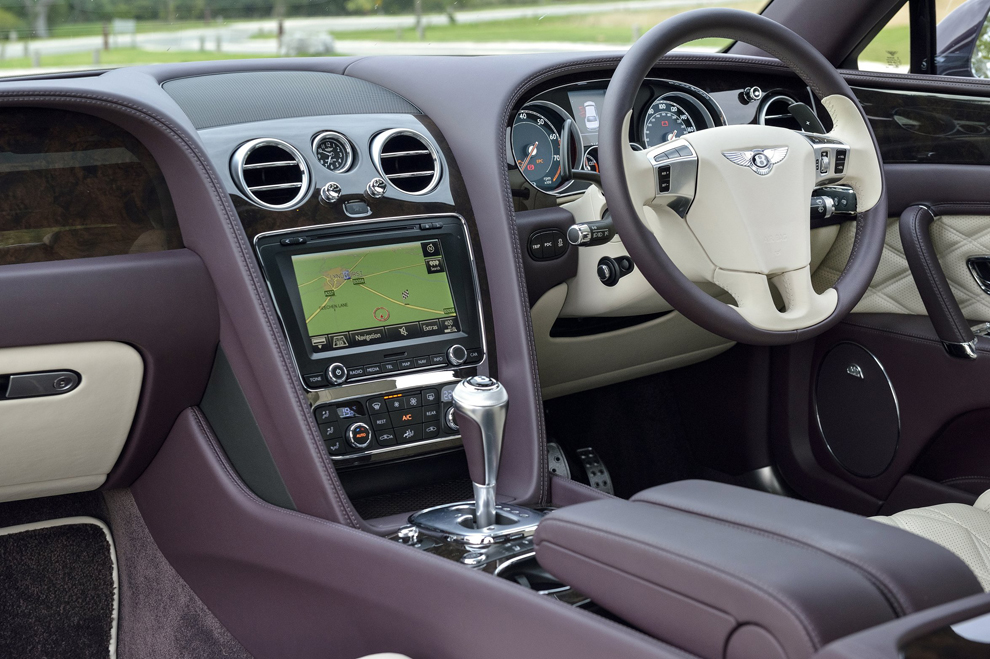 So now we need also to remember that although the Spur is a luxury saloon, it's built by a company that has won at Le Mans six times. And a Bentley that's no fun to drive because it's been made so soft it falls over at the first sign of a corner is not worthy to wear its wings. So, to find out what effect this change of character has had on the way the Flying Spur handles and performs, you need to turf out the chauffeur at the nearest bus stop and take the reins yourself.
Then you'll find that for all its new-found sophistication, mettle remains beneath that sleeker skin. Now called the plain old Bentley Flying Spur — the "Continental" prefix has been dropped to give it an identity of its own — it actually has more power than the old top-of-the-range Flying Spur Speed. It's also slightly lighter, so its 0-62mph time has fallen a couple of tenths to 4.6 seconds and the claimed top speed is a round 200mph.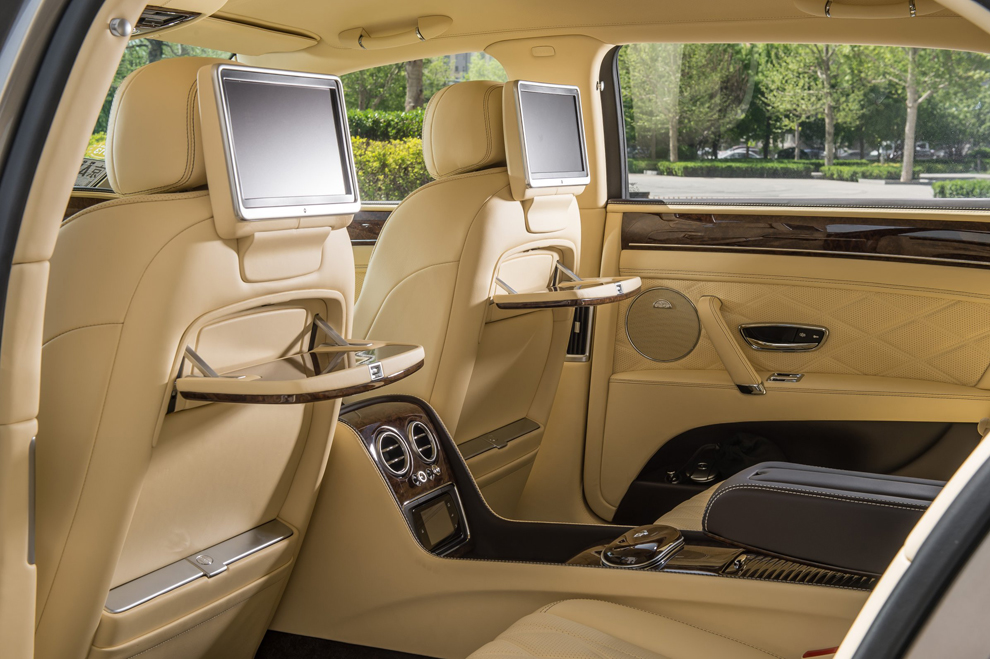 That's impressive enough until you factor in Bentley's notoriously conservative approach to making such claims: the original Flying Spur, with a mere 552bhp, was claimed to do 195mph and would actually reach about 204mph, so this one is probably going to be good for something nearer 210mph. With a new eight-speed gearbox producing an apparently endless supply of seamlessly engaged ratios, the augmented performance possesses that inexorable quality that makes you want to laugh and your passengers cry.
But still, a price has been paid for the Spur's newly discovered civility. While the old Spur rode as though it had been fitted with concrete tyres, it did at least change direction like no other car of its type. It may have looked like Downton on wheels, but it was actually almost agile.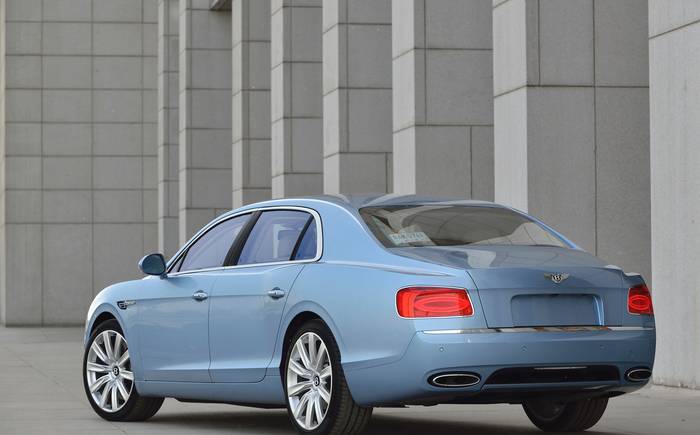 The Spur still steers well and grips keenly but its handling is less incisive. You can feel the car rolling more on its softer springs and seeming to consider your inputs before reacting to them. It will then go where you point it just as well as its predecessor, but the immediacy has gone and, with it, a chunk of the intensity and driving pleasure. In short, and for all its extra performance, this Spur is actually less sporting than the last.
Back in the car park that is downtown Beijing, and indeed to most customers most of the time, this will scarcely matter. A tiny minority of die-hard traditionalists will lament the softening of its edges, and I count myself among them, but to everyone else this slight but discernible loss of character will be an acceptable price to pay for a car that is, simply, better at the business of providing high-speed luxury personal transport.
The result is a car that is a little less memorable and a whole lot more capable. Bentley's gamble that this will matter more in those markets that matter most looks likely to pay off.
Verdict ★★★★☆
A lot more ability for a little less fun
Bentley Flying Spur specifications
Engine: 

5998cc, W12, twin turbo

Power: 

616bhp @ 6000rpm

Torque: 

590 lb ft @ 2000rpm

Transmission: 

8-speed automatic

Acceleration: 

0-62mph in 4.6sec

Top speed: 

200mph

Fuel: 

19.2mpg (combined)

CO2: 

343g/km

Road tax band: 

M

Dimensions: 

L 5295mm W 1976mm H 1488mm
Bentley Flying Spur rivals
Aston Martin Rapide S £149,950
For Welcoming additional power; build quality; handling Against Four doors don't mean there's much room in the back
Search for and buy an Aston Martin Rapide S on driving.co.uk
Rolls-Royce Ghost £200,500
For Timeless shape; gorgeous cabin; fine ride quality Against Expensive; has not one sporting bone in its body
Search for and buy a Rolls Royce Ghost on driving.co.uk
---