First Drive review: Audi RS 3 Sportback (2015)
Can a hatchback possibly be worth £40,000?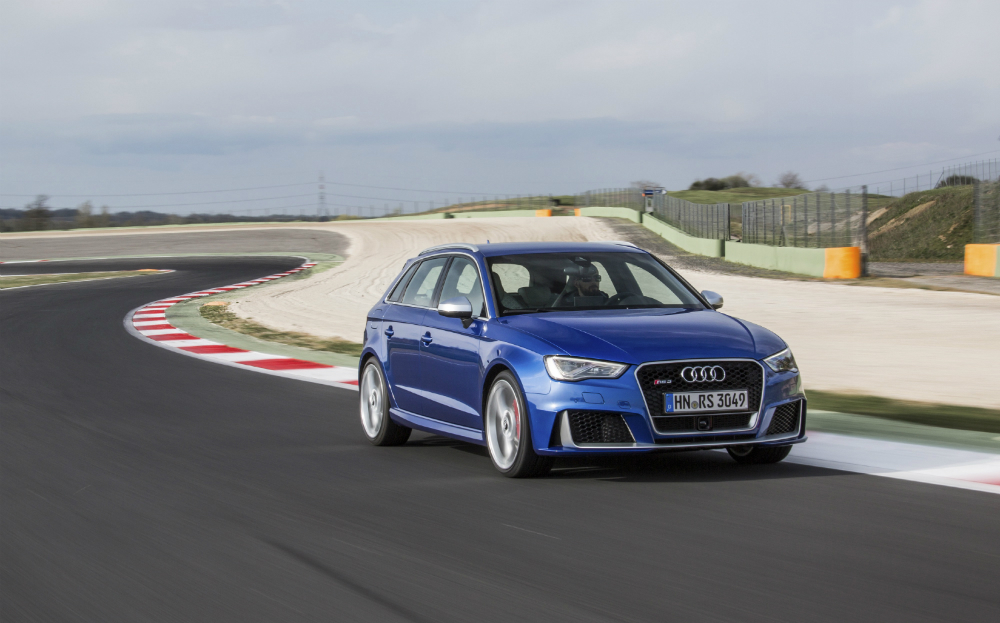 Audi RS 3 Sportback £39,950
WHAT IS the perfect car? Parents of young children pretend it's the latest people carrier with power-sliding doors – while secretly daydreaming about a Porsche Boxster, the wind in their hair and not an Isofix child seat in sight. Suburban sorts with brilliant white teeth and spray tans love an enormous SUV for the commanding driving position and road presence. And the older man can't resist looking slightly ridiculous in something loud and fast.
---
Search for and buy your next car on driving.co.uk
---
Where does that leave car enthusiasts? A stripped-back and raw two-seater such as a Caterham Seven might be exciting but would quickly become tiresome as it messed up your trousers when you climbed in, and left a trail of of bread rolls and vegetables after the weekly shop in its bumpy wake. The ideal would be something fast yet subtle, with enough space for friends or family yet sufficiently compact to weave its way around Britain's crowded roads. Something a bit like the new Audi RS 3 Sportback.
It's handsome but not brash, practical but not overblown, beautifully built and lovingly detailed with four-wheel drive for all-weather security – and, oh yes, it's a bit of a rocketship, too.
The RS cars are Audi's answer to BMW's M models and Mercedes' AMG hot rods. This one is the smallest and most affordable in the RS family, although "affordable" is, as always, a relative term. Some drivers will think a hatchback the size of a Volkswagen Golf that costs almost £40,000 should come with a free a mug saying, "I'm a mug".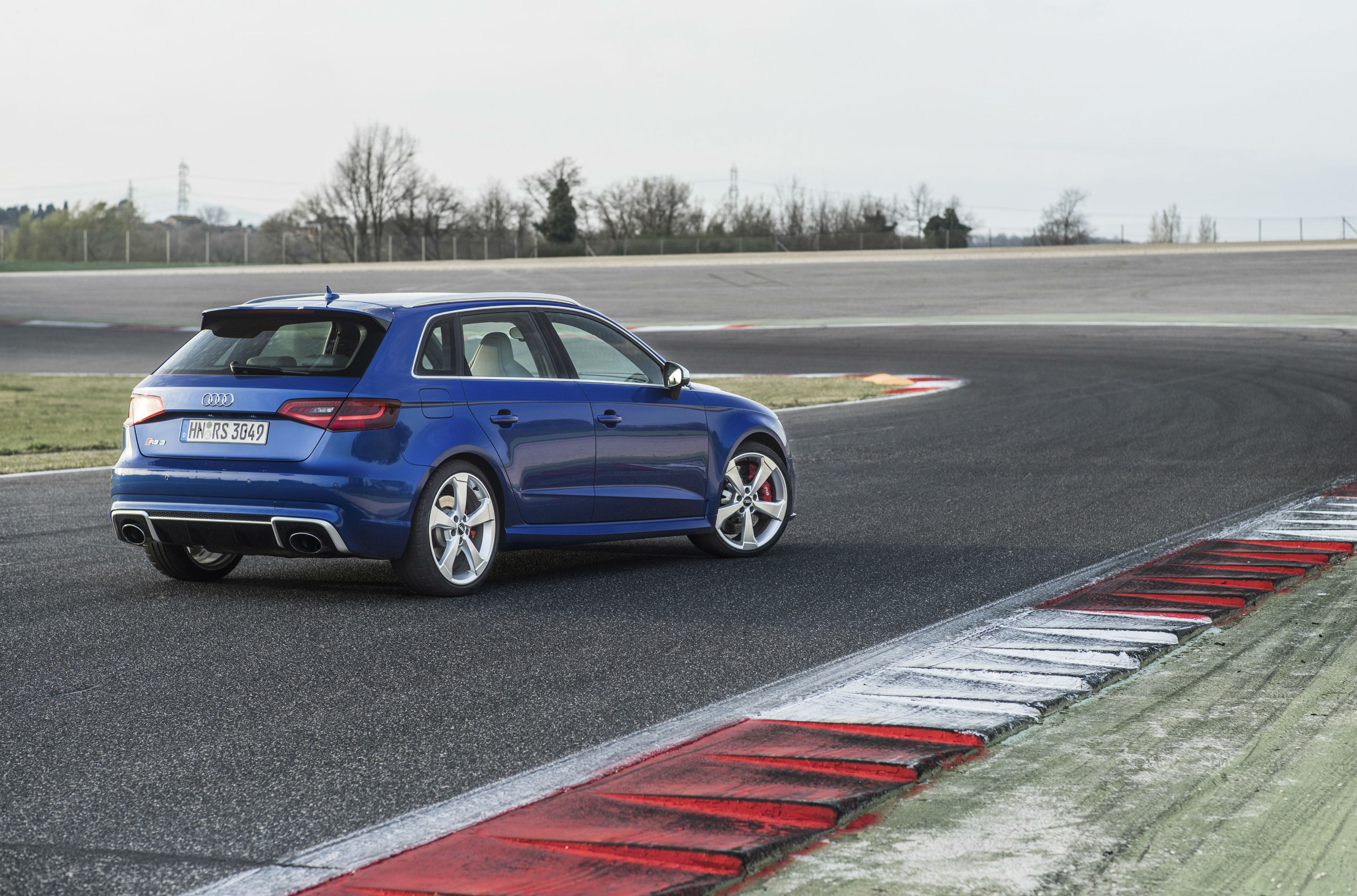 But this is no ordinary hatchback. Press the Start button and it instantly becomes clear that there is something rather serious under bonnet. It's a 2.5-litre, five-cylinder engine – which rally fans will know harks back to the original Audi quattro – that settles to a deep, smoothly potent idle.
The launch venue – the Vallelunga racing circuit near Rome – suggests Audi is feeling confident about its latest RS. We put it through its paces on the track and on the narrow, ragged roads that spread over the hills nearby, plus plenty of autostrada on the way to the airport.
The confidence comes from mouth-watering statistics. The engine, central to the car's character, produces 367bhp, and 343 lb ft from just 1625rpm. Combined with the 7-speed S tronic dual-clutch transmission (no manual gearbox is available) and the latest Haldex Generation V four-wheel-drive system, it manages a blink-and-you'll-miss-it 0-62mph time of 4.3 seconds. The top speed is electronically limited to 155mph but Audi offers the option of increasing that to 174mph.
Its four-wheel-drive system reacts more quickly than that of the previous RS 3, and the wet multi-plate clutch is now housed in the rear axle to improve weight distribution. It can send up to 100% of power to the front or rear axle if necessary.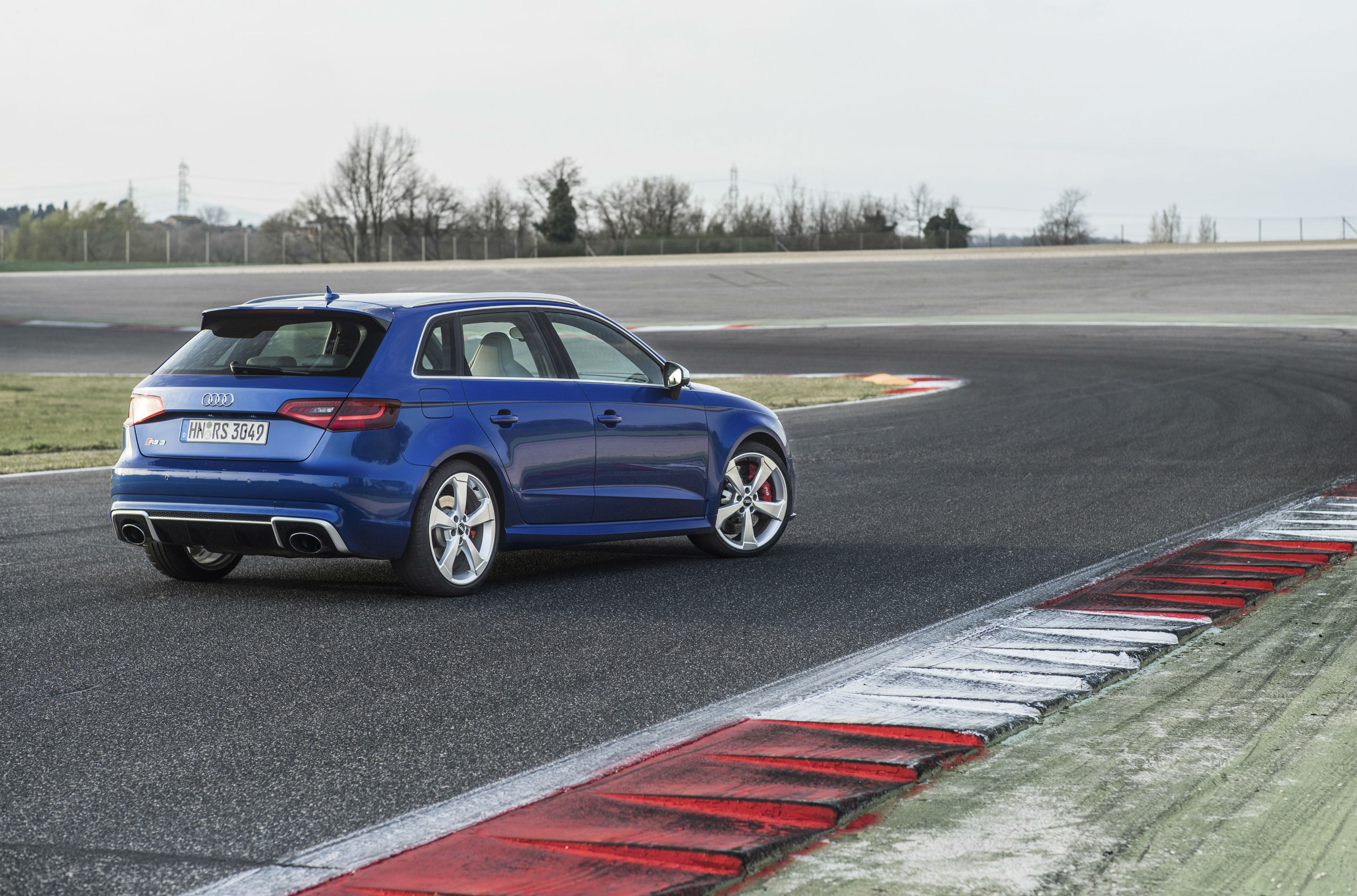 It also has the latest fad – torque vectoring. This is essentially a system that uses wheel-speed sensors to slow the inside wheel during cornering to improve the car's agility.
Drivers who have money to burn can order the optional adjustable magnetic dampers or the long-lasting and light carbon-ceramic brake package. But once you start adding on such tempting extras, the RS 3 Sportback becomes very expensive very quickly.
None of this matters much if the RS 3 isn't fun to drive. Initial impressions are very favourable. Our test car doesn't have the fancy adjustable dampers but the ride is much slicker than that of its rather clumsy predecessor. Only at very low speeds through congested towns does it feel overly harsh, thumping over potholes and making speed humps pretty uncomfortable. If you do most of your driving in a big city at below 30mph, it might be a bit wearing.
Stretching its legs, the engine sounds fabulous, and with the optional sports exhaust it is accompanied by pops and crackles. Throttle response is fast, and despite the big, flat mass of torque, the delivery feels measured and you're rewarded for hanging on to each gear by a nice rush as the needle approaches the red line.
Yet despite boasting 367bhp and coming in 55kg lighter than the previous RS 3, it doesn't feel like a big step up from its little brother, the S3, which has 300bhp and is nearly £8,500 cheaper.
Perhaps part of that impression is generated by the car's composure. Where the previous RS 3 felt clumsy and inert, the new model has more feedback through the clean, well-weighted steering and that vital sense of fun.
On the track it's a bit less impressive unless you disable all the stability aids and throw it around like a rally car. Do so and it'll adopt crazy, tyre-smoking angles.
It's supremely capable but lacks the sparkle of the best Audi RS machines. Despite the fabulously indulgent engine, the new RS 3 feels as though it needs to throw off its suit jacket, rip off its tie and join the party. It's good, but the search for the perfect car continues.
2015 Audi RS 3 Sportback specifications
Price: £39,950
Engine: 2480cc, 5 cylinders, petrol, turbocharged
Power: 367bhp @ 5500rpm
Torque: 343 lb ft @ 1625rpm
Transmission: 7-speed automatic
Performance: 0-62mph in 4.3sec
Top speed: 155mph (limited; 174mph as option)
Fuel: 34.9mpg (combined)
CO2: 180g/km
Road tax band: J (£265 a year)
Release date: On sale now
---
Browse the used Audi RS3 cars for sale on driving.co.uk
---
Audi RS 3 Sportback rivals
Mercedes A45 AMG, £38,195
For Has all the AMG traits: presence, thunderous noise and performance
Against Stiff ride; slow-witted gearbox
BMW M135i, £32,685 (5-door)
For Glorious six-cylinder engine; bargain price
Against Chassis easily upset on bumpy surfaces