First Drive review: 2016 Alpina D3 Touring
It's Pimp My Ride, but in German
EVERY YEAR 1,700 cars leave the BMW factory in Munich in a state that most people, including everyone at BMW, would happily regard as finished. However, in the eyes of Alpina, BMW's affiliated upgrading operation, these models are merely works in progress to be spirited to a facility in Buchloe, where 70 engineers turn them into the bristling road demons that these cars always wanted to be, if only they knew it.
It's Pimp My Ride, but in German. They go at the engine, the gearbox, the steering, the cooling system, the wheels and the aerodynamics. In other words, they do what hundreds of hobbyist customisers do, except without getting oil all over the drive and with no consequences for the manufacturer's warranty.
Alpina also tends to be a bit more expert than the average home spanner-jockey, especially when it comes to refashioning the interior, where it will run up a hand-stitched, monogrammed dashboard, if that's your desire, and probably source you some furry dice if you insist. You are the customer, after all — and, as such, you are someone who likes your BMW to go a little quicker, be a little more rammed with luxury cow-hide and be quite a lot more exclusive. (Alpina sells only about 200 models a year in the UK.)
---
View the BMWs for sale on driving.co.uk
---
Recently those Alpina engineers have been having their authorised way with the newest versions of BMW's highly regarded 3-series, producing a B3 bi-turbo petrol-powered variant and a D3 bi-turbo diesel version. The D3 Touring model that we drove can claim to be the world's fastest production diesel estate car — but that this is going to be a slightly compromised boast when you wheel it out at the golf club on account of the words "diesel" and "estate". It's a bit like having the world's largest dachshund. It's impressive in its own way, but it's not really the point.
The D3 Touring can claim to be the world's fastest production diesel estate car; we're in the presence of supercar performance
Still, we're definitely in the presence of supercar performance levels — yet convincingly allied with real-world manageability. The engine is an overhauled BMW 3-litre straight six, blended with a recalibrated eight-speed automatic gearbox. They've got rid of the single turbo unit and put in two little ones because, apparently, they respond faster. And then they've pursued marginal gains, including hiding the valves in the wheels so they interrupt neither airflow nor the spoked alloys' symmetrical gorgeousness. The reappraised front spoiler practically eliminates lift and the car chases like a racer but steers like a Mini with its thickly leathered wheel, and supports you like a limo.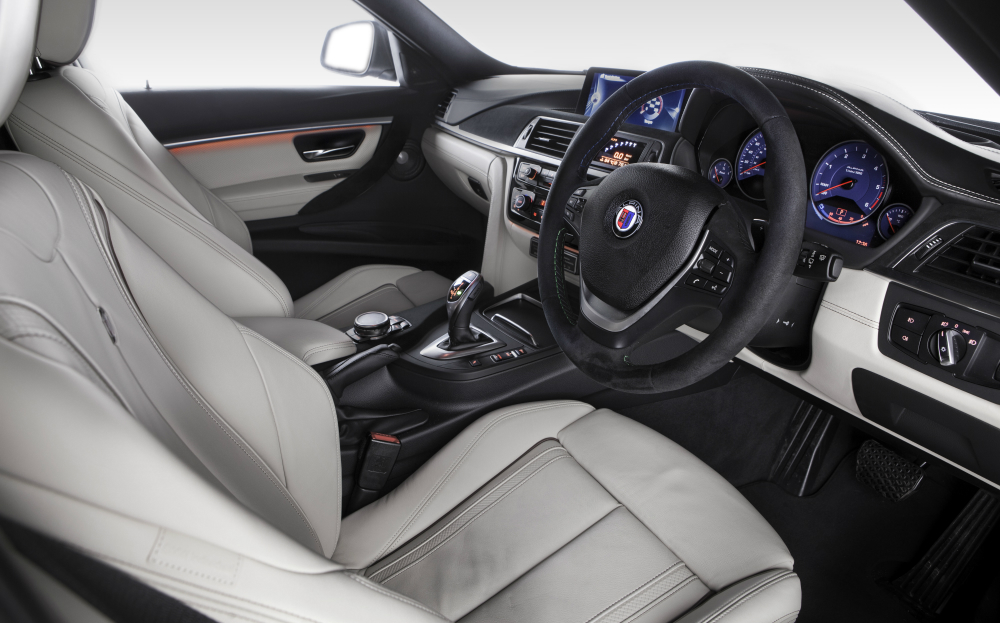 A silver plaque on the dashboard commemorates the build number: that's something you don't get in a VW Polo. The number was 159 in the case of our test model, though you had to wonder, human nature being what it is, whether it would eventually rankle that you hadn't made it into the top 100.
You can get a pretty fancy standard 3-series for £36,000, so you're going to have to decide whether all this fettling and the chance to shave a couple of seconds off your 0-62mph time are worth another £14,000 or so.
Your correspondent can only help you in that decision by reporting that he dropped the back seats and inserted two dogs into the car, neither of which had travelled so quickly in their lives, and neither of which was sick.
Also, on the A12 near Chelmsford, Essex, the D3 proved to be a highly efficient instrument for making items in the rear-view mirror recede extremely quickly. Which, when the item in the mirror is Chelmsford, is something to be grateful for. So thank you, Alpina. We think you're mad, but we're glad you're there.