First Drive review: 2015 Mercedes-Benz C 250 d Sport coupé
You're fooling no one, Dr Jekyll
---
Published 08 November 2015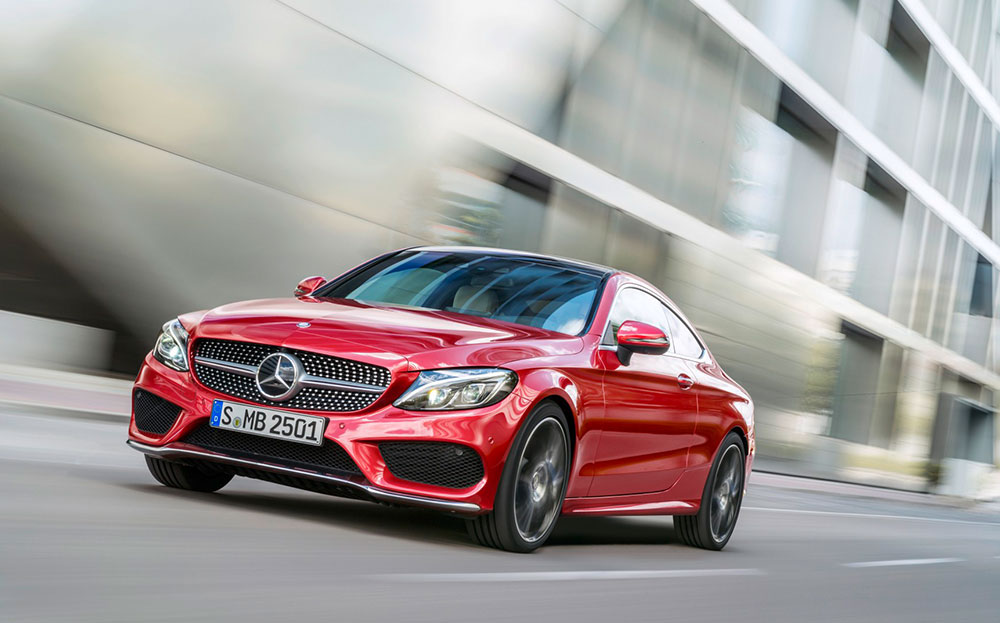 Mercedes C-class coupé, from £30,955
WHO WOULDN'T feel called-to by the snug new Mercedes C-class coupé, with its nubby, bullet shape, its trim front and smoothed-over rear, its wheels set pleasingly flush with the bodywork in the manner of the Dinky toys of your childhood? It's a matter of taste, of course, but a smaller canvas arguably suits Mercedes better than a larger one, where its cars can look a little bling-heavy and braying. This one, to my eyes, seems cute and covetable.
---
Search the used Mercedes-Benz C-class for sale on driving.co.uk
---
Good luck in the back, of course, where space is tight and the travel sensation is not all that far removed from the experience of being kidnapped and thrown in the boot. That said, you do get your own pair of minutely pin-holed, aluminium Burmester speakers to look at near your elbows, and a cupholder that would be even more useful if you could move your elbows far enough to get a cup out of it.
But of course, nobody is pretending this is a car in which to ride and drink, as much as a car in which to drive and very definitely not drink. The wheelbase is 80mm longer than on the last C-class coupé, the body sits 40mm wider and the suspension has been dropped by 15mm. Issued with a C 250 d version, I spent a happy, physically untaxing couple of hours this week pointing its pin-sharp steering at corners and watching large amounts of Spanish countryside disappear effortlessly under the bonnet.
The Eco and Comfort driving modes try to persuade you that you're in a usable, everyday vehicle, suitable for the carriage of shopping and the unstartling transport of elderly relatives from railway stations — and they almost convince.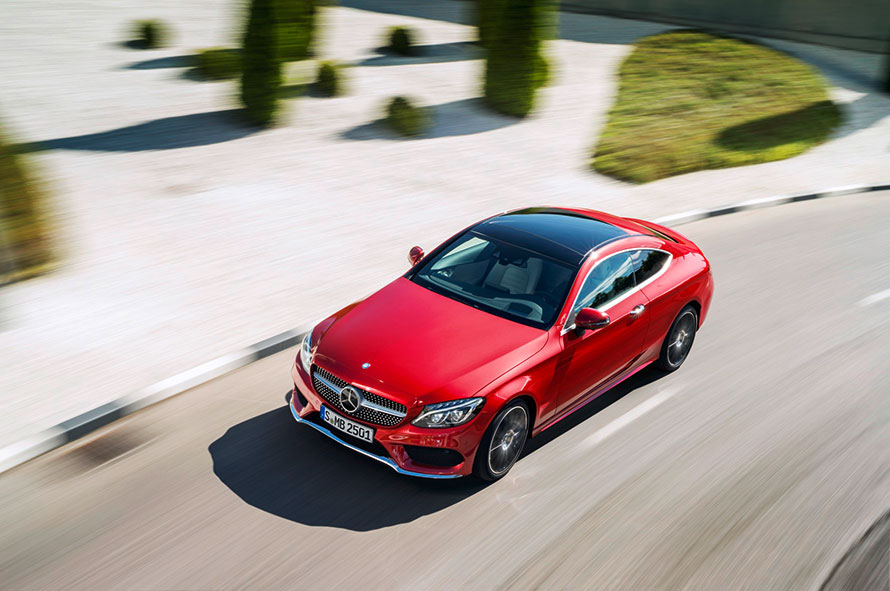 Sport mode increases the heat and converts the engine noise into a firm, round blurt, and Sport Plus generously flatters your driving skills, at which point you begin to grow very attached to the car, very quickly. It feels like nothing short of a pure fun wagon and completely comfortable in its skin. By extension, you feel completely comfortable in its skin, too.
Just for the hell of it, I also had a go in the menacing, top-of-the-range Mercedes-AMG C 63 S, containing a thunderous 4.0-litre V8 biturbo engine capable of 503bhp and the full menu of speedy trimmings, including wafer-thin racing seats and all the perforated red leather you can eat. Apparently it shares only the doors, roof and boot-lid with the standard model, other components being lighter, faster, sportier and, of course, wince-inducingly more expensive. (At £68,070, the AMG version is more than double the price of an entry-level C 220.)
Alas, sunny Marbella in Spain — where Brits quite reasonably go year-round in the full expectation of being able to bake themselves the colour of a rosewood wardrobe — let us all down last week by delivering a blanket-shaped serving of fog, making the twisting hill roads and sheer cliffs more dangerous.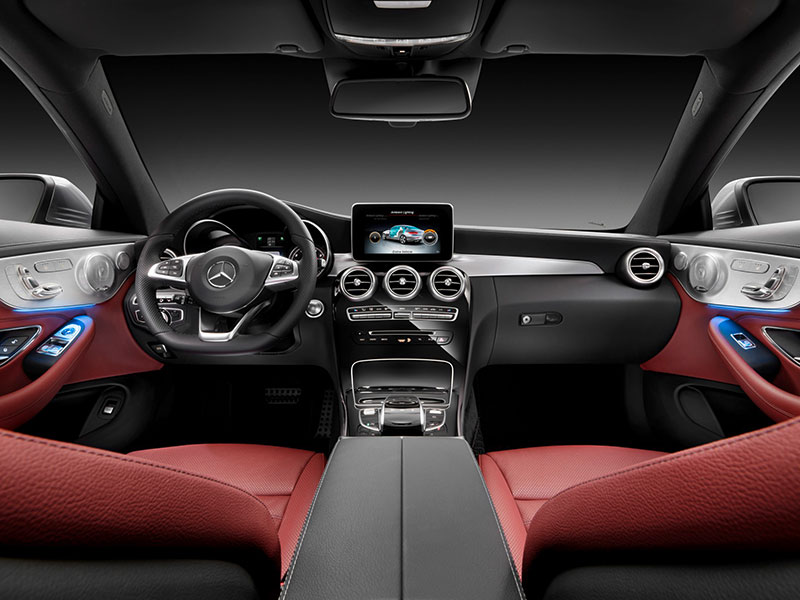 As a result, I spent a disappointingly high percentage of my scenic morning drive in the C 63 S cowering behind the wheel at a carefully measured 24mph and trying to work out whether that looming grey shape off to the left was an oncoming car, an oncoming house or an oncoming mountain.
Still, there were one or two clearer passages where it was possible to press the accelerator a bit closer to the carpet, and to discover there is very little this car won't safely overtake in a short amount of space.
There's also a Race mode, in which you can switch off all the electronic control systems, crash the car into an Armco barrier at high speed and then have nobody to blame but yourself. Amusing. But costly, however you look at it. Really, the cheaper ones will do, and you're less likely to dink them. Which, in a car that looks as good as this, is a real consideration.
2015 Mercedes-Benz C 250 d Sport coupé estate specifications
PRICE: £36,120
ENGINE: 2143cc, 4 cylinders, diesel
POWER: 201bhp @ 3800rpm
TORQUE: 369 lb ft @ 1600-1800rpm
TRANSMISSION: 9-speed automatic
ACCELERATION: 0-62mph: 6.7sec
TOP SPEED: 153mph
FUEL: 67.3mpg (combined)
CO2: 109-116g/km (depending on wheel size)
ROAD TAX BAND: B (free, then £20 a year) or C (free, then £30 a year)
RELEASE DATE: On sale now
The Rivals
Audi TT 2.0 TDI Ultra S line, £32,660 (view cars for sale)
For More of a head-turner; cool interior
Against Engine is underpowered compared with BMW and Mercedes
BMW 425d, £36,930 (view cars for sale)
For Styling; punchy engine; good handling; stylish interior
Against Higher emissions than the Merc
---
Search the used Mercedes-Benz C-class for sale on driving.co.uk
---