Dom Joly test drives the Audi RS Q3 (2014)
Your decision, chunky chops: are you maniac or milk float?
---
Published 29 December 2014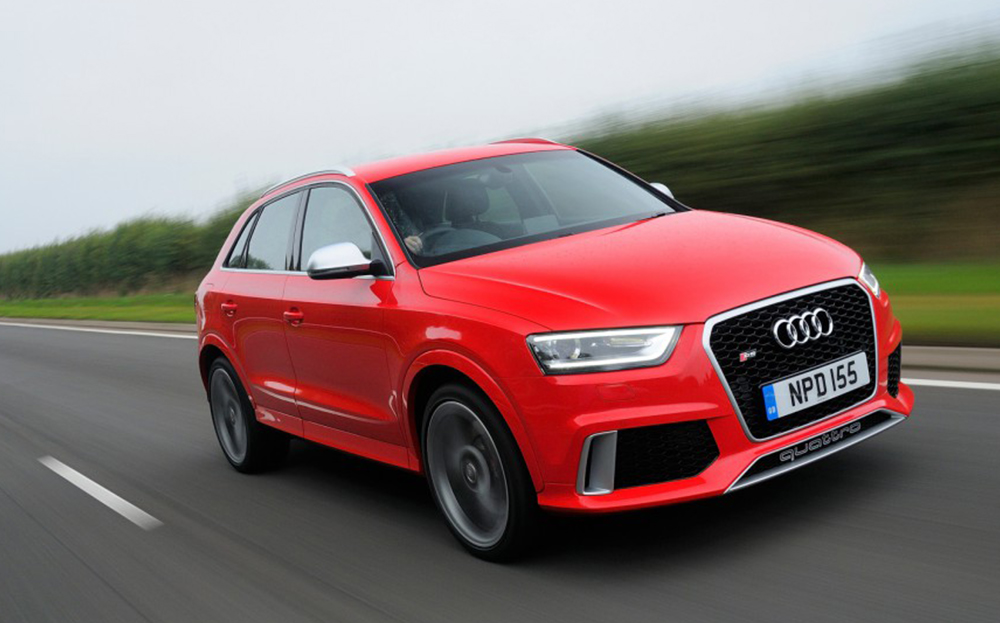 "FANCY TESTING an Audi Q3?" said the man from The Sunday Times. All I heard was the word Audi, and I was inquiring whether I could test it for a couple of years. I like Audis. "No," came the answer. "You can have it for a couple of days." Ah, well, if you don't ask, you don't get.
I was going to love it. An Audi? It's reassuringly posh, sleek, expensive — "Vorsprung Dirk Turnip" and all that… Bring it on.
---
Browse the used Audi Q3s for sale at driving.co.uk
---
I was in London when it arrived at my home in the countryside. My wife rang to say Audi had dropped a car off for me. "What's it like?" I asked excitedly.
"It's… different… a bit weird, actually." This was not the answer I wanted but I was determined to make up my own mind because my wife is Canadian and has curious taste in cars.
When I got home I had to admit that it was "weird". A bright red bulldog of a thing sat in my drive. The Audi Q3 is one of those odd crossovers — part SUV, part family car, part A3, part Q5, but not really any of them. The crossover is a booming area of the market that encompasses cars ranging from the Nissan Qashqai and Ford Kuga to the Hyundai Santa Fe. This version of the Q3 is more expensive than all of those, but it is hard to see why: it's basically a hatchback that has been pimped to look a little like an SUV. Except it doesn't really look like an SUV. It looks like a brick on wheels.
The Audi Q3 is one of those odd crossovers — part SUV, part family car, part A3, part Q5, but not really any of them
So far, so ordinary. But the man from The Sunday Times had neglected to tell me one thing: a small detail that would catapult this car from being a smart if rather dull runaround for the nuclear family into something else entirely. Before we get to that, however, how did it perform its primary function?
I've had a go in quite a few vehicles of this type and have even come up with a handy list of qualities by which to judge them.
I need a dark interior — anything with a hint of non-black or stitching will get stained, ripped, destroyed within seconds. And that's just by the children, not the three dogs I have to ferry about. The Q3 was pretty good in that respect — there was not much to ruin, although it would be in quite a state after three school terms.
I also want enough room between the back seat and the driver's seat that my children can't kick me constantly while we idle in the endless traffic jam that besets the Sixways junction in Cheltenham every morning. Compared with other crossovers I've driven, this one measures up well. A determined child will still be able to ruin your morning, but for the most part there is enough rear legroom to keep the little rotters a good length away.
I don't want any secret compartments or deep pockets either. Why? Well, they may look handy in the showroom or the brochure, but in the real world these cubby holes are instantly discovered and filled with perishable goods that disintegrate over the course of several weeks while members of the family accuse one another of poor hygiene. The Audi had several of these pockets — bad idea.
On the other hand, there needs to be lots of room in the boot — enough for cricket bags, hockey sticks, seven pairs of shoes, two footballs, the occasional dog, three umbrellas, four pairs of wellies, several packets of Haribo sweets… all these are normally on the floor in the back. There needs to be room in the boot for when you pluck up the courage to dive into the episode of Hoarders being shot in your car and clear stuff out.
The Q3 has a lot of room for a crossover — a good boot, except that the rear seats don't flatten fully so larger loads may be tricky to slide in.
Finally, the car needs to give off the right vibe in the school car park. You need everyone to think you're doing OK, thank you, but you don't want to look too flash. It helps if your children's friends approve of the car's make, because this improves your offspring's cred. It also needs to be big enough to hold its own with the Chelsea tractors in the fight for car-park entry, but small enough to sneak into unusual spaces. The Q3 did all these things.
The "RS" badge means that this car isn't fitted with a piddling 1.4-litre petrol engine… It has under its bonnet a fire-breathing 2.5-litre five-cylinder engine  — a sort of ultimate boy-racer car for people with good jobs
And now for the surprise element. On the front grille and the rear of this car are two letters written in an understated way. They are "RS" and they give a clue to what transforms the Q3 from an inoffensive family load-lugger that can pass tests such as those I have set into something entirely different. The "RS" badge means that this car isn't fitted with a piddling 1.4-litre petrol engine or a sensible diesel unit. It has under its bonnet a fire-breathing 2.5-litre five-cylinder engine from a previous generation RS 3 — a sort of ultimate boy-racer car for people with good jobs.
Floor the throttle and the RS Q3 will reach 62mph in less than five seconds. It has a top speed limited to 155mph and will outrun more expensive and powerful megas such as the Porsche Cayenne GTS and BMW X5 M50d. This is not so much a school-run car as a school-sprint car. It is by some measure the fastest crossover you can buy, bar the Mercedes GLA 45 AMG — and a hoot to drive.
You might think all that performance would be wasted on a car with this type of raised body: the top-heavy nature of crossovers mean they lack the roadholding fun of the hatchbacks on which they are based. But Audi has managed to get around this problem. This is partly down to the quattro all-wheel-drive system, which gives the wheels surprisingly good traction and brilliant cornering precision. The suspension has been lowered and stiffened to provide good body control with little roll in the corners.
OK, it looks a little odd and although it passes most of my family load-lugger tests it is pretty expensive (for the same price you could buy two entry-level Nissan Qashqais and have a couple of thousand left over). But there is no arguing with its pants-on-fire performance.
I should also point out that I was supposed to be driving the new face-lifted version that goes on sale in the spring but it wasn't ready in time. I'm assured, however, that although it has a new front grille and bumpers and a shade more power, the revised Q3 will feel much the same. Which is a good thing.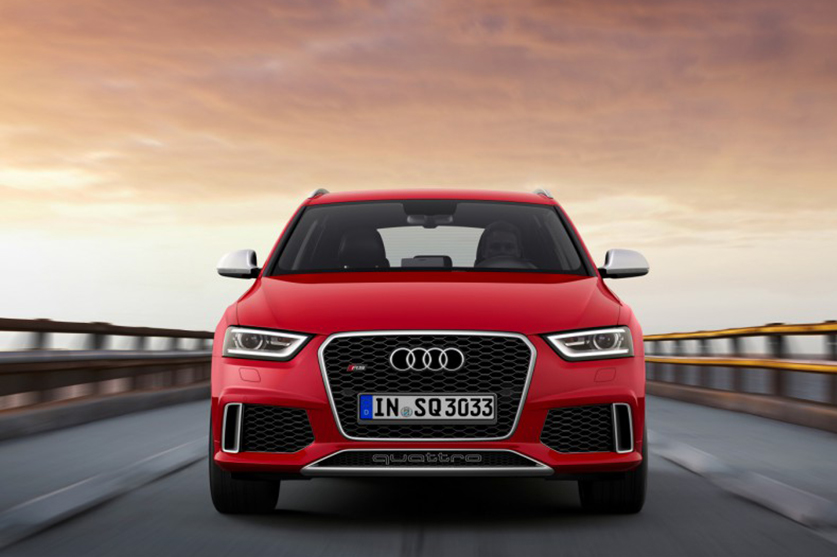 My test car could hold its own with anything at the school gates, and I don't mind admitting I entertained fantasies of racing other parents away from the lights and blowing them into the weeds.
But regardless of its plus points, the Q3 — RS or not — couldn't get away from the fact that it looked confused. Was it a hatchback, an off-roader, a sports car? I don't know. Maybe a bit of all those things.
Ultimately, I felt it was doing whatever the opposite of flattering to deceive is. Often a car's design writes cheques its engine can't cash. It looks like a Le Mans racer but performs like a milk float. The RS Q3 does the opposite. It looks like a pumped-up shopping car and goes like a racer. My wife ended up quite liking the looks, but I think it's a car with an identity crisis.
Dom's verdict ★★★☆☆
A crossover with its wires seriously crossed
Audi RS Q3 specifications
Engine 2480cc, 5 cylinders
Power 306bhp @ 5200rpm
Torque 310 lb ft @ 1500rpm
Transmission 7-speed S tronic
Performance 0-62mph: 5.2sec
Top speed 155mph
Fuel 32.1mpg
CO2 206g/km
Road tax band K
Price £41,735
Release date On sale now
---
Browse the used Audi Q3s for sale at driving.co.uk
---