Dom Joly reviews Volkswagen Golf GTE plug-in hybrid
Give me two hours with a cosh and a cable and I'll get it to squeal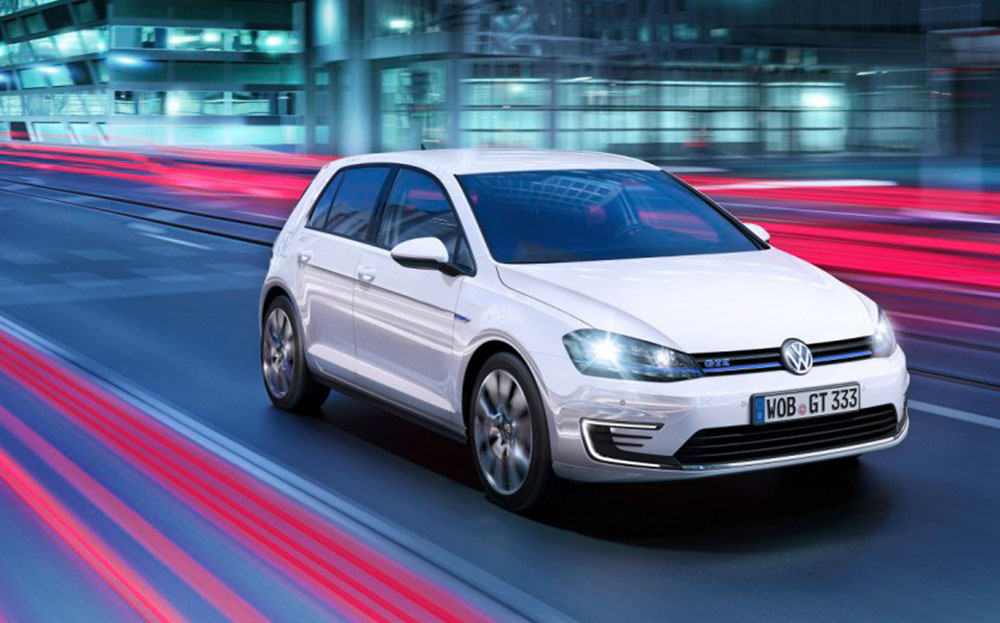 Volkswagen Golf GTE, £33,755
THE VOLKSWAGEN Golf GTI has come a long way since I was the proud owner of one. Back in 1990 I met a man who worked at Fuller's brewery in Chiswick, west London. I was answering a badly written ad in which he announced that he was selling a white Golf GTI cabriolet. It was only when I saw the car that I realised just how "wide" it was. It was pure Essex boy, with extra large bumpers.
---
Browse the used VW Golfs for sale on driving.co.uk
---
I didn't have time to think too hard about all this, as the gentleman I met in an alley near the brewery appeared to be on the verge of imminent arrest by the police. He kept looking over his shoulder and telling me to "get a shift on, mate". So eager was he to sell me the car, he even forgot to remove the cosh he kept under the driver's seat. I found it while adjusting my seat after I drove away from the brewery at some speed. I'd handed the vendor an envelope of cash in return for some quite dodgy-looking papers and the car. It was very much like what I imagine trying to get your local Tory MP to ask a question on your behalf in the house would have been like.
By the time I'd discovered the cosh, however, I couldn't have cared less as I'd also found out just what unadulterated fun this car was to drive. I took it on a tour round Europe with a rather glamorous Essex-born girlfriend, who looked as if she'd been born to ride in the thing. I parted ways with said blonde in Vienna after a seriously hedonistic three weeks of topless driving (not her, you understand).
She went back to Essex, whereas my Essex car and I headed off to Prague to take up a post as a diplomat in the delegation of the European Commission. Eastern Europe had just gone capitalist, a poet was running Czechoslovakia (as it was then), I had diplomatic immunity and I had the only convertible in Bohemia. Life was good. Bloody good.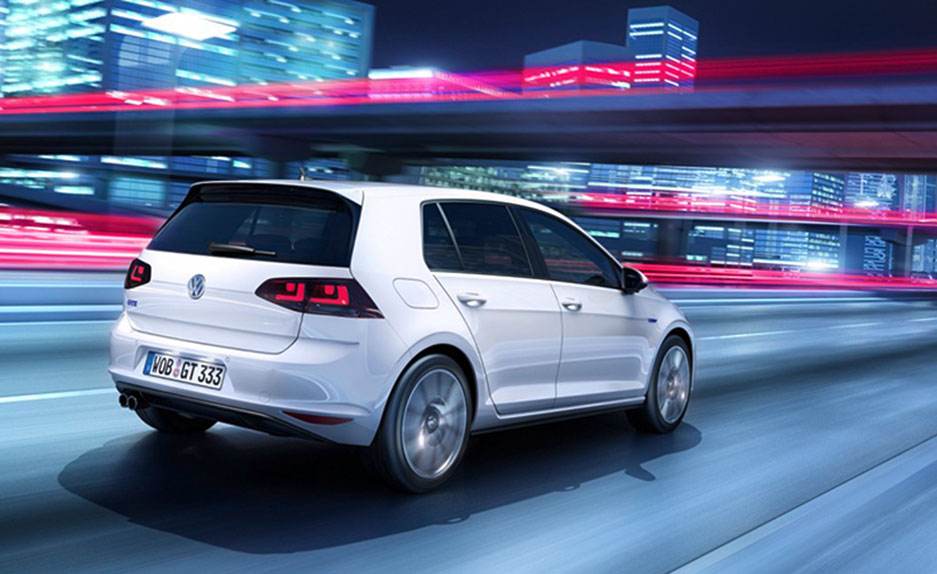 But back to the present, and coming up my Cotswold drive was the newest version, the Golf GTE, the hybrid, middle-aged-hippie-uncle version of my original. As it happened, this one was also white, but it had a more sedate air than mine. It looked good, though: it had aged well and was certain to be less expensive than my hormonal, youthful motor — although I secretly missed the stupidly big bumpers.
The children liked it straight away. Since my wife tired of the family bus, had a midlife crisis and bought her BMW hot hatch, they've been complaining. They are now mere afterthoughts in my wife's driving life, squeezed into the dark rear seats and thrown about windy country lanes by a Canadian racing in Comfort mode. By comparison, they found the back of the GTE roomy, although I suspect this initial enthusiasm may dim after a while.
My wife was going crazy thinking of things for the kids to do in the long, rainy English summer, so I decided to take them up to London for a day and give them a break. The GTE is fast and economical and I wouldn't even have to pay the capital's congestion charge. It would be perfect for my needs.
I was now in a calm and sedate hybrid version. I breathed deeply and put some Enya on the stereo. All was calm
So we set off, and confidence was high . . . until we got near Oxford. The county council has already spent ages turning the Oxford-to-Witney road into a solid mass of cars. Now it has turned its attention to "improving" roundabouts. A battered sign on the edge of the traffic jam informed frustrated drivers to expect delays until November — 2016.
It was going to take 16 months for these "improvements". For perspective, the Pentagon was built in the same time. When we finally got to improvements ground zero there were predictably no workers to be seen anywhere. To be fair, it was 11 o'clock in the morning so they were probably not up — or simply hadn't managed to find a lorry to bring them over from Calais yet.
I felt annoyed. I'd done my bit for the globe; I was driving a hybrid on pure electric power with the motor turning itself off when we were at a standstill. On top of that, I was carrying three people around. Why didn't the council build me a special lane for my electric threesome? Then I remembered I was not in my impetuous, youthful Golf. I was now in a calm and sedate hybrid version. I breathed deeply and put some Enya on the stereo. All was calm.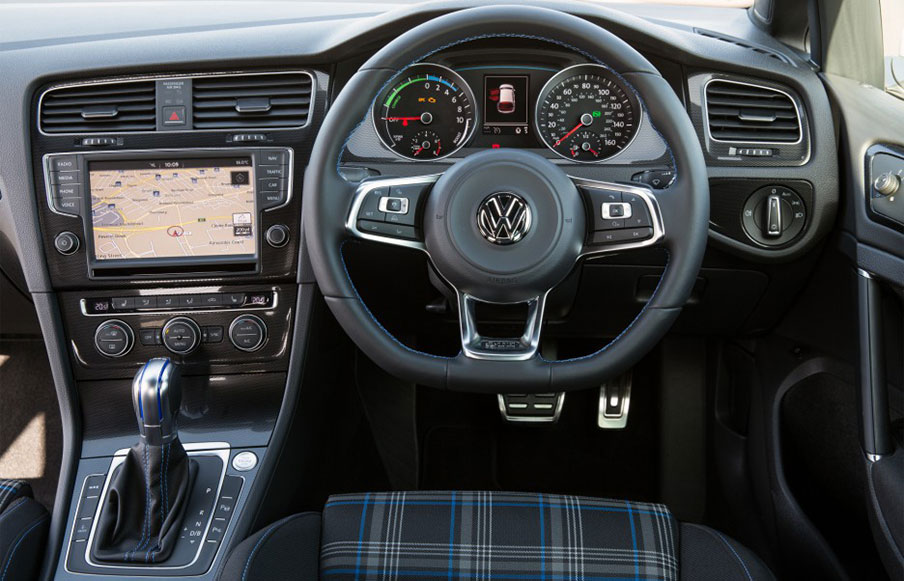 Once through Oxford — only two hours instead of the usual half an hour, and don't even think about rush hour — we pootled on towards London. The battery had run out and the GTE switched into Hybrid Auto mode. There was a little bit more noise but I actually find that reassuring in a car.
We arrived in London safe and sound, and I zoomed into the centre of town — because I could. I parked in a car park that charged me the equivalent of a month's rent for Blenheim Palace, but at least it plugged the vehicle into a wall charger for me. You could use a mains socket, which took about four hours to top up the VW, or a bigger, faster one that took closer to two hours. I went for the former as the car park man was very vague about rates for the fast charger and I feared he might impound the car to cover unpaid debts.
We had a grand day out: lunch in Soho, shopping in Covent Garden, tea at the Wolseley, more shopping and then back to the car. It was fully charged and waiting for me expectantly. It had clearly been rather shaken up by the visit to the big city — the rest of the car park was full of black Range Rovers with tasteless personalised numberplates.
"They bullied me," whimpered the GTE. "They said I wasn't a real GTI . . . " I pacified it as best I could by putting on Supertramp. The GTE loves Supertramp. We drove home in silence save for the dulcet tones of Roger Hodgson and the occasional scream of despair as we crawled through Oxford. Ah, well, not long now: only 16 more months and then it'll be all right . . . won't it? It had better be — I've still got the cosh.
Volkswagen Golf GTE specifications
Engine: 1395cc, 4 cylinders, plus electric motor
Power: 201bhp
Torque: 258 lb ft
Transmission: 6-speed automatic
Performance: 0-62mph: 7.6sec
Top speed: 138mph
Fuel: 166mpg (combined)
CO2: 39g/km
Range: 31 miles (electric only) | 580 miles (total)
Price: £33,755
Release date: On sale now
---
Browse the used VW Golfs for sale on driving.co.uk
---