The Dom Joly review: Mini Countryman Cooper SD ALL4
As the go-kart grows up, fun gets the boot
IS THERE there anything more British than a Mini? Well, if I'm being pedantic, then, yes, there probably is: emotional insecurity, fear of public embarrassment, the bad teeth thing that Americans always go on about, the expectation of failure in any big sporting event.
Also, the Mini is now made by BMW — which I think stands for Bavarian Mini Workshop. So the Mini isn't really British at all. It certainly used to be, back in the Sixties, when all of them had Union Jacks painted on the roof and were used for raiding banks in Turin, driving miniskirted Twiggys about and other high-spirited japes. But everything is different now. We don't own anything any more. Foreigners have taken everything from us. Luckily Nigel Farage has been sent to save us. What could possibly go wrong? But I digress.
Back in the mists of time, when everything was still British, my parents used to have a blue Mini Clubman. This was a peculiar vehicle — a Mini with a pair of wood-trimmed back doors. I never understood the point. It seemed to have been designed for someone who wanted a Mini that looked as though it could transport stuff but had no room to do so. If I'm honest, it was a seriously rubbish car, and my parents eventually offered it to me as my first drive.
---
Browse NEW or USED cars for sale
---
About a year ago I did a TV show called That's So Last Century, in which I showed my son the sort of stuff I'd had when I was a child. It was mostly really bad toys, but, to jazz things up, the production team brought along an old Mini. I'd forgotten just how mini the Mini was — I could barely get into the thing. My son refused to believe it was a road-legal car and couldn't stop laughing. More importantly, I couldn't believe how tinny and fragile it seemed. It refused to start and had to be towed away. It's a good job the Germans took over the brand.
The Mini Countryman that was delivered to my house recently was huge by comparison — it should hardly be called a Mini any more. It had the look of an old acquaintance that had piled on the pounds.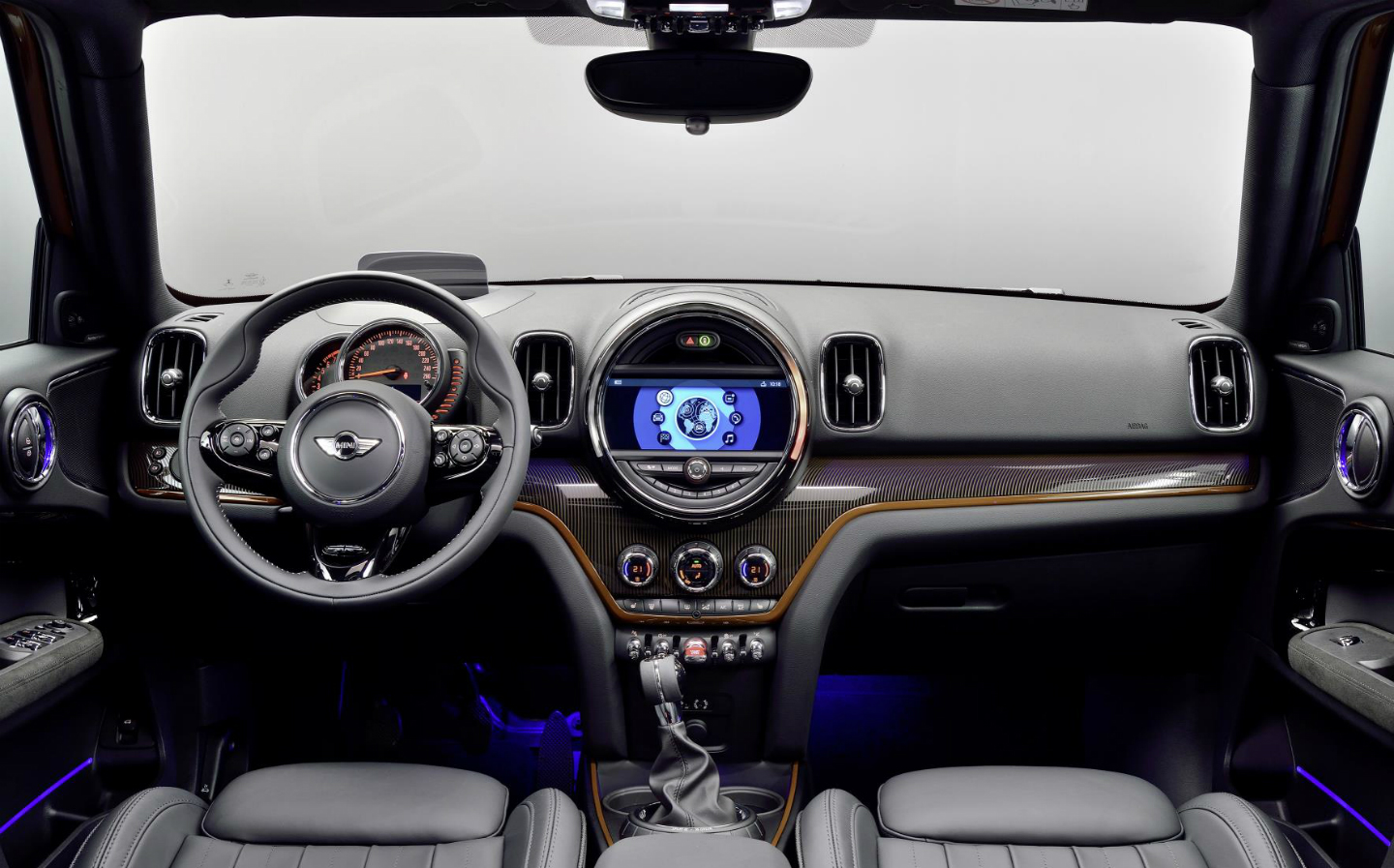 One of its little tricks is that the LED ring round the infotainment screen changes colour: red when you engage Sport mode, green for save-the-planet, blue for dullard. It's a bit blatant, but the rest of the interior is rather gorgeous. The screen is fun to use, and the £1,345 Navigation System package includes real-time sat nav traffic information that looks almost trustworthy.
Once installed in the driving seat, you again get that feeling of bulk, heft … like the first time you look in the mirror after Christmas. This is not a Mini — this is a rotund bruiser spoiling for a fight after years of being looked down on by bigger cars.
For round one I decided to take a trip into the heart of neighbouring Clarkson country to buy an aubergine for £28 at the Daylesford farm shop. I briefly considered going the other way for once, towards Lily Allen land (Stroud), but Allen has recently relinquished her kingdom and returned to the big smoke. Besides, if you drove through the Free Trade Republic of Stroud in non-green mode, you'd get chased by a mob brandishing pitchforks. So I headed for the flatlands near Chipping Norton.
As I left my village and hit the winding lanes of the high Cotswolds plateau, I was a tad disappointed. I'd been up for some fun. I remembered borrowing a Mini Cooper hatchback from a colleague at the BBC about 10 years ago and taking it for a couple of days' driving around Wales. I'd had the sensation of being in a go-kart. The Countryman, on the other hand, felt middle aged, bulked up. It lacked the essential spirit of the Mini. When I put it into Sport mode and tried to go for it, there was no enthusiasm. In fact, the engine sounded almost as if it were pretending to make sporty type noises. It was a bit like the annoying bloke in the ad who goes into his kitchen and makes percolator noises while fixing his date an instant coffee.
On the school run I got a few admiring glances. Some may even have been for the car
But I'm sure this new, revamped version of the Countryman will do well. This is a vehicle for Mini lovers who have grown up. I had two grumpy children in the back and they had plenty of room for their clobber — hockey sticks, books, bags, paraphernalia from God knows where. I took the opportunity at Daylesford to empty all my kids' junk into the rubbish bin. Even the bins there feel as though they are intended for stylish, organic rubbish, so I felt a touch guilty desecrating them. I imagine an employee dressed as a holistic mime artist lifting empty pop bottles at arm's length with a look of exaggerated horror.
Later I drove into Cheltenham to do the school-run test. I got a few admiring glances. Some may even have been for the car. Two mothers asked me what it was like to drive, because they had a Countryman on order. I told them it was fine. What else could I say? If you want an SUV, get an SUV. This vehicle is in competition with the hard-to-define Nissan Juke. There is nothing particularly wrong with it — it's a solid bit of kit and ticks a lot of boxes. It just lacks that British joie de vivre.
Jeremy Clarkson is away