The Jeremy Clarkson Review: 2018 Alpina B5
Grown-up thrills in a light-speed La-Z-Boy
IF YOU are my age, you will remember that in the olden days nerdy petrol enthusiasts would explain that the engine in their Ford Capri had been "blueprinted".
The idea was simple: cars were mass-produced and the components made by men who wanted only a pint after work and a decent wage when the week was done. Which meant each engine was only a rough approximation of what its designer had wanted.
Blueprinting meant building an engine to be precisely right. This was fantastically complicated. I remember once speaking to a man who said he had had to order more than 100 pistons that were supposed to be exactly the same before he had eight that actually were. And it was the same story with the rods and the valves and every other damn thing in there.
---
Browse NEW or USED cars for sale
---
Building such an engine would take thousands of hours and cost thousands of pounds. And would anyone be able to tell the difference when it was finished? Honestly? No, not really. But if you were a fan of perfect engineering, you'd know every time you turned the ignition key that that's exactly what you were bringing to life.
Think of it as a beautifully crafted watch. Does it tell the time better than a battery-operated Casio? No. So do you want a battery-operated Casio? No again.
And that brings me nicely to the Alpina B5 I was driving recently. It started in life as a normal BMW 5-series, which means it was built by robots that didn't want to go to the pub after work. They just did as they were told, precisely, all day long.
You could take apart their work and build it again yourself, using OCD tolerances and a forensic attention to detail. But you'd end up with something that was pretty much exactly the same as it had been before you broke out the spanners. It'd be like trying to tune an iPhone.
And then there's the design itself. BMW is a business, yes, and it has one eye on the profit-and-loss account for sure. But it's hard to spot this when you drive a normal 5-series, because it really does feel as close to perfect as any car can be at this moment in automotive time.
I've said before that, all things considered, the 5-series estate is the best car in the world right now. And yet Alpina still reckons that with a staff of about a hundred it can do better. Hmm. We'll get to that later.
There's another issue. Back in the 1960s and 1970s, BMWs were quite sporty, but there was room for a tuning company to make them faster still. That's what Alpina used to do very well. So well, it was endorsed by BMW itself. But then BMW started making its M cars. And I've never met anyone who's climbed out of an M5 and said, "Yeah. But I wish it was a bit quicker."
This means Alpina can't offer its customers a car that is better made or significantly faster than the car BMW will sell them. So what's the point? There's a new M5 about to come out, which will cost about the same, and we sort of know it'll be epic. So why on earth would you want to spend £89,000 on a B5? Or a lot more if you want a few toys?
"A normal 5-series feels as close to perfect as any car can be, and yet Alpina reckons that with a staff of about a hundred it can do better"
Good question. Yes, my test car had some snazzy wheels and a discreet little spoiler at the back. But it looked just like a standard 5-series, really. And it was the same story on the inside. We are told the leather is better than the cow skin that BMW will sell you, but it didn't feel any different to me. I did like the blue dials, though.
To really get to the bottom of it, you need to fiddle about in the suspension menu. Because it's here you'll find a new setting. One that BMW doesn't offer. It's called Comfort Plus. And that's what this car is all about. It's designed to be as fast as anything BMW will sell you but more comfy. And if you're my age, that has got to have some appeal.
The engine is the 4.4-litre V8 from the 7-series, with two turbochargers of Alpina's design. The result is a whopping 600 brake horsepower. This is sent through a tweaked gearbox to a four-wheel-drive system tuned by Alpina so that 90% of the power can go to the back.
Four-wheel drive is another key to what this car's all about. It's not designed for the racetrack. It wasn't tested at the Nürburgring. It's designed for the road; and on the road, in a 600bhp car that can do 205mph, Alpina thinks four-wheel drive is better. Alpina is right.
Its engineers have even changed the camber on the front to such an extent that new wishbones had to be designed. Maybe that's why this is the first car with four-wheel steering that didn't make my passengers queasy.
Do not, however, think that this car is all about comfort. Because, God-al-bloody-mighty, it shifts. Put your foot down in Sport Plus mode and the digital speed readout in the head-up display simply can't keep up. By the time you've had a chance to catch your breath, you're in danger of going at the sort of speed that will put you in prison.
And it's not just in a straight line either. The steering and the new suspension geometry combine to make this car flow down an A-road like a smoothie being poured into a velvet bag. This was easily the best 5-series I've driven.
Issues? Well, if you concentrate hard in slow-moving traffic, you will notice that the throttle response in Eco Pro mode is a bit tardy. And that sometimes there's a weird tendency to kangaroo. The good thing, though, is that if this is a fault, the car is covered by BMW's usual three-year warranty.
---
Browse NEW or USED cars for sale
---
I don't for a moment believe the B5 is any faster than the new M5 will be, but, critically, it's no slower. And it makes the sort of noise that tickles the hairs on the back of your neck. Yes, I know some of this sound is artificially produced. But so was Iron Man, and we all loved that.
What I loved most of all, though, was the sense that every tiny component of this car had been poked and x-rayed and improved by a team of Germans who went home and, to prolong their performance in bed, thought about how perhaps it could be made better still.
The whole car is like those blueprinted engines of old. Only people who truly appreciate excellent engineering would want one. The M5 will be fine for everyone else.
Unless you want an estate. BMW can't sell you a hot one of those, whereas Alpina can.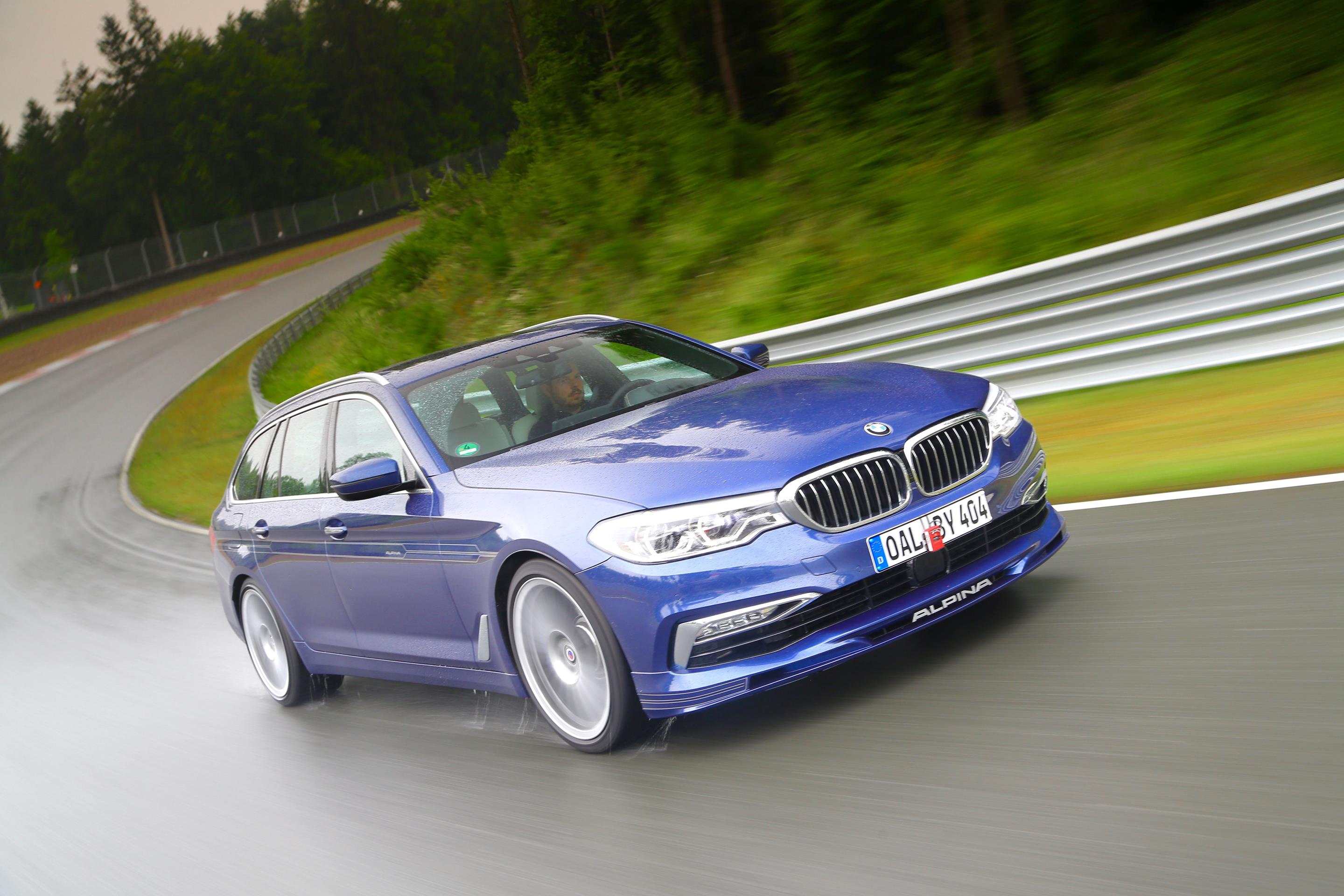 And, with a top speed in excess of 200mph, it's the fastest car of its type in the world. A lot of me, because I'm my age, is very, very tempted.
Tweet to @JeremyClarkson Follow @JeremyClarkson
Write to us at driving@sunday-times.co.uk, or Driving, The Sunday Times, 1 London Bridge Street, London SE1 9GF