Chevrolet Volt review (2011-2014)
The Chevrolet Volt is the most daringly innovative car that General Motors has produced in decades, and a multiple award-winner to boot.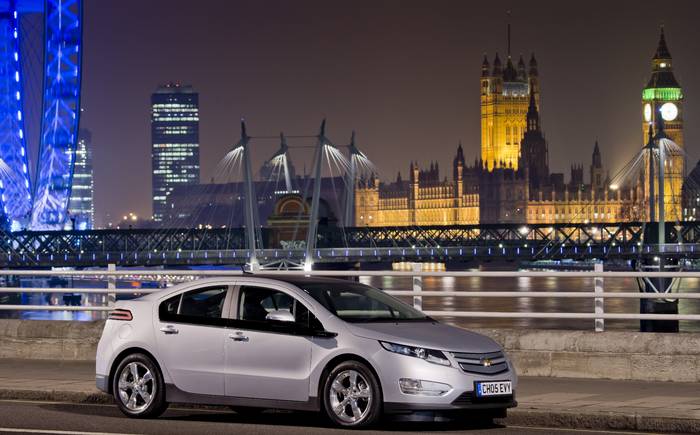 What is the Chevrolet Volt?
Apart from being the most daringly innovative car that General Motors has produced in decades and a multiple award-winner to boot, the Volt is described by Chevrolet as an E-REV, or extended-range electric vehicle. If the E-REV bit puts you off read on, because this is a very practical, interesting and ingenious kind of clean machine.
---
Search for and buy a used Chevrolet Volt on driving.co.uk
---
In essence, the Volt is an electric car, its front wheels always driven by an electric motor. Its lithium-ion battery pack provides enough energy to propel it 50 miles on amperes alone, at which point an onboard 1.4-litre petrol engine fires up to provide the batteries with enough charge to keep the car running as normal. Once you've reached a suitable socket, the pack can be fully recharged again.
GM's thinking is that since more than 80% of car journeys are of well under 40 miles, the Volt will rarely need its petrol generator to complete a trip, making it zero emission. But unlike conventional electric cars, its driver won't be left stranded when the battery's charge has expired. That makes it a little more complicated — and expensive — than pure electric models such as the Nissan Leaf and Renault Zoe, but vastly more practical and free-of so-called "range anxiety".
The drive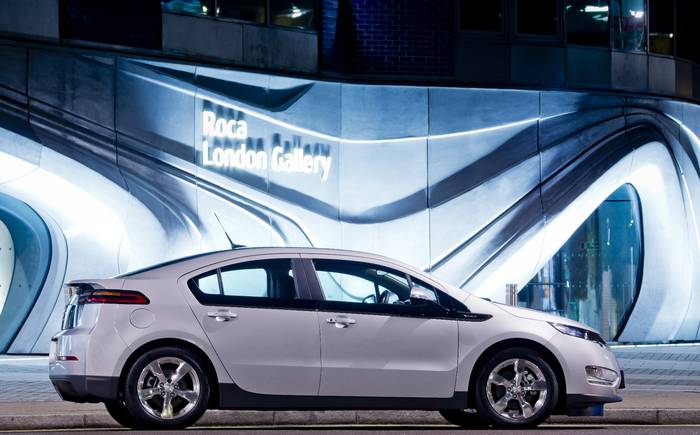 Most of the time, the Volt drives just like other electric cars, which is to say silently, restfully and with a surprising turn of acceleration. When its batteries are depleted it barely gets any noisier, the firing up of its petrol engine generator almost imperceptible. It drives much like any automatic, the only disconcerting feature being the powerpack's silence when you turn the ignition on. And if you choose, you can largely ignore the impressive but bewildering array of electronic displays, revealing battery charge and economy figures, or otherwise commenting on driving style and power flows within the Volt. The only critical dial is the fuel gauge, just as in a conventional car, and the Volt's 300-mile range allows you to forget this for much of the time, too. That's in vital contrast to pure electric cars, in which concern at your remaining range tends to kick in when you only have 20-30 miles of your 100-mile range remaining.
The Volt corners, steers and rides as well as conventional cars too, making it easy to adapt to — and if you delve into its data screens, a rather fascinating machine to live with. The benefits? Apart from its mostly zero-emission exhaust, recharging it from the mains makes it far cheaper to run with fuel economy equivalent to 235mpg. Road fund duty and the London congestion charge are zero, and it attracts company car tax at an exceptionally low 5%. However, it is expensive for its size, even allowing for the £5,000 government grant that it attracts.
The interior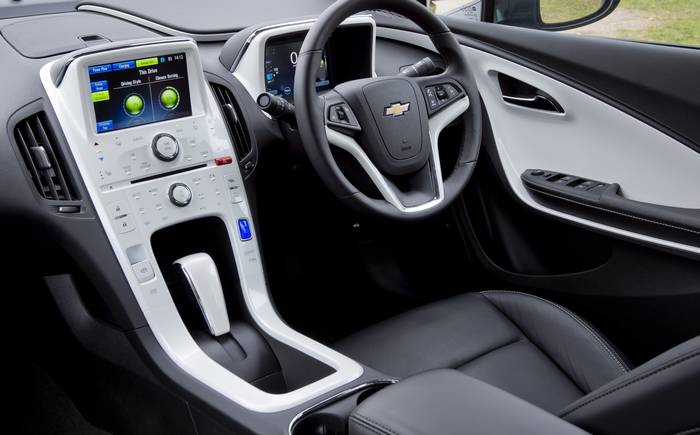 The Volt provides a cabin as futuristic as its premise. Dominated by a white-faced centre console and its infotainment screen, the interior feels different, as you'd hope of a car so radical. But not so different that it's intimidating to drive. True, some of the centre console switches are fiddly to use and it takes a while to understand what all the displays are telling you, but that's part of the fascination of running this car. That it is only a four-seater is a drawback — the battery pack steals the fifth seat — but otherwise, this Chevy is as practical as any other hatchback. The quality of some plastics could be better, but the Volt feels robustly built, and it's protected by a five-year/100,000-mile warranty, its drivetrain for eight years and 100,000 miles.
Buying a used Chevrolet Volt
The Volt has been running around America for a while now and appears to be doing well. Although there was an investigation into the crash-safety implications of its battery pack, it was eventually judged to be fine. It has been well rated in the Consumer Reports and JD Power customer satisfaction surveys, including gaining pole position in its class in the 2012 JD Power study of ownership satisfaction after 90 days.
It is a complex car, however, with a lot of on-board software to co-ordinate the motor, engine and battery. To date there is little feedback from UK owners, but drivers of the very closely related Vauxhall Ampera have reported some teething troubles and niggles, mostly related to Vauxhall-specific software and minor build-quality glitches.
Chevrolet is reassuring buyers with an eight-year/100,000-mile battery warranty in addition to its standard three-year/60,000-mile cover for the car as a whole. It is not offering a 100,000-mile "lifetime" guarantee in the way that Vauxhall dealers are for the Ampera, but that cover is not transferable to a second owner anyway.
The One to Buy
Chevrolet Volt
Factfile
Price:

£34,995 (correct at first publication)

Engine:

Electric motor and 1398cc petrol

Power:

151bhp @ 7400rpm

Torque:

273 lb ft @ 5600rpm

Transmission:

Automatic

Acceleration:

0-62mph in 9sec

Top Speed:

99mph

Fuel

235.4mpg

CO2:

27g/km

Road Tax Band:

A 

Dimensions:

L 4510mm, W1797mm, H 1477mm
Chevrolet Volt used car rivals for similar money