Chevrolet Camaro review (2012-2015)
Drive the American dream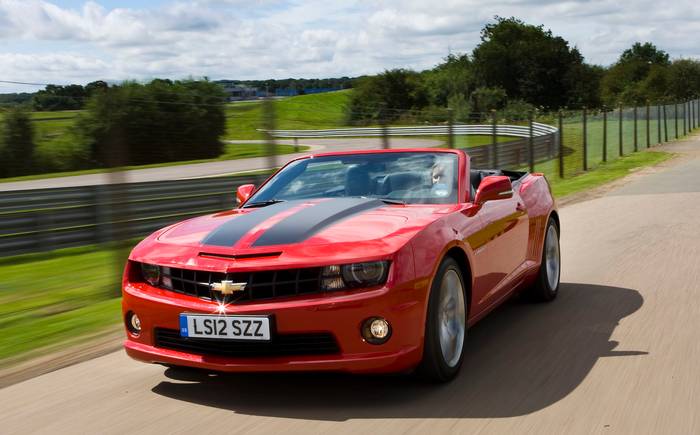 What is the Chevrolet Camaro?
Directly evoking the original 1967 Camaro in its styling, the fifth-generation version of this long-running Mustang-basher is reassuringly retro both in its appearance and in its technical specification. It's an old-school rear-wheel-drive hot rod with a big front-mounted V8 — all 6.2 litres of it (426bhp with six-speed manual gearbox, 400bhp with the auto) — and it comes either as a low-roofed four-seat coupé or a canvas-topped convertible. Officially on sale again in selected Chevrolet dealerships, the Camaro is back in Britain.
---
Search for and buy a used Chevrolet Camaro
---
Not that it's in any way suited to life this side of the pond: fuel consumption is a claimed 20mpg (manual) or 21.5mpg (auto), it's nearly as wide as the Grand Canyon and, most awkward of all, it's available in left-hand drive only. What works brilliantly on a long, empty strip of Californian desert highway may prove exceedingly cumbersome for a slow crawl on the M25 or in a cramped city car park.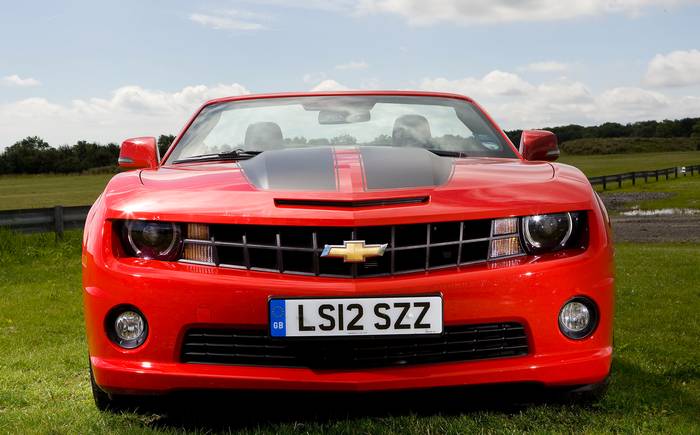 Yet despite its weight (1,769kg for the lightest manual coupé; 1,920kg for the auto convertible) the Camaro is by no means unwieldy. These days it has independent suspension all round; British-market models are based on the sportier-sprung Camaro SS and can go around corners without too much body roll.
Manual versions have a tiresomely heavy clutch, and the auto's not the quickest to react; its tiny gearchange paddles aren't much help, either. Other annoyances include a cabin that is rather cheap in places, a convertible roof that doesn't give much insulation from wind noise and, most of all, an engine and exhaust note that is disappointingly tame, given the nature of this car.
Practicality is not exactly the point, but you can squeeze a couple of kids in the back seats, and the boot (or should we call it the trunk?) isn't small: 384 litres in the coupé, 287 litres in the convertible with the roof up. The ride's generally comfortable, and the cabin roomy.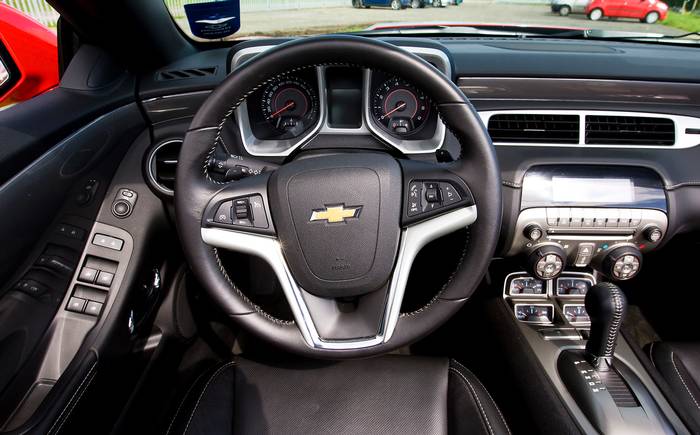 The Camaro's running costs are going to be steep, not just because of its thirst for fuel but also because of its tax liability (band M), insurance (group 48 for the coupé and 50 for the convertible) and depreciation (likely to be fierce). Still, it's not expensive to buy, given its speed and performance — and overall fun factor.
What to look out for when buying a Chevrolet Camaro
The Camaro's a simple beast, and that Chevy V8 is well proven. This fifth-generation model hasn't scored well in American reliability and quality surveys, however, ranking below average in the JD Power research, and there are reports of problems with the automatic gearbox, which has failed in some owners' cars. Technical service bulletins in the US have included fixes for vibrating exhaust baffles and noises from the rear half-shafts, and owners have also reported problems including jammed power steering pumps and cylinder failure, as well as minor concerns with fit and finish, misaligned panels, weak air-conditioning, general squeaks and rattles and glitches in the entertainment system and iPod/USB compatibility.