Bentley Continental GT V8 S Convertible review (2015)
Cannes here we come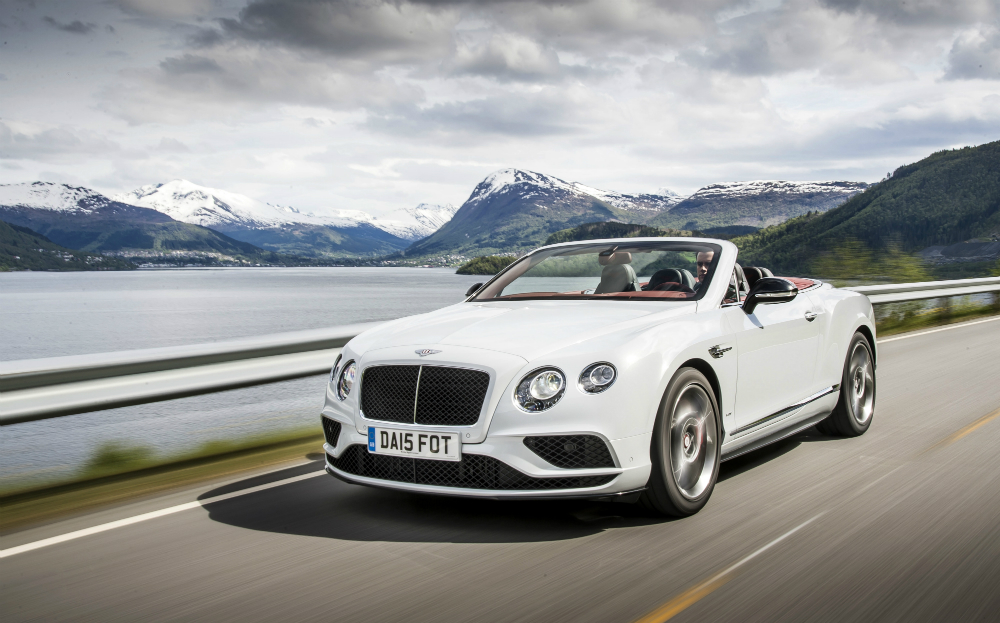 2015 Bentley Continental GT V8 S Convertible at a glance
Handling: ★★★☆☆
Performance: ★★★★☆
Design: ★★★★★
Interior: ★★★★★
Practicality: ★★★★☆
Costs: ★★☆☆☆
Price: £164,800
---
DRIVERS hoping to make an impression and soak up some summer rays at the wheel of one of the grandest convertibles on the road need to pay more attention to the long-term weather forecast: a new Bentley Continental GT V8 S convertible doesn't just build itself overnight.
---
Browse the used Bentley Continental GTs for sale on driving.co.uk
---
As fans of the British maker will never tire of telling anyone who'll listen, these are hand-finished cars that bear the mark of the man or woman who created them, and – if you're lucky – come with a slightly overripe cheese and tomato sandwich and a pickled onion, left behind in a lunchbox, as they became too engrossed in hand-stitching some part or other of the regal interior.
So, anyone who desires a 2016 Continental GT V8 S convertible, recently spruced up for 2016 along with the rest of Bentley's best-selling Continental range, but has yet to place their order and deposit on the £164,800 model must wait, patiently, until, more likely than not, the summer has come and gone and winter is upon us.
Will it be worth the wait? Emphatically, yes.
For starters, this is a seriously handsome car with presence to spare. It dominates the road with its broad shoulders and large, imposing face, but subtle styling changes for 2016 give it a certain sophistication, like an England prop forward dressed to the nines in a Saville Row tailored velvet dinner jacket. There is menace lurking beneath the surface.
The front grille and lower nose section arrangement are new, and the wings – fenders, in Bentley speak – have been widened and now incorporate an emotive "B" emblem that has been neatly worked into a new air vent.
As ever with Bentley, customers can choose from a wide range of colours and trims, or pay more – much, much more – to have a skilled craftsman colour-match whatever they like. A bit like using the Dulux paint mixing station at Homebase, then. Apparently one Chinese customer recently had her Bentley matched to a pink handbag, which itself had been matched to her favourite pink lipstick.
Our test car came in a slightly more refined "Ice" paint (white with a hint of primer-grey) with a "Beluga" leather interior and, inside, acres of piano-style glossy black finish, not to mention carpets that will make those in any home except the Queen's seem threadbare and aluminium embellishments that gradually warm to the touch like a hip flask on a cold winter's day.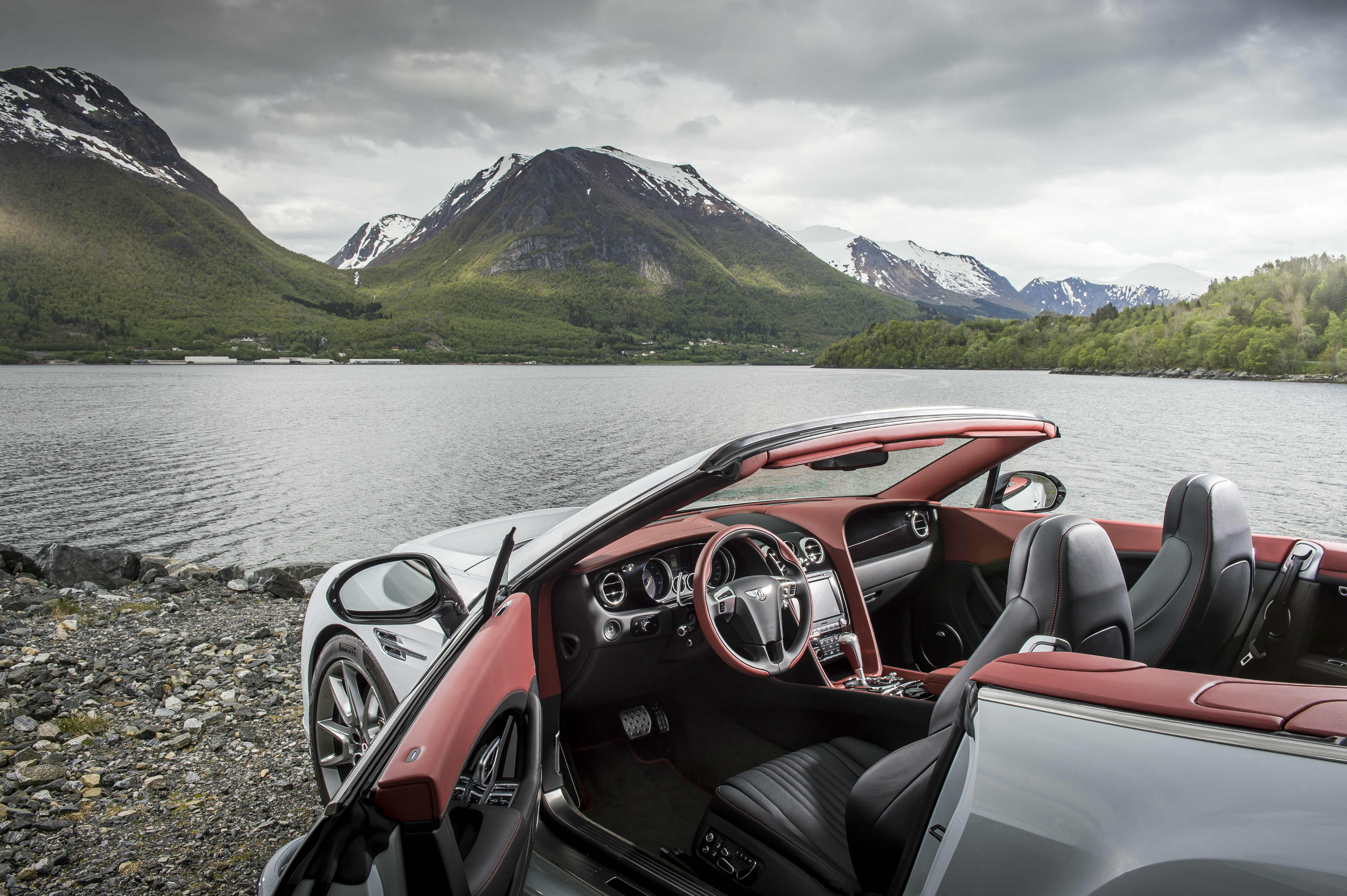 There are new dials and graphics, but truth be told most of the infotainment stuff – that is to say the trip computer screen between the speedo and rev counter, and the large screen in the centre console that displays navigation and audio programmes – remain pretty basic and slow to respond compared with far less expensive cars.
A new steering wheel completes the picture, but annoyingly it won't go low enough to make for a comfortable driving position, forcing the driver to hold their arms uncomfortably high in the ten-to-two position.
The list of options is the stuff of legend. Indeed, our test car came with £38,300 worth of bits and pieces. Some of that is needless, such as the carbon ceramic brake discs, which are an eye-watering £10,825. Other items should, arguably, be included as standard, such as the wind deflector (£425) that attaches behind the front seats, and ventilation ducts built into the front seats' headrests that keep passengers' necks warm when the roof is down on a crisp winter's day.
It's even more galling to discover that Bentley forgot to include USB ports as part of its 2016 makeover of the Continental convertible range. So your phone's charging cable is next to useless unless you've paid for special adapters to attach it to the audio system.
The fabric hood has four layers, which should be enough to negate the need for a blanket, even when temperatures plunge to freezing, and glides back from closed to open in a slightly slow 28 seconds (according to our stopwatch). You can do that on the move, but only up to 20mph, presumably for fear of it acting like a giant parachute and sending the convertible soaring into the skies.
You can floor the throttle and set the V8 S rolling across the landscape like a thunderstorm
Beneath the distinctive Bentley grille is a choice of a 6 litre W12 engine or 4 litre V8, in differing states of tune. In Speed specification, the former develops as much as 626bhp, the latter as "little" as 500bhp, and the V8S tested here is 521bhp.
Which drivers choose depends entirely on how profligate they are feeling. The V8 S is, in Bentley's world, a relatively restrained option. By all other measures, it's a wonderfully bonkers-fast thing.
You can sit back and relax, wafting along on the engine's impressive 502Ib ft of torque, which is all yours from just 1700rpm. Or you can floor the throttle and set the V8S rolling across the landscape like a thunderstorm.
The gearshifts are a touch slow, even in sport operating mode, and the car never really shrinks around the driver, but it's sure-footed and will surge past slower traffic without a worry.
Switching the air suspension to its firmest setting ties the car down and sees it carve confidently from corner to corner, but when you're not in the mood for driving as though Sir's trousers need extinguishing, switching the suspension back to its softest setting is like popping a pill to get rid of a headache.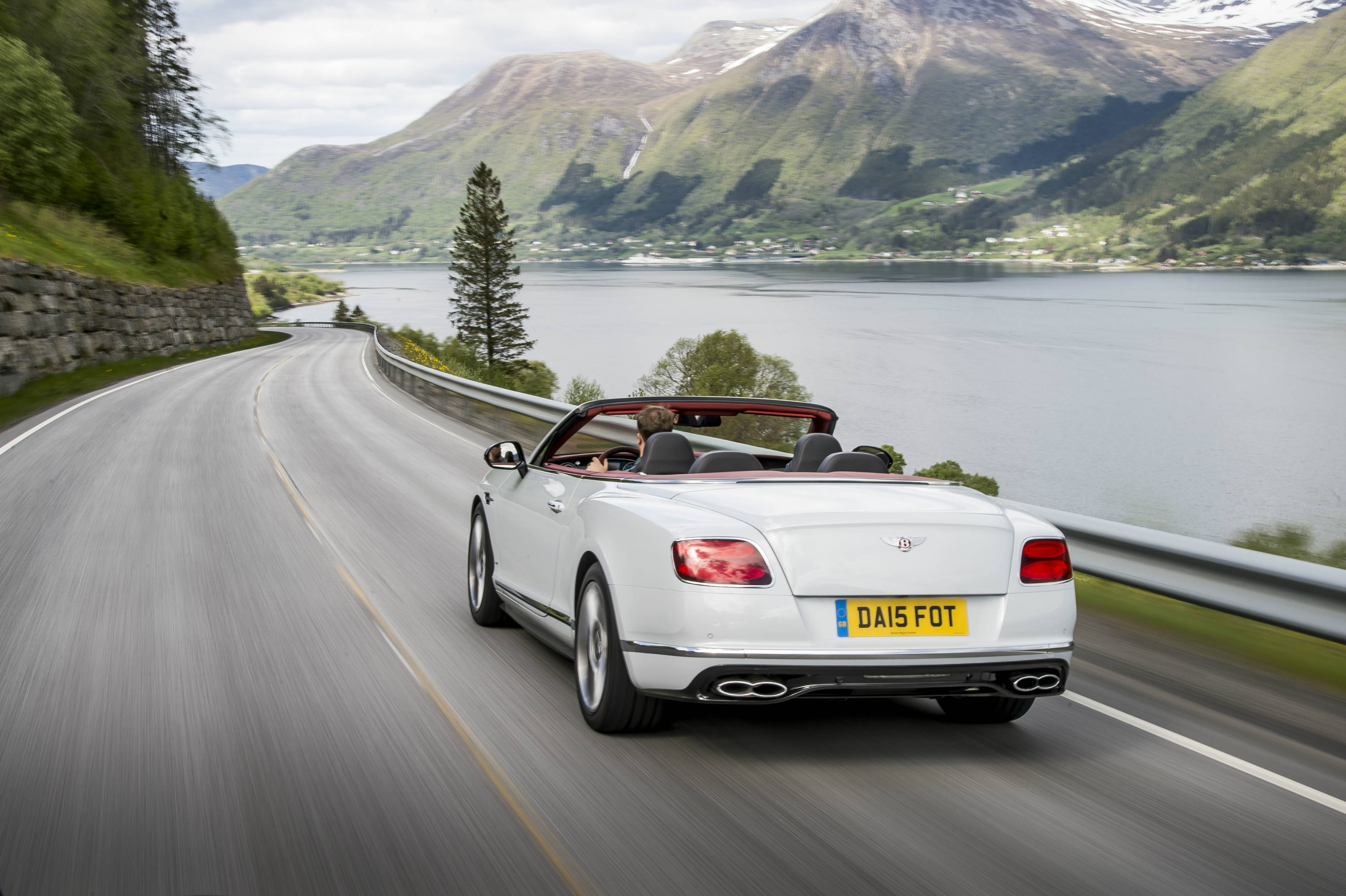 Even so, the ride comfort can be a little firm – it's a Bentley, not a Rolls-Royce, so there's an element of its character that will forever be British bruiser – as the large 20 inch wheels and Pirelli P Zero tyres highlight every lump and bump in the road. (A fact not helped by it weighing 2470kg.)
The carbon cermic brakes don't really come into their own on the road, so save the £11,000-odd and buy a nice watch instead.
Of most interest is that even at motorway speeds, driving topless in a Continental convertible is a fairly serene affair. Your hair is only gently ruffled (even without using the optional wind deflector) and the heated seats and neck warming vents air up to the job of banishing a chill.
The seats can also cool the driver and passenger or provide a massage, the heater is impressive and the optional Naim audio system (that will be £5,695, kindly, Madam) is so loud that it gave our car's fruity-sounding sports exhaust (a trifling £1,935) a jolly good run for its money.
Perhaps the trump card for this grandest of grand tourers is that the back seats really do offer just enough space to take two friends out to dinner. Their knees may be touching the back of the front seats, but that's infinitely preferable to them being around their ears, as in a Ferrari California T or Porsche 911 Turbo cabriolet.
Heck, there's even enough boot space for a couple of week's worth of luggage. Anyone for Cannes?
---
"A 2½-ton stick with which the loony left could beat me to death. Brilliant." Jeremy Clarkson reviews the Bentley Flying Spur 
---
2015 Bentley Continental GT V8 S Convertible specifications
Price: £164,800
Engine: 3993cc, V8 twin-turbo, petrol
Power: 521bhp @ 6000rpm
Torque: 502lb ft @ 1700rpm
Transmission: 8-speed automatic
Performance: 0-62mph: 4.5sec
Top speed: 191mph
Fuel: 25.9mpg (combined)
CO2: 254g/km
Road tax band: L (£870 for the first year; £490 thereafter)
Release date: On sale now
---
Browse the used Bentley Continentals for sale on driving.co.uk
---
Bentley Continental GT V8 S Convertible rivals
Ferrari California T, £153,345 (view cars for sale)
For Feels more agile to drive than Bentley, comes with a seven year servicing package
Against The back seats are barely big enough for children – let alone adults
Aston Martin DB9 Volante, £143,495  (view cars for sale)
For Characterful V12 engine, feels more alert than Bentley
Against Dated interior and poor fuel economy and emissions