Audi A5 coupé review (2017-on)
Dressed to thrill
---
Published 14 February 2017
WHO DOESN'T like to feel good about themselves when they get dressed in the mornings? A sharp suit, striking shirt or designer blouse and killer heels can make us walk taller, figuratively and literally.
But there's a limit. Can you picture yourself strolling into Starbucks, to order your morning cappuccino, wearing a Vivienne Westwood outfit? Of course not; you'd look like a clown on the run from the circus.
Which is why, when it comes to anything to do with style, most of us play it safe and stick to high street labels. We want to feel good about ourselves, rather than feel like a fashion victim with more money than sense.
---
View the used Audi A5s for sale on driving.co.uk
---
Car makers understand this. None more so than Audi. It has built a business out of selling high street style to drivers. The TT, the car of the noughties, put a skip in the step of hundreds of thousands of drivers who couldn't care less how well it turned around corners; they just wanted to turn heads.
The TT's big brother, the A5 coupé, has been taking much the same approach, since it was launched in 2007. It wraps designer-look clothes around a workaday chassis and sells at high street prices.
Now the second-generation A5 coupé is strutting its stuff in British showrooms. Prices start from £30,700, which pitches the four-seat model on the catwalk against the likes of the BMW 4-series and Mercedes C-class coupé.
There are four-cylinder petrol and diesel-powered versions, some of which can be ordered with quattro four-wheel drive, as well as a V6 diesel and, in the S5 flagship, a turbocharged V6 petrol – which raises the price to £47,000.
The model reviewed here is the 2.0 TFSI quattro S line S tronic. Costing £41,240, it's the jalfrezi of the range, a hot-ish number with a four-cylinder petrol engine kicking out 249bhp to all four wheels, via a seven-speed, dual-clutch automatic gearbox. In other words, it's the S5 Lite.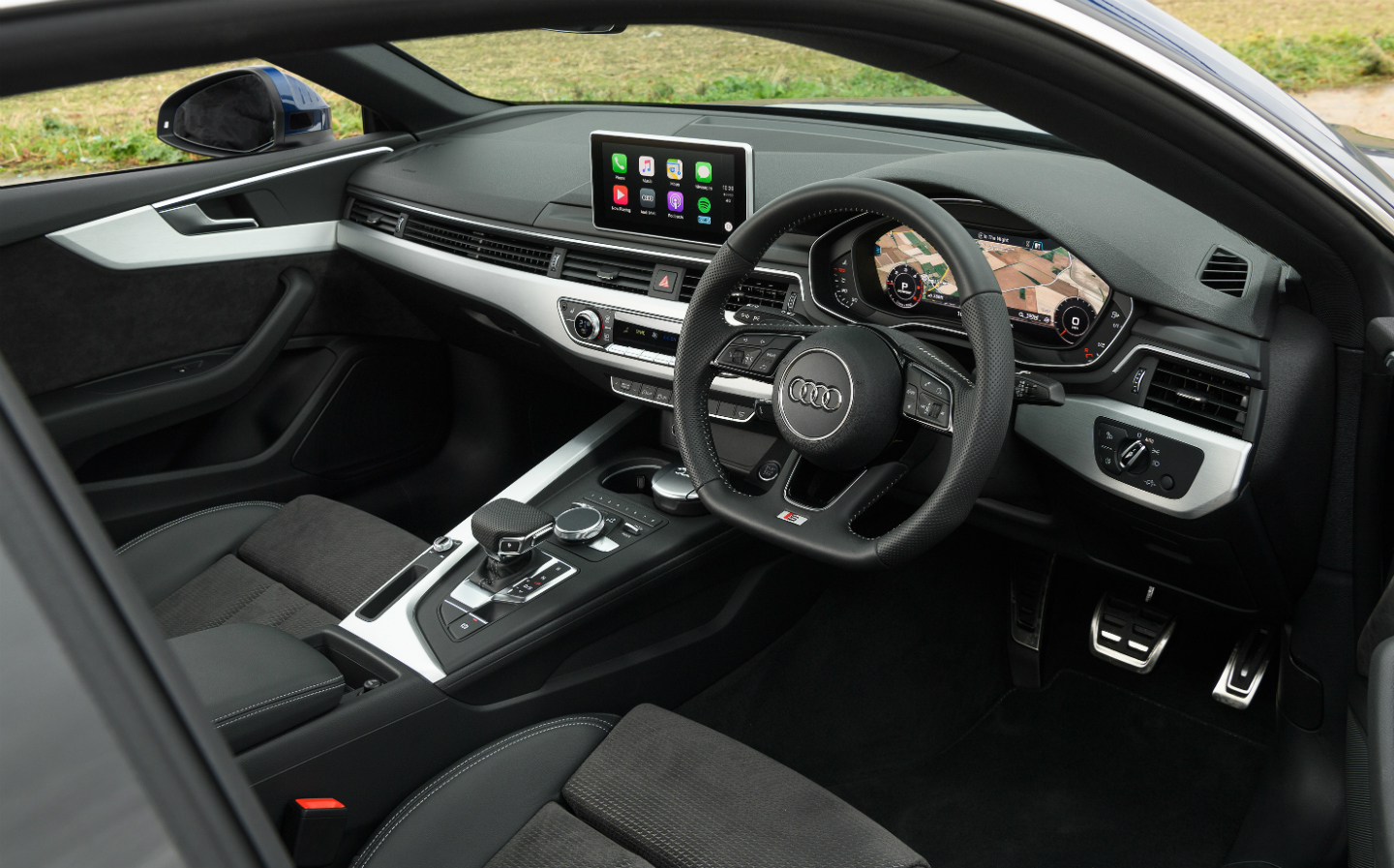 It sure does look good, especially in S line trim and wearing the optional (£1,050) 'multispoke V' 19 inch alloy wheels. The designers seem to have exaggerated all the design cues of the last A5. In particular, the side panelling looks as though it's been left in a giant trouser press overnight, with a prominent crease running from nose to tail.
Predictably, the interior leads the way in terms of perceived quality. Everything you can see and touch feels expensive, and the clarity and functionality is second to none. Much of the layout is lifted straight from the A4 saloon, on which the A5 is based, which is as good a starting point as you're going to get in this price range.
It's annoying that in a car with restricted visibility, a rear-view camera is a £450 option; prepare to twist your neck out of alignment
The transmission tunnel is quite wide, but the driving position is good and the sports seats, which initially feel firm and unforgiving, prove supremely comfortable over time. When tilted forward, they slide forward automatically and there's even a seatbelt butler, in the form of an arm that passes the belt toward the driver's shoulder – a trick which is cheekily pinched from Mercedes of years gone by.
What's not so impressive is the back seat space. This is a big car – 4,673mm long and 1,846mm wide – but average height adults will have their knees jammed into the back of the driver's seat. And for the benefit of the uninitiated, it's worth highlighting there are only four seats.
Equally, it's annoying that in a car with restricted visibility, a rear-view camera is a £450 option. Prepare to twist your neck out of alignment, unless you have blind faith in the parking sensors are standard. It's also worth adding that the car has scored a maximum five star safety rating in the Euro NCAP crash tests.
The boot is surprisingly spacious, holding 465 litres – a Mercedes C-class coupé offers just 400 litres – and the seat backs can be lowered to free up more room still.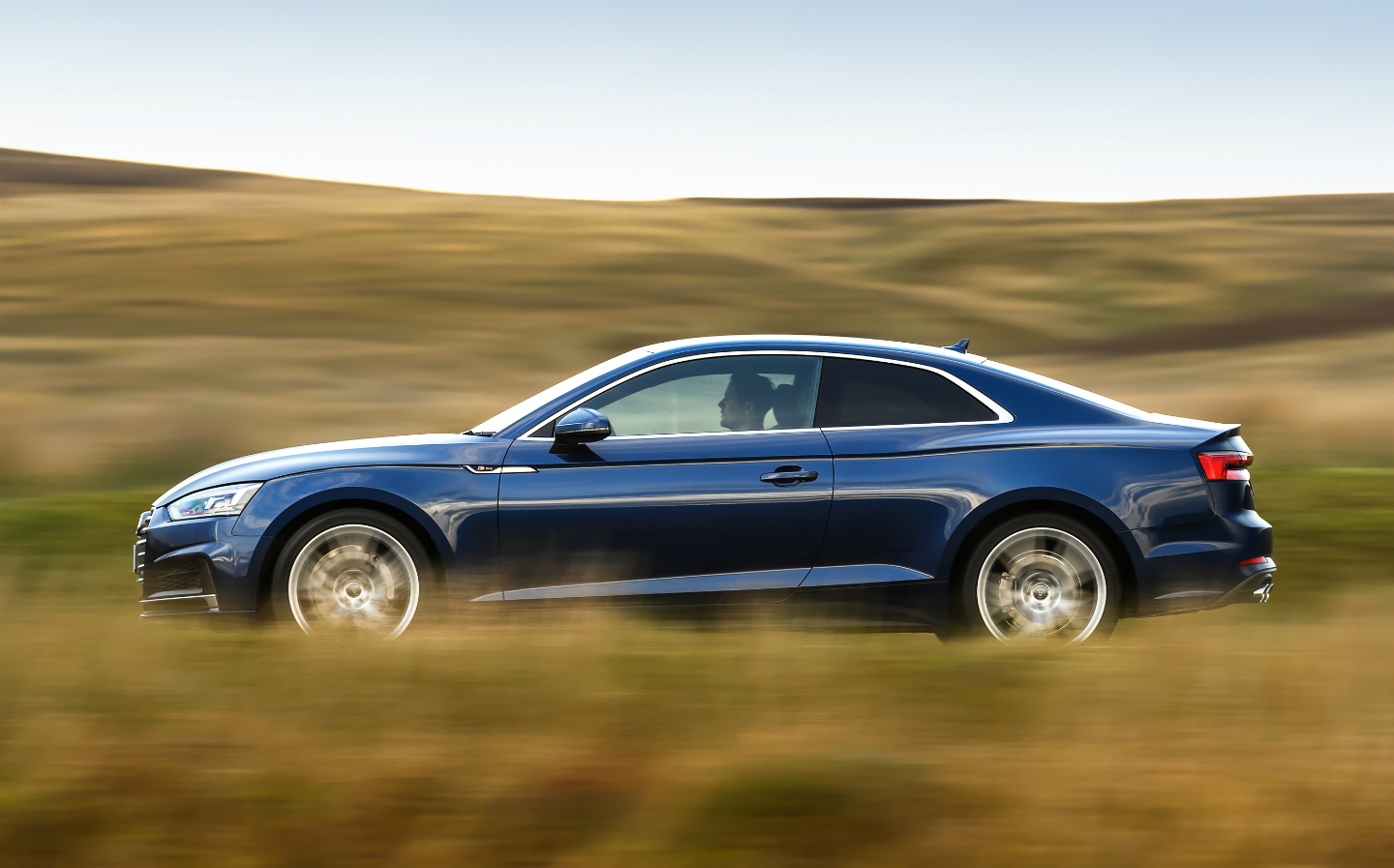 So it looks good, inside and out. But what of the driving experience? Audi's engineers have been attempting to put some emotion back into their cars, the A5 included.
That's why you get sport suspension as standard, and can now order a 'sport' differential for the rear axle (£1,200) to complement the four-wheel drive. Drivers that want to soften things off, though, can pay £600 to change the S line to 'Adaptive Comfort' suspension, which means you can change it at the touch of a button to soften or stiffen the dampers.
Our car came with the standard S line set-up. It's sure-footed along a winding road, generates a lot of grip through bends and there's just enough power sent to the rear wheels to prevent the nose from washing out when pushed beyond the tyres' limit of adhesion.
But if you want excitement, may we respectfully suggest you look elsewhere? A BMW 4-series, or even the Mercedes C-class coupé, do a better job of sending just enough of a shiver down your spine to make driving interesting.
The A5's steering is lifeless, the turbocharged four-cylinder engine has been smothered under a mountain of sound-proofing material and the Drive Select system is one of those gimmicks that you'll soon tire of. Even the dual clutch transmission can be caught dithering at times.
It's a shame, because this is a deceptively quick car, with oodles of thrust from 1,500rpm and capable of getting from A to B no matter what the weather conditions without putting a foot wrong. But along the way, the driver is left feeling like a passenger.
What is does do fantastically well is make a long journey feel like a trip to the corner shop. Few coupés are as hushed and relaxing as this one. But we'd happily trade some of that calm for a bit more interaction between man and machine.
As if often the case with Audis, then, the A5 coupé is dressed to thrill. Unfortunately, while the clothes look great the person wearing them isn't all that interesting.