Aston Martin DBS review (2008-2012)
An orgy of V12 power

What is the Aston Martin DBS?
Think DBS and images of James Bond spectacularly crashing his beautiful Aston Martin in Casino Royale, or the shoot-out chase in Quantum of Solace, should spring to mind. Happily for Aston Martin appreciators, there are plenty of undamaged examples of the DBS still in existence and even if you haven't quite as impressive a physique in tight swimming trunks as Daniel Craig, you can now play at being the blond Bond. But when it's not being smashed up for the Hollywood big screen, the DBS is the car Aston Martin wanted you to choose instead of a Mercedes SLS AMG or a Ferrari California.
---
Search for and buy a used Aston Martin DBS
---
It is offered as a coupé or a volante, which is Aston-speak for convertible; we prefer the latter. Why? Because if you're going to swan around in a sports car which cost £180,000 when new, you may as well go the whole hog, rub everyone's face in it and give them a good look at your suntanned forehead. What's more, you get to hear the glorious bellow of the V12 engine in surround-sound.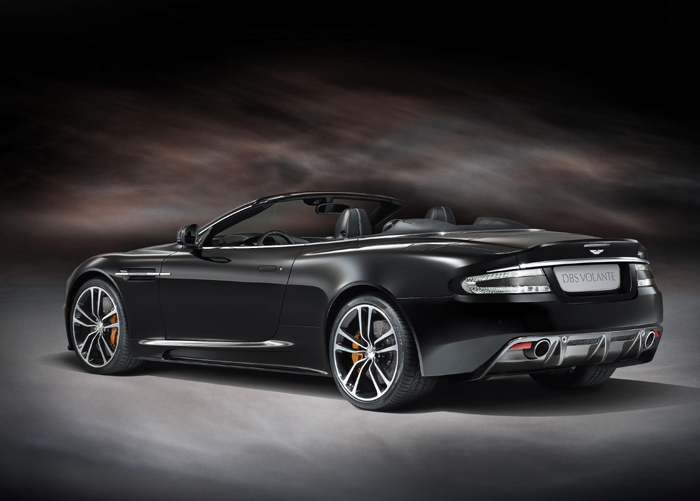 The drive
We mentioned the sound of the V12 engine, right? Because, honestly, on an open road with the roof down, the DBS Volante Carbon Edition we tested will bring you and your passenger out in goosebumps as few other cars — even at this price — can.
Aston Martins go about their business on the road differently from other cars, and the DBS Volante is no exception. The noise is unmistakable, the gearshift and steering have a weighty feel and the suspension allows it to steamroller even the roughest roads.
The naturally aspirated 5.9-litre V12 produces more than 500bhp, so one thing you're never short of is power: 0-62mph rushes by in 4.3 seconds and, should you be so inclined, you can hit a top speed of 191mph, which is more than enough to restyle the hairdo.
But numbers can't capture the character of the engine's power delivery. It likes to be revved hard, as its peak torque (420 Ib ft) doesn't arrive until 5750rpm, calling for a heavy right foot and your best impression of 007 with the bit between his teeth.
The big Aston is neither a light (1,810kg) nor an especially agile sports car, but it has impressive composure and accurate steering, and the stability control systems do a good job of preventing an expensive remodelling of the carbon-fibre body panels. Those who prefer to waft along, Ray-Bans in place and Springsteen cranked up to 11, ought to opt for the Touchtronic automatic gearbox.
The cabin
Good news for British drivers on seemingly endless rain vigils: the Volante's roof can be raised or lowered at speeds of up to 30mph, within 14 seconds. Further good news comes from the ambience of the DBS's cabin: lashings of leather and aluminium, piano-black coatings and a Bang & Olufsen sound system create a luxurious feel — as you'd expect from such an expensive car.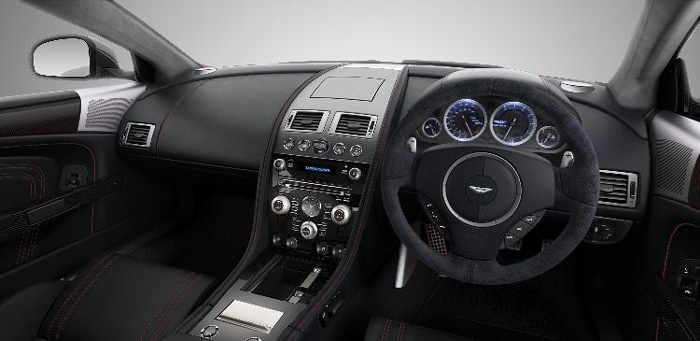 There is a pair of seats in the rear, but they are so small that it could be considered quite cruel to force anyone — children included — into the back.
 The one to buy
Aston Martin DBS V12 Volante Carbon Edition
Specifications
Engine:

5953cc, V12

Power:

510bhp @ 6500rpm

Torque:

420 lb ft @ 5750rpm

Transmission:

6-speed manual

Acceleration:

0-62mph in 4.3sec

Top speed:

191mph

Fuel:

17.3mpg (combined)

CO2:

388g/km

Road tax band:

M

Price:

£196,581

Dimensions:

L 4721mm, W 1905mm, H 1280mm
Aston Martin DBS rivals
Mercedes-Benz SLS (click here for used prices on driving.co.uk)
Bentley Continental GTC (click here for used prices on driving.co.uk)
Ferrari California (click here for used prices on driving.co.uk)