2018 Renault Mégane R.S. 280 review
Frustrations and lunacy, but refreshes the parts many rivals can't reach
---
Published 04 January 2019
BACK IN the 1980s, buying a hot hatch was simple. There was the VW Golf GTI or the Peugeot 205 GTi. Today, if you're in the market for a fast hatchback the options are overwhelming; without trying very hard at all we can think of 10 that deserve your hard-earned cash, including the Ford Focus RS, Honda Civic Type R and Mercedes-AMG A45. Hyundai made things harder last year by introducing the excellent i30 N.
Renault's latest Mégane R.S. has its work cut out, then, but fortunately it manages to stand out from the crowd.
Let's start with the heart of the car. The growling turbocharged 1.8-litre engine develops 276bhp (280hp, hence the "280" moniker), which isn't a headline-grabber in the power stakes — the Focus RS produces 345bhp — but it turns out to be plenty for the Mégane R.S. as the front wheels scrabble for grip when the powerplant is worked hard. Renault recently launched a Trophy version of the car, which adds an extra 20hp, which is like giving a toddler with ADHD a bar of chocolate.
Whatever R.S. you go for, it can be mated to a six-speed manual or EDC dual-clutch auto transmission; we had the former and found the 'box to have a much more satisfyingly-sporty feel than a standard Mégane's, with a deceptively short throw.
Changes of direction can be made so quickly you'll wonder if neck braces should be sold as an option
Spinning driven wheels mean understeer will be no stranger to an R.S. 280 driver, if they aren't careful with throttle input. It suggests the Renault's traction control system is a little more laid-back than some rivals' systems (unsurprisingly, the BHP war is forcing many models to switch to four-wheel drive). Bof.
Making the driving experience all the more "exciting" is that, while some other companies have managed to eliminate torque steer from their hot hatch offerings, it comes in spades with the Mégane R.S.. This was evident during a hairy moment coming out of a right-hand dip on a B-road; as the suspension rebounded, the front wheels wanted to dart left-right-left under acceleration.
Renault will tell you that new hydraulic compression stops on all four shock absorbers (effectively dampers within the dampers) help avoid any rebound and pendulum effects, but that doesn't stop it being somewhat… lively.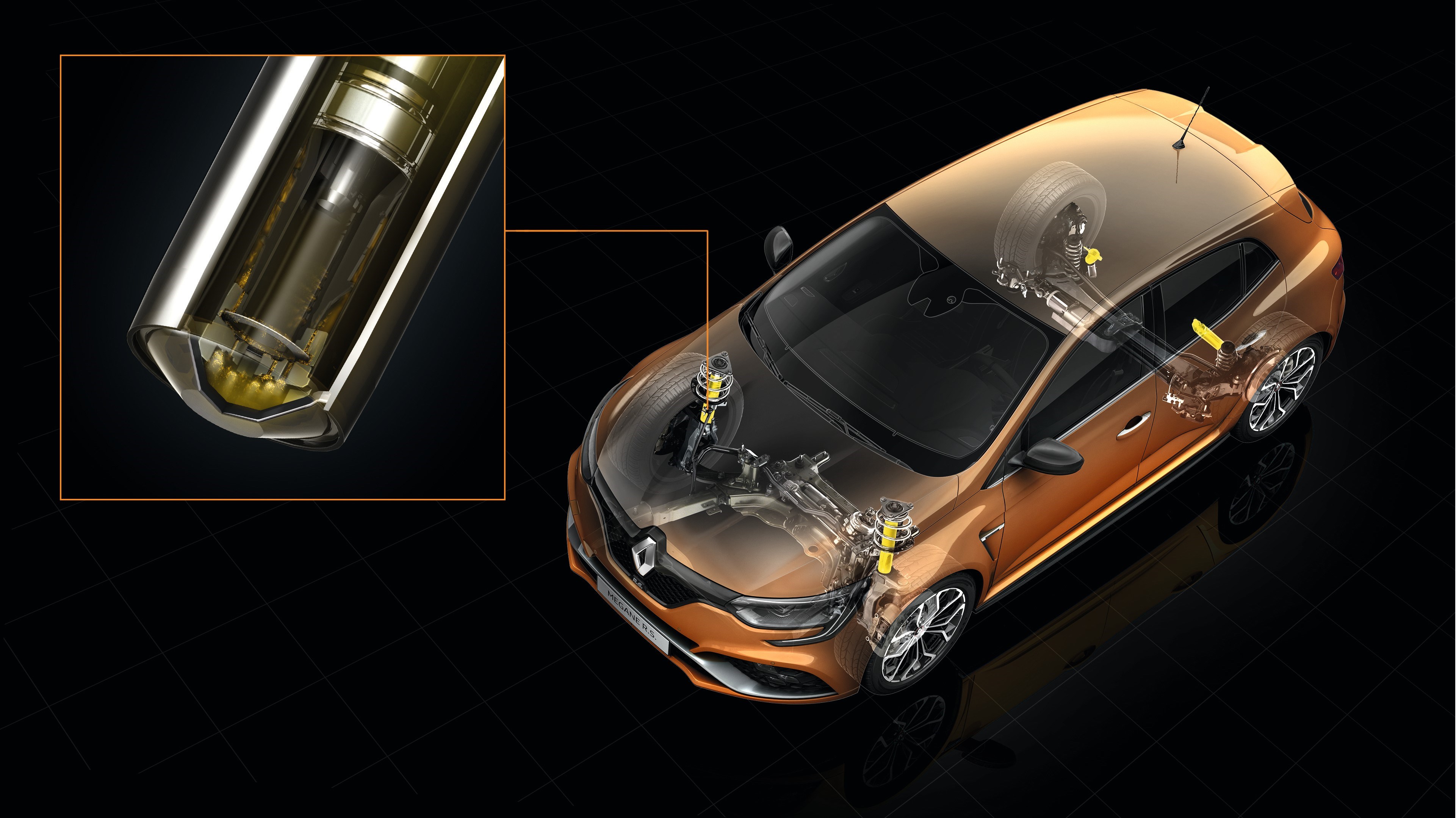 Some drivers may find it a bit too lively — the automotive equivalent of a rabid bloodhound on the scent. But by keeping you on your toes, you feel like you're being tested in a way that some rivals don't, and when you find its groove, the smiles come thick and fast.
That's because in the dry and level, the Mégane R.S. has astounding levels of grip through corners. Two versions of the chassis are available — standard and Cup — both of which come with four-wheel steering and torque vectoring, whereby the front brakes can act independently on the inside wheel to help improve cornering. These allow the car to pivot around a tight turn with startling ferocity.
The Cup chassis adds even stiffer suspension, an anti-roll bar and a Torsen limited slip differential, enabling flatter cornering with extra lateral load and punch out of turns. Changes of direction can be made so quickly you'll wonder if neck braces should be sold as an option.
The stopping forces are immense, too, thanks to Brembo front brakes that have grown 15mm over the previous generation R.S.
| | | | |
| --- | --- | --- | --- |
| Car | Power | Torque | Kerb weight |
| Renault Mégane R.S. 280 | 276bhp | 288lb-ft | 1,407kg |
| Ford Focus RS | 345bhp | 347lb-ft | 1,547kg |
| Honda Civic Type R | 316bhp | 295lb-ft | 1,380kg |
Fortunately the front sports seats hold you in tightly. Our car was kitted out with the Alcantara pack (£1,200), which adds heating to the seats as well as R.S. embroidered upholstery.  If you want an Alcantara steering wheel, though, that'll cost you an extra £250 on top, so the standard Nappa leather set-up may be more sensible.
Other standard kit includes aluminium pedals, front and rear door ambient lighting (which changes colour depending on driving mode: Comfort, Neutral, Sport, Race or Personal), a 7" touchscreen with sat nav, hands free phone connectivity and DAB radio, rear parking sensors and dual-zone climate control.  The part-digital instrumentation is rather attractive, too.
The Volvo/Tesla-style portrait touchscreen is a vast improvement on the systems in outgoing Renault range models. Our car came with an 8.7" upgraded screen and was packed full of features, and the sound quality from the optional Bose stereo (£800) was excellent. But the systems as a whole is not quite a match for the top rivals' offerings in terms of slickness and intuitiveness. For example, while it ran Android Auto, it does so within a small landscape window, which looks distinctly unimpressive on a landscape tablet.
Placing the cupholders directly behind the gearlever suggests a "that'll do" approach to the design
Certain interior material choices also disappoint, including some soft-touch fake carbon fibre-effect trim, while other frustrations include limited rear visibility with a high, narrow rear hatch opening.
Renault's favourite trick of hiding the cruise control buttons between the front seats is another quirk, and placing the cupholders directly behind a manual gearlever so that tall cups get in the way suggests Renault employed a not-atypical "that'll do" approach to the design.
On the plus side, the Mégane R.S. seats four without too much fuss and the boot is a decent size, while the 60:40 split rear seats allowed the car to swallow a 5ft Christmas tree (if they weren't seasonal, this would be a standard test, for sure).
This means the 2018 Renault Mégane R.S. 280 is a bonkers but a fairly practical car that could be used every day.
Ultimately, a Honda Civic Type R and Ford Focus RS would probably enable quicker progress around a track and offer slightly more rewarding experiences on the road, while the likes of the VW Golf R, Mercedes-AMG A45 and BMW M140i are undeniably more grown up. But if you don't mind a less polished interior and pine for an unhinged, back-to-the-80s driving experience, get behind the wheel of a Mégane R.S. 280. It's a hoot.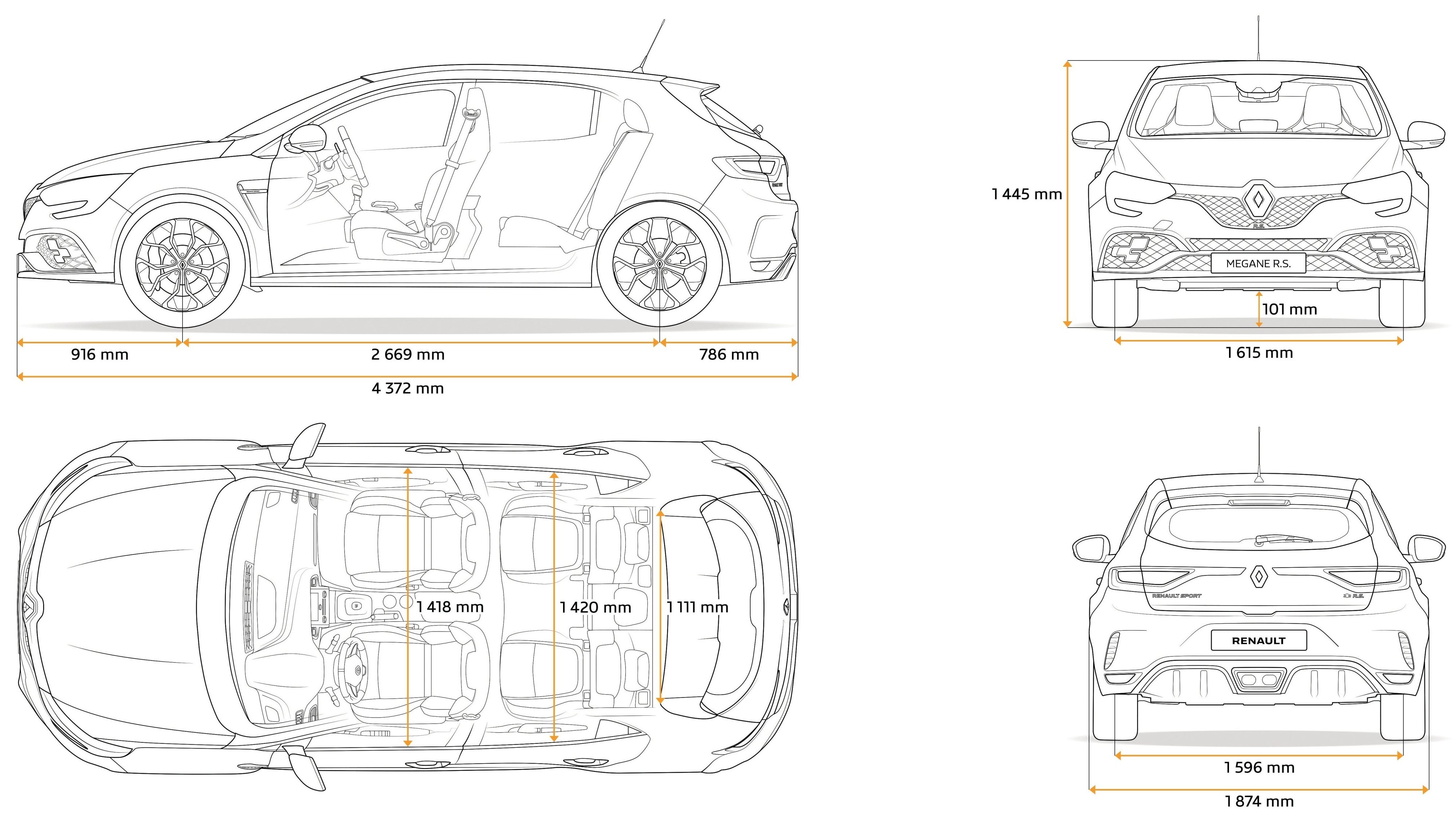 Head to head
Renault Mégane R.S. 280 vs Honda Civic Type R
| | | |
| --- | --- | --- |
| | Mégane R.S. 280 | Civic Type R |
| Power | 276bhp | 316bhp |
| Torque | 288lb-ft | 295lb-ft |
| Weight | 1,407kg | 1,380kg |
| 0-62mph | 5.8sec | 5.8sec |
| Top speed | 158mph | 169mph |
| CO2 | 181g/km | 178g/km |
Hot hatch battle: Focus RS vs Civic Type R vs M140i vs RS 3 vs Golf R vs AMG A 45
Hot hatch drag race: Audi RS 3, Mercedes-AMG A45, VW Golf R, Honda Civic Type R and Ford Focus RS