2018 Aston Martin DB11 AMR review
Q Branch has fitted a new V12
IF THE "old" V12-powered Aston Martin DB11 is James Bond sitting at the bar in a dinner jacket, then its replacement — the new DB11 AMR — is him in lurid ski wear, skimming down an Alpine slope in a hail of gunfire.
It looks louder, goes quicker and makes more noise, although probably no more than you would expect when AMR stands for Aston Martin Racing.
Traditionalists will doubtless question the decision to put a lime green stripe down a car from a brand as renowned for good taste as Aston Martin, but those people probably haven't seen for themselves how good the bestriped DB11 AMR looks in the metal.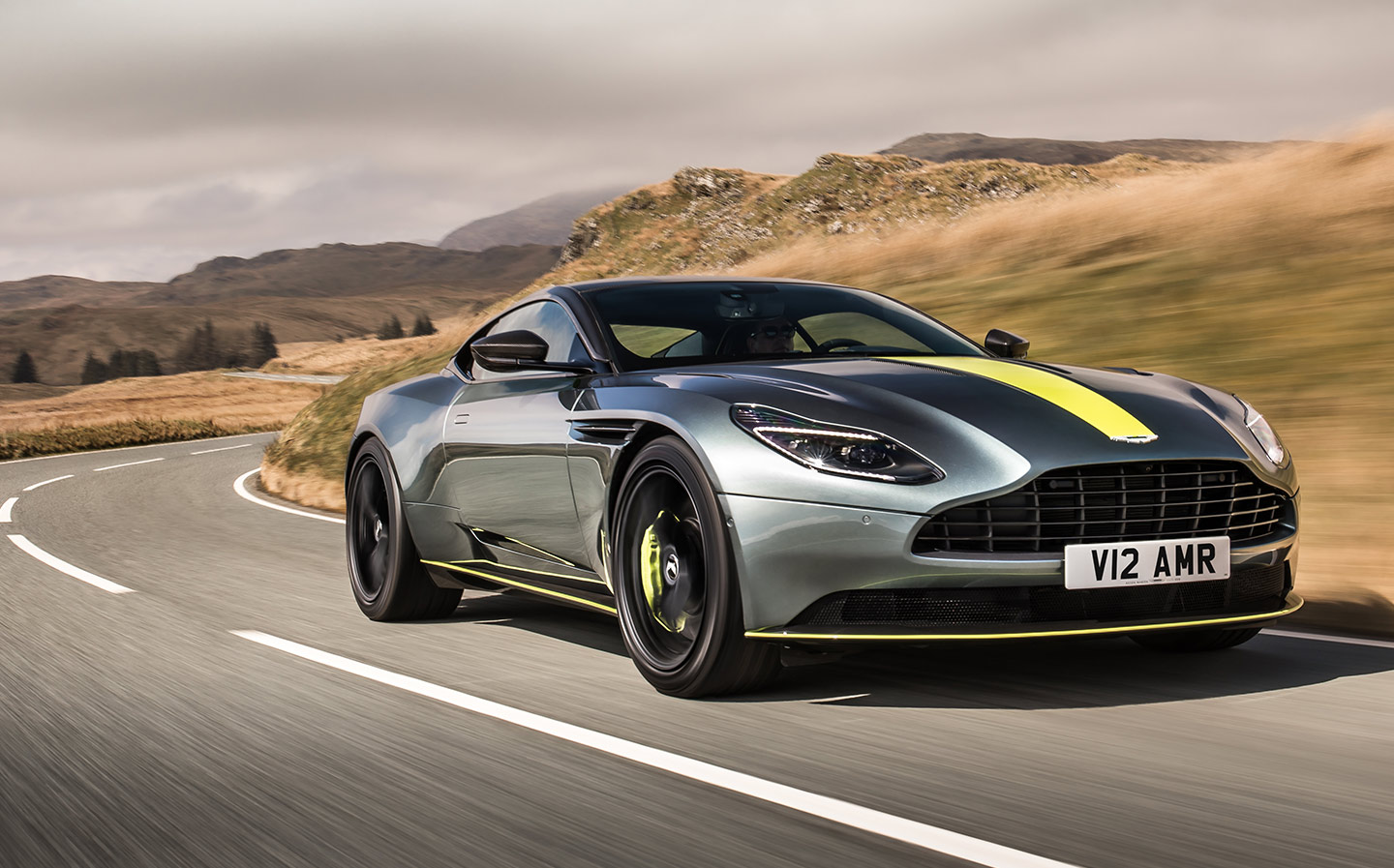 Then again, if you're still unconvinced, you'll be glad to hear only the Signature Editions (of which just 100 will be built) get the stripe.
Standard AMR models, as shown in the main gallery, will be less polarising — they get a smattering of carbon fibre on the bonnet and sills, smoked lights and glossy black details on the grille, roof and rear diffuser. All these features make the already handsome DB11 look meaner and more purposeful.
The sporty theme continues inside, where you get exposed carbon fibre trim pieces, yellow stripes down the AMR-embossed seats and plenty of Alcantara. It's a smart design, with an eight-inch infotainment system from Mercedes that's easy to use.
Not so good are the Aston's cheap interior plastics — in the air vents, for example. They'd feel low-rent in a car with a price of £50,000, let alone one costing more than three times that.
It's probably our duty to inform you that the rear seats are only suitable for small children and the boot isn't huge. But frankly, if you're looking for practicality, you're in the wrong place — performance is what the DB11 AMR is all about and it 5.2-litre twin-turbocharged V12 ensures it has plenty.
This hefty lump of prime British beef produces 630bhp — 30bhp up on the regular V12 — which is enough to get the Aston from 0-62mph in 3.7 seconds and keep going until it hits 208mph.
On the road, those numbers translate to relentless performance and a sound that could wake the dead.
What's less expected is the way the AMR corners. Its quick, evenly weighted steering gives you the confidence to push the Aston into bends, there's very little body lean and its near-perfect weight distribution helps it feel balanced. Only the spongy brakes and jerky gearchanges spoil the experience when you're pressing on.
Overall, though, the Aston makes more sense when you don't drive like a lunatic. Stick it in GT mode and the suspension is compliant but also taut — not as floaty as the outgoing Bentley Continental GT — and the exhaust is muffled, so you can make swift progress without producing a whole lot of noise.
The same features mean that early-morning starts don't have to wake the neighbours, but the less-than-smooth transmission can be wearing at low speeds, and the DB11's long bonnet a little daunting to thread down roads packed with traffic.
That's not the point of the AMR, though. It's a car that can gobble up huge distances comfortably, yet be entertaining when you come across the right road. The lime green stripe might not be standard, but an engaging drive is, and that's a good enough reason to choose the Aston over most rivals.
Click to see how much you can save on a new car at carwow.
Aston Martin DB11 AMR rivals
Bentley Continental GT
Price £151,615 – £214,625 but save £28,037 on average at carwow
Lexus LC500
Price £76,595 – £91,995 view on carwow
Or, for a more affordable alternative, check out the Mercedes C-class Coupé
Price £32,330 – £50,675 but save £6,056 on average at carwow