2016 Skoda Superb SE L 2.0 TSI 280PS 4x4 review
Meet the humble looking Skoda that's better than a vRS
OVER THE years, the police and drivers have played a game of cat and mouse, with the boys in blue taking to unmarked patrol cars and drivers slowly but surely learning to spot the cars and their telltale signs. Not that long ago, we could spot them a mile off, as they had to be cheap and built in Britain's backyard, which basically meant the long arm of the law was restricted to some mediocre metal from Ford, Rover or Vauxhall.
---
Browse NEW or USED cars for sale on driving.co.uk
---
Now, police appear to be allowed to pick pretty much whatever they like to go about their stealthy duties of catching anyone who inadvertently strays over 70mph on the motorway. Value for money seems to take precedent over other practical and political concerns — and the most cost-effective cars to run often come from Audi and BMW.
So the little blue lights are hidden behind posh grilles and inside the subtly tinted back windows of A4s and 3-series. But drivers learn quickly, and many are already wise to their ways. Such cars are not nearly low-key enough.
Shoot me for suggesting this, but maybe what the law needs is something, well, laughable. A car nobody would want to hear was rushing to the scene of a crime. A Skoda, for example.
Hidden away in the Superb range like a nondescript handbag snatcher in an identity parade is the 2.0 TSI 280 4×4. It's a breathtakingly good car. One that's as fit for the line of duty as it is capable of keeping the accountants happy.
What the law needs is a car nobody would want to hear was rushing to the scene of a crime. A Skoda, for example.
Here is a Skoda that conforms to the first rule of unmarked police cars: blend into the crowd. From 50 paces, it could be any old saloon; Audi, Ford, Hyundai, Volkswagen – the guessing game goes on.
But beneath the surface it essentially boasts some of the best bits from the Golf R and Seat Leon Cupra. It has a highly tuned 2-litre, four-cylinder turbocharged engine with 276bhp, a four-wheel drive system and six-speed dual clutch transmission. But unlike those oikish hot hatchbacks, or indeed an Octavia vRS, the Superb hides its light under a bushel.
Outwardly, it looks like the sort of large, lumbering diesel saloon that weary company car drivers collapse into at the end of a working day. Your neighbours won't bat an eyelid at your new car. Honestly, there are more exciting-looking litter bins out there.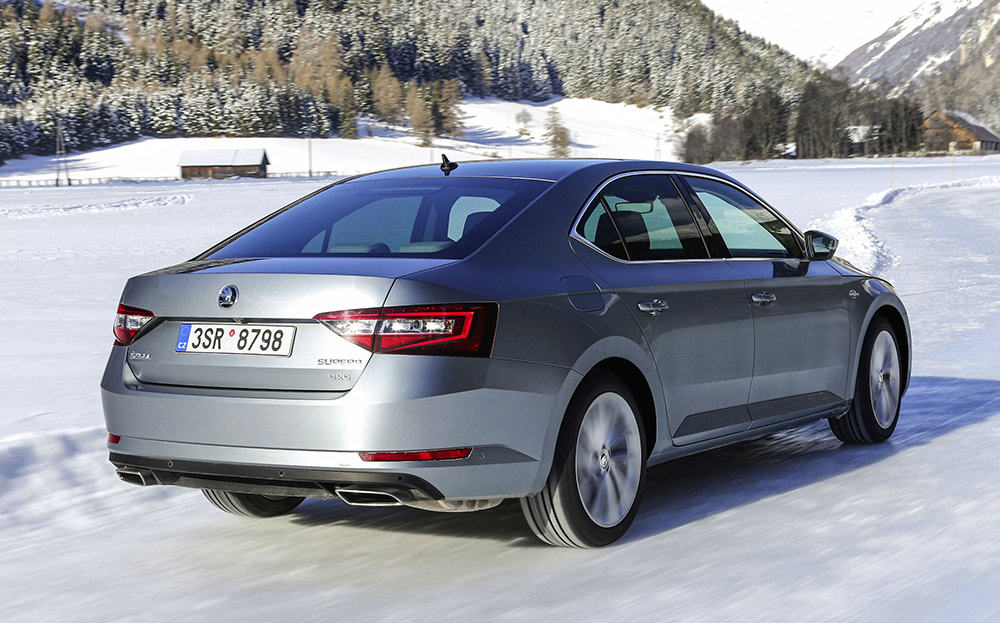 But when let off the leash, it can catapult from 0-62mph in just 5.8 seconds. What does that mean? Anyone that jumps a red light in front of undercover coppers in a Skoda won't get far before they're reeled in and handed a ticket.
At the top of its rev range, the four-cylinder motor sounds exactly as it does in the Seat Leon Cupra. It growls like dog warning you off its food and races for the rev limit. But with four-wheel drive, only a slingshot could fire something out of a bend faster than this modest saloon.
The six-speed gearbox can be coaxed out of its default 'save the earth's precious resources' mode by choosing the Sport setting via the Superb's drive mode selection system. Then, gearchanges fire through faster than switching on the blues and twos, the car's suspension tautens and the car skips through difficult bends like a villain leaps garden fences.
For a saloon as large as this, with a Skoda badge on the nose and jokes about the Czech brand still a not-too-distant memory, to shrug off winding roads and barely break a sweat is arguably more impressive, and more relevant to you and I than, say, Bugatti coaxing 1,467bhp out of the Chiron's W16 engine.
Settle back to a sedate cruise, and the driving mode and chassis settings can be returned to Comfort. Then, things feel rather like a rubber dingy gently bobbing on a perfectly still sea. If you have trouble sleeping at night, take one of these along to a deserted supermarket car park and drive around for five minutes; it will quickly soothe driver or passengers into a state of slumber.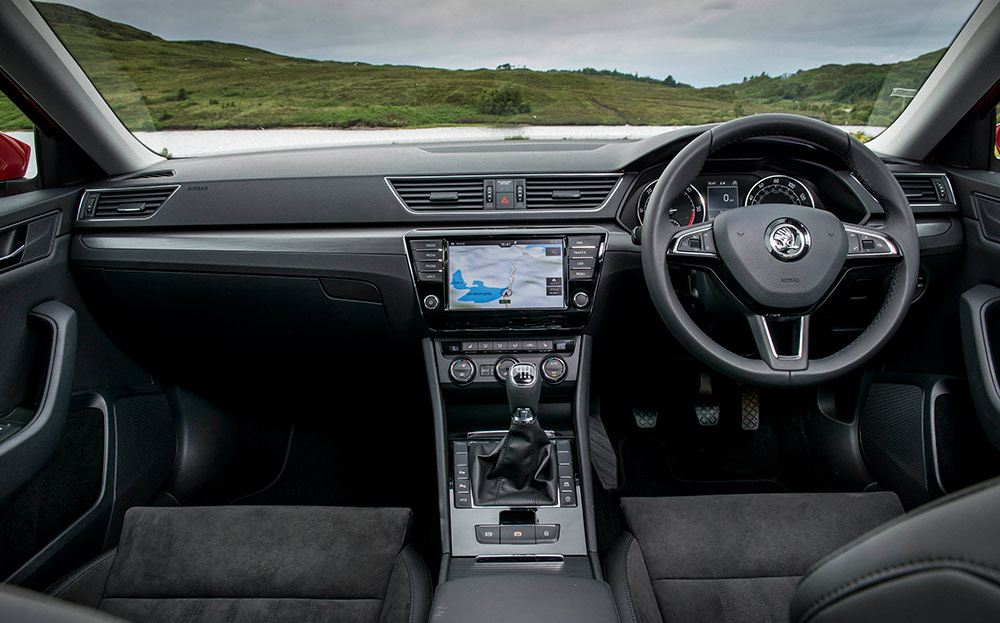 So, what's the catch, you're wondering? Well, it's not the cabin, or the practicality. Everything is well made, there's a ridiculous amount of room to swing a cat or two and the huge, 625-litre boot has all the necessary nets, hooks and straps to keep traffic cones in place and prevent Sergeant Cryer's sandwiches from flying around.
And that's just the hatchback. The estate version is more accommodating still, boasting a boot that could put van manufacturers out of business.
It's not the fuel economy, either. Despite being a 155mph hot rod, it can return nearly 40mpg when driven as sensibly as an off-duty police officer.
Perhaps, then, the catch comes when looking at the price of the Superb 2.0 TSI 280 4×4. It costs from £31,020 in SE L Executive trim as a hatchback, or £34,740 in posher Laurin & Klement trim.
Only a madman would pay over £30,000 for a Skoda, no matter how large, posh or powerful it claims to be. But don't be put off. The company, like so many other car makers, is throwing money at customers, offering (at the time of press) £2,000 toward the deposit and handing over an additional £500 when you drive off the forecourt.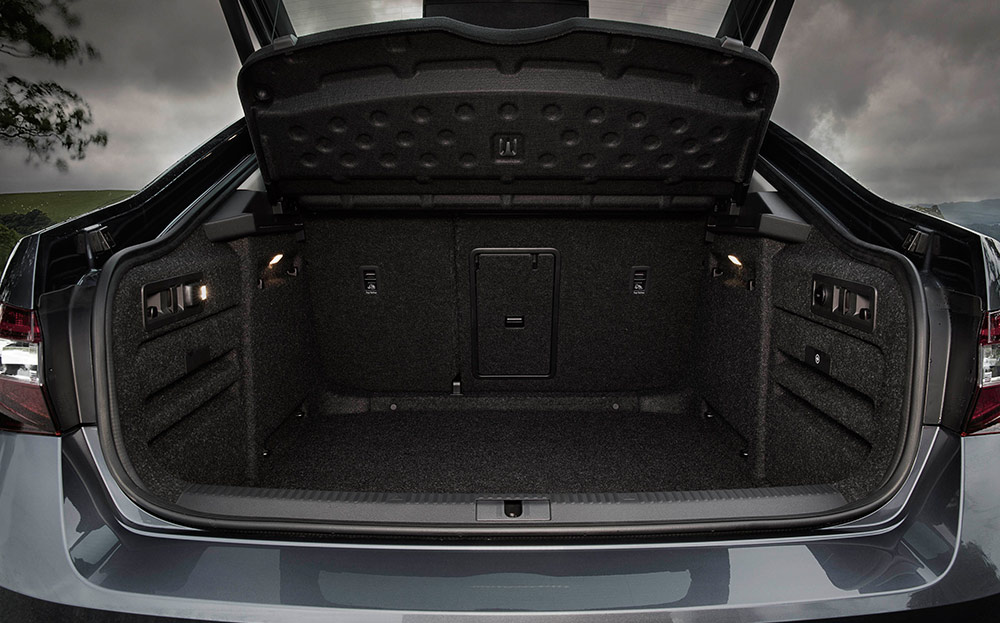 Hardened hagglers could reduce the car's price further still; using a price bidding website, we were offered nearly £3,700 off an SE L Executive. Suddenly, it's a very tempting proposition.
This version of the Superb is probably as stealthy as a sporting saloon comes. The secret's out: forget about the Octavia vRS, this is Skoda's best fast car. Next time you see one, remember who might be at the wheel.
Skoda Superb SE L Exec 2.0 TSI 280 4×4 rivals
Audi A4 S Line 2.0 TFSI 190 saloon, from £31,550 (view cars for sale)
For Smarter interior than Skoda, impressive refinement and ride comfort
Against Can't get close to the Skoda's performance
Ford Mondeo Vignale 2.0T 240 EcoBoost auto, from £30,850 (view cars for sale)
For Low key and comes with all the bells and whistles
Against Left standing by the Skoda's performance
---
---
Browse NEW or USED cars for sale on driving.co.uk
---