2015 Nissan Juke Nismo RS review
Oh, no, moody Juke's been hanging out with the Asbo kids
---
Published 07 January 2016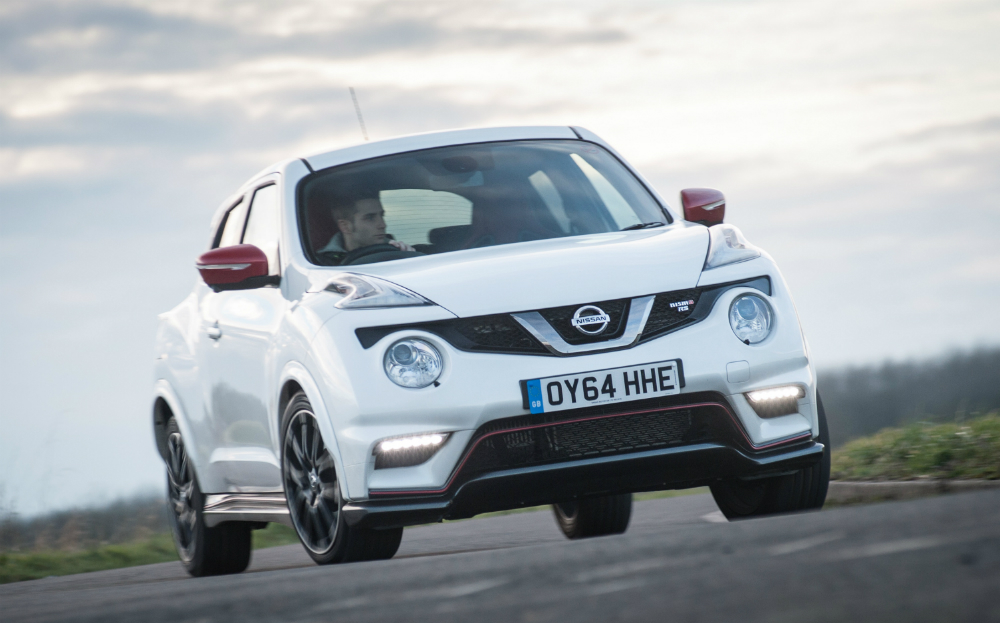 2015 Nissan Juke Nismo RS at a glance
Handling: ★★☆☆☆
Comfort: ★★☆☆☆
Performance: ★★☆☆☆
Design: ★★★☆☆
Interior: ★★★☆☆
Practicality: ★★☆☆☆
Costs: ★★☆☆☆
---
SINCE 2010, the Nissan Juke has dutifully performed its role of livening up the school run for mums and dads who find a hatchback, estate car or MPV far too Plain Jane. Like throwing on some Nike Lycra and trainers, a Juke suggests that its owner is a little bit Grrr, can handle themselves in a triathlon and considers camping at the top of a windswept hilltop a successful family holiday.
---
View the used Nissan Jukes cars for sale on driving.co.uk
---
The tough-cookie look has been a smash hit; the Juke has been a Top 10 seller in the UK. But what do drivers do when they want to turn up the attitude and get in-your-face?
The answer should be simple: they buy a Juke Nismo RS. It's the ultimate badboy Juke – the Charlie of the Sheen family – styled and tuned by Nismo, which has been making Nissans harder and faster since the '60s.
It's as powerful as a Golf GTI, looks as mean as a Storm Trooper and Nissan says it has been built to "ramp up the performance" and deliver "unparalleled control".
Sounds like it should be a hoot, doesn't it? Mums and dads will thrill in overtaking plodding traffic on the school run and find excuses to run "helpful" errands at weekends, when in fact all they want to do is, well, ramp up the performance.
However, there's a problem. In tinkering with the Juke, Nismo has brought out the nasty side of what is ordinarily a likeable car. Like a teenager who's been hanging out with an Asbo crowd, it's been turned into an ill-tempered thug.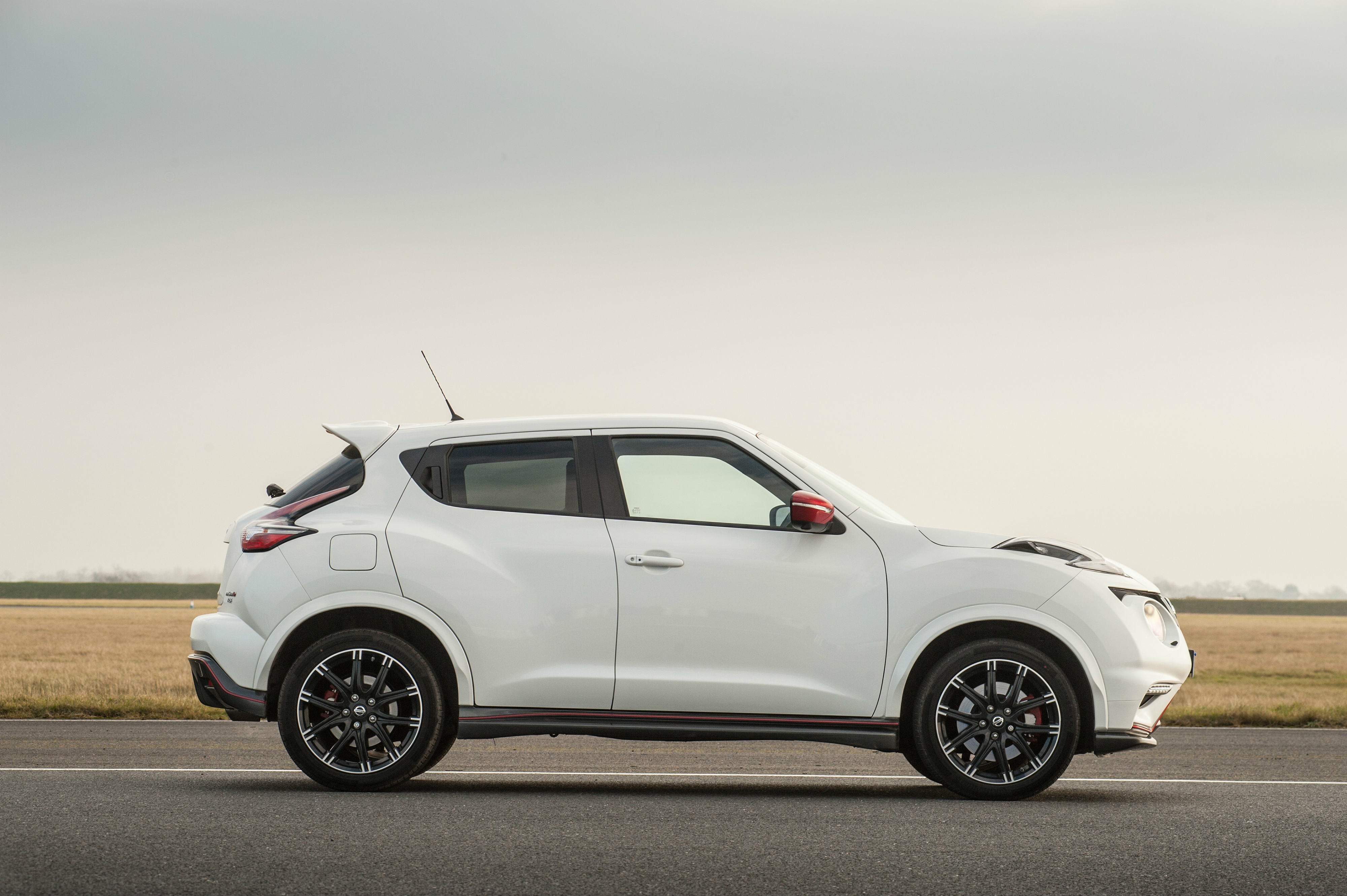 You can make up your own mind about the attention-seeking looks, but the engine's performance is far from a subjective matter. The secret to tuning an engine is to make it feel like that's how it should have been all along; Nismo's engineers have succeeded in making the 1.6-litre, turbocharged four-cylinder motor worse than it used to be in the last, Juke Nismo.
It sounds rough and the exhaust delivers a constant, unpleasant boom that will have passengers grumbling front the moment the wheels turn. But that's just the minor stuff; the big problem is turbo lag.
Like a teenager who's been hanging out with an Asbo crowd, it's been turned into an ill-tempered thug
There's a Dynamic Control System that switches the engine's responses from Eco to Normal to Dynamic. Put your foot down in Dynamic mode, and as you wonder why there's nothing happening you can watch the boost of the turbocharger building up on a digital display – it takes over two seconds to pick up its heels and send the car scooting along.
To compound matters, there's not much performance below 3,000rpm and it doesn't feel happy revving past 6,000rpm, making for a narrow powerband. The engine feels rough and not altogether ready, a rush job that's at odds with the normal, responsive 1.6 DIG-T that's used in other Nissan models.
The problems don't end there. A good hot hatch will flow along a twisty road and everything should seem as though it's happening in a seamless fashion. Important business people might recognise this as the magic PA effect; someone who runs things smoothly behind the scenes so the boss can get on with making big decisions, and ask for coffee.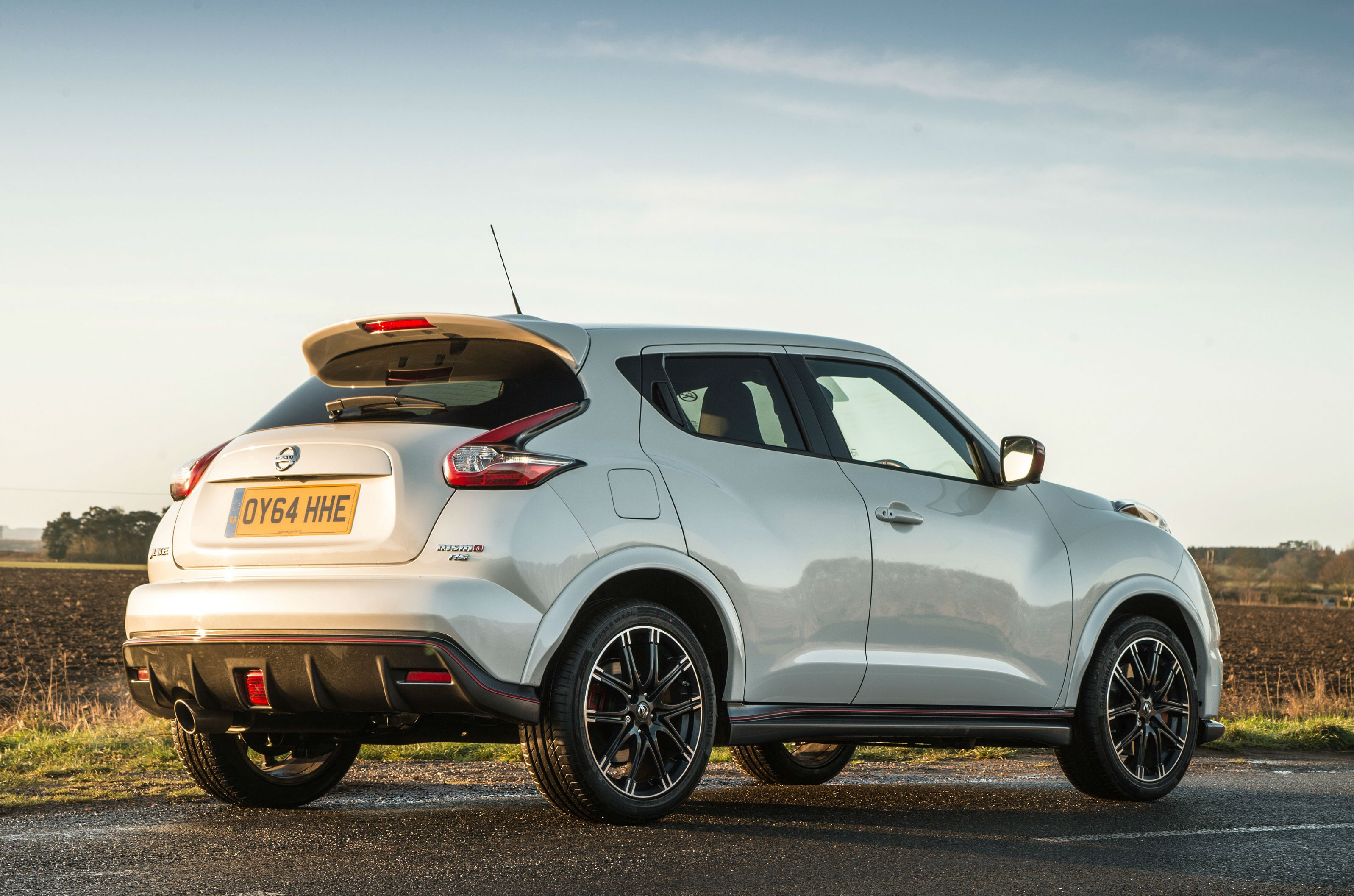 With the Juke Nismo RS, the suspension is stiff and unforgiving, highlighting every lump or pothole in the road. Yet the car leans a lot in bends and never seems to settle, and the steering is almost hyperactive, making it tricky for the driver to judge how hard they can push it along a winding road.
When the turbo does wake up, under hard acceleration there's sometimes torquesteer – where the nose of the car tries to drag you off the road and into a ditch – and other times it behaves itself. Presumably, this has something to do with its limited slip differential, and it being half asleep like the turbo.
A four-wheel drive models is available, but that has less power and torque, only comes with an automatic gearbox and is slower. So that doesn't sound like a smart alternative.
If nothing else, the Nismo RS is remarkable for feeling so unpredictable. That's a shame, because inside it feels sporty. You sit a bit too high up but there are snug-fitting Recaro sports seats in the front and a little steering wheel with suede-effect trim and flashy red leather inserts.
But while certain parts of the cabin were designed to mimic the fuel tank of a sports motorcycle, it all feels a bit cheap and downmarket. Certainly, the slightly more expensive Ford Focus ST, Seat Leon Cupra 280 or VW Golf GTI all feel more upmarket inside. Or you could spend less on a Mini Cooper S 5dr.
And then there's the riddle of the back seats. How anyone with children can fit them, and their child seats, into the back of a Juke is a mystery. The doors are tiny and, in the Nismo RS model, their little bemused-then-disgruntled little faces are almost touching the backs of the Recaro front seats.
It's easy to see the appeal of the regular Juke models, but not so with the Nismo RS. This is a weird, wearing car that fails to live up to its promise. Nismo misfired recently with another fire-breather, the GT-R Track Edition, proving its current output is a bit hit and miss.
2015 Nissan Juke Nismo RS specifications
PRICE: £21,995
ENGINE: 1618cc, four-cylinder turbocharged, petrol
POWER: 215bhp @ 6000rpm
TORQUE: 206lb ft @ 3600 – 4800rpm
TRANSMISSION: 6-speed manual, front-wheel drive
ACCELERATION: 0-62mph in 7.0sec
TOP SPEED: 137mph (electronically limited)
FUEL: 41.5mpg (combined)
CO2: 168g/km
ROAD TAX BAND: H (£295 in first year; then £205)
RELEASE DATE: On sale now
Mini Cooper S 5-door Hatch, £19,440 (view cars for sale)
For Smarter interior, good engine, better handling
Against Doesn't have the visual impact of the Juke
Ford Focus ST, £22,745 (view cars for sale)
For  Excellent to drive, fast, more spacious and practical to live with
Against  A lot more sensible looking
---
View the used Nissan Jukes cars for sale on driving.co.uk
---