The six best used sports cars with a Targa roof
From £1,500 to £150,000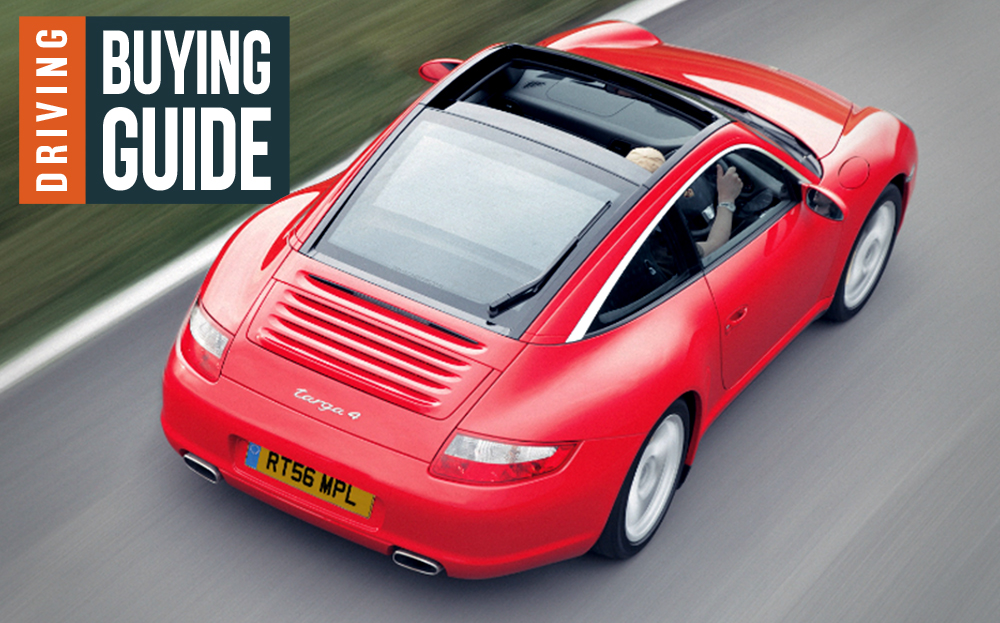 FOR DRIVERS who enjoy the sensations that an open-topped car brings but are put off buying one, as convertibles are typically noisier than a car with a hard top and can be vulnerable to vandalism, help is at hand: buy a car with a removable roof panel, or "targa" top.
---
Search for and buy your next car on driving.co.uk
---
Made popular by Porsche with its 911 Targa of 1966 (right-hand-drive cars arrived here in 1972), but actually introduced by Triumph with its Surrey-topped TR4 in 1961, the Targa design typically features a lift-out section of roof that is stored behind the front seats or in the boot.
There are more advantages to a Targa than meet the eye: usually, the structure of a car with a Targa roof is stronger than a convertible, and unlike a convertible's top, the roof doesn't require specialist maintenance.
Such cars are also a little more snug and cosy to sit in – handy when you want to blow away the cobwebs on a bright but chilly winter's day.
Porsche copyrighted the Targa name, in 1966, but it didn't patent the design, allowing a raft of car makers to adopt it. So if the design appeals to you, follow Driving's Buying Guide to the best used Targa-style sports cars.
Toyota MR2 Mk 2 (1989-99)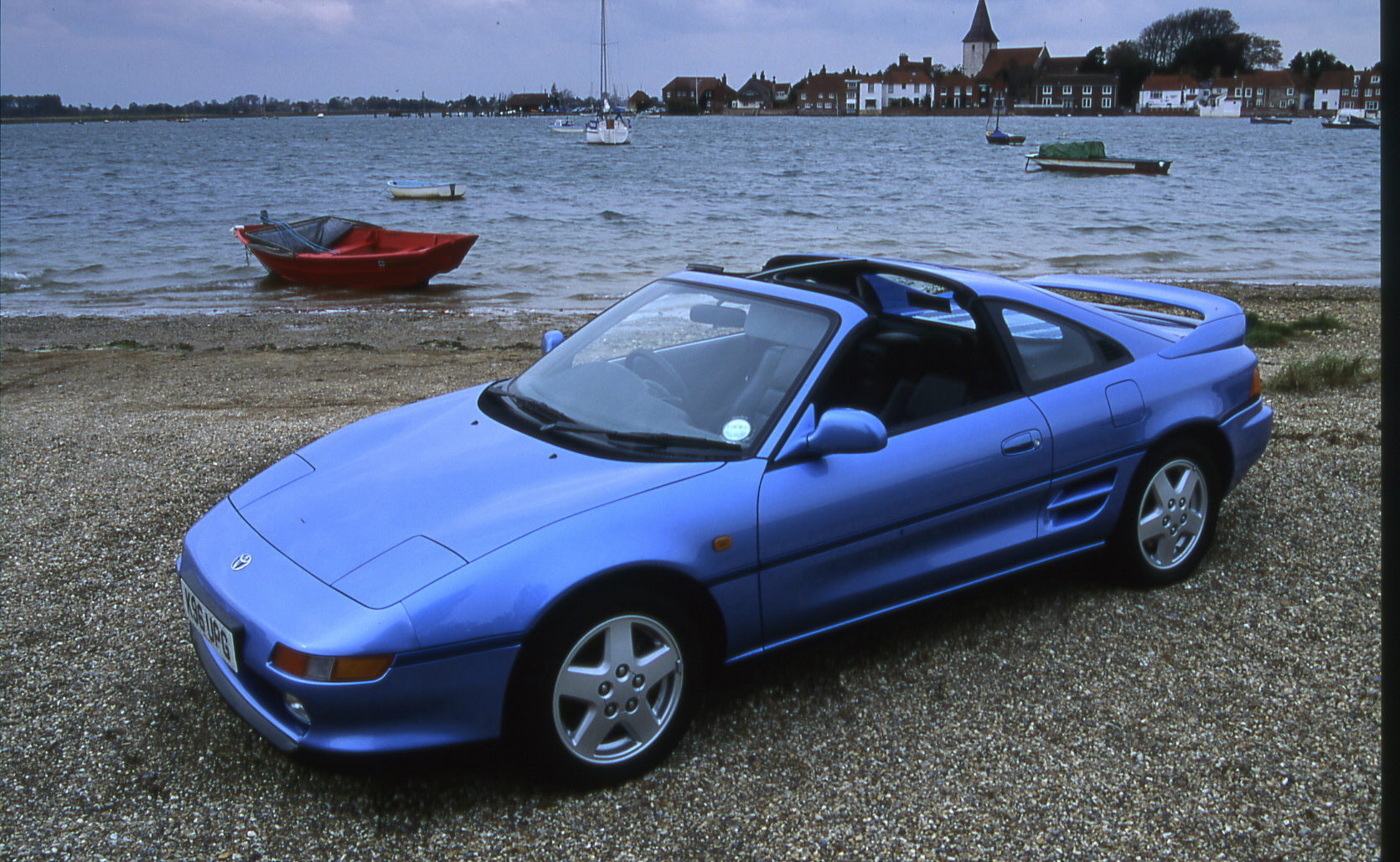 Best for: Fun on a budget
Budget: £1,200
Best buy: Any straight, unmolested car
There were three generations of MR2, but only the first two had a Targa-style roof; the final version was a roadster with a folding fabric roof. First seen in 1984 and superseded by an all-new model, the two-seat runabout predated the all-conquering Mazda MX-5 by five years, and thanks to its mid-engined configuration, which gives excellent weight distribution, some say it's even better to drive.
The problem is, most examples of the original MR2 have now turned to dust, which is why the Mk 2 model launched in 1990 is a better bet. It features a pair of glass panels in the roof, which can be removed individually. Track one of these cars down and you'll revel in its road-holding, mini-supercar looks, sense of fun and surprisingly frugal fuel usage.
You'll love the performance too, if you avoid the entry-level 119bhp model and go for a 158bhp 2-litre edition instead. With a tough twin-cam engine, disc brakes all round and a five-speed gearbox driving the rear wheels, the MR2 is guaranteed to put a smile on your face.
Search for a post-1992 car or be prepared for pretty lively handling
However, that smile could quickly be wiped away if you buy an MR2 of the wrong age. Cars made before 1992 had pretty lively handling, which could result in them spinning around in a corner or roundabout, so choose a post-1992 car or check for crash damage if you're tempted by an earlier model.
Also check that the coolant has plenty of antifreeze in it or the head gasket may be damaged. The cam belt should have been changed several times by now, and watch for evidence of grounding – the exhaust gets bashed all too easily. Finally, check that the anti-roll bar drop links are intact: they often break, leading to annoying knocking noises over bumps.
Browse the used Toyota MR2 sports cars for sale on driving.co.uk
Smart roadster (2003-6)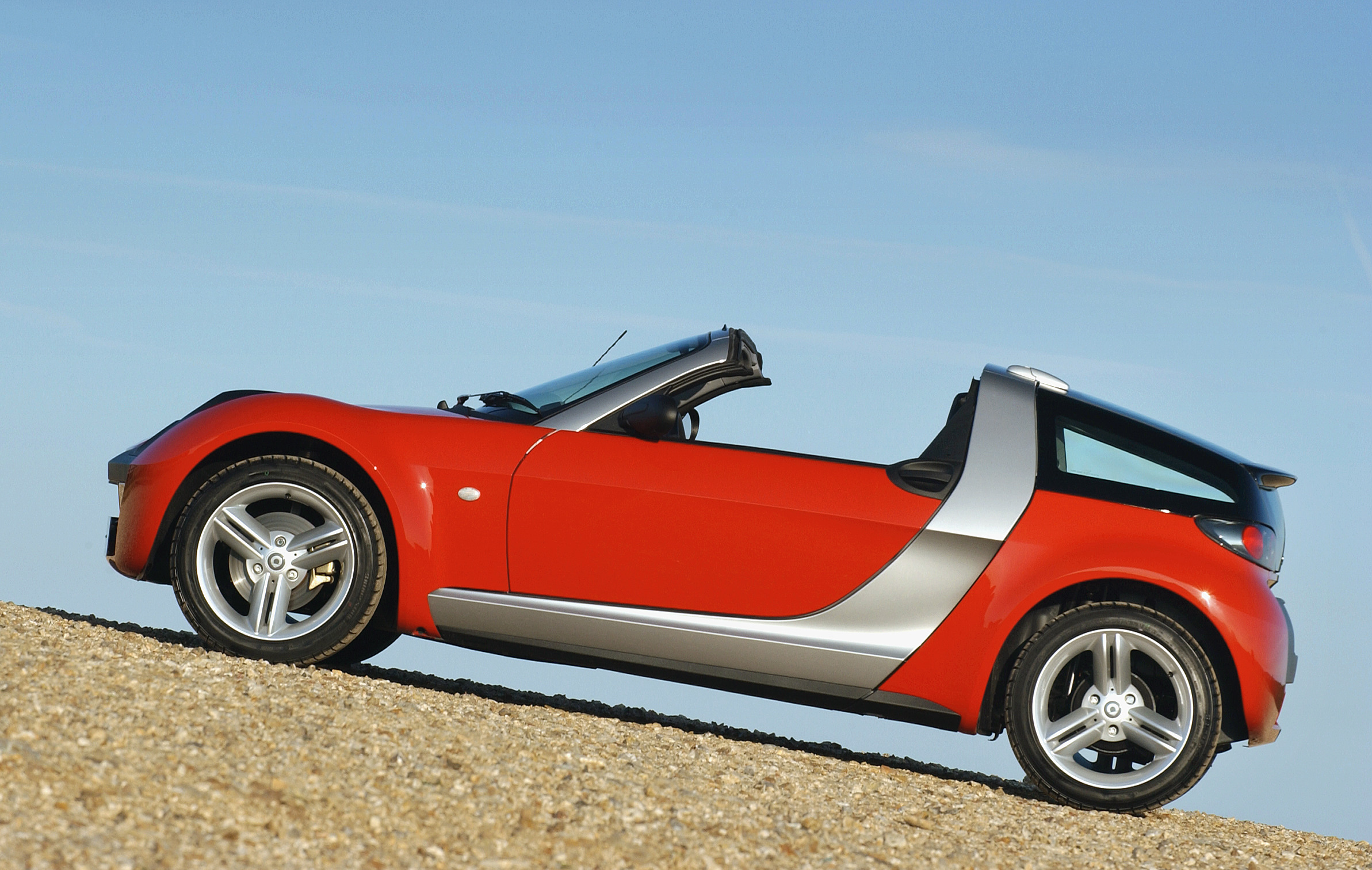 Best for: Fun with economy
Budget: £4,000
Best buy: Smart Brabus roadster-coupé
Some drivers with a memory stretching back far enough reckon the Smart roadster is just a modern-day Austin-Healey "Frogeye" Sprite, as it offers sports-car frills for those on a budget.
But while the diminutive two-seater packed a tiny turbocharged 698cc engine, its performance was modest and was blunted by the gearbox. All Smarts came with a six-speed automatic transmission that drivers either love or hate. But if you can get on with the gearbox, the titchy Smart makes a great left-field modern classic buy.
The roadster, which has a boot like a saloon, comes with a removable two-panel hard top or electric soft top with detachable side bars. The roadster-coupé has the same roof options but a hatchback design for added practicality.
Brabus tuned the Smart roadster and it was characterful to drive
Prices for a used roadster start at just £2,000, but Mercedes parts prices means repairs can be expensive, so check everything works properly. Smart sold just 7,449 roadsters in the UK between 2003 and 2006. The first cars, sold in 2003 with left-hand drive only, had just 61bhp. Later that year right-hand-drive roadsters landed here with 80bhp; then came a 90bhp version tuned by Brabus.
The Brabus has the highest spec, the most power and the most purposeful looks, so we'd aim for one of those, but any truly cherished car will be characterful to drive. Watch out for water leaks into the cabin, though: rain gets in via the roof bars, door mirrors and wiper spindles, so check the floor pans for signs of damp or rust. The front suspension springs are also prone to trouble, while engines won't take neglect, so look for a smoky exhaust or misfiring.
Browse the used Smart roadster sports cars for sale on driving.co.uk
Lotus Elise S1 (1996-2001)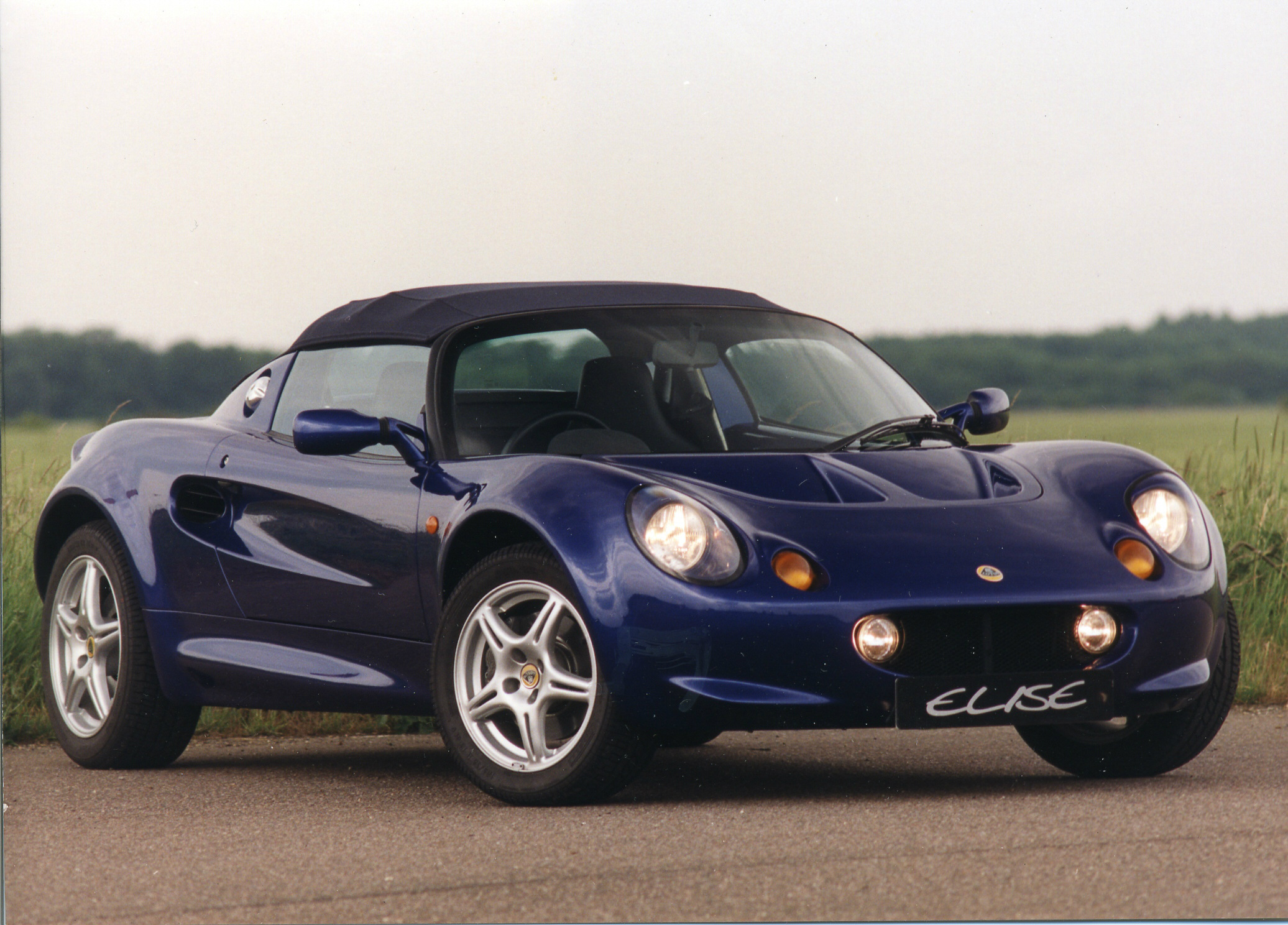 Best for: Fast road or track drives
Budget: £14,000
Best buy: Any straight, unmolested car
Ever since it was launched in 1996, good examples of the original Elise have never dipped below £8,000 – now you can easily pay twice that for something well looked after. Seen as much more fun than the bigger S2 that arrived in 2000, the S1 is easily one of the best driver's cars yet created, and now it's a cast-iron investment too. The very best low-mileage one-owner cars are edging close to £20,000. There were Elise Sprint (later 111S) editions with a VVC version of the Rover K-series engine, alongside the regular 1.8i and the Sport 160. All are fun to drive.
Good examples of the original Elise have never dropped below £8,000, and the best cars are nudging £20,000
Compact and unbelievably nimble, an Elise is something you wear rather than merely drive. There may be just 118bhp on tap from the naturally aspirated 1.8-litre engine, but with just 723kg to haul there's real urge from just 2500rpm. But it's not just about the performance; the steering, brakes and clutch are all perfectly weighted so the Elise feels alive and exciting even at low speeds.
The problem is, a mint Elise S1 will prove more elusive than you think, as crashed cars are common. The aluminium chassis can corrode, is tricky to repair and can't be replaced.
The K-series engine doesn't usually suffer from blown head gaskets as it does elsewhere, but the suspension ball joints and steering racks typically last just 35,000 miles; the dampers usually need replacing twice as often. So if you're not blown away on the test drive, assume it's a tired car in need of an overhaul.
Browse the used Lotus Elise sports cars for sale on driving.co.uk
Porsche 911 Targa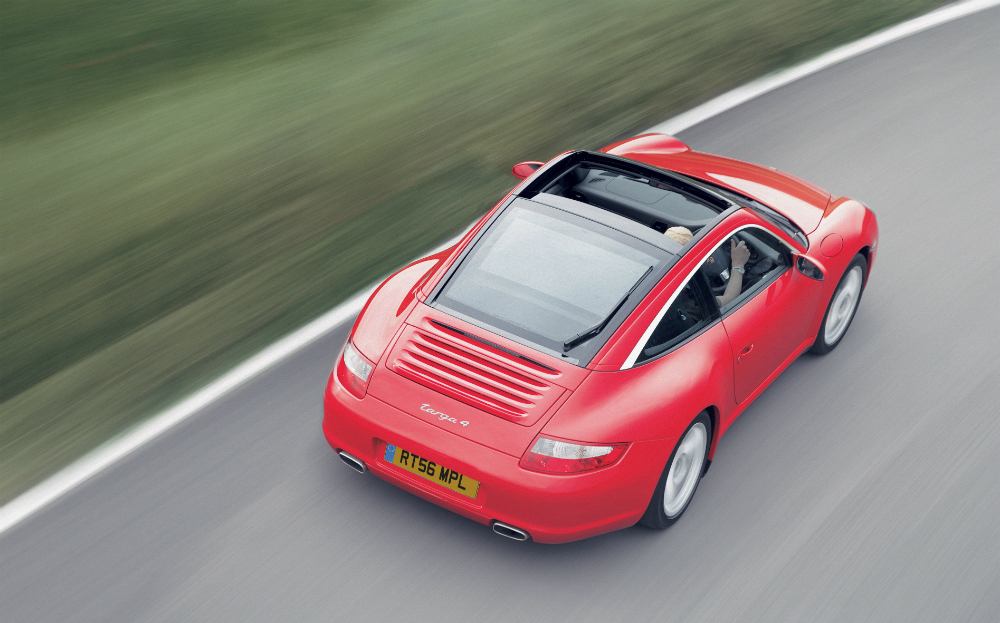 Best for: Luxury
Budget: £50,000
Best buy: New-look cars from 2009 or later
When Porsche introduced a Targa version of the current 911, it finally revisited the removable roof panel formula; for the previous three generations (993, 996 and 997) there was just an over-sized glass sunroof instead. But don't let that put you off, because those cars are well made and lovely to live with.
The 993-series model was the last of the 911s to have an air-cooled engine and is now collectable and getting more expensive by the day; the 996, the first of the water-cooled cars, is still frowned upon by 911 aficionados, so it's the most affordable of the breed. The 997 marked a return to form for the brand, and prices are much higher as a result.
On balance we'd go for the 997, and while prices for that version start at £35,000 (you can buy a 996 Targa from just £12,000), the later car is built to a higher standard, is better to drive and over time should be more collectable. But go for the revised car introduced in 2009; its heavily reworked engine is more reliable, efficient and powerful too.
The pick of the Targa family is a revised 997-series from 2009
You could choose between 345bhp 3.6-litre Targa 4 and 380bhp 3.8-litre Targa 4S editions, with four-wheel drive and a six-speed manual gearbox as standard. These later cars also came with Porsche's PDK dual-clutch transmission as an option – it's much better than the previous Tiptronic offering.
If you buy a pre-2009 997 Targa, engine failure bringing rebuild costs of more than £10,000 is a distinct possibility; look for blackened tailpipes and listen for ticking at idle. Another giveaway sign is tiny pinhole-sized leaks in the air-conditioning system's condensers and coolant radiators, which are housed behind the vents in the nose. Replacement can easily run to more than £1,500, so check carefully.
Browse the used Porsche 911 Targa sports cars for sale on driving.co.uk
Ferrari F355 GTS (1994-1999)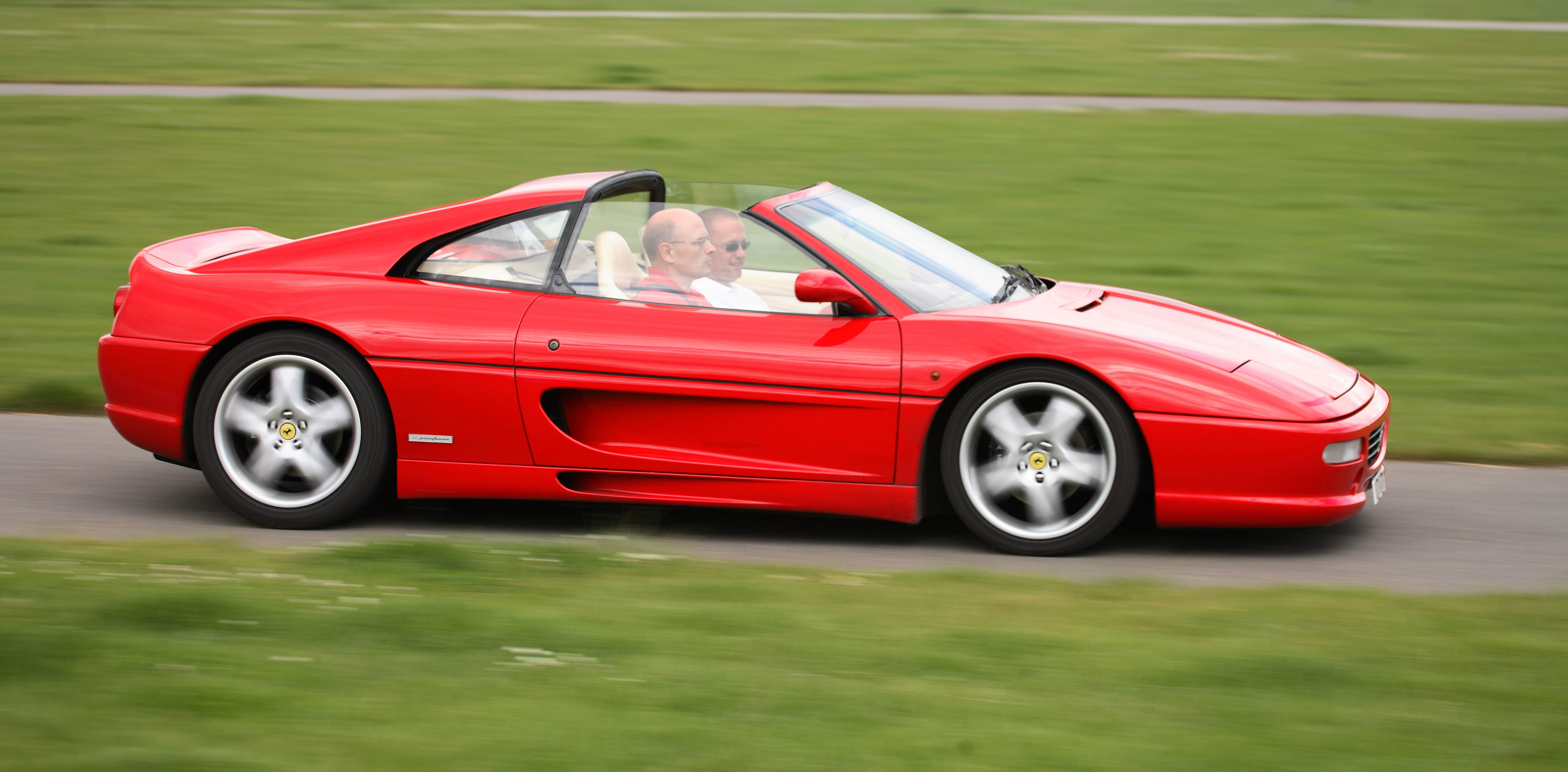 Best for: Driving the car of your dreams
Budget: £100,000
Best buy: A cherished car with a manual gearbox
Typically cherished at great expense, most Ferraris don't go through a banger phase as such, but until recently the F355 was as close to an affordable Modenese supercar as you were likely to get. Values of the F355 have climbed sharply over the past year, so if you fancy a GTS, which came with a lift-out roof, act quickly.
First, the good news. The F355 is the first Ferrari of the truly modern era, designed and built to a higher standard and selling more than 11,000 cars. Now the bad news: the GTS is the rarest of the three derivatives. Alongside the coupé (GTB) and convertible (Spider) was the F355 GTS – just 2,577 were built in all, 434 bought by British drivers.
The open alloy gear gate is a Ferrari feature not found on its modern sports cars
Most F355s have a manual gearbox; just 74 cars were built with the F1 paddle-shift transmission that arrived in 1997. However, it does dispense with one of the real Ferrari pleasures – the open alloy gate, the smooth snick-click change and the satisfaction of a well-executed downshift.
The bodywork is beautifully proportioned and won't fail to turn heads. The interior's a little plain, but it has an understated style and an excellent driving position. Once the 3496cc V8 has warmed through, it spins with a harmonious wail all the way to 8500rpm.
And while 375bhp may not seem all that powerful compared with the outputs of Ferrari's latest sports cars, the linear delivery and F1-style soundtrack more than make up for it. The F355's handling is divine, too – turn-in is sharp and the car feels poised through bends. It's a driver's Ferrari.
Tempted? Then make sure the engine has received fresh cam belts within the past three years or 36,000 miles: it's an engine-out job that costs – wait for it – £4,000, and if this task is missed the engine will need a complete rebuild if a belt breaks.
Clutches last around 20,000 miles at best and replacements are £1,000 or so. Interiors last well and electrics are reliable, but the paint is soft so stone chips are common. So are cracks in the paint at the base of each rear buttress, because of the body shell flexing. It can be repaired for around £1,000, but the problem can't be eradicated altogether, so expect to have this done every few years.
Browse the used Ferrari F355 sports cars for sale on driving.co.uk
Lamborghini Diablo VT roadster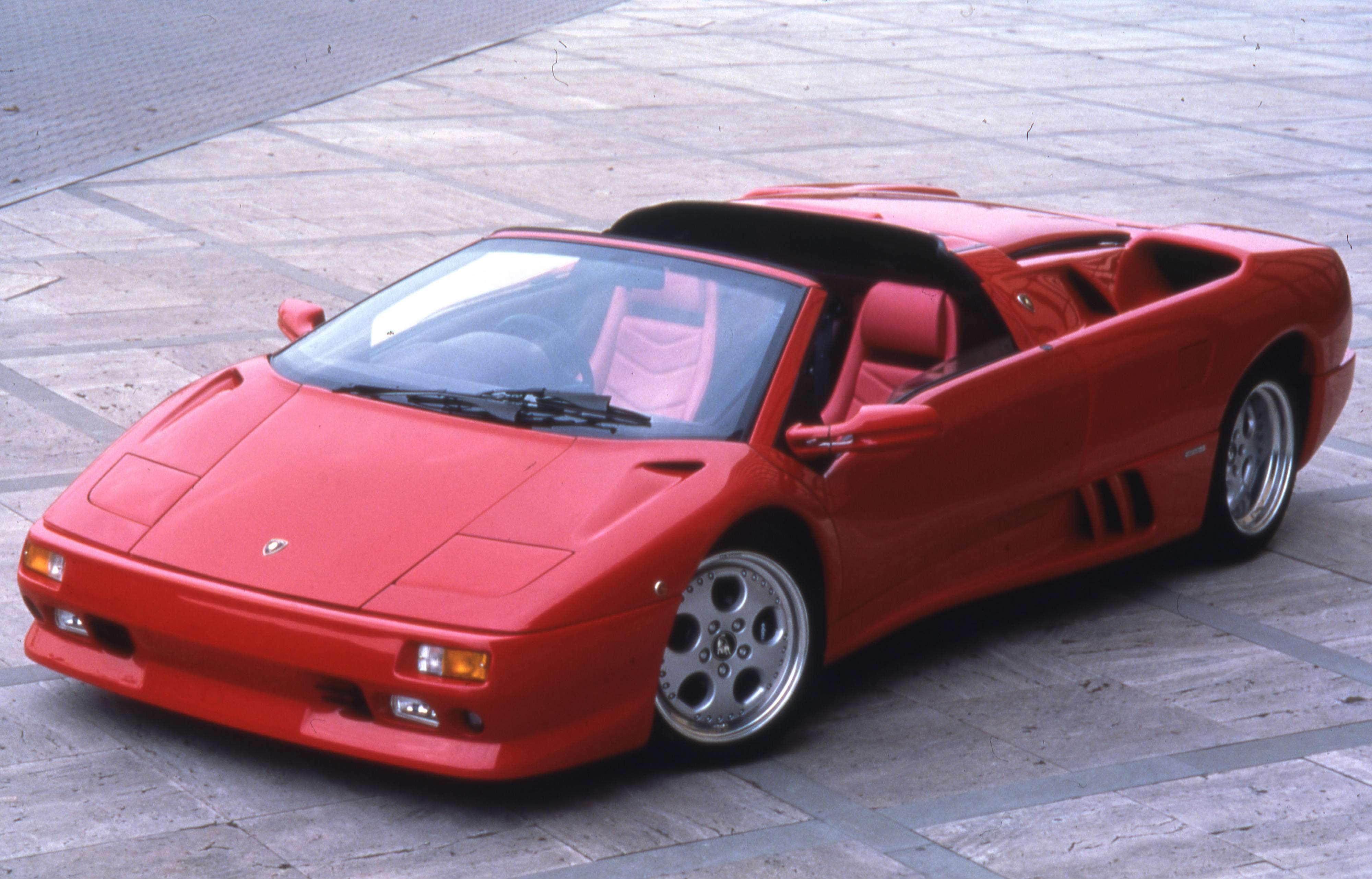 Best for: Poseurs with money to burn
Budget: £150,000
Best buy: Anything that hasn't been neglected
If you had to come up with a list of the all-time great engines, Lamborghini's V12 would be vying for the top spot. First seen in 1963 and used until the arrival of the Aventador in 2011, the Giotto Bizzarrini-designed V12 is a work of art. But like all the best pieces of art, it's damned expensive to acquire – and this one is expensive to run too.
It powered the Diablo, the flagship Lamborghini of the 1990s, and the VT roadster edition – which featured an electrically operated Targa-style roof – boasted 492bhp from its 5.7-litre V12. To help tame it, four-wheel drive was standard. Around 200 were built, but just 20 or so were right-hand drive and approximately 14 survive.
In 1999 there was a revised Diablo, with fixed headlights instead of the pop-up ones. Engine management tweaks pushed peak power up to 530bhp, but this edition was even rarer – just 100 or so were made.
You should insist that a specialist inspects a Diablo
As with Ferraris, Lamborghini values have been on a sharp upwards trajectory over the past couple of years, so don't bank on securing a nice removable-roofed Diablo for less than £150,000. Owners should budget for high maintenance bills, as a Diablo won't tolerate neglect.
If your pockets are deep enough to buy and run a Diablo, acquire one that's been maintained by a marque specialist. If the V12 needs a complete overhaul you could be staring down the barrel of a £25,000 bill. Overhauling a gearbox costs £5,000, and replacing a tired clutch costs the same – and the clutch is a weak spot.
All roadsters came with four-wheel drive, but some owners disconnect the front driveshafts if they're worn after constant thrashing. Other things to looks out for are tired dampers (£4,000 a pair), a rotten chassis (from £6,000 to fix) and corroded panels (not as unusual as you might think). That's why it's worth investing in a pre-purchase inspection by a Lamborghini specialist.
Browse the used Lamborghini sports cars for sale on driving.co.uk
---
Search for and buy your next car on driving.co.uk
---