The best new convertible cars for the summer
Summertime, the driving is breezy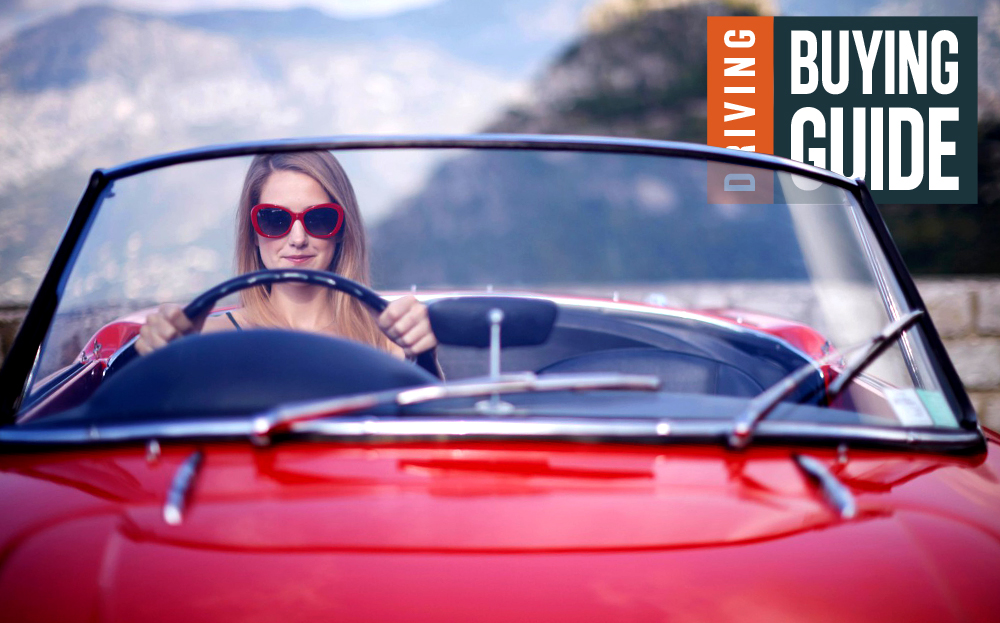 With their hi-tech roof mechanisms, today's convertibles let us make the most of every ray of British sunshine — and minimise the soaking when the weather doesn't play ball
---
FUN in the sun needn't cost the earth. Long gone are the days of convertible cars being expensive trinkets owned by drivers with designer sunglasses and fur coats.
Today high-street names including Citroën, Fiat and Volkswagen have realised that, even if Britain doesn't always have the weather for it, its inhabitants have an appetite for lowering the top and feeling the breeze on our face (and the heater on our toes). There's never been such a wide choice of convertibles offering cheap thrills.
Here is our pick: the 10 best affordable drop-tops fit for a summer's day — sun cream not included.
---
Browse all convertible cars available to buy on driving.co.uk
---
Fiat 500C, £13,690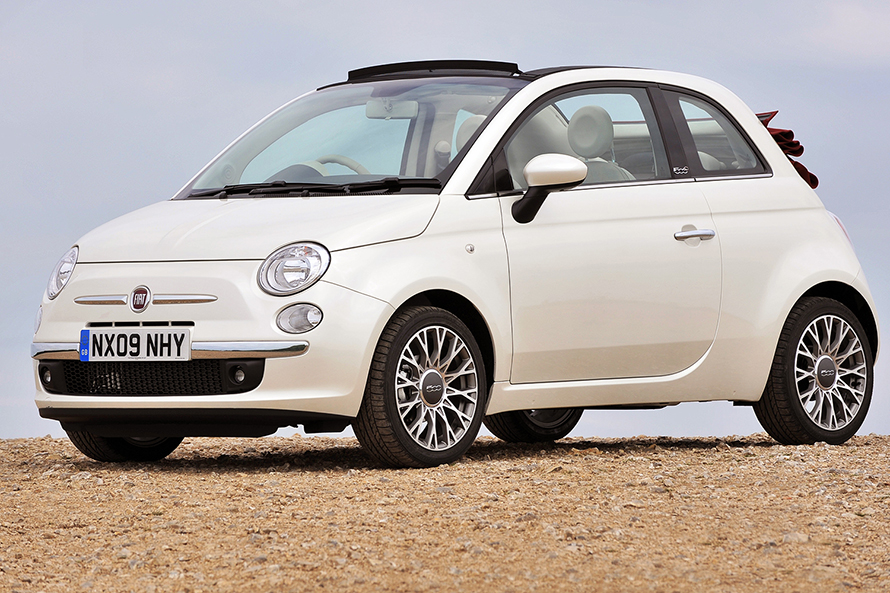 The Fiat 500C is the equivalent of a Benetton shop window filled with dazzling polo shirts. It comes in a range of vibrant colours, it has the cosmopolitan look of espresso-sipping people-watchers in a Rome piazza, yet the bill is pleasingly affordable. The trims have names such as Pop, Lounge and Cult, which pretty well capture this small convertible's character; it's an exhibitionist that will drop its top at the touch of the button as other drivers gaze on enviously from their sensible hatchbacks and saloons.
In a masterstroke, Fiat's engineers devised a roof system that opens like a sardine tin, which means the body structure retains roof rails the length of the car, making it more robust. If you aren't fussed about emission levels to the nearest microgram, the basic 1.2-litre four-cylinder petrol version is perfectly charming to drive and has a low price that will put a smile on any driver's face.
Fiat 500C 1.2 Pop
Price £13,690
Engine 1242cc, 4 cylinders, 69bhp
Acceleration 0-62mph: 12.9sec
Roof Electrically powered; fabric; folds in 15 seconds
 View Fiat 500s for sale on driving.co.uk
DS 3 cabrio, £15,295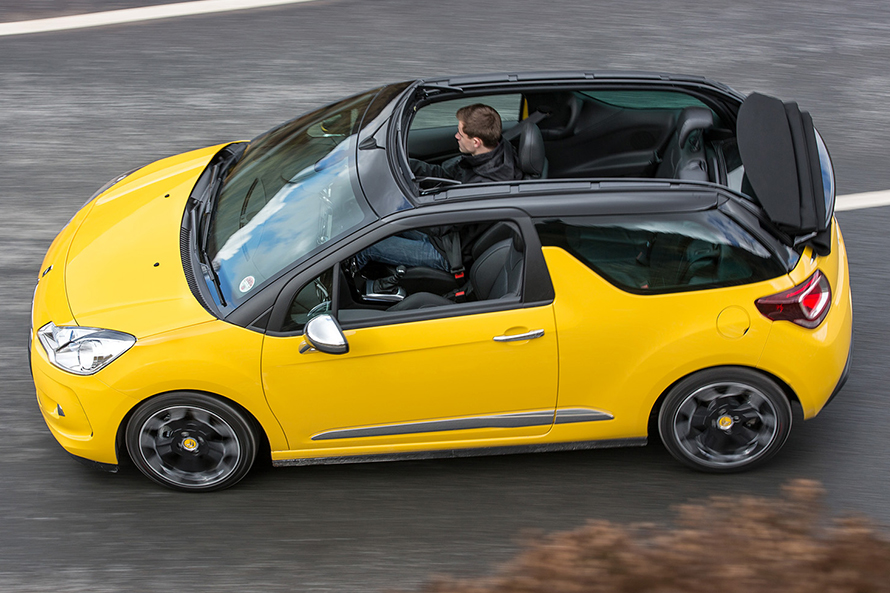 There are versions of the dinky little DS 3 cabrio that are as flamboyant and attention-seeking as Laurence Llewelyn-Bowen in his loudest suit. In fact, the car is deemed so cool that Citroën has decided to distance itself and create a boutique brand — DS — that, it hopes, will get the attention of fashionistas (see Giles Smith's First Drive, page 10). A bit like George at Asda, then.
Just as with the Fiat 500C, the roof is an electrically powered fabric affair that peels back at the press of a button and can be opened a little, much like a sunroof, or the whole way, so it perches just over the boot looking not unlike a small, wrinkled sofa. The DS 3 cabrio offers snug seating for four, but is better suited to two and a few bags for a weekend away. The entry-level engine struggles for breath a little, so pick the PureTech 110, a version with some guts, and with a bit of luck you should be able to outrun the rainstorms.
DS 3 Cabrio PureTech 110
Price £17,995
Engine 1199cc, 4 cylinders, 108bhp
Acceleration 0-62mph: 9.8sec
Roof Electrically powered; fabric; folds in 15 seconds
View Citroën DS3s for sale on driving.co.uk
Mini convertible, £16,585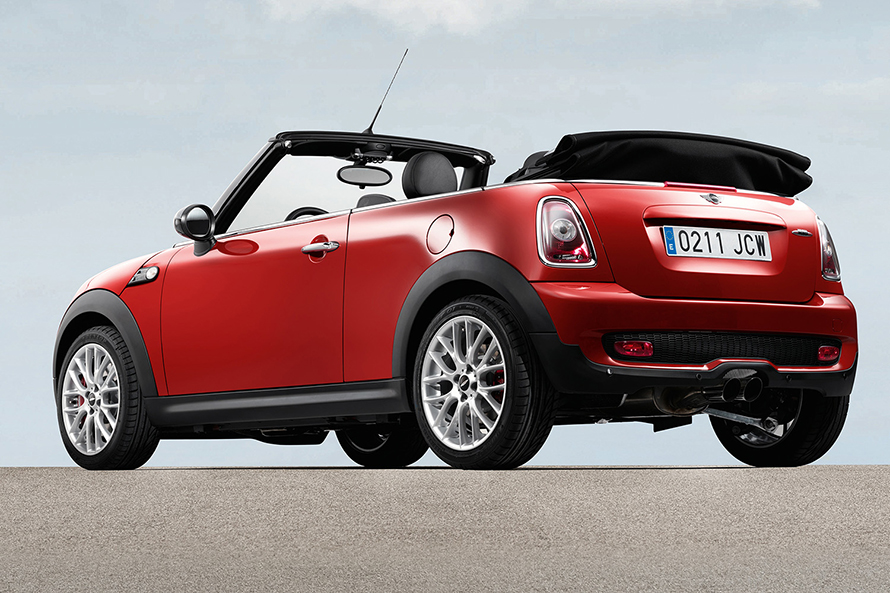 Mini is dragging its heels over updating the convertible — a new generation hatchback went on sale last spring — but perhaps that's no bad thing. The old hatchback looks great, whereas the latest version appears overweight, having grown in all directions to make it safer and more spacious. The convertible range starts at £16,585, although that's for the One model, which is less powerful and not as fun as the £18,015 Cooper. The latter is our pick, and unlike that of a Fiat 500C, for example, the Mini's fabric roof retracts completely and parks itself above the boot.
Chopping off the roof hasn't dimmed the Mini's bubbly charms: it darts into corners and holds the road with enthusiasm. There is a little shake in the structure, and with optional large wheels fitted with run-flat tyres the ride is about as pliant as that of a skateboard, but the driver can forgive it because of the smile it will put on their face.
Mini Cooper convertible
Price £18,015
Engine 1598cc, 4 cylinders, 120bhp
Acceleration 0-62mph: 9.8sec
Roof Manually operated; fabric; folds in 15 seconds
View Mini convertibles for sale on driving.co.uk
Mazda MX-5, £18,495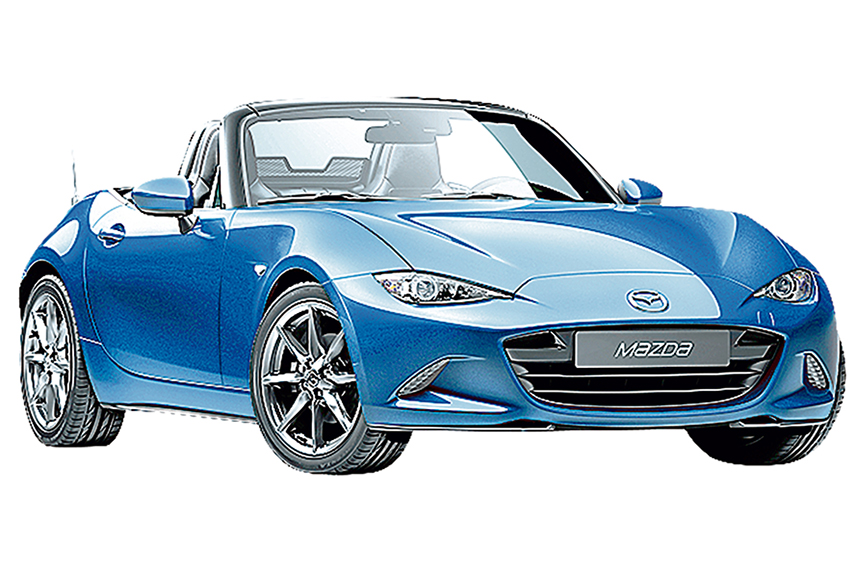 Strictly speaking, the MX-5 is not a cabriolet or convertible; it's a roadster. Worry not about such trivial detail, though — the MX-5 has always offered lots of fun behind the wheel for relatively little money, and the new version should stick to that successful formula. Driving has yet to try it (Mazda got stage fright over the thought of our hard-nosed journalists getting behind the wheel) but we know that the car is shorter and lighter than the last one, and retains the classic recipe for a great roadster: a peppy 1.3-litre engine driving the back wheels (don't bother with the 2-litre version) and a 50–50 weight balance.
Most importantly of all, the delightfully simple hood is, well, as delightfully simple as ever. All you have to do is release a single overhead catch and pull the roof down; because it's so light, it's easy to raise again should rain stop play.
Mazda MX-5 1.5 SE
Price £18,495
Engine 1496cc, 4 cylinders, 129bhp
Acceleration 0-62mph: 9.0sec
Roof Manually operated; fabric; folds in less than 5 seconds
View Mazda MX-5s for sale on driving.co.uk
Volkswagen Beetle cabriolet, £19,230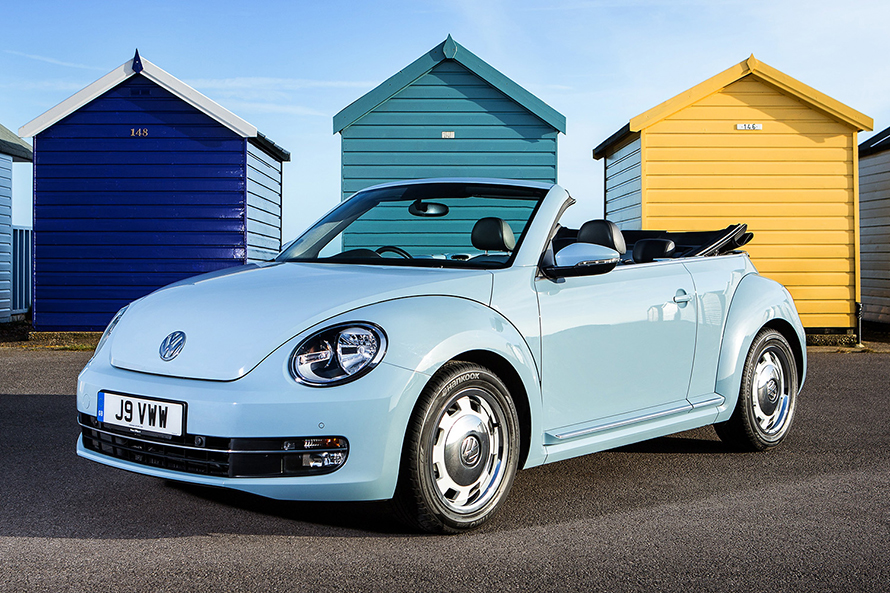 The last Volkswagen Beetle cabriolet looked good in the showroom but it was diabolical to drive. Leaving the showroom with one was to know how it must feel for a woman to pay a small fortune for a haircut and colour, only to step out of the salon and face a torrential deluge.
Happily, the new Beetle cabriolet is dramatically improved. It looks better, the structure feels robust (the old one wobbled like jelly on a plate), there's a classy interior and even a cynical petrolhead would have to agree that, with the 1.4-litre TSI engine under the bonnet, it's actually not half bad at zipping along a winding road (the reason for this is that it's based on Volkswagen's acclaimed MQB platform, also found under the Golf).
Most importantly, though, four people can sit in comfort and catch a tan.
VW Beetle cabriolet 1.4 TSI
Price £23,515
Engine 1390cc, 4 cylinders, 148bhp
Acceleration 0-62mph: under 8.7sec
Roof Electrically operated; fabric; folds in 9.5 seconds
View VW Beetles for sale on driving.co.uk
Volkswagen Golf cabriolet , £22,540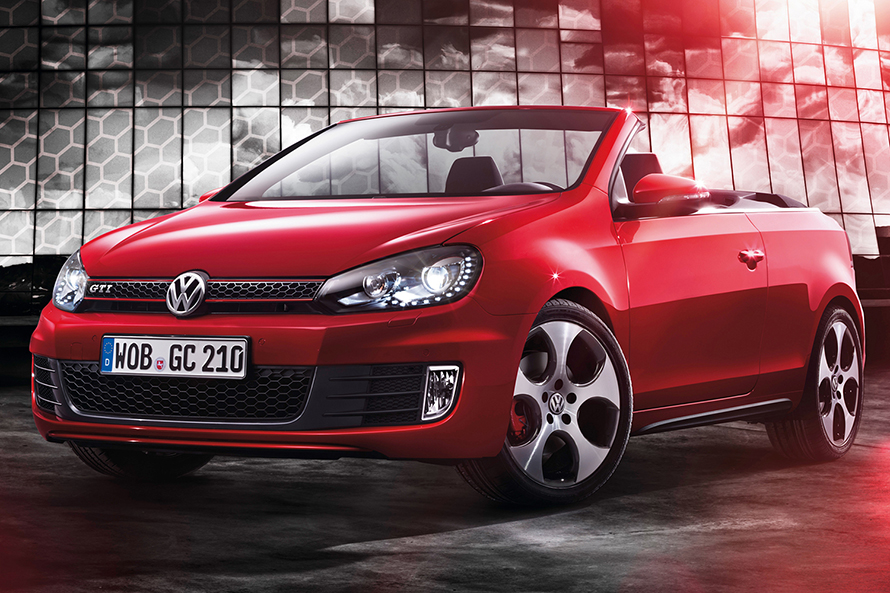 Finding any faults with the Volkswagen Golf hatchback is like looking for a set of house keys after a toddler decided to bury them somewhere in the garden; you could probably find them, but it would be a whole lot quicker to admit defeat and have a new set made up. You could say the Golf cabriolet is not as handsome as an Audi A3 cabriolet, but in all other respects it's just as good and cheaper too. What's not to like?
The roof is electrically operated and because it's made from fabric it doesn't take up any boot space, unlike the folding solid roof of the VW Eos.
There's a great range of engines, including the 2-litre turbo of the GTI, and the cabin feels very well made, with a robustness that is missing from, say, the DS 3 cabrio and Renault Mégane CC.
VW Golf cabriolet 1.4 TSI S
Price £23,300
Engine 1390cc, 4 cylinders, 123bhp
Acceleration 0-62mph: under 10.5sec
Roof Electrically operated; fabric;folds in 9.5 seconds
View VW Golfs for sale on driving.co.uk
Renault Mégane CC, £23,800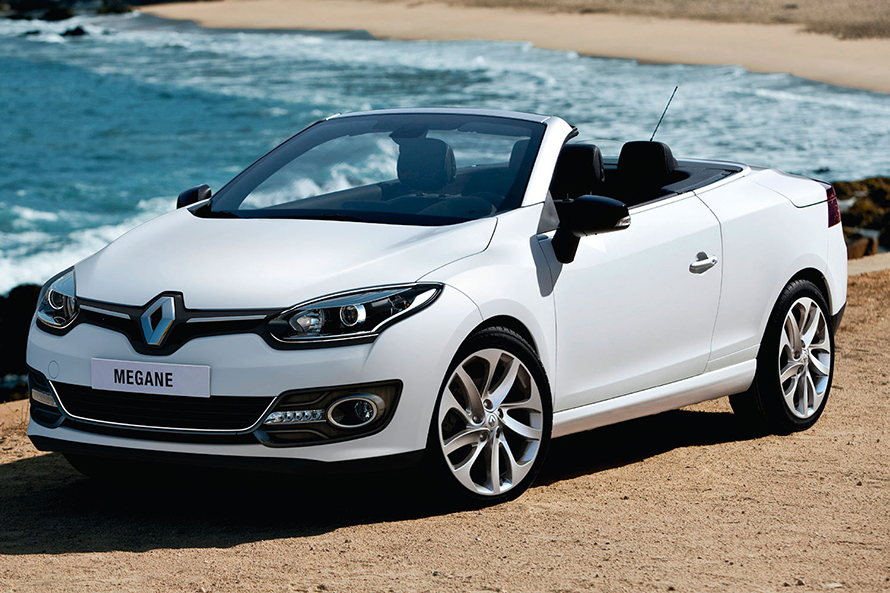 If you want to go topless in a new Mégane CC (coupé cabriolet) you'll have to hurry. Not because Britain's notoriously short summer will be over before drivers have finished applying their sun cream, but because the car has just gone out of production — although it's still available on the forecourt.
That's a shame, because it passes off convincingly as a coupé in the bad weather: it has a solid roof that includes a panoramic glass panel, letting in light but not the cold or noise at speed. The whole lot folds away into the boot, and admittedly that doesn't leave much room for a Louis Vuitton luggage set, but as long as the washbag gets in there, who, other than you, is going to know?
The car is feeling its age — notably the presentation of the dashboard and quality of the fittings — and it's not as good to drive as the Golf or A3 (be prepared for body flex), but buyers should be able to get a good bargain — Renault dealers are offering £5,000 off or even more.
Renault Mégane CC TCE 130
Price £23,800 (dealers offering £18,495)
Engine 1198cc, 4 cylinders, 130bhp
Acceleration 0-62mph: 11sec
Roof Electrically operated; solid; folds in 21 seconds
View Renault Méganes for sale on driving.co.uk
Vauxhall Cascada, £24,500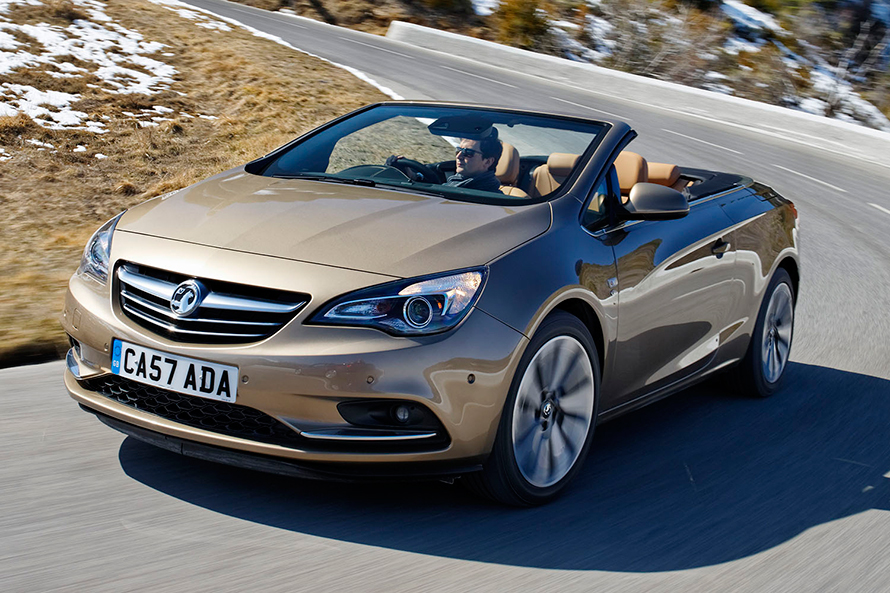 No, it doesn't corner as if it's on rails, and the roof drags its heels when closing, like a child being led to brush their teeth, but does that matter? After all, you get a large, comfortable four-seat convertible, which, Vauxhall claims, is carwash-proof. Given that most convertible drivers avoid carwashes like cats stay away from water, that's quite a claim.
With the roof down, the views may set your pulse racing, but little else about the Cascada will. To drive, this is a large, leather-lined cruiser, one that is pleasantly undisturbing and adds an air of calm to even the most twisting mountain road.
Vauxhall Cascada 1.4 SE
Price £24,500
Engine 1364cc, 4 cylinders, 138bhp
Acceleration 0-62mph: 10.9sec
Roof Electrically operated; fabric; folds in 17 seconds
View Vauxhall Cascada cars for sale on driving.co.uk
Audi A3 cabriolet, £26,125
Here's the best thing about the good-looking Audi A3 cabriolet: the entry-level model is all most drivers will need from a four-seat soft-top. It has a turbocharged 1.4-litre engine that's smooth to the ear and willing to perform, and can get just over 56mpg — especially if you're just cruising gently with the Ray-Bans on.
Not that it has to be driven gently, you understand: there's no sign of the enemy of every convertible car — a wobbly bottom — and the A3 feels impressively robust even over the worst lumps and bumps that Britain's roads can throw at it. With the roof down, it performs something of a magic trick by keeping buffeting from the wind down to such a minimum that it's little different from slightly opening the window of a hard-top car at speed.
For our money the A3 cabrio is the convertible of this summer, though the car that comes next would give it a very close run for its money.
Audi A3 cabriolet 1.4 TFSI SE
Price £26,125
Engine 1395cc, 4 cylinders, 148bhp
Acceleration 0-62mph: 8.9sec
Roof Electrically operated folding; fabric;folds in 17 seconds
View Audi A3s for sale on driving.co.uk
BMW 2-series convertible, £26,045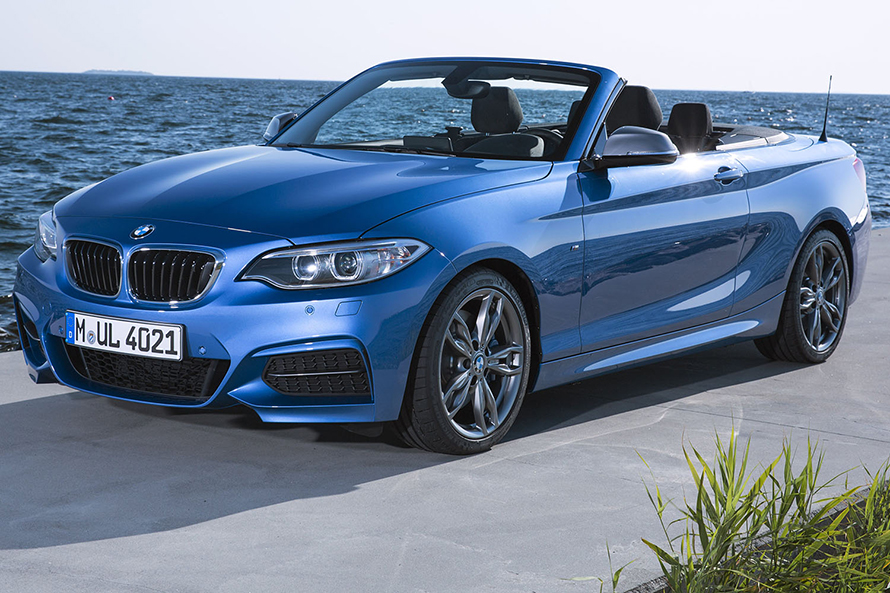 The ultimate driving machine? Well, that depends on what a driver wants from their soft-top. Those who prefer to relax and watch little white fluffy clouds float overhead may prefer the Audi A3 cabriolet to the BMW 2-series convertible.
But if the only thing preferable to the roar of an engine is the squealing of tyres, then it's likely the BMW is more in tune with your driving style. Its stiff structure means that the suspension of the front-engined, rear-wheel-drive chassis can work at its optimum — putting a smile on the driver's face.
The pick of the 2-series range for value is the 220i, but if the budget permits and you're that way inclined, the M235i — at a hefty £37,715 — is one to bring out your inner demon.
BMW 220i convertible Sport
Price £29,180
Engine 1997cc, 4 cylinders, 182bhp
Acceleration 0-62mph: 7.5sec
Roof Electrically operated; fabric; folds in 20 seconds
View BMW 2-series cars for sale on driving.co.uk
---
Browse all convertible cars available to buy on driving.co.uk
---