7 Best ice scrapers to buy in 2022
Top ice scrapers to keep your car free of frost, ice and snow this winter
---
Published 16 December 2021
ONE OF the downsides of the winter months is the added task of scraping ice off your windscreen before you can go anywhere. Not only does it add another step to your morning routine, but it's a pretty chilly task too.
An ice scraper is one of those items which you often don't realise you need until it's too late, but since it's illegal to drive with an obscured view of the road, it's an item no driver can go without.
We've researched the best ice scrapers to make the job as quick and painless as possible. Here are the seven we've deemed to be up to the task.
1. Swedish Ice Scraper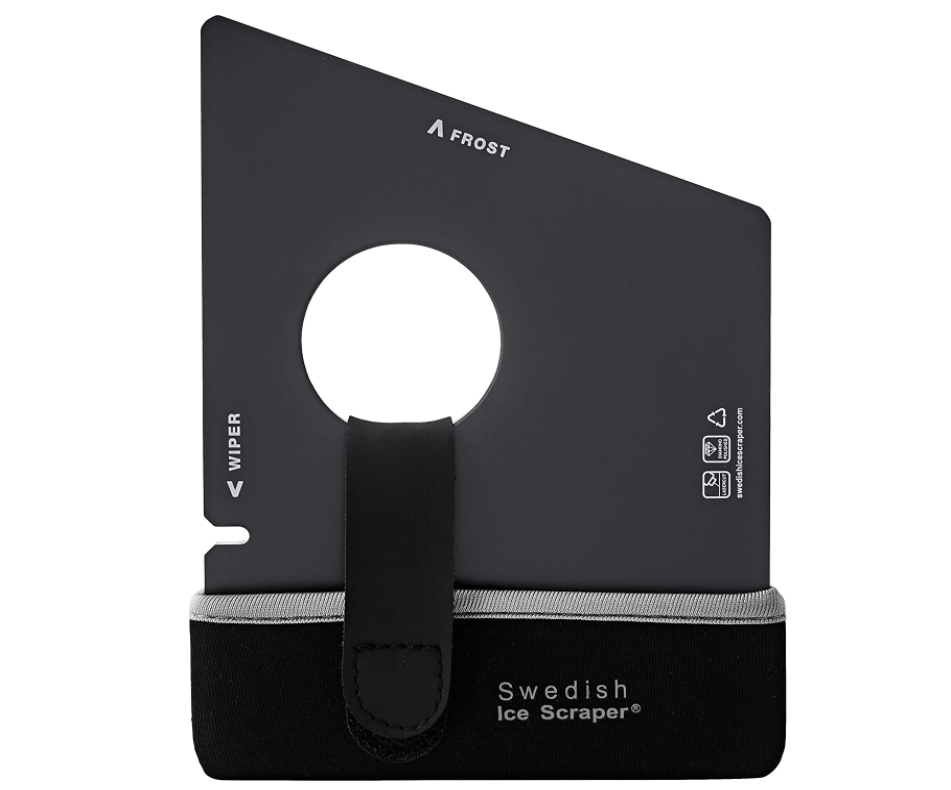 Swedish Ice Scraper ICE06 6mm, £11.99 from Amazon – buy here
If anyone knows how to make a good ice scraper, it's going to be the Swedes. Designed to be used throughout Nordic winters, this scraper has no issue tackling our less severe conditions.
Each scraper is made from laser cut 6mm thick acrylic glass, which has been polished and sharpened using diamonds. The shape of the blade is designed for efficiency, the rounded corners protect your glass and rubber seals, and there's even a slot for cleaning your wiper blades.
There's a neoprene holder for warmth and a finger grip for ease of use — it's clear every detail has been thought through when designing this product. It's available in four colours and one happy customer said "this is by far the best ice scraper I've ever owned!".
2. RevHeads Ice Scraper for Cars and Vans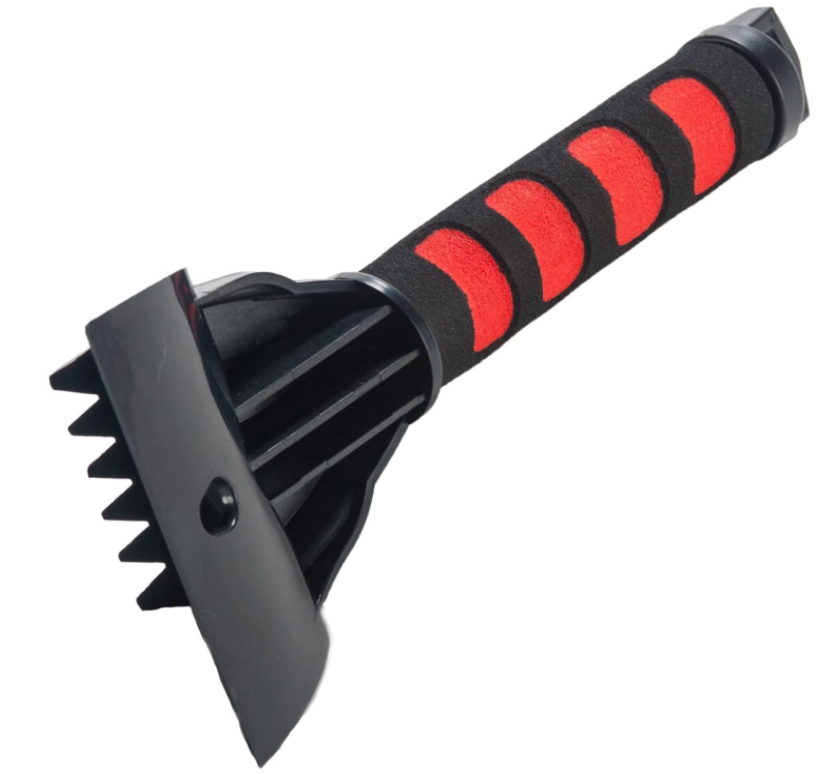 RevHeads Ice Scraper for Cars and Vans, £8.99 from Amazon – buy here
RevHeads claim this ice scraper is tough enough to outlast your car, so we can assume it's pretty well made. Reviews also confirm this, with one humorously stating: "this trusty companion of a scraper had clearly undergone intense strength and martial arts training at its place of birth."
The scraper has a claw-shaped design on one side for breaking up chunks of ice, and the other side has the standard design you'd expect from an ice scraper. Other happy reviewers state that it's "comfortable to hold", "easy to use" and "good quality".
3. Raniaco Ice Scraper for Cars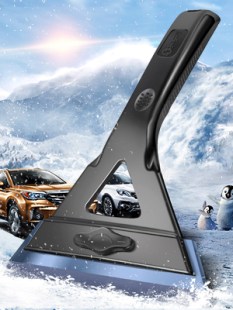 Raniaco Ice Scraper For Cars, £11.99 from Amazon – buy here
This ice scraper has been designed to clear your windscreen of ice, snow, frost and water. It has a relatively large adjustable silicone blade which is curved for better performance and efficiency. Customers have described the scraper as high quality, good value for money and have commented on the speed at which it removes the ice. It's also been described as 'lightweight but sturdy', 'easy to use' and the 'best ice scraper I've had'.
4. MATCC Ice Scraper Snow Brush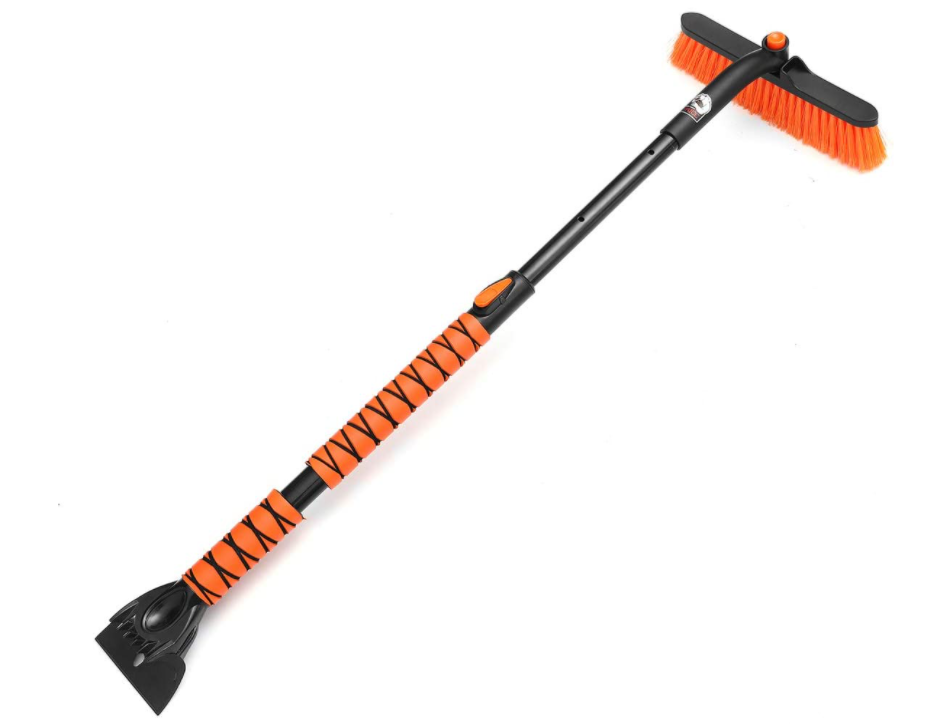 MATCC Ice Scraper Snow Brush, £22.98 from Amazon – buy here
If snow is as much as a concern as ice or you own a large SUV or van, then this multi-taking ice scraper snow brush might be the way to go. It has an extendable pole, a pivoting brush head, as well as a trusty ice scraper. There's a non-slip foam handle too.
Customer reviews state that its "nice and sturdy", a "must have for cold weather" and that you can "clear the full windscreen from one side".
5. Halfords Ice Scraper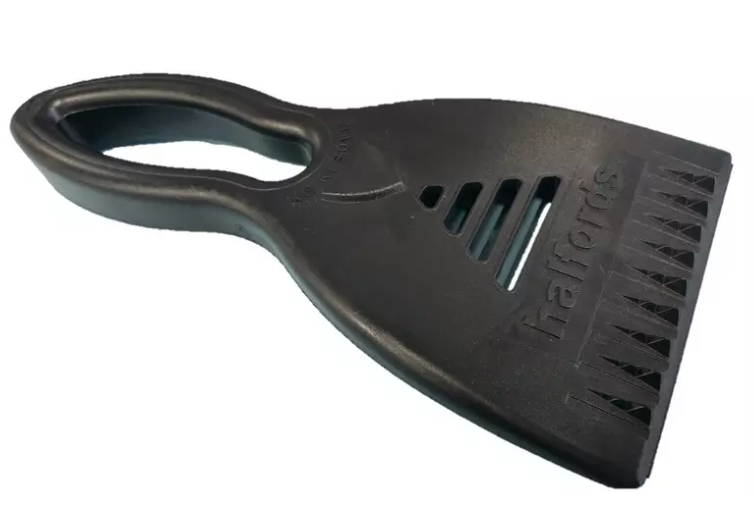 Halfords Ice Scraper, £1 from Halfords – buy here
If you're looking for cheap option then you can't get much cheaper than this £1 bargain from Halfords. There's not a huge amount to say about it to be honest, apart from the fact that it's made from plastic and has a easy-grip handle.
However, it's got rave reviews with customers calling it an "amazing product", "great value for money" and that it's "ideal to put in your door pocket". Does what it says on the tin.
6. Halfords Ice Scraper with Weatherproof Mitt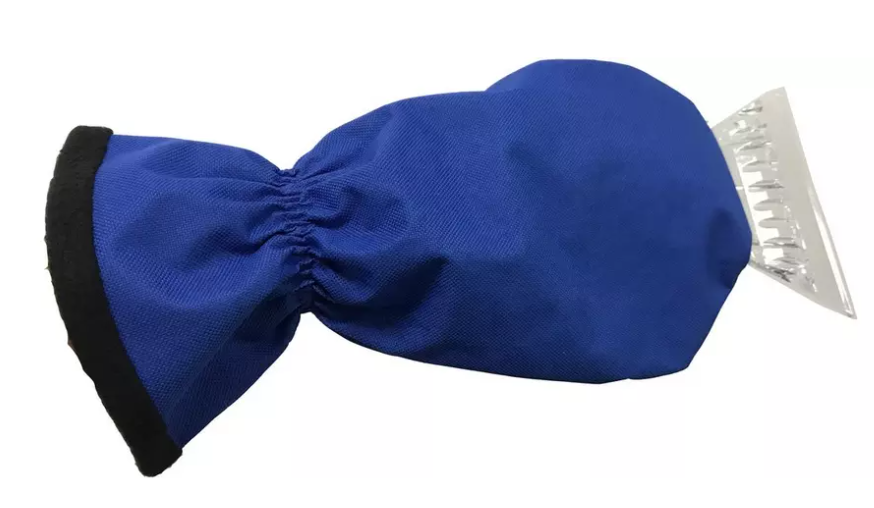 Halfords Ice Scraper with Weatherproof Mitt, £3 from Halfords – buy here
Say goodbye to chilly hands when de-icing your windscreen with this scraper with an attached mitt, even when getting rid of a thick layer of snow. The mitt is made from polyester fleece and a water-resistant material to keep your hands toasty warm, and is another bargain option from Halfords at under a fiver.
Customers "love the mitt" and how warm it keeps their hands and say that the scraper "works well". There's a similar ice scraper by MATCC (whose snow brush appeared earlier in our list), which also has fantastic reviews.
7. Bosmere Windscreen Ice Scraper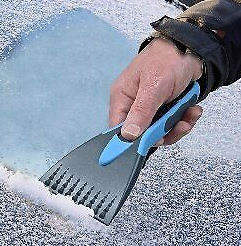 Bosmere Winter Care Windscreen Ice Scraper, £3.99 from Amazon – buy here
Last but not least is Bosmere's sub-£5 ice scraper. There's little information about the materials it's made from, with the only real detail being that it has a soft handle. However, we think this reviewer summed up the product nicely – "hardly ground-breaking technology" but "for the price, it's a winner".
How to use an ice scraper
Legally you must be able to see out of every glass panel of your car before you drive, and you can be fined if you don't abide by this rule. Therefore, it's important that you thoroughly de-ice your car before setting off for your own safety and the safety of others on the road. Here's how to use an ice scraper:
Switch on your engine and set your heater to defrost
Turn the heat on full and set the air to recirculate (rather than the A/C setting)
Wedge your ice scraper between the windshield and the ice and drag it across the glass until the ice begins to lift
Work your way around the car removing the ice from all the windows, headlights and brake lights.
If there's snow on your windscreen, brush this off first before using an ice scraper.
How to de-ice your windscreen without a scraper
If you don't have an ice scraper to hand and time is on your side, it's best to switch on the engine of your car, set your heater to defrost and let it warm up. If you're in a hurry, use something plastic like a spatula or credit card (be careful not the damage the magnetic strip) which won't scratch your windscreen – we don't really recommend it though.
Never use hot water to remove the ice as it may crack your windscreen.
What is the best car ice scraper?
The Swedish Ice Scraper consistently ranks top of "best ice scraper" lists, and has a flurry of excellent reviews. However, if you have a large van or SUV long handle ice scrapers such as the MATCC snow brush, are a great option too.
Do cone-shaped ice scrapers work?
For a while there was a bit of hype around a cone shaped scraper, called the Magic Ice Scraper. According to reviews of this particular brand, as well as other cone-shaped scrapers, it doesn't appear that they work as well as the products we've listed above.
This article features products that have been chosen independently by Driving.co.uk journalists, and our reviews are unbiased. We may earn revenue if you click the links and buy the products, but we never allow this to affect our opinions.
Tweet to @ST_Driving Follow @ST_Driving
– If you enjoyed reading about the best ice scrapers, you might also like our selection of the best car screen covers.
– Heading out in wintery weather? Here's how to drive safely in the snow.
– Calling all Lego fans, we've rounded up best Lego cars you can build this year.