Buying Guide: Six brilliant used cars for just £1,000
It's simple bangernomics
---
Published 28 December 2015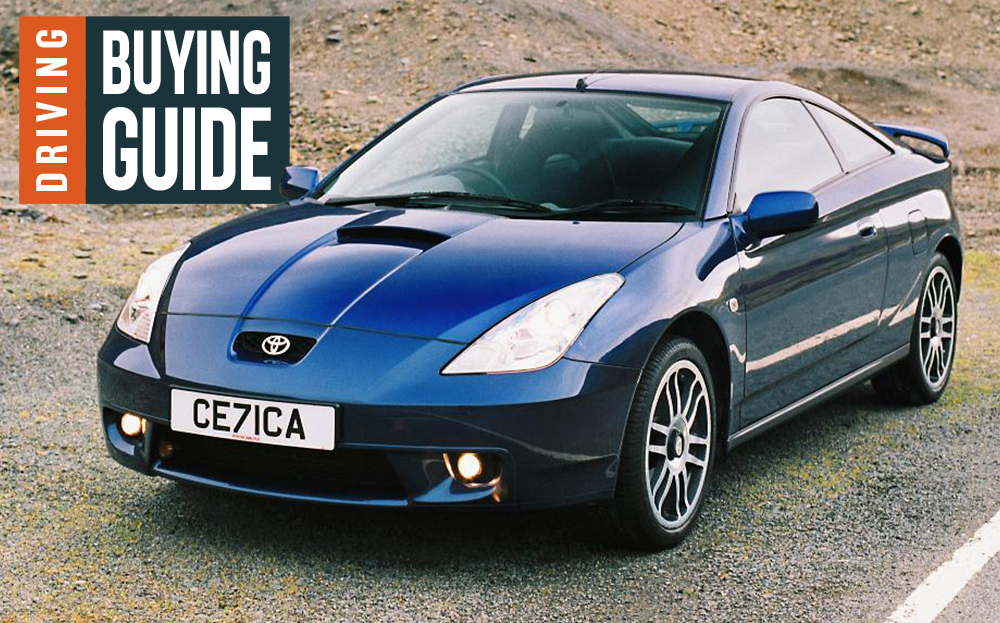 IN THE world of motoring you don't get much for a grand. A full service on a premium saloon, a new set of tyres for a 4×4, a week's worth of depreciation on a luxury limousine…
---
Browse NEW or USED cars for sale on driving.co.uk
---
But even in these days of starlight roof linings and Bang and Olufsen sound systems, you can still buy an entire car for £1,000. Admittedly, it won't have much of a new-car smell and it might be looking a bit tired in places but for rather less than the cost of a Dolce & Gabbana suit, you could have a road-ready car with plenty of life left in it.
The key, of course, is to buy a car that's been looked after so it's not on the point of expiry. Buy well and you could get several years' use out of your £1,000 banger. Buy really well and you won't even have any significant repair bills to worry about; some of the cars here will just keep going as long as they're serviced. The downside is that the road tax and fuel bills will be higher than for something newer, but the money you save on the sticker price should easily make up for it.
One tip for banger motoring is to go for a car that's not very sexy, which is why anything flash or premium is generally out. Buy a BMW or Merc for this money and the chances are it'll have been through more pairs of hands than an old fiver and covered more miles than the space shuttle.
Parts don't come cheap with premium brands, either, so we've avoided cars that were really costly when new. On this note, we've also cut out cars that have a reputation for being as durable as rice paper. If you've got just a £1,000 to spend on a car, the last thing you want is be saddled with a bill for another grand (or more) to get it through its next MoT, which is why you'll find no mega-mile Range Rovers or S-Classes.
Just one note of caution: we've featured specific models for sale on driving.co.uk to make things easier for you but this does not mean we're endorsing them; only a thorough check and a test drive will tell you whether any of them is good enough for you, and worth the price. And while they were still available on driving.co.uk at the time of writing, they may have been sold in the interim — click the general search links to view other examples for sale.
The family car: 2002 Nissan Primera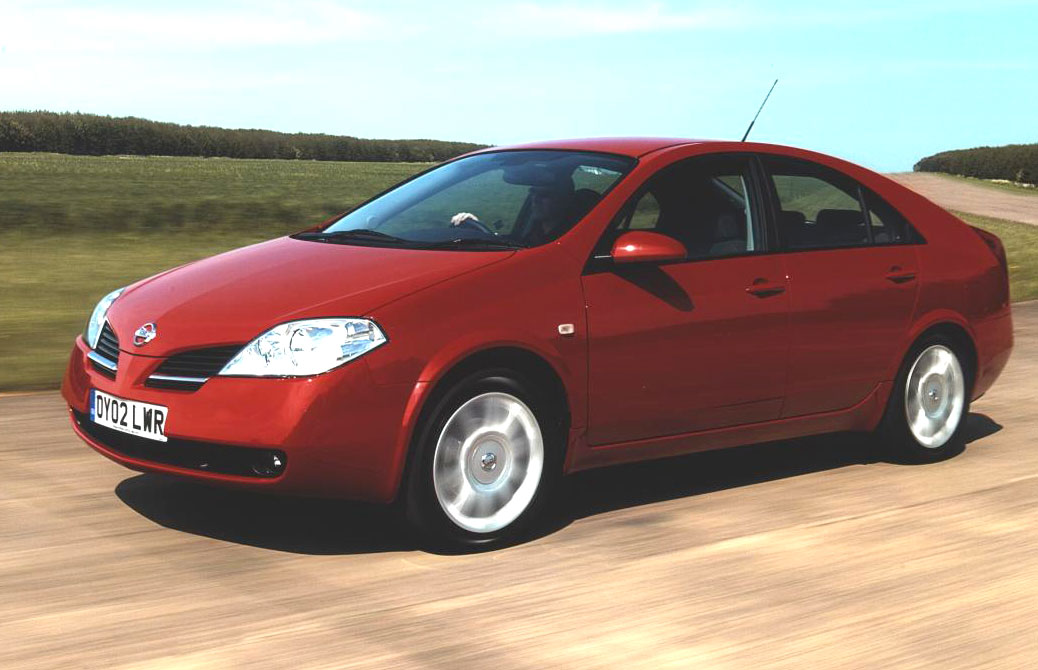 You may assume that anyone under 70 would hold no interest in driving this Eastbourne Express, but actually the Primera was always a rather under-rated car, even when new. Sure there's not much to excite serious petrolheads, but even for keen drivers the Primera has sharper handling than you'd expect if you stick with the petrol engines rather than the clattery 2.2-litre diesel.
The Primera also comes with a healthy dose of dependability, which counts for plenty at this end of the market. Secure a high-spec model such as an SVE and you'll get a decent array of luxuries such as a parking camera and DVD-based sat-nav, even if the maps are bound to be hopelessly out of date.
What £1,000 buys
Also consider
Some topless fun: 1999 Mazda MX-5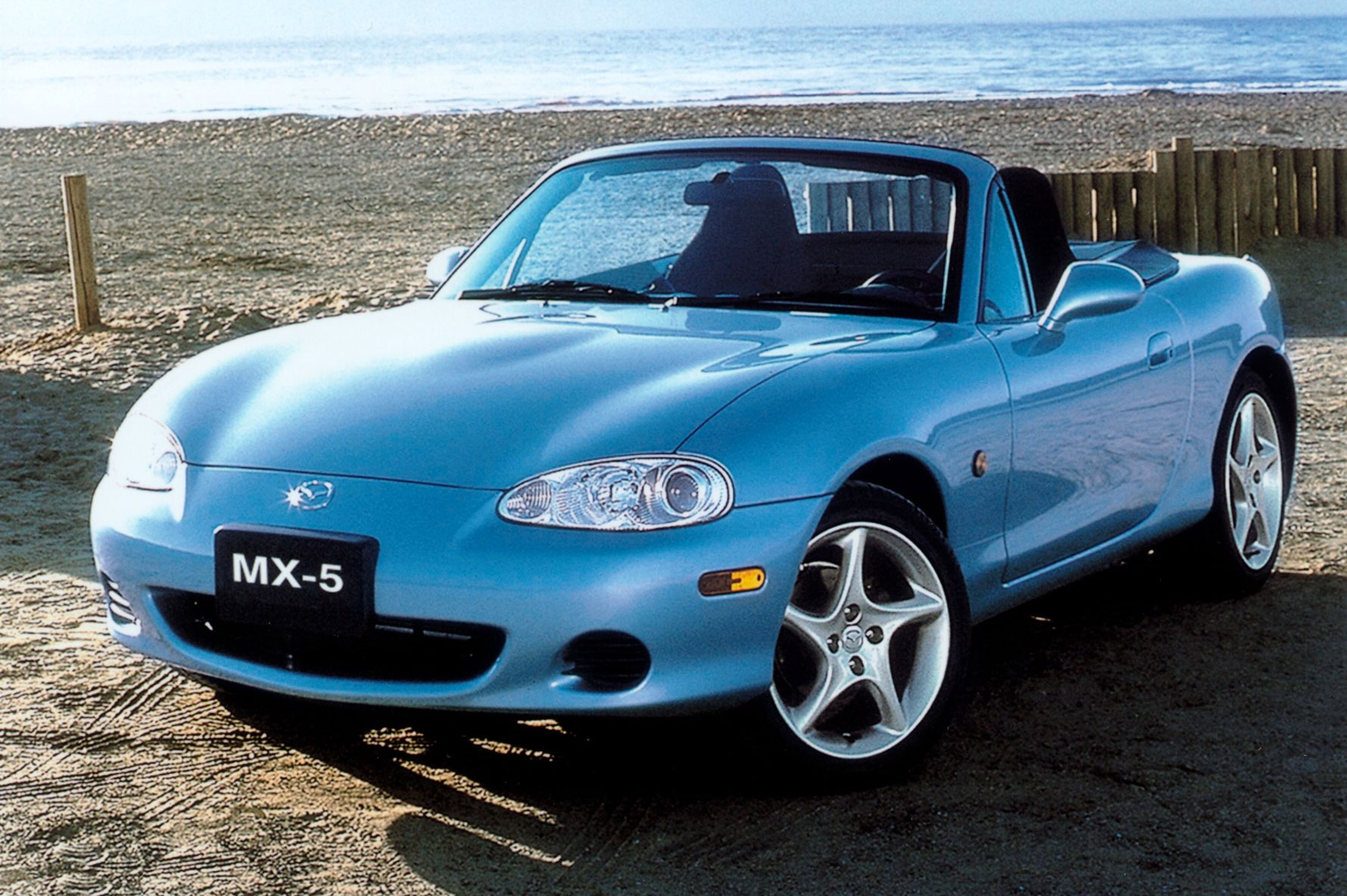 The Brits used to lead the world when it came to affordable roadsters but it took Mazda to reinvent the segment in the late 1980s when everybody else had pretty much abandoned it. The formula was simple: rear-wheel drive, minimal weight and perfect tactility for all of the controls.
Unfortunately the original MX-5 with the pop-up headlamps is now a bona fide classic so you'll be doing well to get a good one for £1,000 – but there are a few Mk2s about for this money. Whichever you go for be on the lookout for corrosion; a neglected MX-5 will be rustier than the Titanic which is why a lot of sub-£1,000 examples need hundreds of pounds-worth of welding.
What £1,000 buys
Also consider
The people-carrier: 2003 Vauxhall Zafira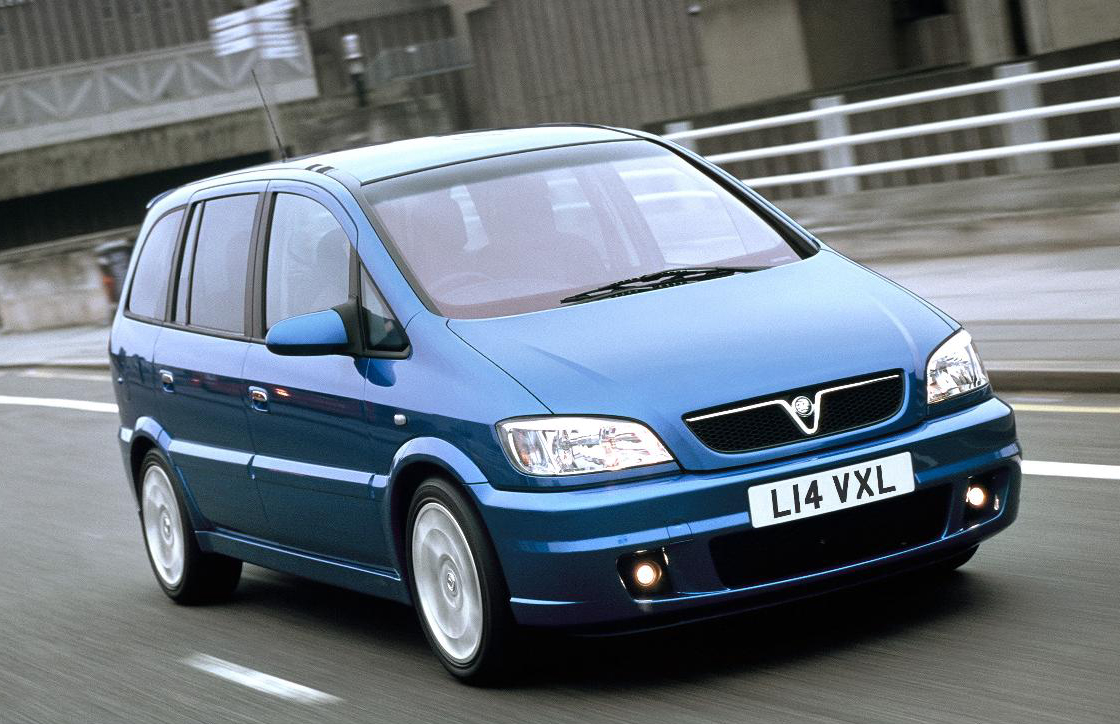 Renault invented the compact MPV with its Megane Scenic but it was Vauxhall that perfected the formula with its original Zafira and its ingenious Flex7 seating system. No longer did you have to heave out that third row of seats; instead they just folded flat into the floor.
We'd avoid the rattly 2.2-litre diesel engine and go for a 1.6 or 1.8-litre petrol unit instead. The smaller of these provides leisurely performance when seven-up but it's perfectly adequate, which pretty much sums up the Zafira really. Arguably the best thing about the original Zafira though is that unlike its successor, it doesn't spontaneously combust.
What £1,000 buys
Also consider
The small hatch: 2001 Honda Civic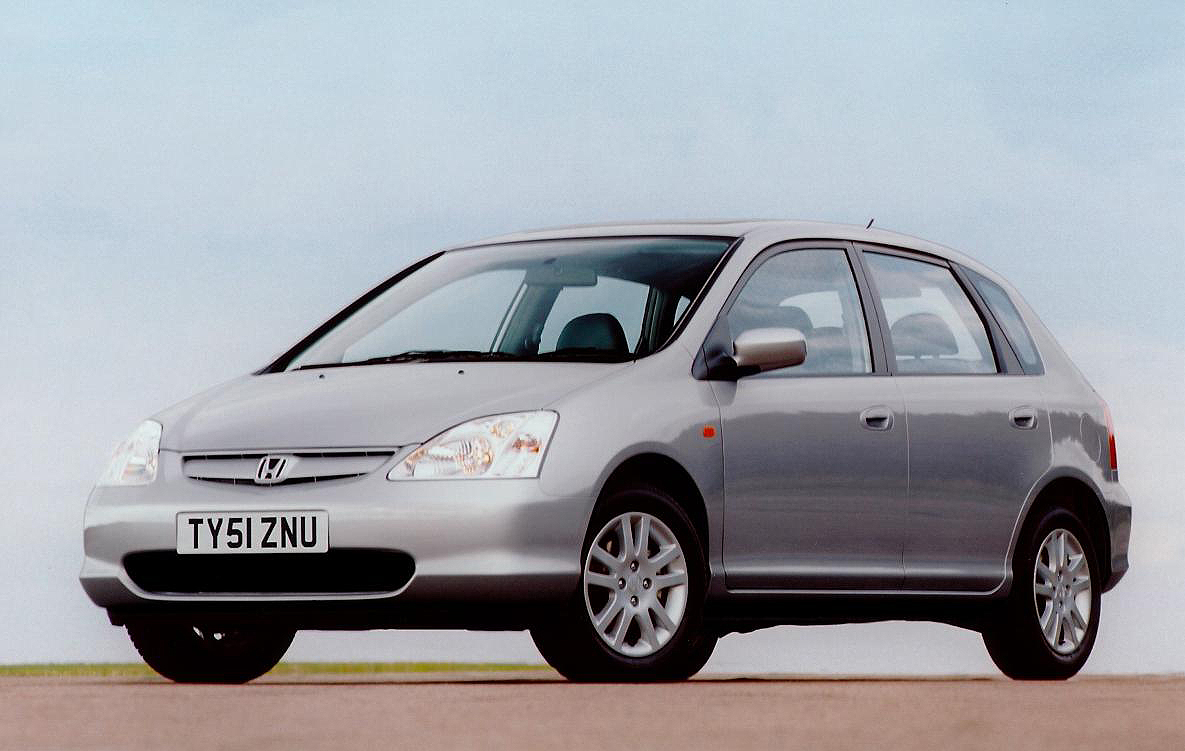 Most Hondas are as characterful as a washing machine, but they also offer unfailing reliability and resultant low running costs, which can make them hugely appealing. Nowhere is this more evident than with the Civic, which since the early 1970s has provided dependable transport for pensioners the world over.
It's this trait that makes the Civic so appealing; loads of these cars have been owned by octogenarians who rarely stray above 40mph and 2000rpm, guaranteeing a steady supply of factory-fresh examples. Meanwhile the sportier versions are popular with young drivers who thrash them at every opprtunity, so before buying a Civic, establish at which end of the spectrum the previous owner sat.
What £1,000 buys
Also consider
The load lugger: 1995 Volvo 850 estate
The thing about old Volvos is that they just keep going, even if at this level you might be acquiring something that's a bit crusty in places. On the verge of achieving classic status, the 850 was the first of the modern-era Volvos; it still looked like a brick with the edges vaguely sanded off, but the driving experience was bordering on the enjoyable.
You won't get one of the stupidly quick T5s or T5Rs for a grand but you will get a more prosaic variation on the theme, probably with a petrol engine. If you're lucky it'll be one of the 2.5-litre five-cylinder models – search hard enough and you could even get one of the unusual AWD editions with the added security of four-wheel drive. But at this level, probably not…
What £1k buys
Also consider
Something sporty: 2001 Toyota Celica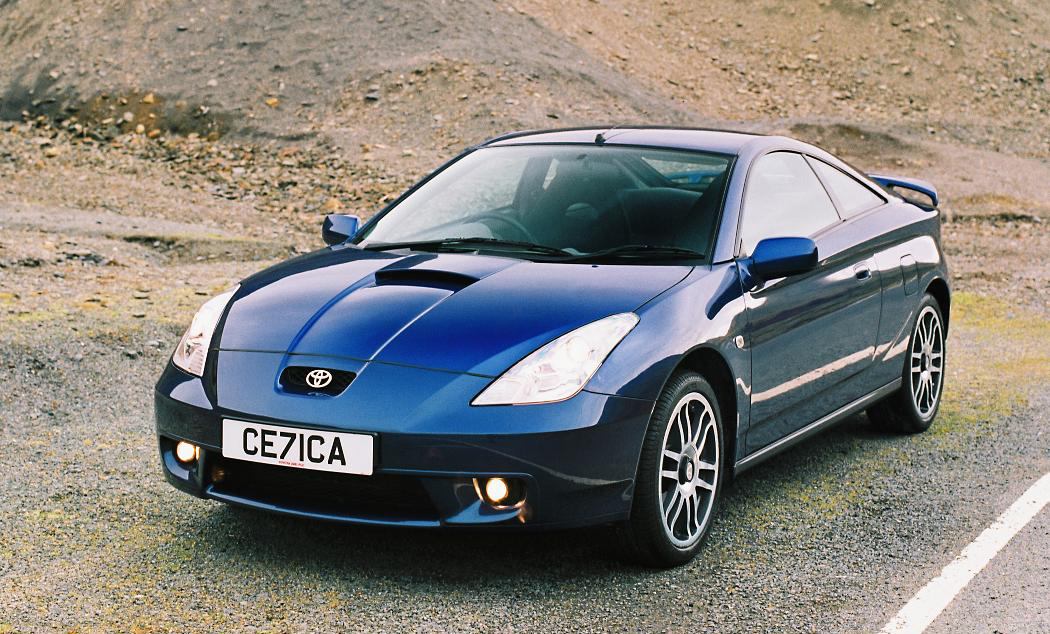 It always seems so unfair when cars like the Celica hit such low levels; good examples of neat-looking coupés such as this should always be worth more. But that's the free market for you; even if you've got just £1,000 to spend you can secure a Celica that's got loads of life left in it.
There are three generations of Celica within reach for £1,000, including the last of the line that was on sale between 1999 and 2006. Offered only with a 1.8-litre engine in 140bhp or 189bhp forms, reliability is excellent and equipment levels are generous. You have to rev the twin-cam four to get the best out of it, but that's no hardship because the closer you get to the redline, the better the Celica sounds.
What £1k buys
Also consider
---
Browse NEW or USED cars for sale on driving.co.uk
---