News: Jaguar XE will have F-type front suspension, trick rear-drive traction aid
Jaguar previews XE ahead of autumn launch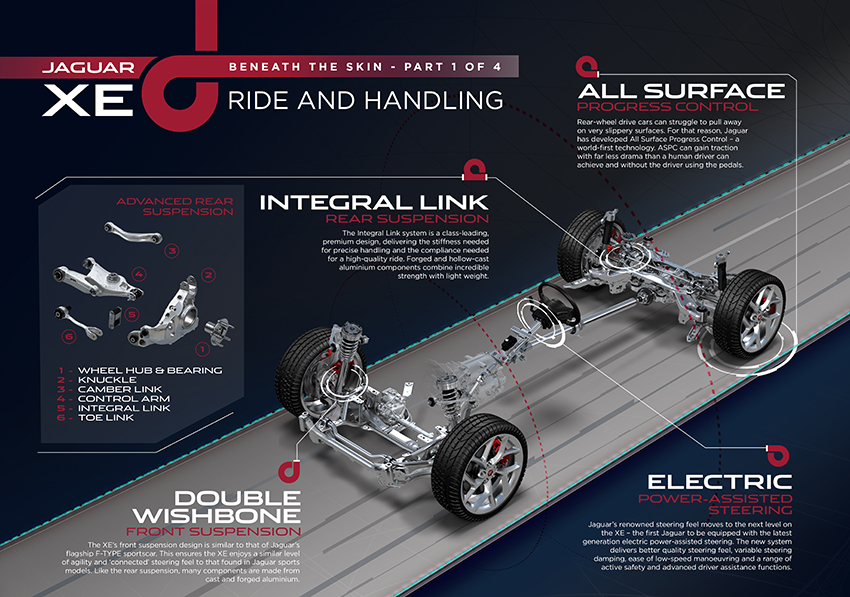 THE XE, Jaguar's new compact sports saloon, will target rivals with a package of advanced technologies intended to lay to rest memories of the ill-fated X-type.
Front suspension derived from the F-type and an electric power steering system that promises new levels of feel and response are among the highlights of a car that must measure up to established rivals, including the BMW 3-series and Mercedes C-class, if it is to succeed.
Jaguar is saving details of the new car's engine until closer to the model's September 8 unveiling, but from a presentation last week we know it will be powered by its new family of Ingenium engines, to be built in Wolverhampton.
Those at launch will probably be a choice of 2-litre, four-cylinder diesel and petrol bi-turbo units but the car maker says that a feature of Ingenium is its versatility, with additional cylinders also a possibility.
Meanwhile, beyond the new car's advanced aluminium structure, and sporty powertrain and suspension systems designed to take the fight to the Germans, the XE claims to have the solution for anyone whose rear-drive car has struggled for traction on ice and snow. All Surface Progress Control operates like low-speed cruise control in providing traction without skidding, and without the driver using the pedals.
Jaguar says it will reveal more details of the XE over the coming weeks in the run up to the new model's launch in London on September 8.
---
Click here to search for used Jaguar on driving.co.uk
---