Peugeot 108 review (2014-on)
Peugeot joins forces with Toyota and Citroën to produce a genuine VW Up! alternative

What is the Peugeot 108?
It's nice when teamwork pays off. For its latest city car, Peugeot has once again joined forces with sister company Citroën and their mutual friend Toyota, as it did with the model's predecessor, the 107. This time, though, we reckon the joint project has resulted in a greatly improved car. The all-new Peugeot 108 that, along with its sister models the Toyota Aygo and Citroën C1, went on sale in July 2014 really takes the fight to the class-leading VW Up! and Hyundai i10.
Buyers have four trim levels to choose from. The entry-level Access is available only with three doors but has a decent standard specification that includes LED daytime running lights, remote central locking and USB/aux connection with steering wheel-mounted controls. Prices start at £8,245, which is £350 cheaper than the Toyota Aygo, though it's worth noting that their specifications, and the Aygo's body shape, are quite different.
---
Search for and buy a used Peugeot on driving.co.uk
---
Active models add air-conditioning, height-adjustable driver's seat, and a 7in touch-screen infotainment system with DAB digital radio and Bluetooth. Opt for the Allure and you get 15in alloy wheels, electric heated door mirrors, reversing camera and a leather steering wheel.
The top-spec trim level is called Feline, which includes quality touches such as leather upholstery, chrome door handles and mirrors, and automatic dual-zone air-conditioning. However, these push prices up to at least £11,845, which is a lot to pay for a small car with such frivolities. The Active models start just shy of £10,000 and offer a better mix of value and specification.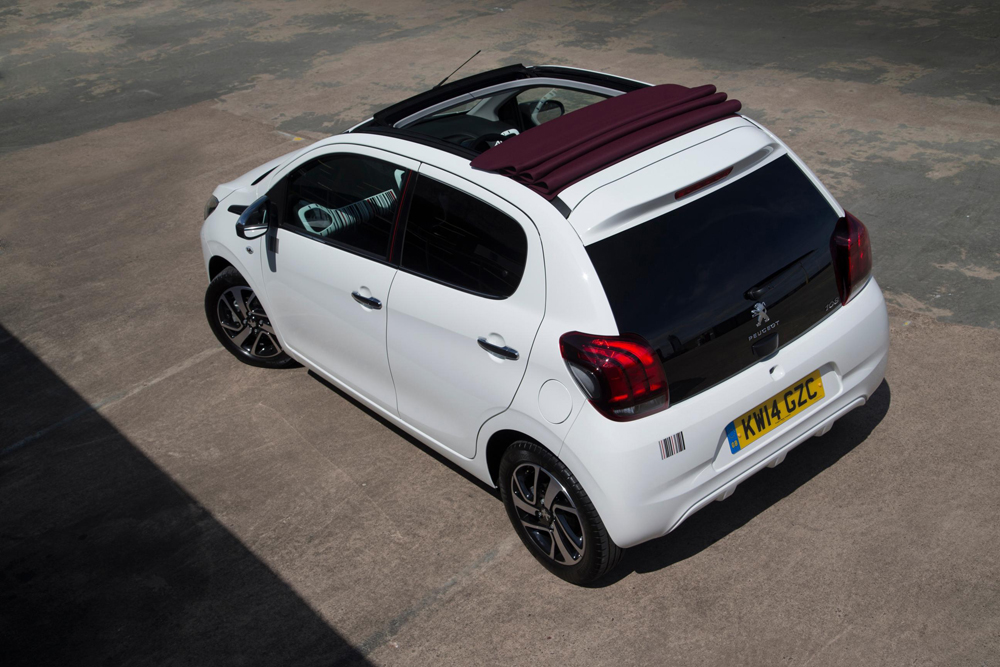 The 108 comes as the "Hatch" but there's also a version with a neat retractable fabric roof called the Top! Cabrio (the exclamation mark is surely proof that Peugeot is targeting potential VW Up! buyers) which is available in Active and Allure trim, and priced from £10,345. In truth, and rather confusingly, the Top! Cabrio is also a hatchback – the rear of the car is completely unchanged. Scroll down for our driving impressions of the Top! with the roof fully open.
Both the 108 Hatch and Top! come with a choice of two fuel-sipping three-cylinder petrol engines: a 1-litre producing 68bhp and 95g/km of CO2 (88g/km with Stop and Start), or a 1.2-litre PureTech VTi with an output of 82bhp and 99g/km of CO2.
The drive
There's a paradox with city cars: they have to contend with more road humps than most other types of cars, yet their short wheelbase (the distance between the centre of the front and rear wheels) means they're the least suited to bumpy surfaces. What you want is a nice long chassis to soak up road humps; what you get in a city car is one that feels like you're diving over a mini-mountain. However, some city cars deal with city roads better than others. The Peugeot 108 is one such. It isn't a chore to drive in the same way a Smart Fortwo is, for example, and it is equal to the VW Up! on the bump front.
Out on the open road, the 108 is equally impressive. There's a fair amount of body roll from the supple suspension but without the car ever feeling unstable. We had quite a lot of fun throwing it around; there's plenty of grip, while its light weight and sharp steering make it feel nimble. The ride is pretty decent, too. Despite the soft suspension, the well-tuned damping resists wallowing.
The 1.2-litre engine we tested was eager beyond its size – not powerful by most standards, but punchy and perfectly quick enough to keep up with the traffic in the city and on the motorways. We have also tested the 1-litre and found it adequate on power and easy on the fuel. That engine will return 55mpg plus in the real world, so running costs are very low.
Road and wind noise at speed is perfectly acceptable for this class of car, even in the Top! Cabrio, which we managed to open and close at motorway speeds. Roof open, buffeting and noise are within acceptable levels. Whether you go for the hard top or cabrio, long-distance cruising in the 108 isn't as irksome as reviews elsewhere may lead you to believe. Trust us: it's a decent all-rounder.
The interior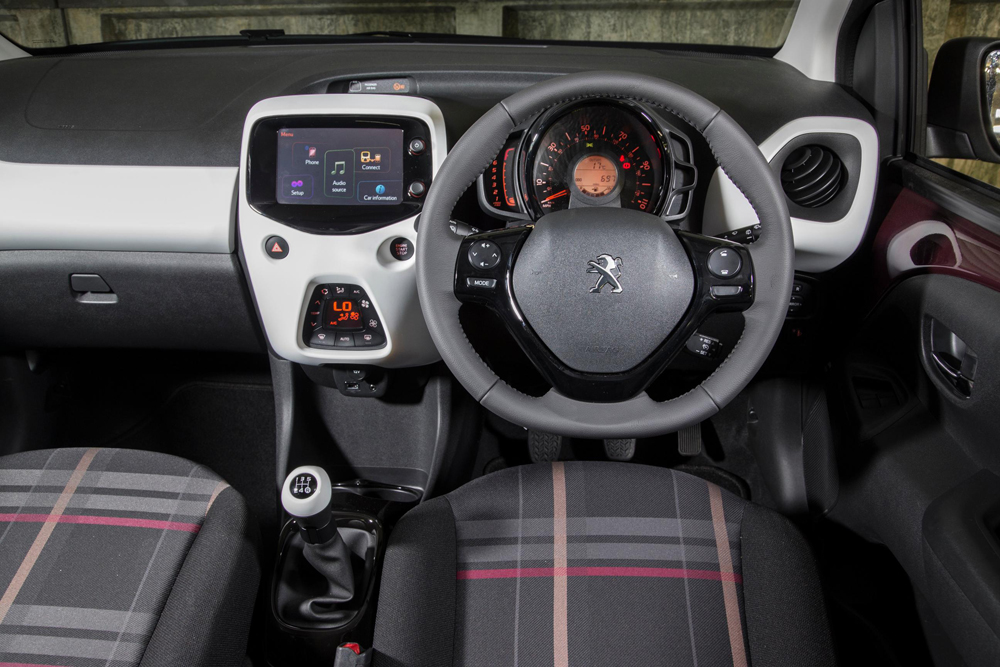 Currently, there's a trend towards minimalist interior design. Many car makers are de-cluttering their dashboards, for example; removing switches and knobs. Touch screens help enormously in this regard and if you get the 7in infotainment system with this car, the menus are clear and easy to navigate. Although some of the switchgear is made from cheap plastic, build quality is generally high.
Testers couldn't agree about the comfort of the seats, however. Interestingly, the tallest had the least problem, though adjustable lumbar support would have been appreciated. Space in the rear of the car  is tight, to say the least, and although there are ISOFIX mounts for child seats, the front seats would have to be slid quite far forward if you're planning to put a baby seat in the back. Meanwhile, though the 168-litre boot is small, one tester did manage to squeeze in a Bugaboo pushchair, albeit having almost stripped it down to its frame, and rebuilt it upon arrival.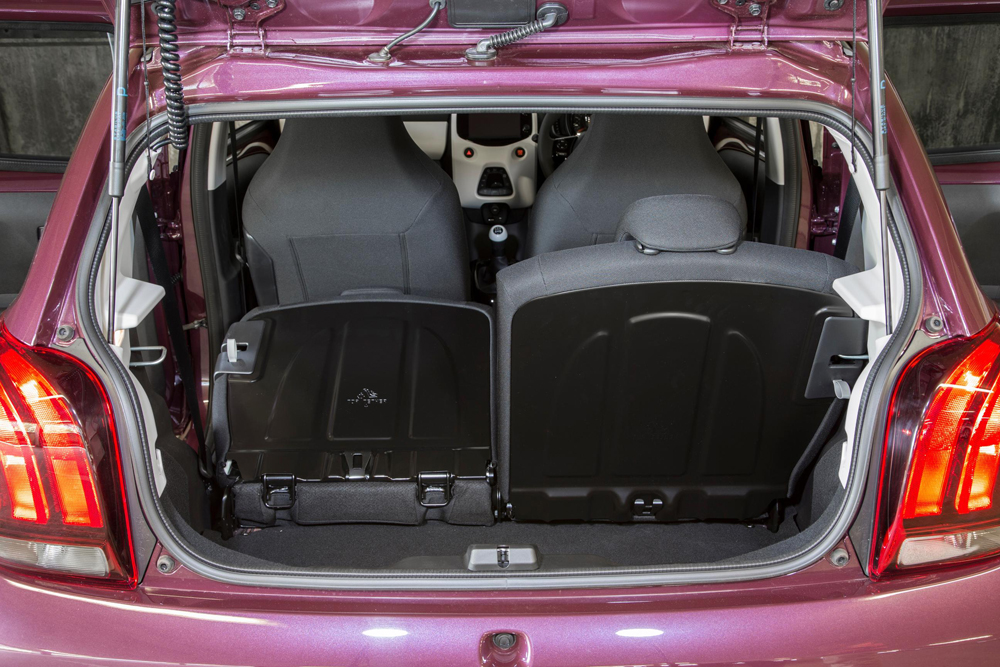 What to look out for when buying a used Peugeot 108
You won't find a used one at time of writing – it's too new.
The one to buy
Peugeot 108 Top Active 1.0 68 3dr
Specifications
Price: From £10,345 (correct at first publication)
Engine: 998cc, three-cylinder petrol turbocharged
Power: 68bhp @ 6000rpm
Torque: 71lb ft @ 4800rpm
Transmission: 5-speed manual
Acceleration: 0-62mph in 14.3sec
Top speed: 99mph
Fuel: 68.9mpg (combined)
CO2: 95g/km
Road tax band: A
Dimensions: L 3475mm, W 1615mm, H 1460mm
Peugeot 108 rivals
---
Search for and buy a used Peugeot on driving.co.uk
---