First drive review: BMW 218d Active Tourer SE (2014)
Apples, cereal, loo roll, canoe...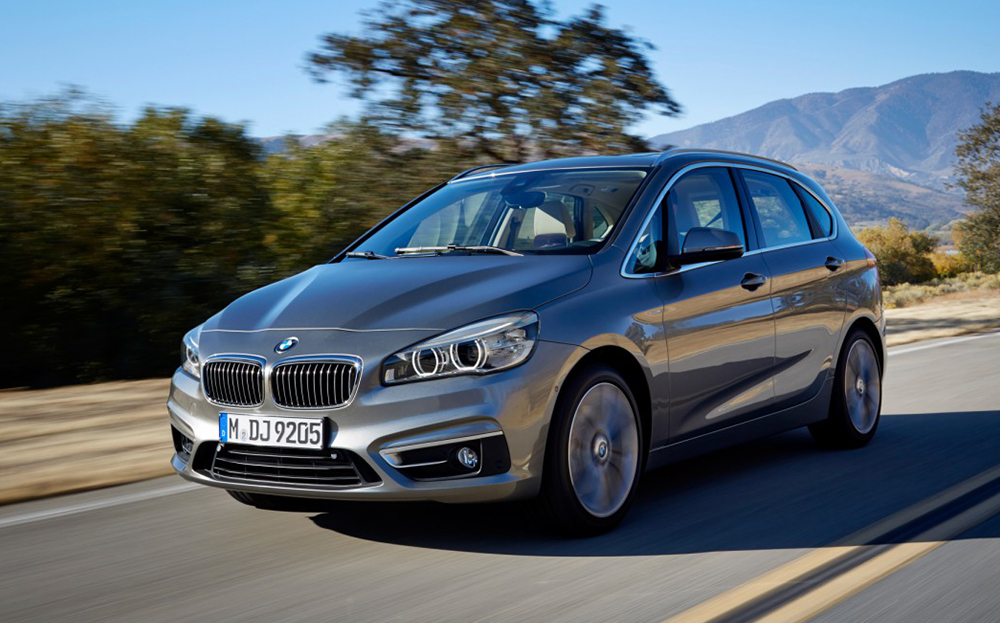 IT TAKES a certain amount of chutzpah to launch a car at an altitude of more than 8,500ft amid the highly competitive beauty of the Austrian Alps, and even more so to bring it swinging into view dangling from the wire of a cable car. Hats off to BMW for that at least.
Or rather hats on, because it was pretty cold up there. Sitting under blankets, members of the world's press watched as a box-fresh 2-series Active Tourer clanked rather unsteadily into the vast concrete hall of the midway base station on Gaislachkogl mountain, rocked to a halt and disgorged its contents — a pair of very pleased-looking BMW executives sporting robust outerwear.
Also welcomed to the stage was Stefan Glowacz, who was, I confess, a new name to me but is a leading German rock climber and adventurer, more frequently to be found clinging to something in Patagonia. At the age of 49, with rock musician's hair but very much not a rock musician's musculature, Glowacz has had hot dinners up more mountains than you've had hot dinners.
---
Click here to search for used BMW 2-series on driving.co.uk
---
He confided to the assembled company that he had unrolled his sleeping bag in the back of the 2-series Active Tourer to take its measure as a plausible overnight bivouac point. That's always the first thing I do too. The car passed the test, by the way. So get this down in your notebook: it's officially long enough for a German Alpinist to camp out in. At the same time, I would guess these guys are used to a bit of discomfort. It goes with the territory.
And the car at the heart of this overtly outdoorsy, macho display? Some kind of strongly intimidating, all-wheel-drive, ski-friendly, river-fording, hill-climbing sports wagon with snow chains pre-fitted, presumably.
Actually, no. A compact people carrier. More than that: a front-wheel-drive compact people carrier. The first front-wheel-drive car BMW has put its badge on. (And therefore, incidentally, no relation to the BMW 2-series coupé.)
Now here you may be reeling back from the page in astonishment. Let's leave aside the people carrier aspect for a moment. Doesn't BMW walk away from front-wheel drive with its nose in the air as an absolute point of principle? Doesn't it regard it with the lofty contempt that Michelin chefs have for ready meals?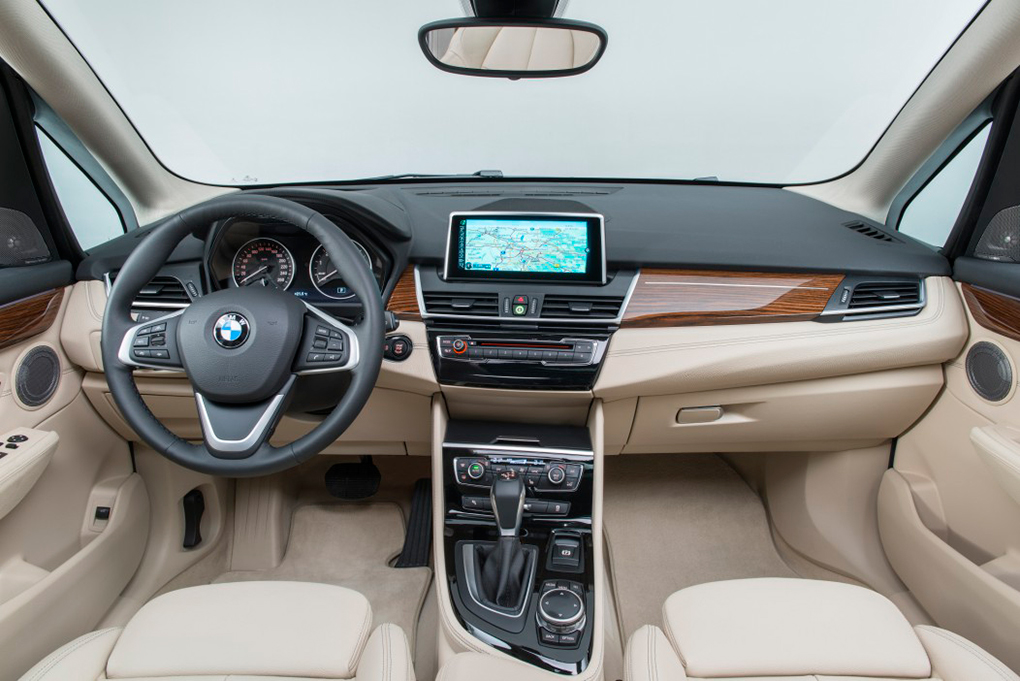 Don't the precision and the feedback and the fundamental, unalloyed sportiness on which BMW has built its reputation arise exactly from getting the back wheels to squirt the car forwards, as God intended, rather than getting the front wheels to tug it along? And should we not even now, at the very mention of this betrayal, be forming into angry mobs with lit torches and storming our local BMW dealership?
Look, don't come after me: I'm just the bearer of the news here — news, I should add, that I had to sit halfway up a freezing Austrian mountain to retrieve. The point is, the company has gone and done it. And, of course, BMW is new to the construction of front-wheel-drive cars only if you discount more than a decade of experience in this field in charge of Mini. So why now?
Do you really want a hair-trigger, knuckle-whitening Sport mode in a people carrier? You don't want to go upending the shopping — or losing a mountain bike.
Well, this car is born of market-driven pragmatism — a desire to fish for custom in one of our time's boom areas, the shrunk-down MPV, and to turn the heads of people who might have bought a cheap-and-cheerful Ford B-Max or a more expensive S-Max. Hence the cable car and the mountaineer's endorsement and the need to send ringing through the Alpine air like cowbells the repeated refrain: "This is a typical BMW." No sellout or abandonment of core values here.
It certainly looks like a typical BMW. From the front, with its recognisable kidney-shaped grille, and from the back, with its groovy, striped brake lights, this car could have been built by only one manufacturer. From the side . . . Well, blandness in this area is the curse of the people carrier genre wherever you find it, but even here the 2-series benefits from artful BMW sculpting, with a deep, low scoop and a thickly pinched crimp at the level of the door handles.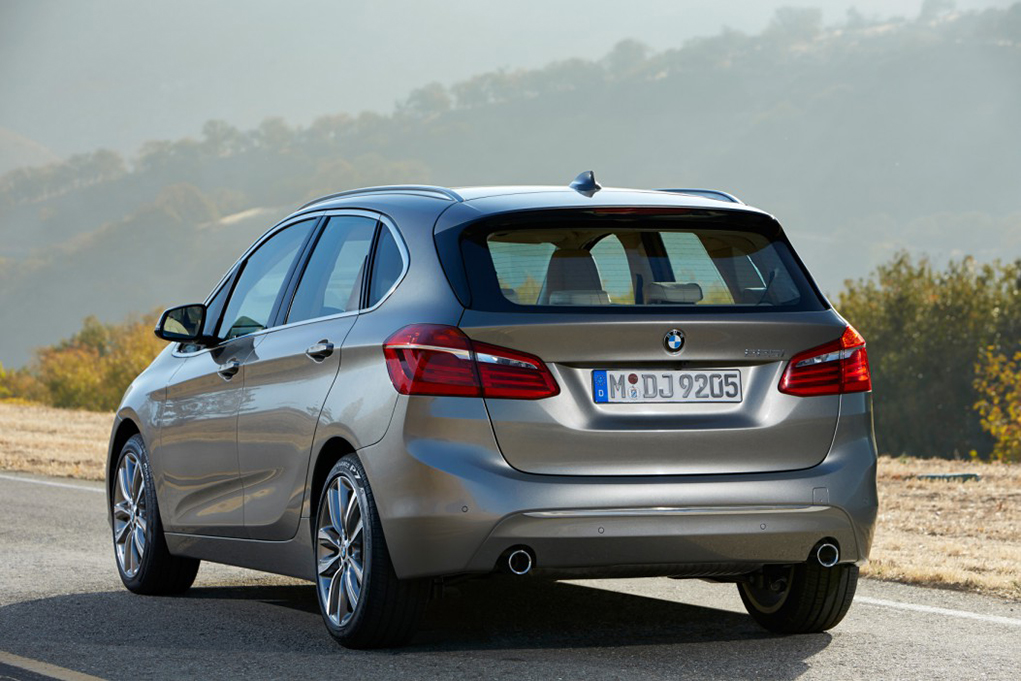 The Active in the car's name seems to refer mostly to you. Boy, is the Active driver going to be active: white-water rafting, mountain biking, potholing — you name it. Within the terms of BMW's slightly overcompensatory imaginings, there's barely a weekend goes by that the active owner of an Active Tourer won't be manfully racking something onto the back of it or binding a canoe to its roof.
Not much space is given in the accompanying literature and its suggestive photography for dropping the kids at school and going on to Sainsbury's, though you'll be doing that too, presumably. Even Glowacz must shop for groceries sometimes.
The 2-series Active Tourer gets my vote and my canoe. Heck, I would probably even sleep in it if I really had to.
Either way, your life will be made easier by a low boot sill, a good square boot and a sliding rear seat. And the boot comes with that smart remote opening device whereby you can stagger up to the car with your arms full of shopping — or canoes or whatever — and trigger the catch by waggling your foot underneath the rear bumper.
I took it for a drive through the mountains, trying not to be entirely absorbed by the scenery and occasionally succeeding. I had the diesel-powered 218d, which probably most people will buy, and the six-speed manual gearbox. I gamely toggled between the three driving modes, noticing a frugal restraint entering the throttling in Eco Pro, and noticing almost no difference at all, if I'm being frank, between the Comfort and Sport settings. Do you really want a hair-trigger, knuckle-whitening Sport mode in a people carrier? You don't want to go upending the shopping — or losing a mountain bike.
I came down from the mountain a converted man, then. The 2-series Active Tourer gets my vote and my canoe. Heck, I would probably even sleep in it if I really had to. But there are an awful lot of BMW fans, way more hardcore than me, who have yet to unroll their sleeping bags in the back of this one and take a view.
Verdict ★★★★☆
BMW storms into new territory
BMW 218d Active Tourer SE
Engine: 1995cc, 4 cylinders
Power:  148bhp @ 4000rpm
Torque: 243 lb ft @ 1750rpm
Transmission: 6-speed manual
Acceleration: 0-62mph in 8.9sec
Top speed: 127mph
Fuel:  68.9mpg (combined)
CO2: 109g/km
Vehicle tax band: B
Price: £24,205
Release date: On sale now
---
Click here to search for used BMW 2-series on driving.co.uk
---
The rivals
Ford S-Max 2.0 TDCI Zetec, £24,095
For Good handling; seven-seat cabin is more versatile than the BMW's interior
Against Will be replaced next year
---
Search for and buy a used Ford S-Max on driving.co.uk
---
Mercedes-Benz GLA 200 CDI SE, £25,850
For Stylish; comfortable to drive; well-made interior
Against Not terribly practical; pricy
---
Search for and buy a used Mercedes-Benz GLA on driving.co.uk
---