Dacia Duster review (2013-on)
Buying a second-hand 4x4 for £14,000? You could have a new car...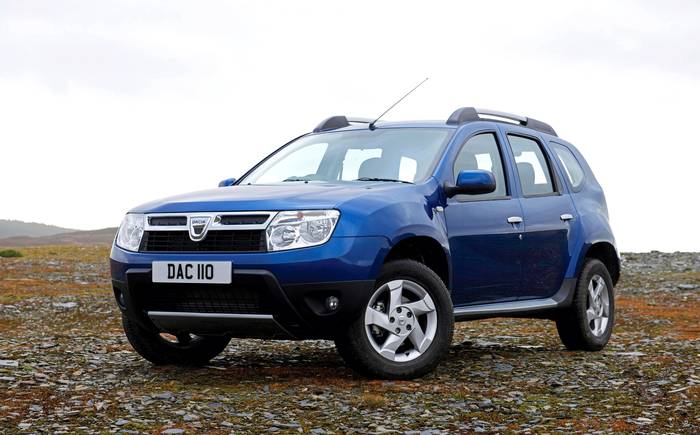 What is the Dacia Duster?
It's a bargain, that's what it is. The Romanian Dacia brand sells affordable cars that are free of frills, and the Duster is its sensibly-priced 4×4/soft-roader/SUV – call it what you will. In essence, it is a basic and cut-price alternative to the Nissan Qashqai or a rival (on price if not size) to cars such as the Fiat Panda 4×4.
For many, it represents the opportunity to buy a new car instead of a used car. That means you benefit from being the first owner and are protected by a three-year manufacturer warranty. The pricing ranges from £9,320 for the bare-bones Access 1.6 petrol 4×2 version, which is two-wheel drive and only comes with necessities, up to £15,370 for the poshest Laureate 1.5 diesel 4×4. For those sensible sorts who simply want the cheapest four-wheel drive in the range, the Access 1.6 petrol 4×4 is astonishing good value, at just £11,160. If you prefer diesel power, then all-wheel drive starts at £13,870 (Ambiance).
The Duster is slightly shorter but otherwise the same size as a Nissan Qashqai or Hyundai iX35. Yet even the most expensive four-wheel-drive diesel version is several thousand pounds cheaper than the Nissan, and nearly two thousand less than the Hyundai.
We like the way it looks, all compact and squat and, dare we say it, muscular. That's ironic, given the Duster has no pretentions whatsoever toward performance. But hey, it's nice to know you don't need to wear a paper bag over your head to drive one.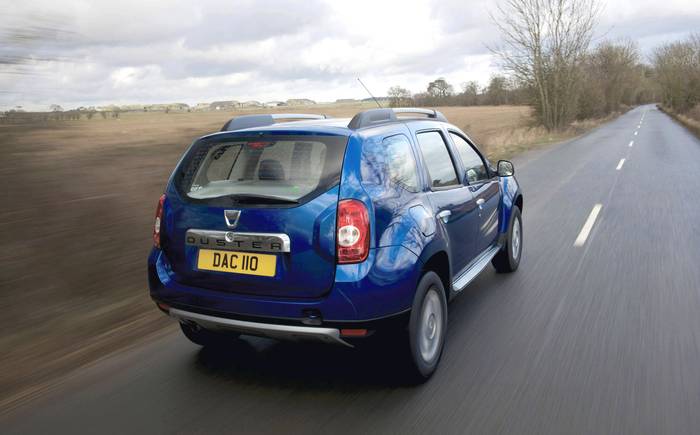 The drive
If you like nothing more than a bit of manual labour, and would rather be pottering in a shed than playing an Xbox, the Duster's driving experience has got your name on it.
Forget about automated parking control, active cruise control, lane keep assist, pedestrian detection, magic ride control, night vision camera technology and any other gadgetry you may have recently heard about ‒ the Duster hasn't any of them.
Instead, it offers three pedals, a steering wheel and a gearchange, and that's it. It's a bit like driving a car from about 15 years ago. In our case, we got a little excited because the 1.5-litre dCi engine's gearbox has six speeds, and there is a selectable two- and four-wheel drive dial on the dashboard when you choose a 4×4. But other than that, it's basic, though importantly, good. There's excellent visibility, so you park it by looking over your shoulder and using the mirrors. Remember that?
The engine is a bit vocal, especially from cold start-up and above 70mph, and at times, at low revs in first or second gear, it sounded as if a heat shield was rattling somewhere down below. First gear is super-short, to help with driving off-road but it pulls enthusiastically from 1,500rpm and returned around 42mpg during its time on test. Dacia claims it will average 53.3mpg, but you'd have to tread lightly given how short the gearing is during motorway use. The gearchange is notchy and the brakes never inspire complete confidence, but you learn to live with these gripes.
Leave the all-wheel drive system in Auto and it will decide which driving mode best suits the conditions, so on the road it's mostly front-wheel drive. But you can lock it to 2WD only, or head off into the rough stuff by locking it to 4WD. We tried it on muddy farm tracks and wet fields and it didn't falter, hardly surprising given it is fitted with mud and snow tyres as standard.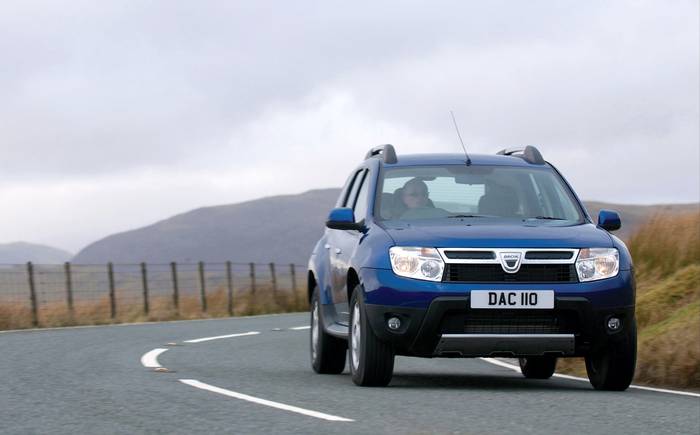 On the road, the suspension gives a relatively calm ride and the Duster doesn't lean as much in corners as you might expect. It's competent, relaxing and comfortable. Thrash it through a corner and as the tyres' grip runs out, you can lift off the throttle and it tightens its line neatly.
---
Search for and buy a used Dacia Duster
---
 The interior
Even though our test car was the top-spec Laureate, the Duster felt cheap but, importantly, cheerful. It seems built to last, and because none of the fixtures or fittings feels expensive, there's a feeling of it being a wipe-clean car that an owner or family wouldn't be precious over.
The driving position is let down by a lack of reach adjustment for the steering wheel, and the fact that the seat doesn't drop low enough or have any lumbar adjustment. But the cabin is spacious and behind the driver there's enough room for another six-footer.
As for the boot, it's a good square size and when the seat backs are lowered they lie flush with the floor, so there's no need to wrestle with the seat bases. The four-wheel drive model has a 408-litre carrying capacity, whereas the 4×2 comes with 475-litres as its floor is lower.
Don't expect to be spoiled with gadgets and technology. In Laureate trim the Duster is a bare-essentials type of car with electric front windows, manual air conditioning, heated and electric wing mirrors and a gear-shift indicator. However, this trim makes one concession to the modern age: it comes with a trip computer and Bluetooth, which allows for hands-free calls and streaming music from a smartphone.
Safety items include front airbags, side airbags for front seat occupants, and traction and stability control. There's also and anti-lock brakes with an emergency brake assistance mode which boosts braking to maximum power if the driver suddenly, and forcefully, applies the brakes.
The one to buy
Dacia Duster Ambiance 1.5 dCi 4×4
Specifications
Price:

£13,870

Engine:

1461cc, 4-cylinder turbodiesel

Power:

107bhp @ 4000rpm

Torque:

177lb ft @ 1750rpm

Transmission:

6-speed manual

Acceleration:

0-62mph in 12.5sec

Top speed:

104mph

Fuel:

53.3mpg (combined)

CO2:

135g/km

Road tax band:

E

Dimensions:

L 4315mm, W 1822mm, H 1695mm
Dacia Duster rivals