Black Friday tool deals 2022: what to expect
Savings we've spied on spanners, sockets and screwdrivers
---
Published 23 November 2021
TINKERING with cars isn't the cheapest of hobbies but grabbing Black Friday tool deals can make it considerably more affordable and come November, retailers often discount sets by hundreds of pounds.
It can be a great time of year either to grab a set if you're getting more serious about making alterations to your car, or if you're looking for a Christmas or birthday present for a friend or family member who spends more time on the floor of their garage then they do anywhere else.
With all the banners, countdowns and emails, online shopping on Black Friday can often feel a bit overwhelming, so we've made this guide to the best Black Friday tool deals to make the ordeal a little easier.
When is Black Friday 2021?
Black Friday is a well-established retail tradition in the US, but less so in the UK. It falls on the day after Thanksgiving, which is on the fourth Thursday in November. That means that this year, Black Friday is November 25.
However, many retailers start their Black Friday sales well before the end of November — you should keep an eye on your favourite sites from the start of the month and keep in your mind's eye the products you want to add to your basket well before.
When is Cyber Monday?
Due to the fact that it's an online-only event Cyber Monday isn't as well known as Black Friday, but the deals you can find are often better as sales come to an end. It's on the Monday after Black Friday — this year, that's November 28.
While you can often find better deals on Cyber Monday than you can on Black Friday as retailers try to shift their stock, waiting until Cyber Monday can be risky, as things that go on sale on Black Friday are unlikely to be restocked once sold out. So if you know that the toolkit you want could be in high demand this November, you might want to pull the trigger sooner rather than later.
Do tools go on sale for Black Friday?
Yes, a number of retailers are likely to hold sales on tools and toolkits this Black Friday. These will include specialist automotive retailers such as Halfords and MachineMart, as well as less specific online Marketplaces like Amazon and eBay.
Last year's Black Friday tool deals
Last year there were number of great deals on tools, with discounts offered on everything from individual spanners and wrenches to 175 pc kits and even jack stands and work benches.
Here were the best deals we found.
Amazon
Unsurprisingly, online retail behemoth Amazon offered a range of great deals, discounting power tools, hand tools and accessories by as much as 40%.
The brands in the sale included household names such as Bosch and Dremel, and there were also great deals on Amazon's house labels.
B&Q
B&Q's domain name is literally diy.com, illustrating the emphasis the retailer puts on its selection of tools. Last Black Friday saw it offer plenty of deals across its site, including £30 off a DeWalt Drill usually worth £105.
My Tool Shed
My Tool Shed began its sale two weeks early, leaving extra time for tinkerers to find bargains on power tools and tool sets.
Some of the discounts were huge, but the largest are definitely on Makita – there was more than 60% off a 227Pc socket and screwdriver set, and a staggering 76% off a drywall screwdriver.
Halfords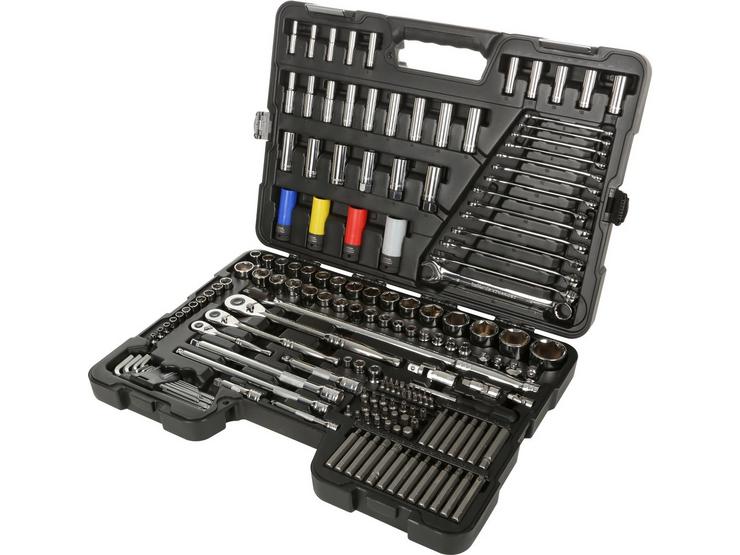 Halfords tends to heavily discount its own-brand items when Black Friday rolls around, which includes deals on its range of toolsets. One of the most heavily reduced items on Halford's site was the 175-piece advanced socket and spanner set above, which was taken from an eye-widening £255 to just £150.
Which retailers will have the best Black Friday tool deals in 2021?
There's a multitude of options for savvy tinkerers come Black Friday but Amazon has a huge selection of great deals — even if they are often gone in the blink of an eye.
If you're looking for a more leisurely shopping experience, then we'd head to My Tool Shed — it usually starts its sales two weeks early, allowing you plenty of time to browse the bargains, and some of the discounts are staggering.
Is Black Friday a good time to buy tools?
Sometimes, if a tool breaks and you need it urgently, then you've got no choice but to bite the bullet and replace it at full price.
However, if you're looking to upgrade a power tool or diversify the selection you have when you open your toolbox, then Black Friday is a great time to buy — there's a huge selection of retailers offering a long list of deals.
Which is the best tool kit to buy?
According to The Independent, which did a hands-on test of tool kits recently, the best tool kit to buy right now is the Vonhaus 256pc tool and socket set. The publication rated the fact that you get a diverse selection of tools for a reasonable price, and that they're stored in a hardy plastic case. However, they're not recommended for intense work — it's a set suited to all-rounders who need a deep well of tools to choose from.
It's not clear whether or not the kit will go on sale on Black Friday. However, it is available on Amazon, which offers wide-spanning and generous deals come November, so we've got our fingers crossed.
Should I wait until Black Friday to buy tools?
If you need a certain tool urgently for a project you're working on, then you might decide that it's not worth waiting until Black Friday to buy it — it all depends on your level of patience.
However, it's now only a few weeks away; if you can hold out, we'd say that the discounts offered across various retailers make it worth the wait.
This article features products that have been chosen independently by Driving.co.uk staff. We may earn revenue if you click the links and buy the products.
Tweet to @ST_Driving Follow @ST_Driving
Read more
Latest articles