The best motoring gifts for Christmas 2018
Not just for petrolheads: books, tech, toys and more feature in our list of car-related presents
---
Published 23 November 2018
LOOKING FOR Christmas gift ideas? Driving.co.uk has you covered, whether you're shopping for petrolheads or not.
Our hand-picked gift and stocking-filler ideas are motoring-related, but with tech, toys, gadgets, games and more, there's something here for everyone.
To make browsing even easier, we've broken down our list into categories. If you're after a particular type of Christmas gift, click on the links and you'll be taken straight to the relevant section.
---
Books, Blu-rays and DVDs
Bullitt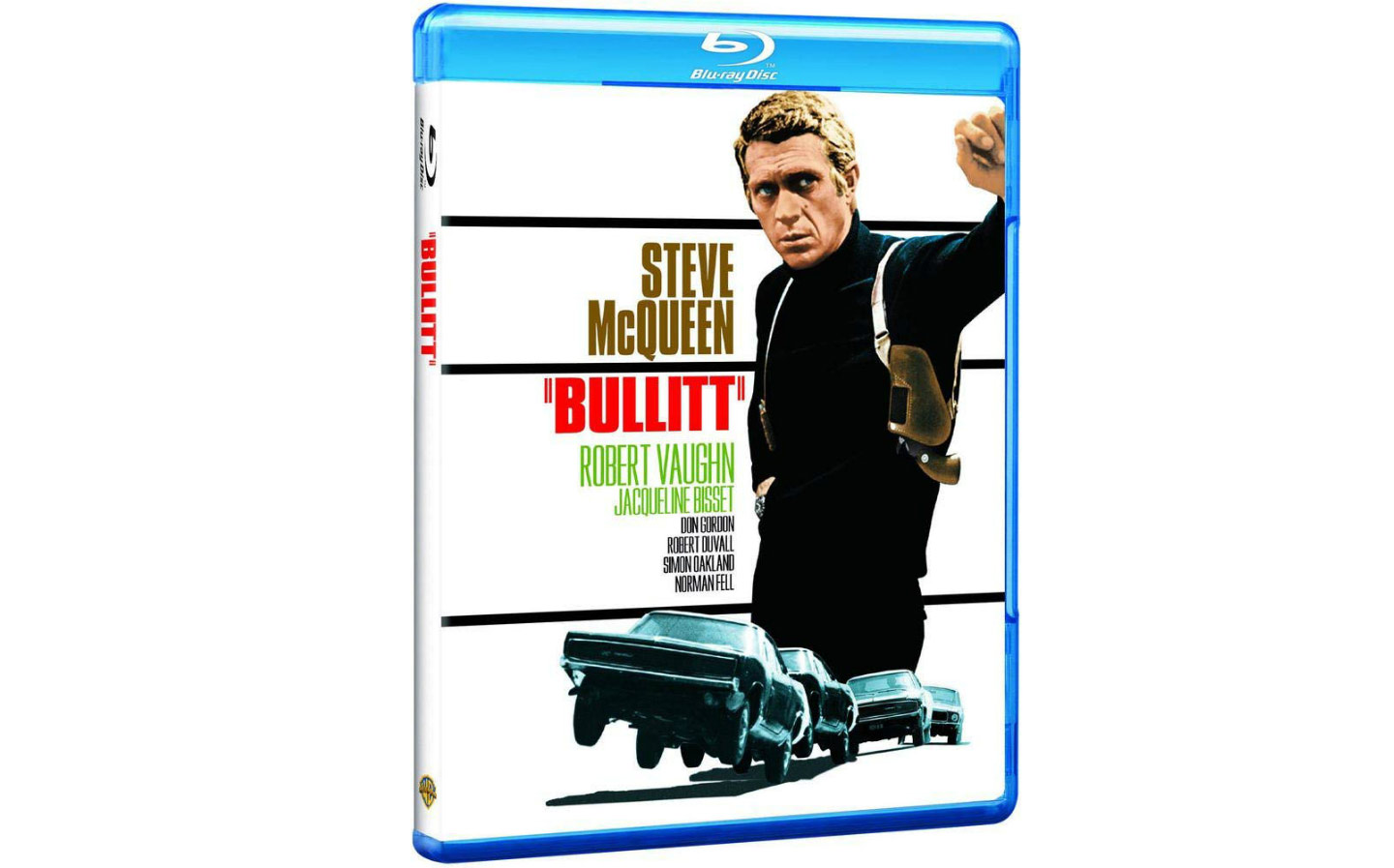 Warner Bros. may have held back on releasing a 50th anniversary Bullitt edition, but that doesn't mean you can't put the flick on your Christmas wishlist. Perhaps best known for its iconic car chase (which helped the film secure an Oscar for Best Editing, in 1969), Bullitt is also a captivating crime drama in its own right, and a must-own for any self-professed Steve McQueen fan.
Age 15
Price £4.97 (DVD); £7.14 (Blu-ray)
Buy it at Amazon.co.uk
Top Gear Winter Blunderland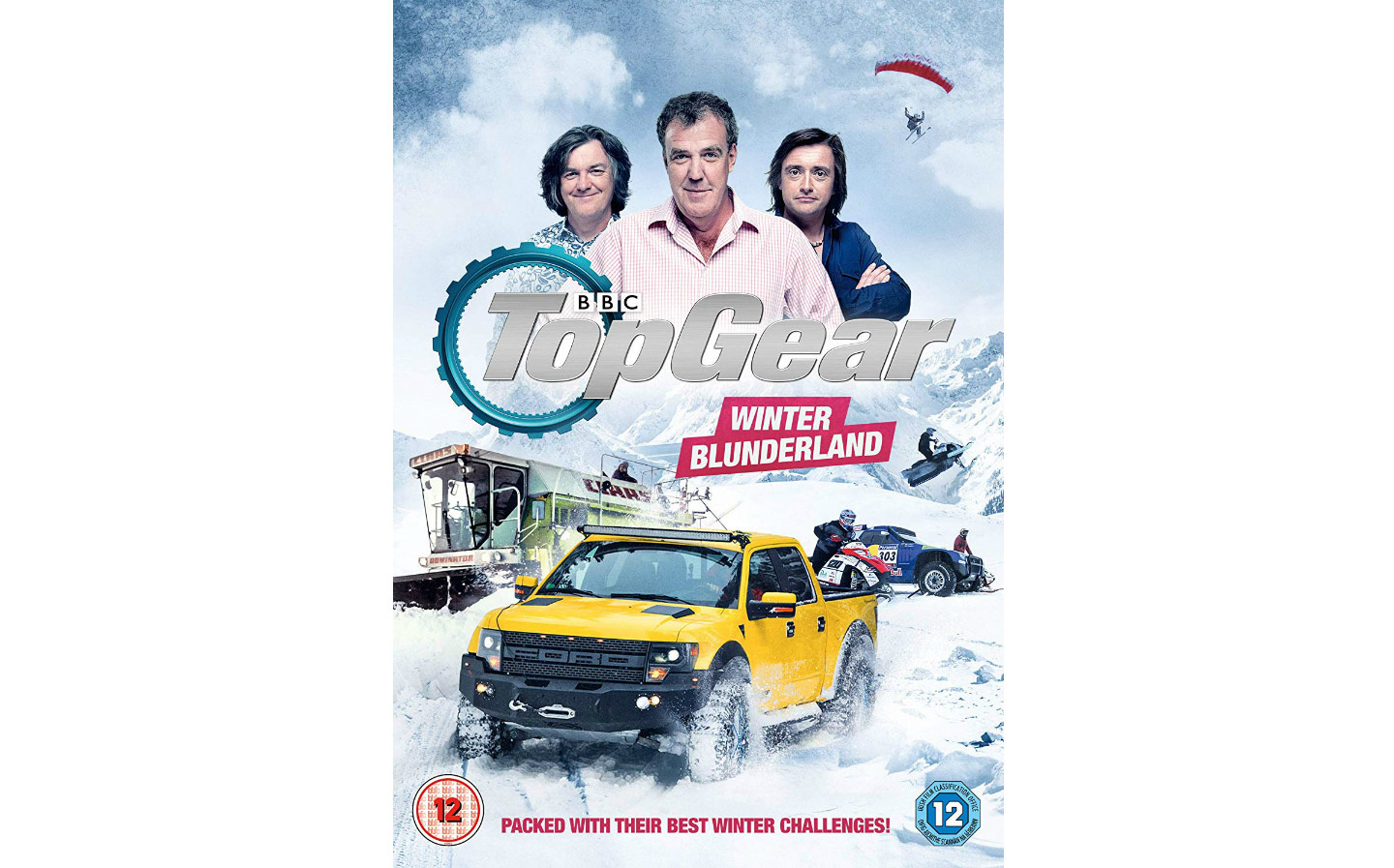 Though Clarkson, Hammond and May have put the Top Gear behind them, the BBC is still keen to have them star in new DVD releases. In its Christmas 2018 'Winter Blunderland' offering, the Beeb has brought together for the first time some of the trio's best snowy shenanigans, with the 127-minutes compilation including sequences from the Winter Olympics special and other antics, such as driving a Toyota Hilux up an active volcano. Next Christmas: Chris Evans' Greatest Top Gear Moments (no jokes about a short running time, please).
Haynes Bugatti Type 35 Owner's Workshop Manual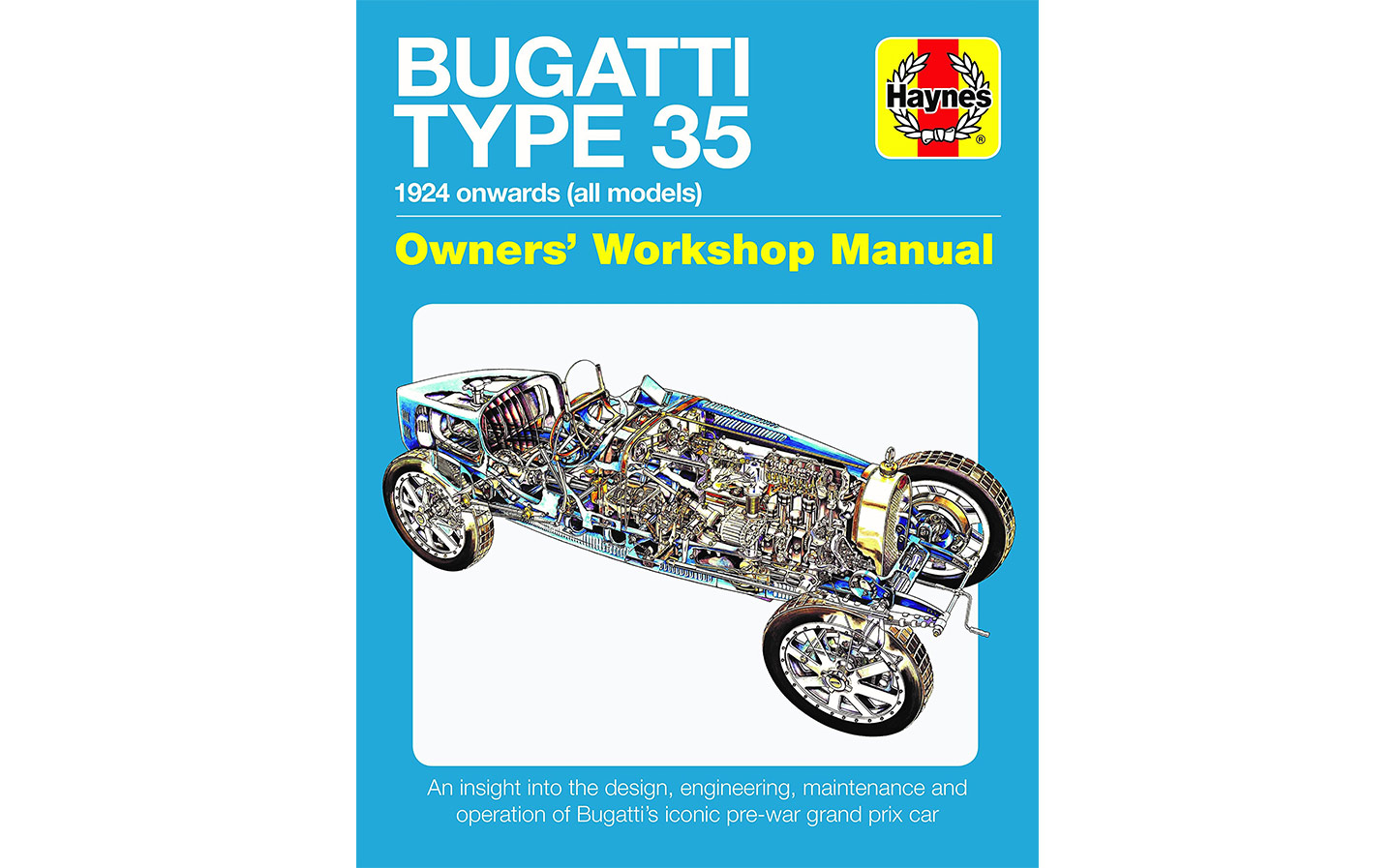 The Bugatti brand celebrates its 110th anniversary in 2019, so this new 'Workshop Manual' is a well-timed release for fans of the French car maker. Better still, the Haynes guide details arguably the firm's most revered model, the Type 35 pre-war grand prix racer, with insights from the men and women who compete in and maintain these wonderful cars.
Haynes is on a bit of a roll at the moment, in fact, with plenty of coffee table-style books for general car enthusiasts; this Ferrari Engines book (currently £26.25) being a recent, fine example.
How To Be A Motoring Journalist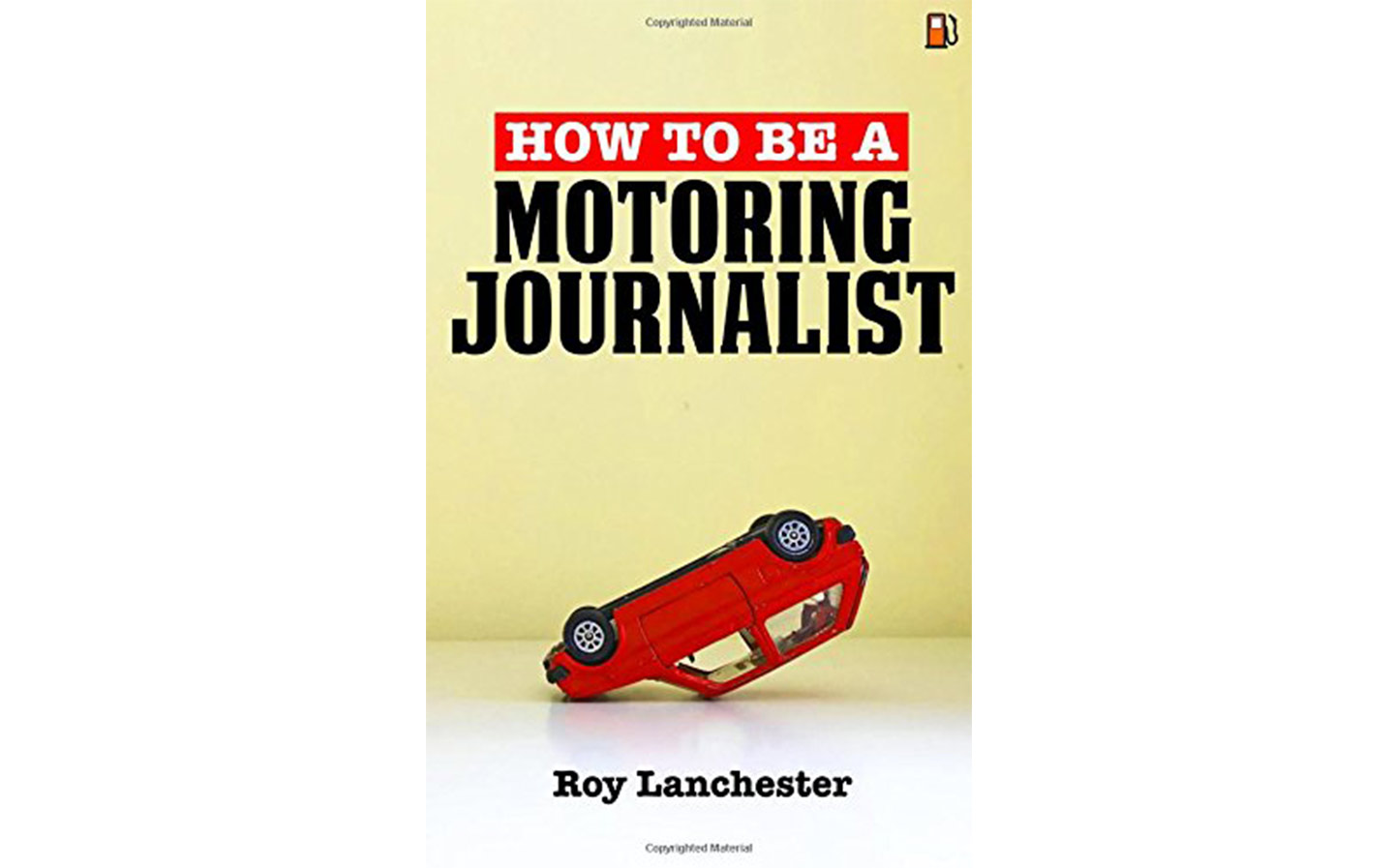 The antithesis to the Guild of Motoring Writers' genuine guide for aspiring car journalists, How To Be A Motoring Journalist charts the 'career' of Roy Lanchester – a fictional writer who spends as much time taking advantage of expenses-paid bar tabs as he does driving press cars. The brainchild of the Grand Tour script editor Richard Porter, it's a hilarious read, and will make a great stocking filler for car fans this Christmas.
The good, the mad and the ugly … not to mention Jeremy Clarkson: The golden years of motoring journalism?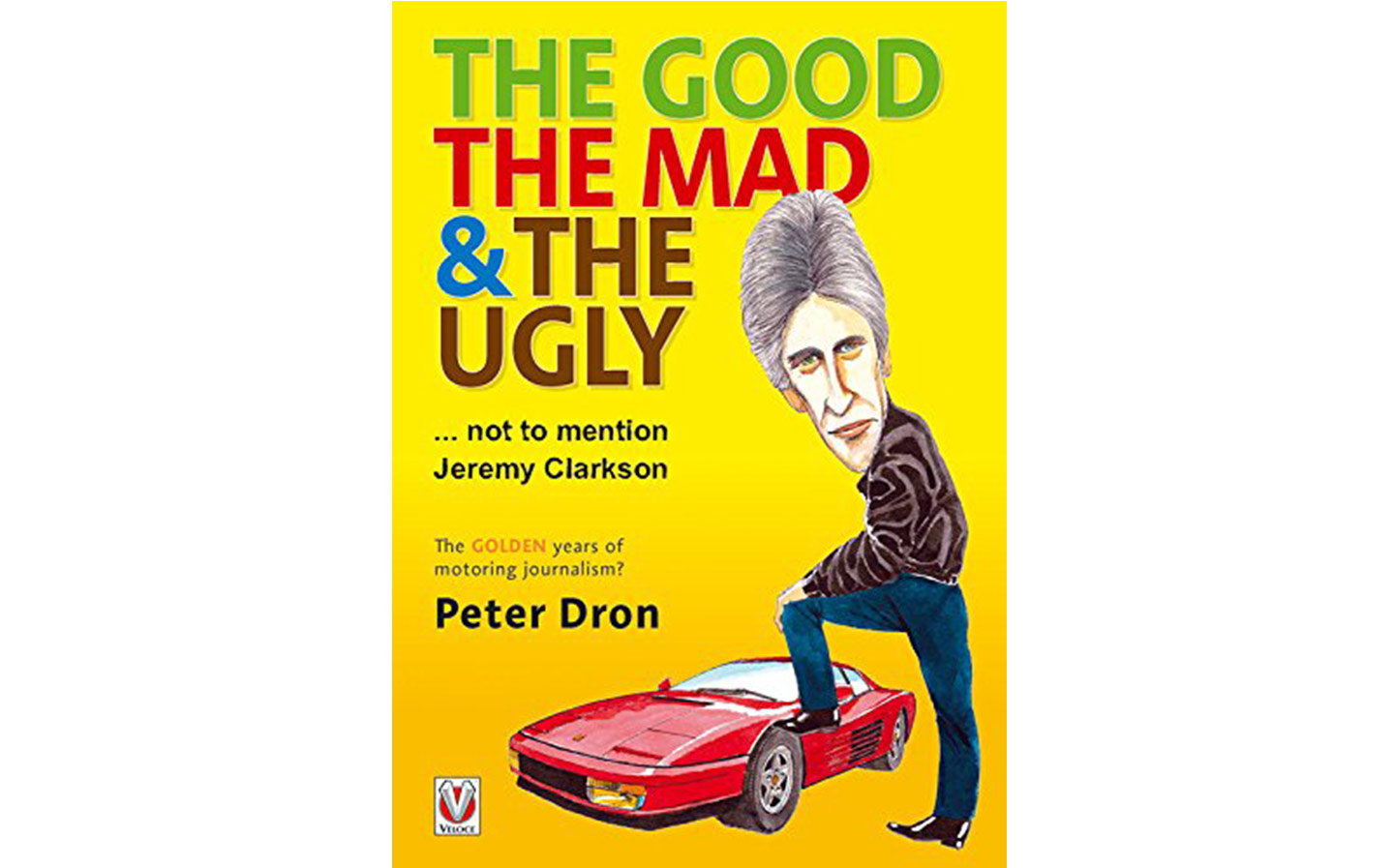 Roy Lanchester isn't a real motoring journalist, but Peter Dron most definitely is… or was. In his book, the founding editor Fast Lane magazine takes a wry look at the motor industry, recounting stories from his career behind the wheel and keyboard. Often very funny, usually controversial, Dron tells us of his meetings with industry moguls, famous writers (and TV presenters), and "various other passers-by", and explores the reasons why, in his words, "it has all gone wrong". Full disclosure: Peter Dron is this website editor's uncle (and there's nothing he can do about it, he says).
The Grand Tour A-Z of the Car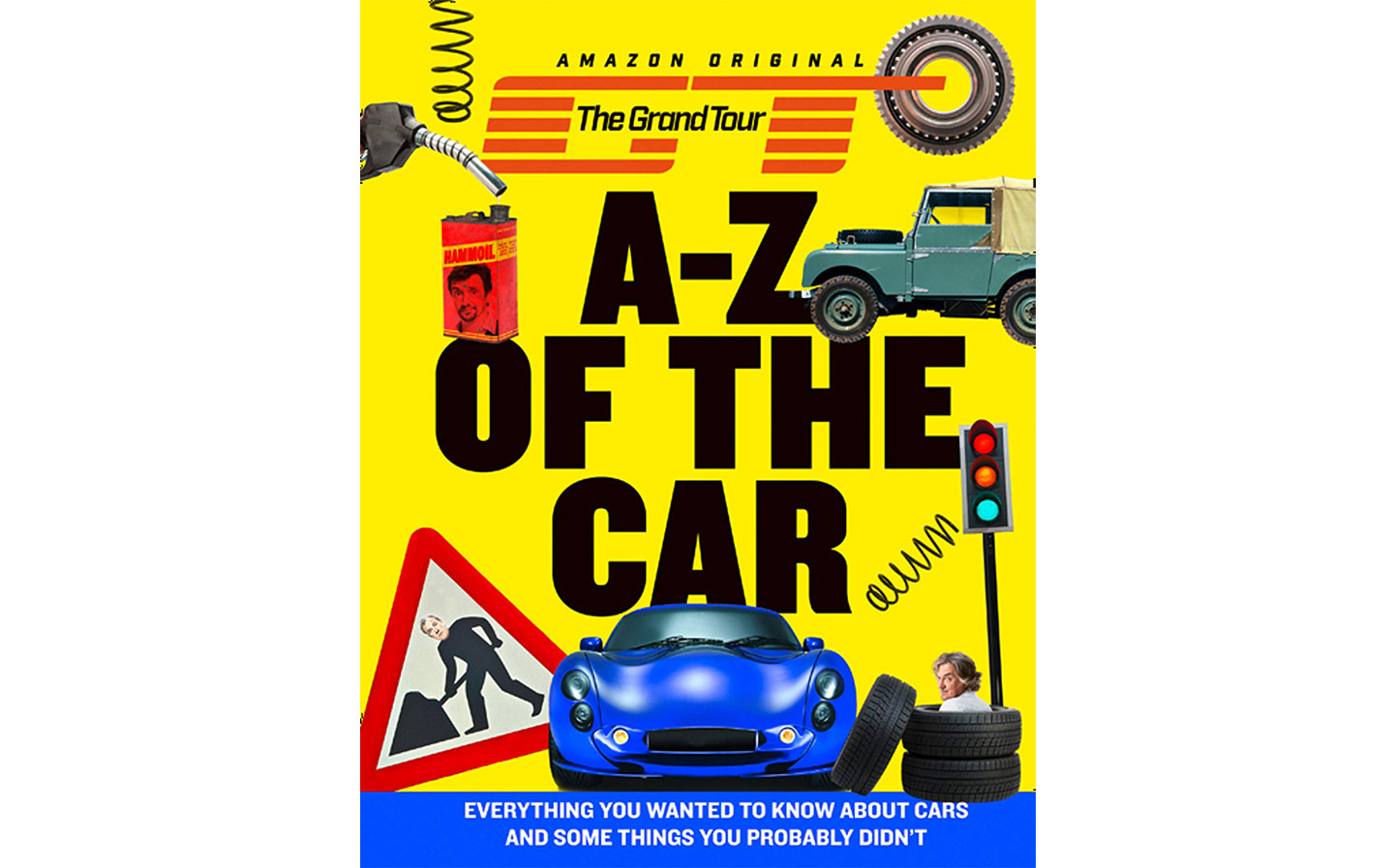 Following on from last year's 'Guide to the World', the Grand Tour team has now published an in-depth book on cars, crammed full of trivia that may or may not come in use in a pub quiz one day. Words of motoring wisdom from Jeremy Clarkson, Richard Hammond and James May complement the "rich and satisfying collection of informations" included in the book.
The Stig Plays A Dangerous Game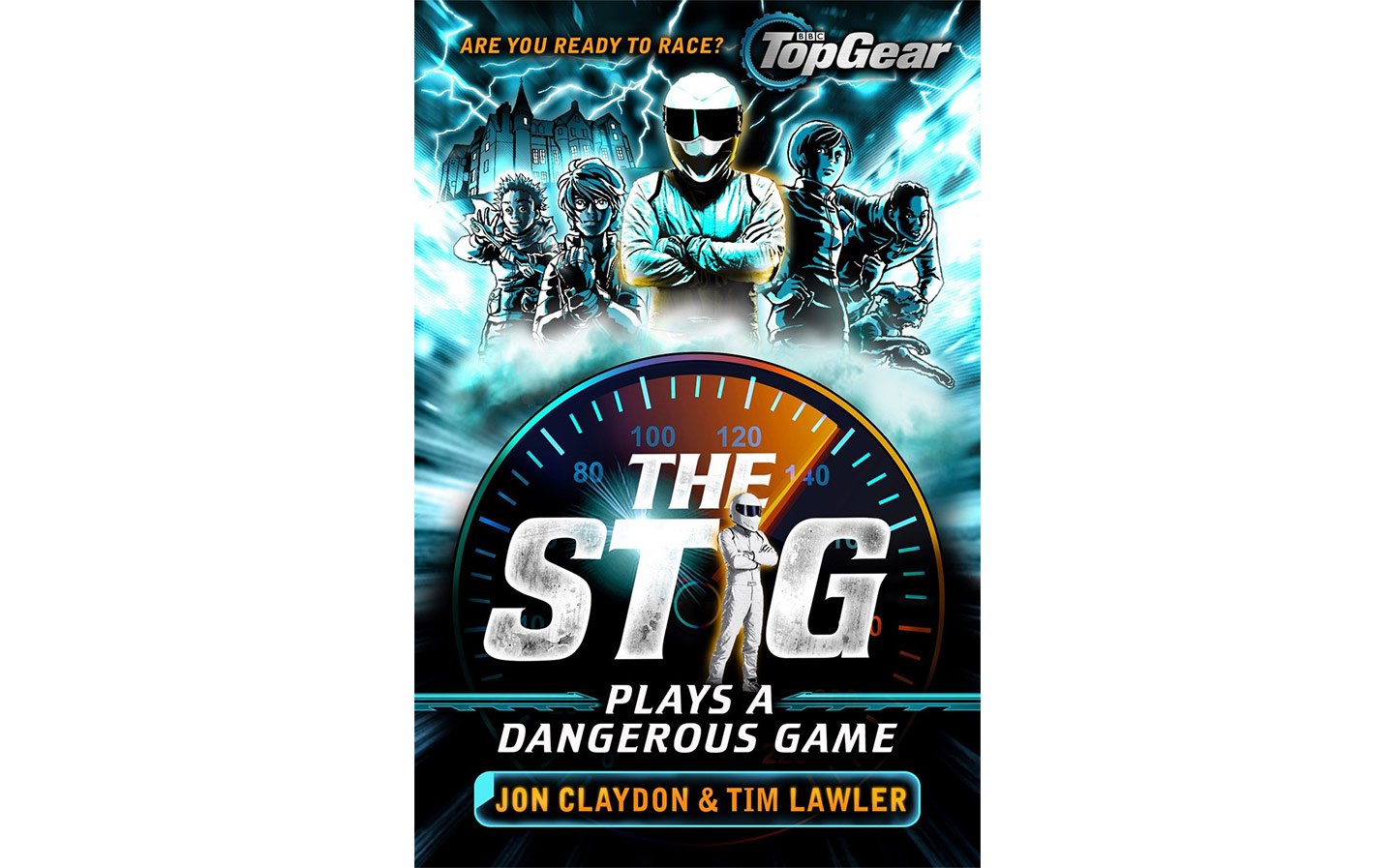 Top Gear's tame racing driver may be an odd choice as an adventure story protagonist, but The Stig works surprisingly well as the action star of this fast-paced and funny children's book. If your kids can't get enough of The Stig's antics with Sam Wheeler, Minnie Cooper and Ford Harrison, the second entry in the series has also been released, and a third is due out in March 2019.
Jonathan Rea: Dream. Believe. Achieve. My Autobiography
Lewis Hamilton may be the UK's biggest motor racing star but the British racer Jonathan Rea is equally deserving of your attention. With 71 wins and four titles in World Superbike racing, the 2018 champion is the series' most successful rider to date, and you can now learn about the man behind the visor in his new autobiography. Will it help Rea on his way to the Sports Personality of the Year award he just missed out on in 2017? Given Hamilton earned his fifth F1 title this year, probably not, but buying his book may be some consolation to the unbelievably talented biker.
Tom Cotter's Best Barn-Find Collector Car Tales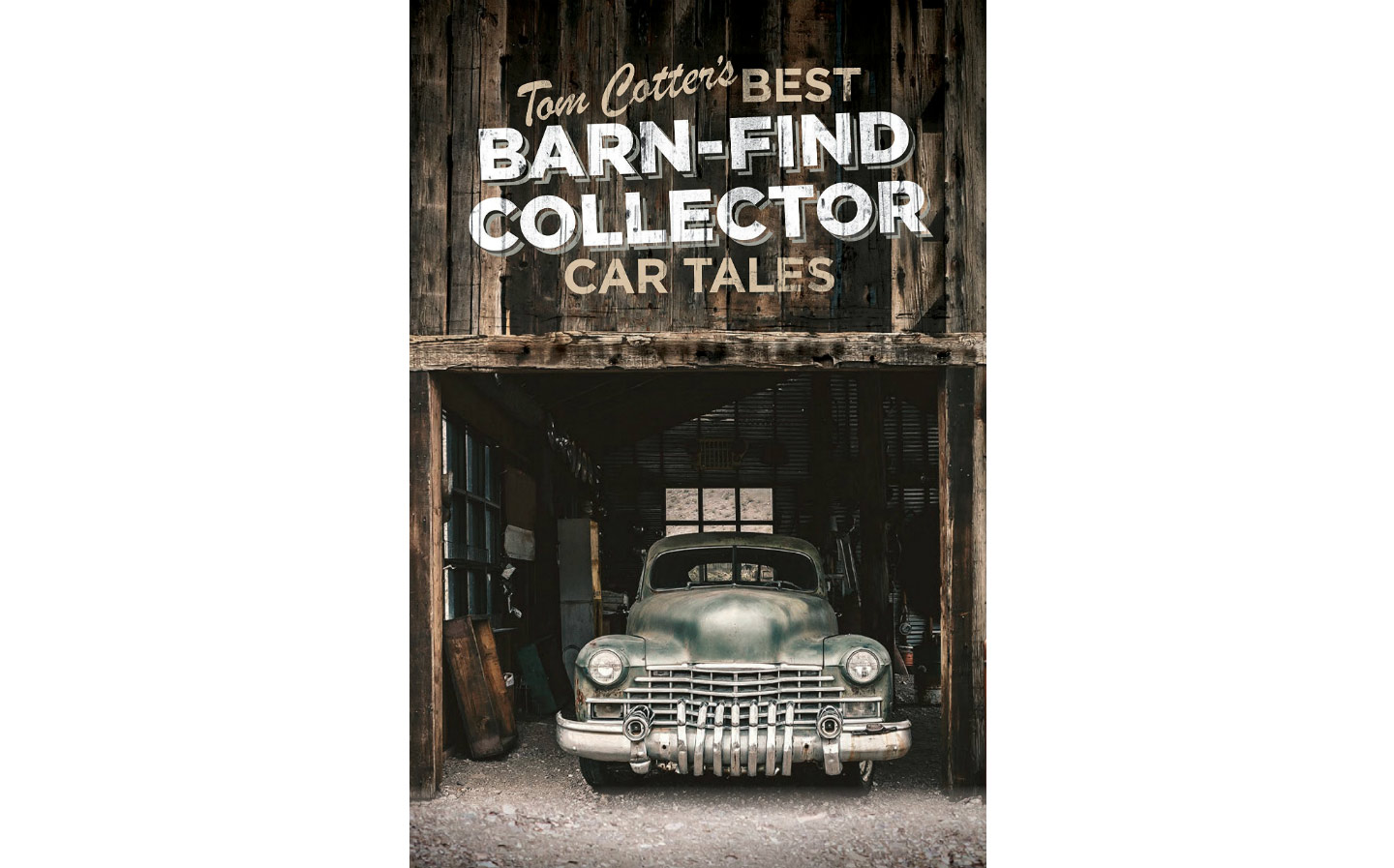 The 'Barn Find Hunter' Tom Cotter has been tracking down hidden classic cars for decades now, and he's now gathered some of his favourite finds in an all-new book. Befitting the lengthy title, no less than 50 car discoveries are charted in the book, and there's a wealth of beautiful photographs to go with Cotter's tales.
---
Baby accessories
Graco Milestone LX All-in-one child seat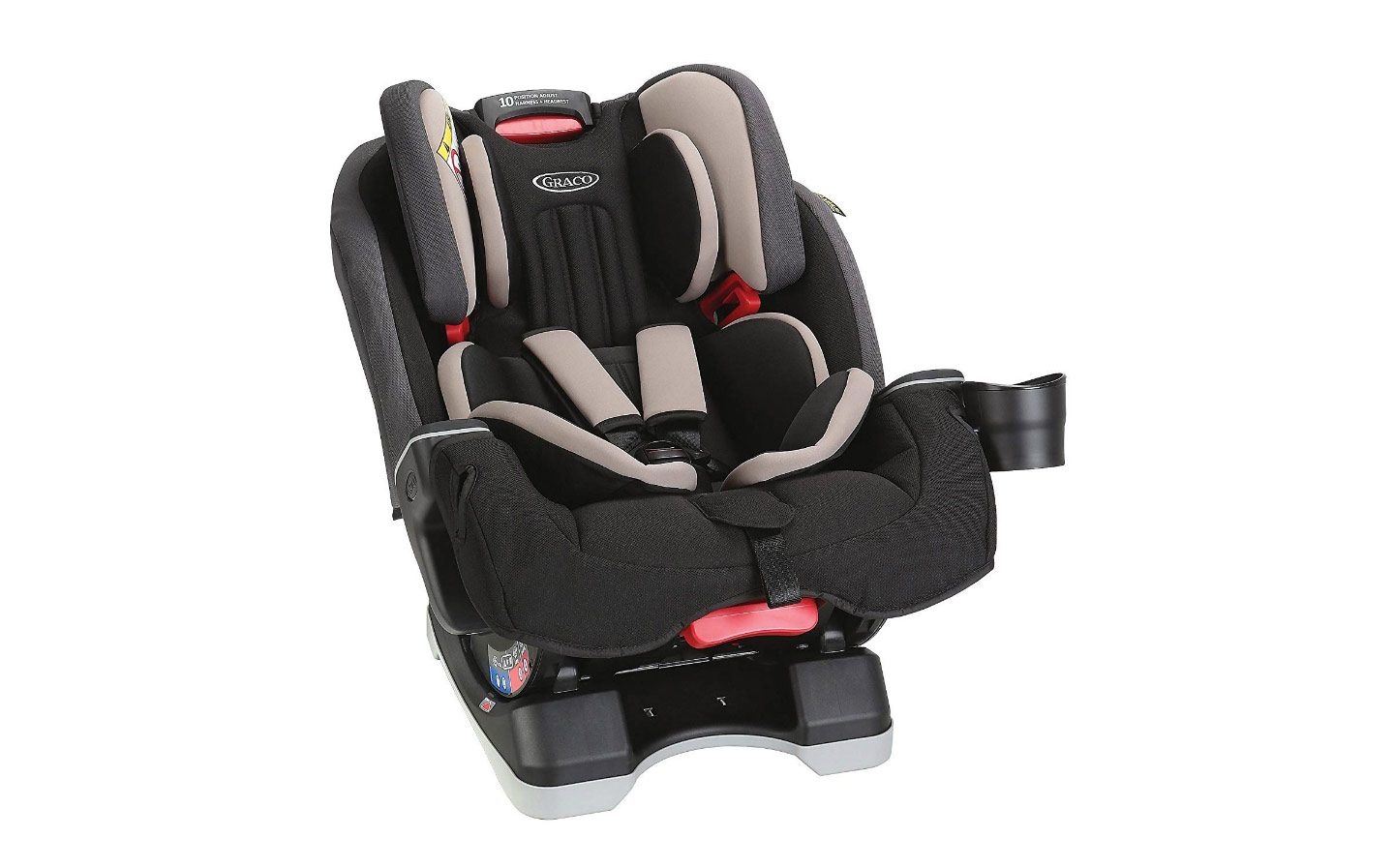 For parents after a versatile car child seat, the new Graco Milestone LX is definitely worth considering. As a Group 0+/1/2/3 child seat with forward, reverse and high-back booster settings, it can fit children from newborn right up to 12 years old, when they graduate out of child seats. The manufacturer also claims the seat is easy to securely install, and the combination of a rigid frame and side impact padding means it should offer plenty of comfort as well as strong safety protection.
Price from £220 (currently reduced to £149)
Buy it at Amazon.co.uk 
Munchkin Miracle 360 Degrees Cup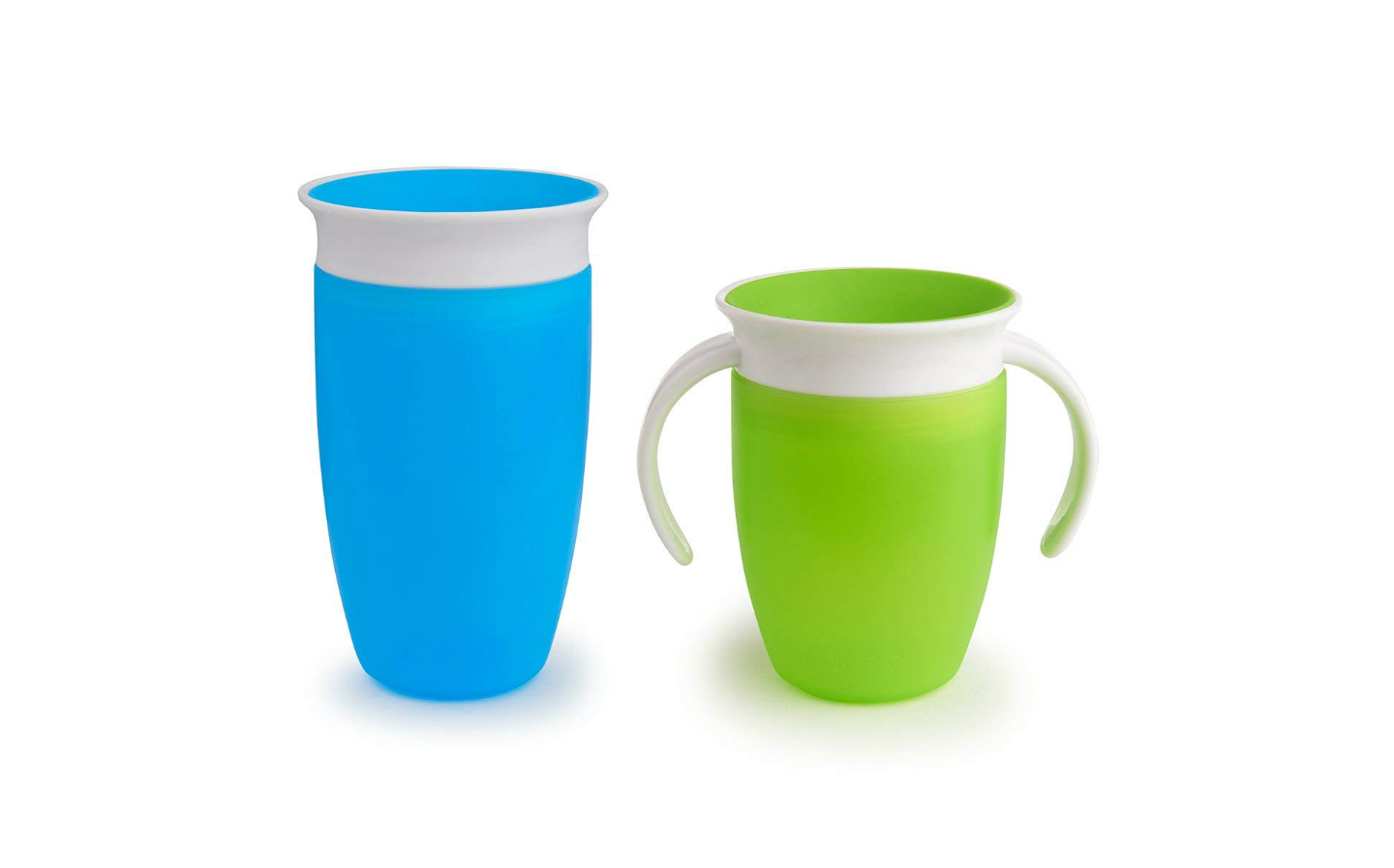 Keeping the kids hydrated en route to the in-laws is important… as is making sure you avoid spillages in the back of the car. So, with a lid that allows you child to drink from any part of the rim and automatically reseals itself after drinking, the Munchkin Miracle cup could be the answer. The lack of a spout means it's easy to clean, and it comes in an array of colours and styles.
gb Gold Ultra Compact Pockit+ pushchair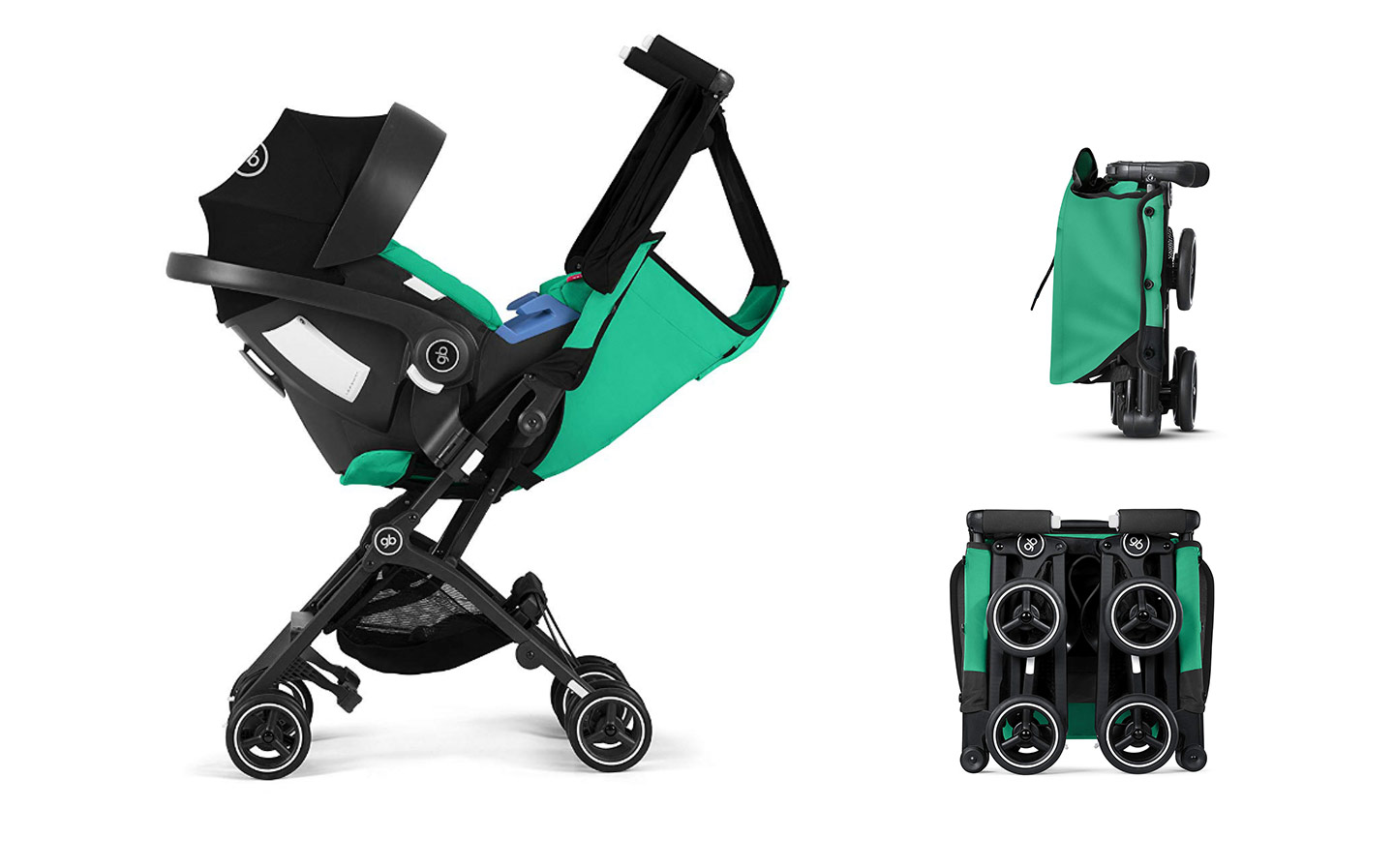 We were blown away by a demo of this incredible pushchair, which folds down to an unbelievably compact size. Though designed with airline approval in mind, the gb Gold Pockit Plus could be an ideal portable pushchair for families with cars that have small boots. As well as folding down to a compact size, the mechanism is really simple to use, which is key when you're struggling with kids and their paraphernalia, and the Pockit Plus is exceptionally light at just 4.9kg. Suitable for children from six months up to four years old.
Price £180 (currently from £140.95)
Buy it at Amazon.co.uk
---
Gadgets and technology
Mio MiVue 766 dash cam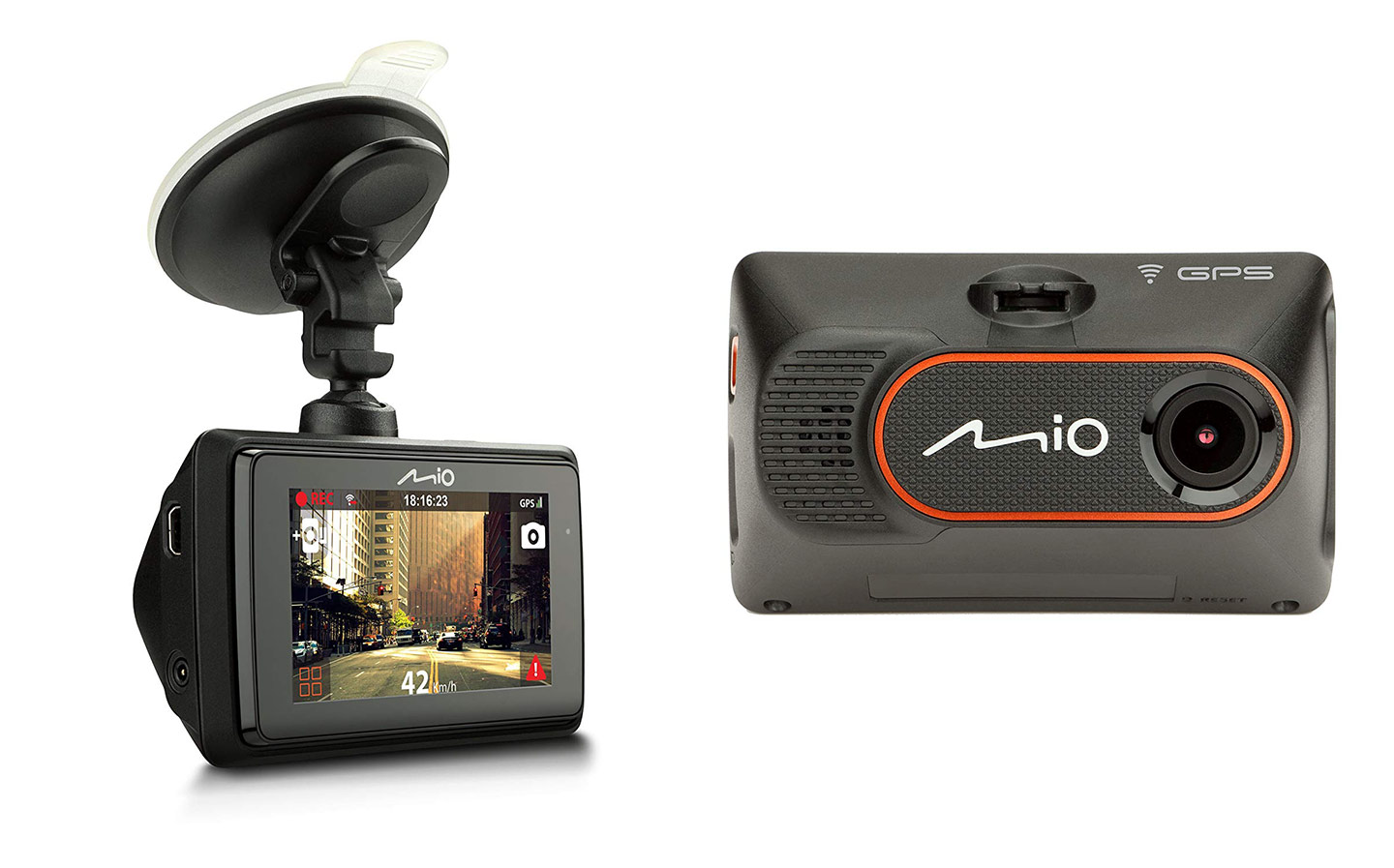 Up near the best in terms of image quality, more than enough features including WiFi connectivity for easy sharing via your smartphone, and one of the most pleasing user interfaces we've come across make this our favourite dash cam of 2018.
Nextbase 512GW dash cam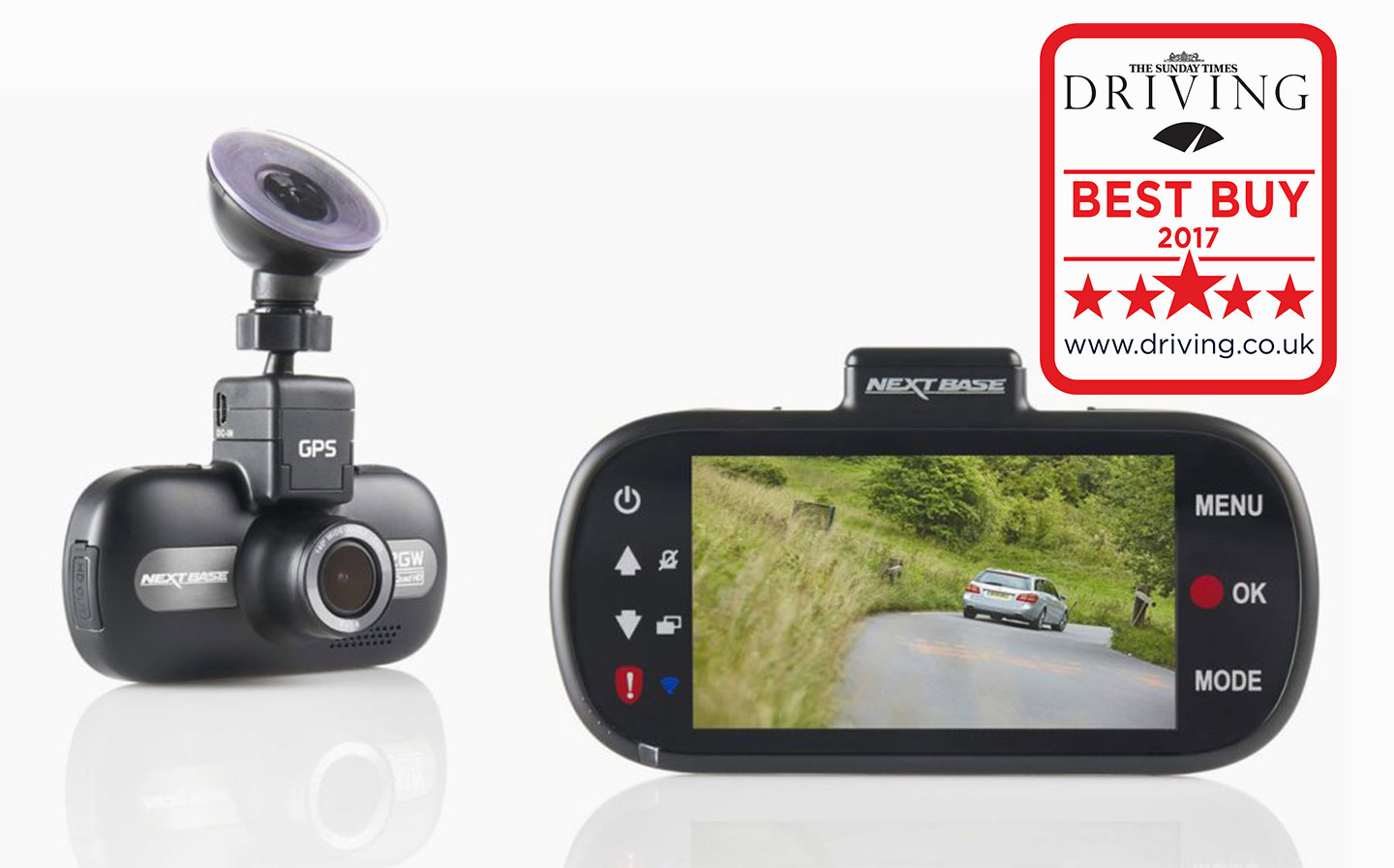 Nextbase video quality remains the gold standard for dash cams and its products remain as easy to use as ever. The 512GW is loaded with features, too, which made it our Best Buy Dash Cam of 2017.
Amazon Fire TV Stick 4K with Alexa voice remote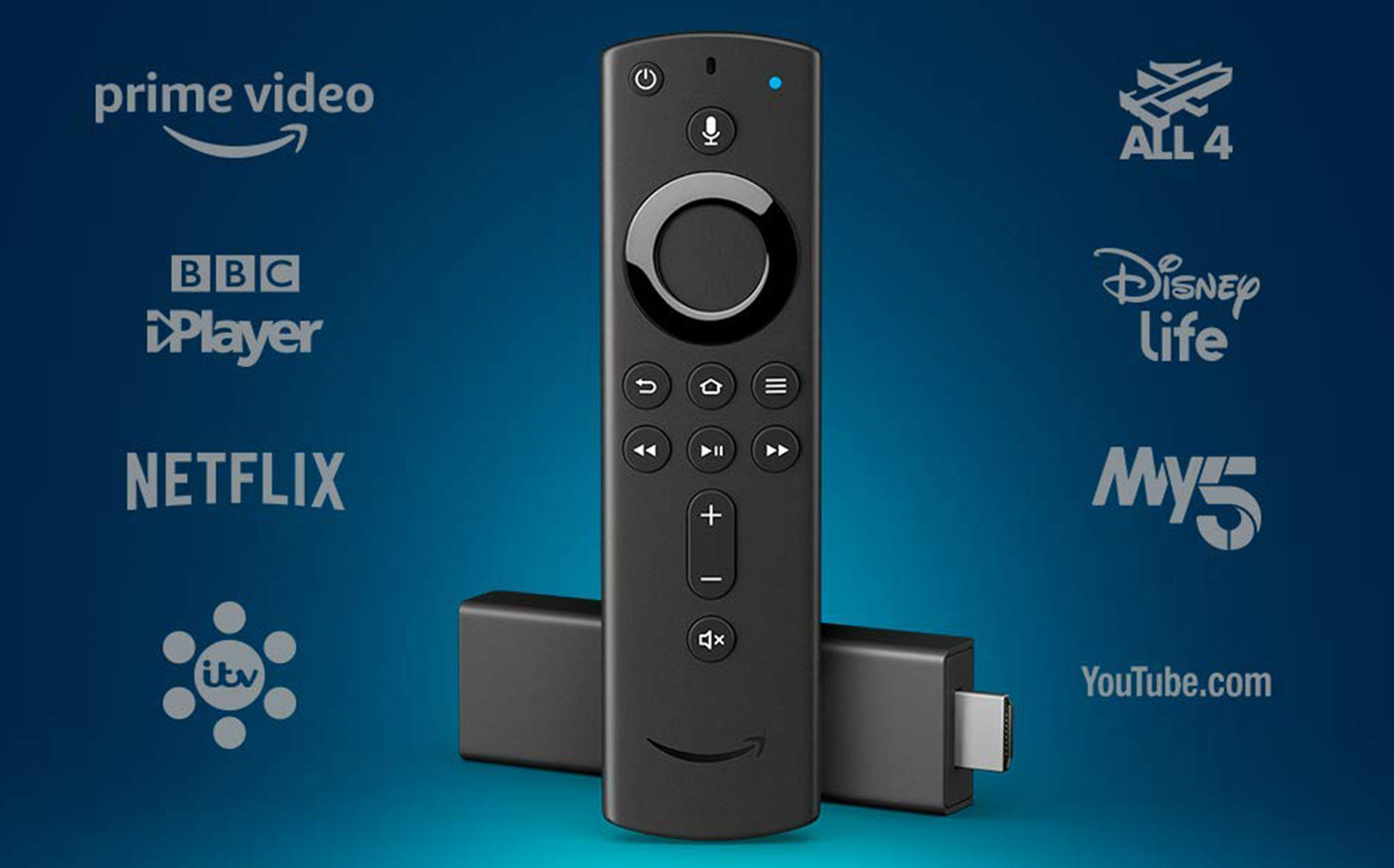 The Fire TV stick is important for car fans as it enables you to watch The Grand Tour on Amazon Prime Video, but there's more to like than the Clarkson, Hammond and May-presented motoring show. With the new Alexa assistant, you can control the TV — and other smart home devices — by voice. It also allows you to watch BBC iPlayer, Netflix, YouTube and more, with Ultra HD picture quality possible. If you get a Fire TV stick for Christmas, you should have enough time to binge watch the first two Grand Tour seasons before the third series starts in early 2019.
Amazon Fire HD 8 Kids tablet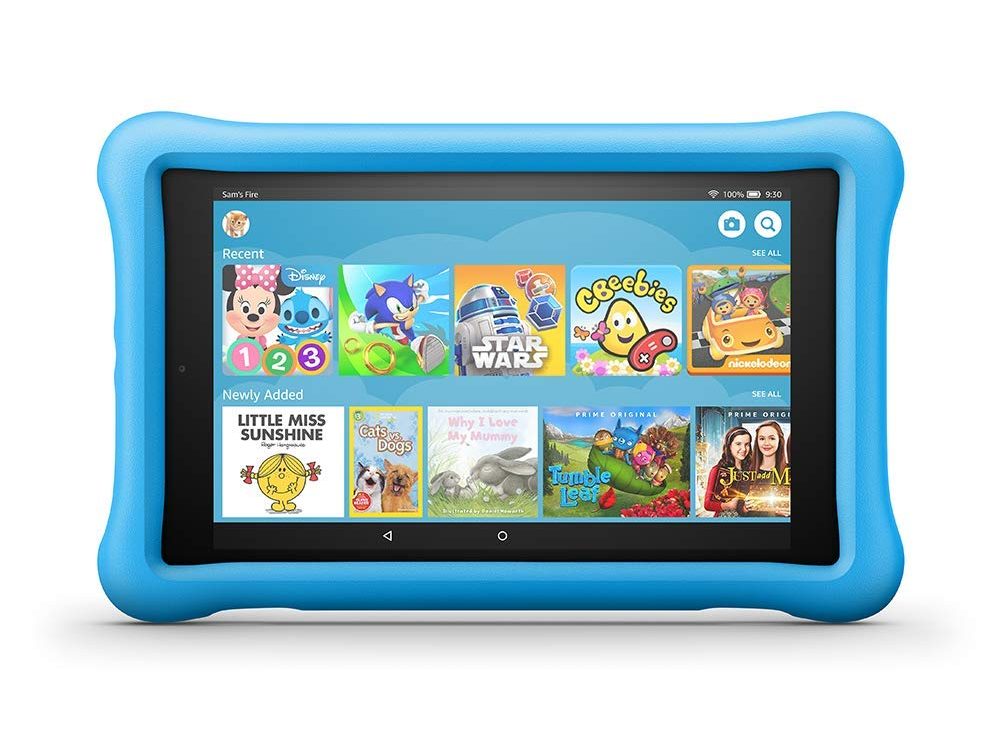 Keeping kids occupied on long car journeys can be tricky, though the Amazon Fire Kids tablet could be a good tool for parents to have in their road trip arsenal. Available with a kid-proof case included, in three possible colours, it allows access to thousands of apps, games, videos, books audiobooks and educational content via a subscription service, with the first year thrown in with the purchase (subscriptions after that start at £1.99 per month). Downloading content means children can access it in the car, away from an internet connection. Importantly, parents can set up content controls, while a battery life of up to 10 hours should be plenty for most car journeys.
Amazon Basics heated seat cushion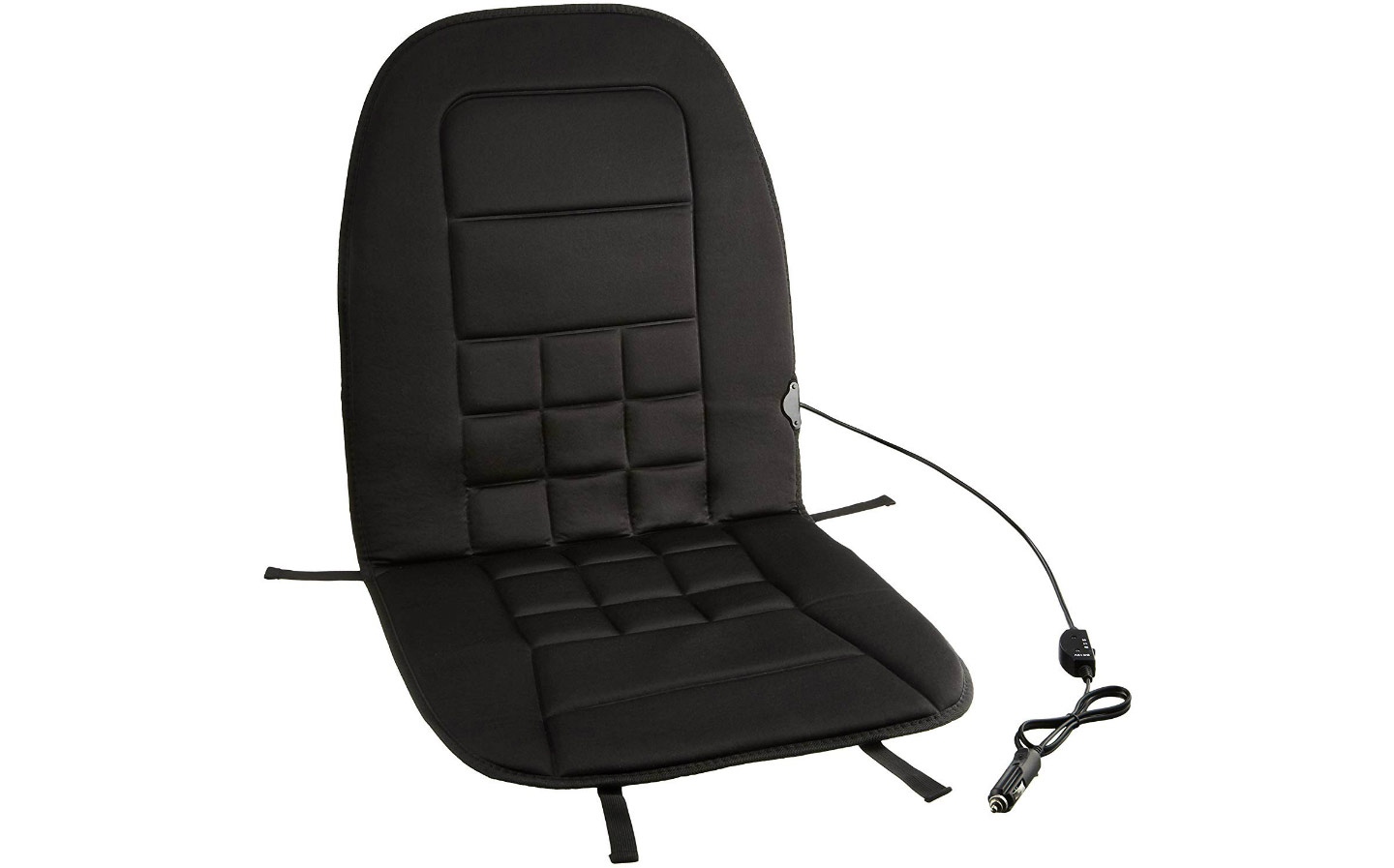 At this time of year, climbing into a frosty car first thing in the morning can be made infinitely more pleasant with a heated seat, which soon warms your core. If your car seat doesn't have it built in, fear not; the Amazon Basics heated seat cushion is the answer. When plugged into the car's 12 volt power outlet, the cushion can be set to low or high heat settings, and straps means it won't slide about on the seat. Perfect as a gift for a loved one… or your own bottom.
Price £17.09 (currently reduced to £13.67)
Buy it at Amazon.co.uk
Jabra Drive speakerphone car kit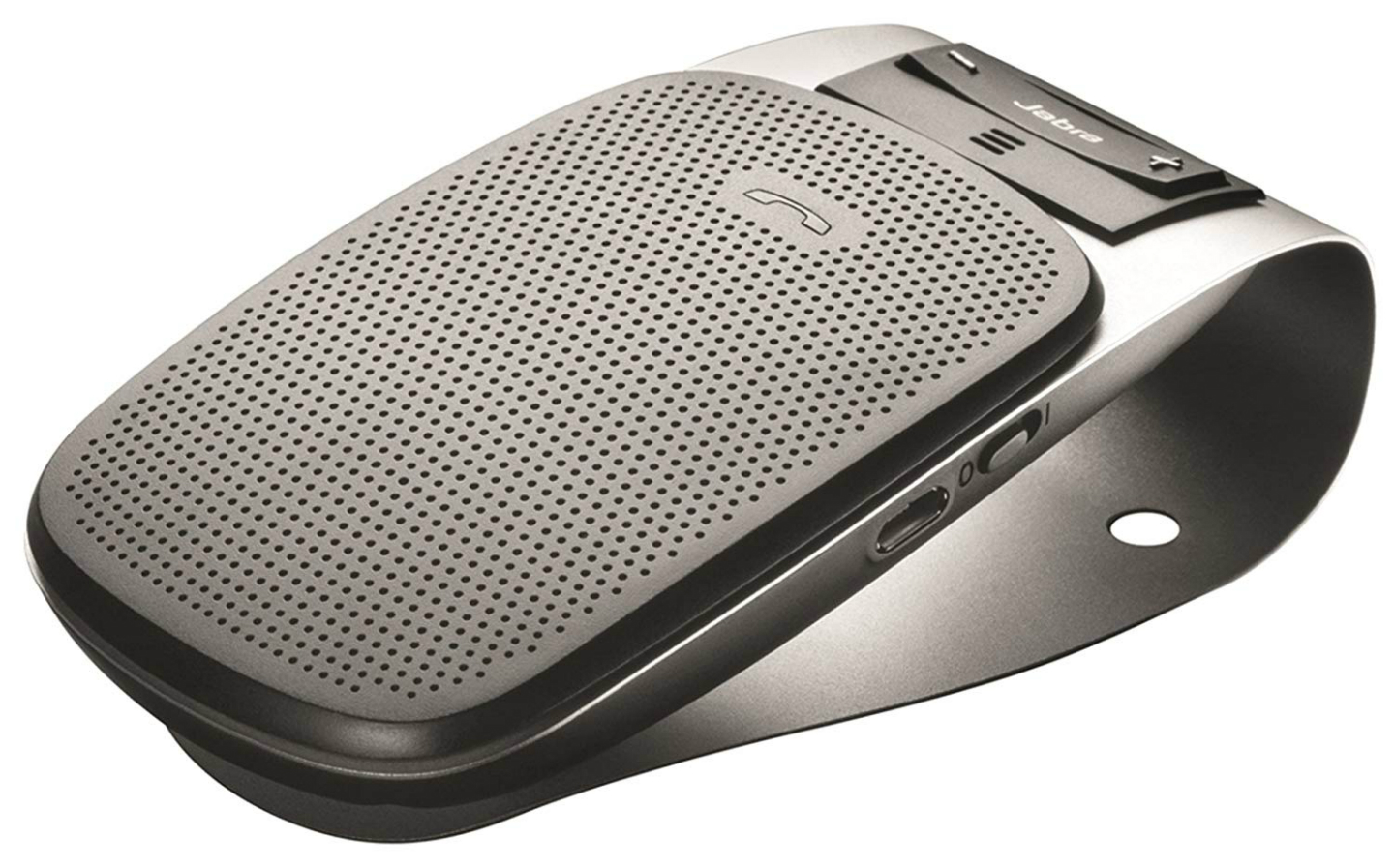 Many drivers in the UK have cars that don't have built-in phone connectivity, so the Jabra Drive is a great third-party accessory for those motorists. Noise-cancelling tech and its ability to be clipped to a sun visor help improve sound quality when making and answering calls, and voice commands are help streamline the initial setup process. You can even use the Jabra Drive for other tasks, such as streaming GPS navigation instructions from your phone.
Bissell Little Green cleaner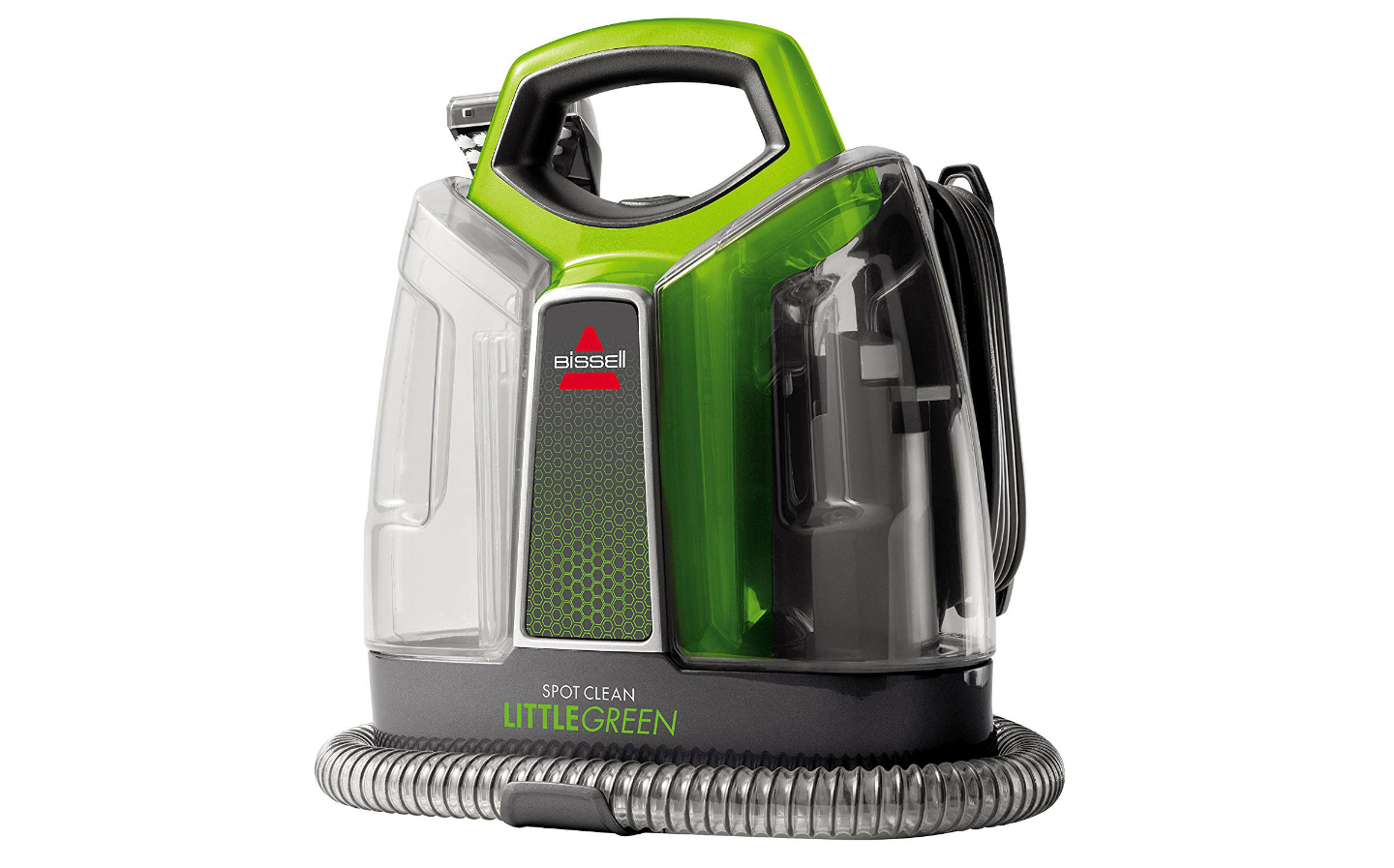 Parents with young kids will likely be well aware of the mess their offspring can make – and the remarkably resilient aromas. The Little Green cleaner should be able to remove even the worst marks, stains and blemishes, thanks to the combination of strong suction and cleaning solution fluid (a sample is included with the Little Green cleaner). It's compact, too, meaning you may be able to take it with you on that road trip.
ION Audio Mustang LP 4-in-1 retro music centre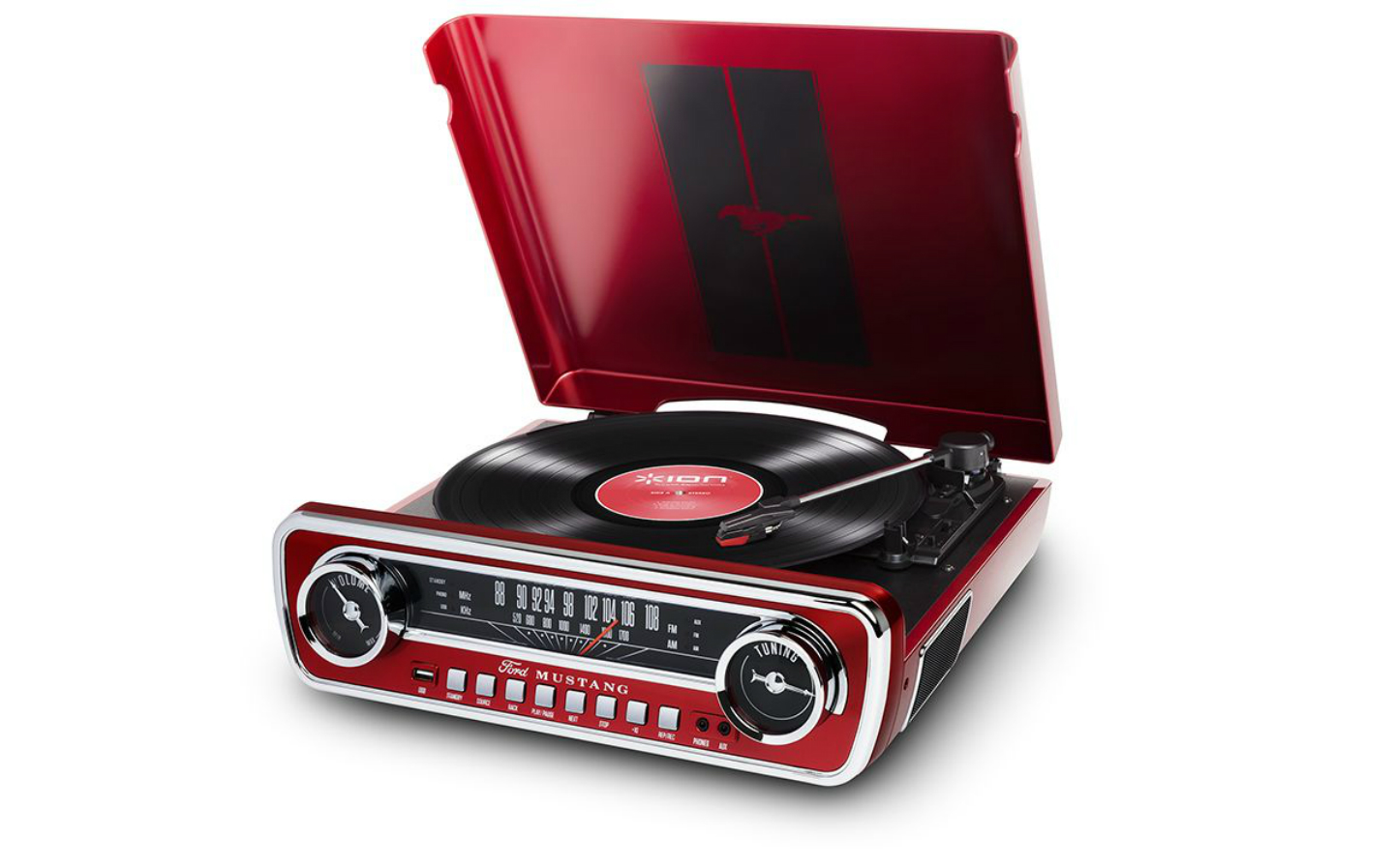 With the Ford Mustang being referenced in countless songs over the years, it's only apt the iconic muscle car has inspired a vinyl record turntable. Styled to resemble the stereo from the 1965 model year Mustang, the officially-licensed ION Audio Mustange LP 4-in-1 can also play music from the radio (FM), or the USB and auxiliary ports. It even allows you to record vinyl albums onto a USB flash drive. We'll let you decide with which song to break in your ION Mustang, though Wilson Pickett's 'Mustang Sally' surely has to be considered.
nuraphone wireless headphones with personalised active noise cancellation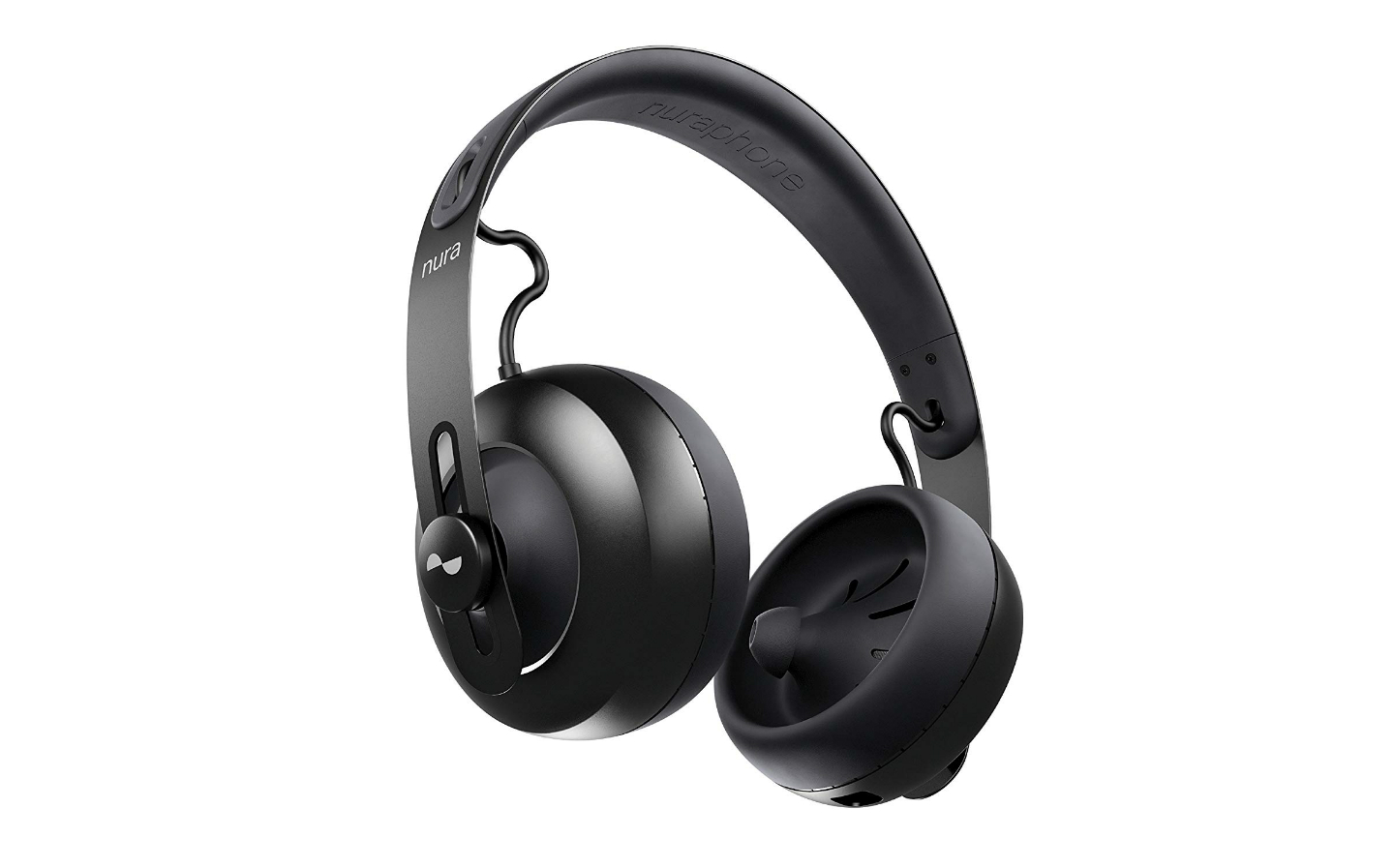 Noise-cancelling headphones aren't anything new, but nuraphone's over-ear device are something a bit different. Along with adjustable bass settings, the nuraphone headset can offer a more tailored audio experience by "learning" how you listen to music. You can also use them for other tasks – the Bluetooth connectivity and external microphone array means you can answer calls while wearing them, for instance. Perfect for back-seat in-car entertainment.
Price £349.99 (but £279 on Black Friday)
Buy it at Amazon.co.uk
---
Toys and games
Playforever Velocita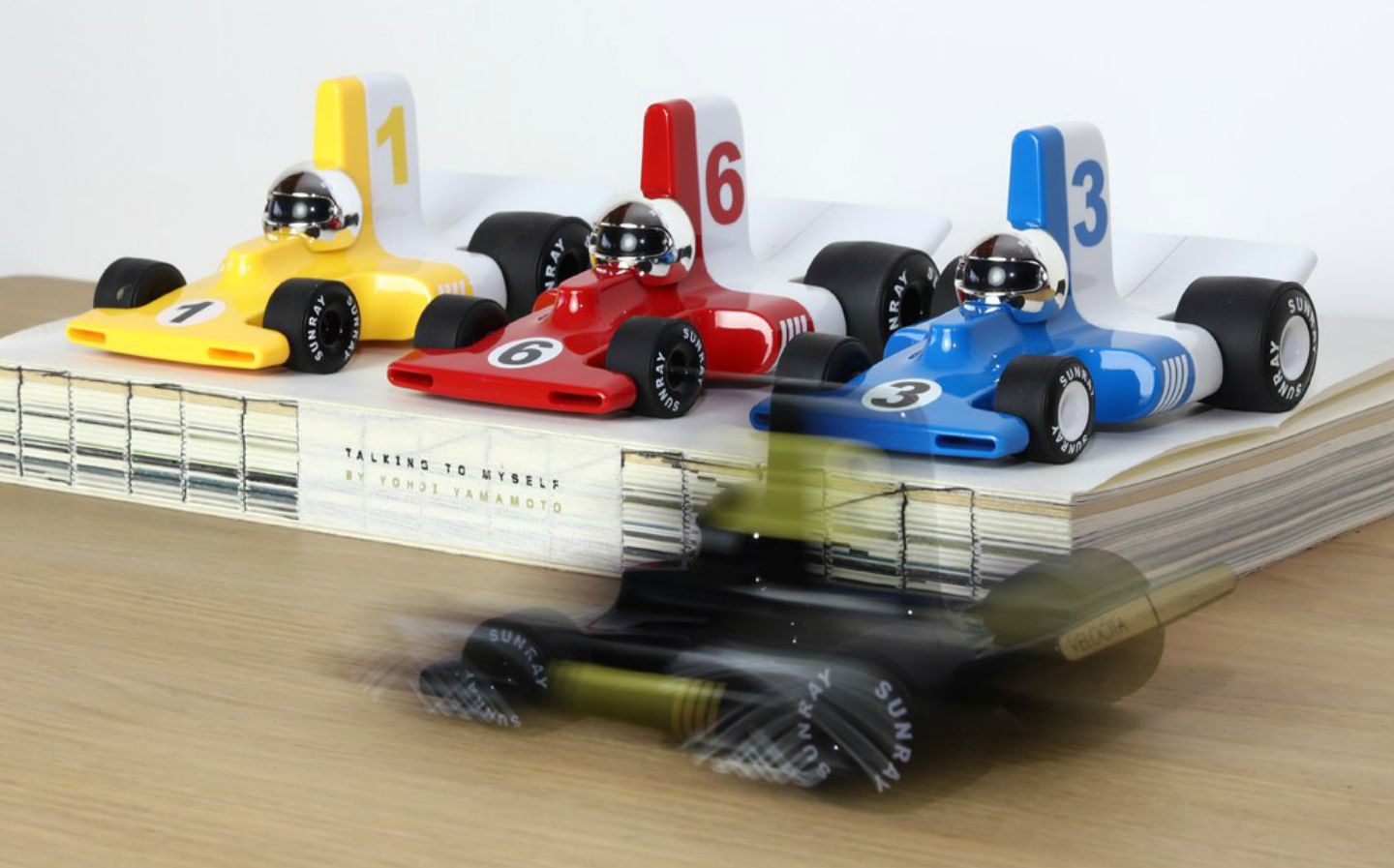 Playforever makes many retro racing car-inspired toys, and its new Velocita range is perhaps the coolest yet. Inspired by the teapot-style high airbox Formula One cars that raced between 1971 and 1976, the Velocita models come in a variety of old school liveries, with the Lotus-esque black and gold scheme being our favourite here at Driving.co.uk.
Lego Bugatti Chiron
One of the most complex Lego Technic kits ever produced, the Lego Bugatti Chiron is almost as impressive an engineering feat as the real car. No less than 3,599 pieces make up the set, and the finished car has a working gearbox, all-wheel drive system and even a rear spoiler you can move up and down with a 'special key'. You likely won't get it finished before Christmas dinner, though, as it took us 27 hours to build the Lego Bugatti Chiron.
Age 16+
Price £283.17 (currently 272.99)
Buy it at Amazon.co.uk
Scalextric 1968 Gulf Ford GT40 Triple Pack (static models)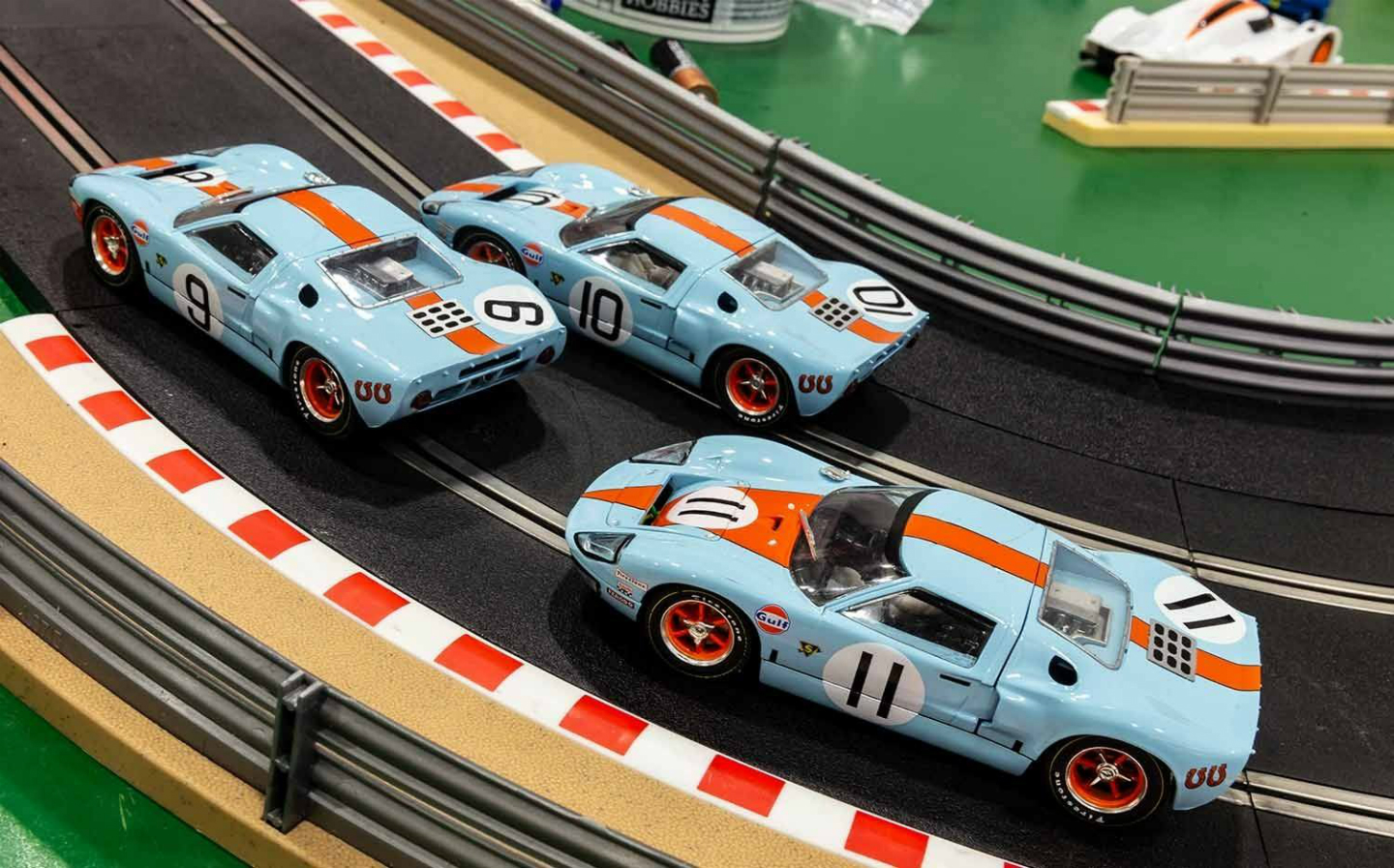 2018 marks a very special milestone in the history of endurance racing: the 50th anniversary of the first Le Mans win by a car in the iconic Gulf Oil colours. To mark the occasion, Scalextric has released its 'Gulf Triple Pack', a presentation set of all three Gulf-liveried Ford GT40s entered into the 1968 Le Mans 24 Hours – including the number 10 car that won the race outright. A word of warning, though: the cars are not meant to be working toys and doesn't come with any track.
Pagani Zonda Cinque F 12v electric ride-on
Most of us won't be able to own a real Pagani, but children as young as two can get behind the wheel of their very own Pagani Zonda Cinque Roadster. It won't be as quick as the 659bhp supercar, but the 70w electric motors give this ride-on car ample pace for toddler's toy, and extra features include working lights, a leather seat and even a USB port for an MP3 player. The licensed product also come with remote control functionality, so parents can control the car themselves if they so wish.
Hot Wheels City Ultimate Garage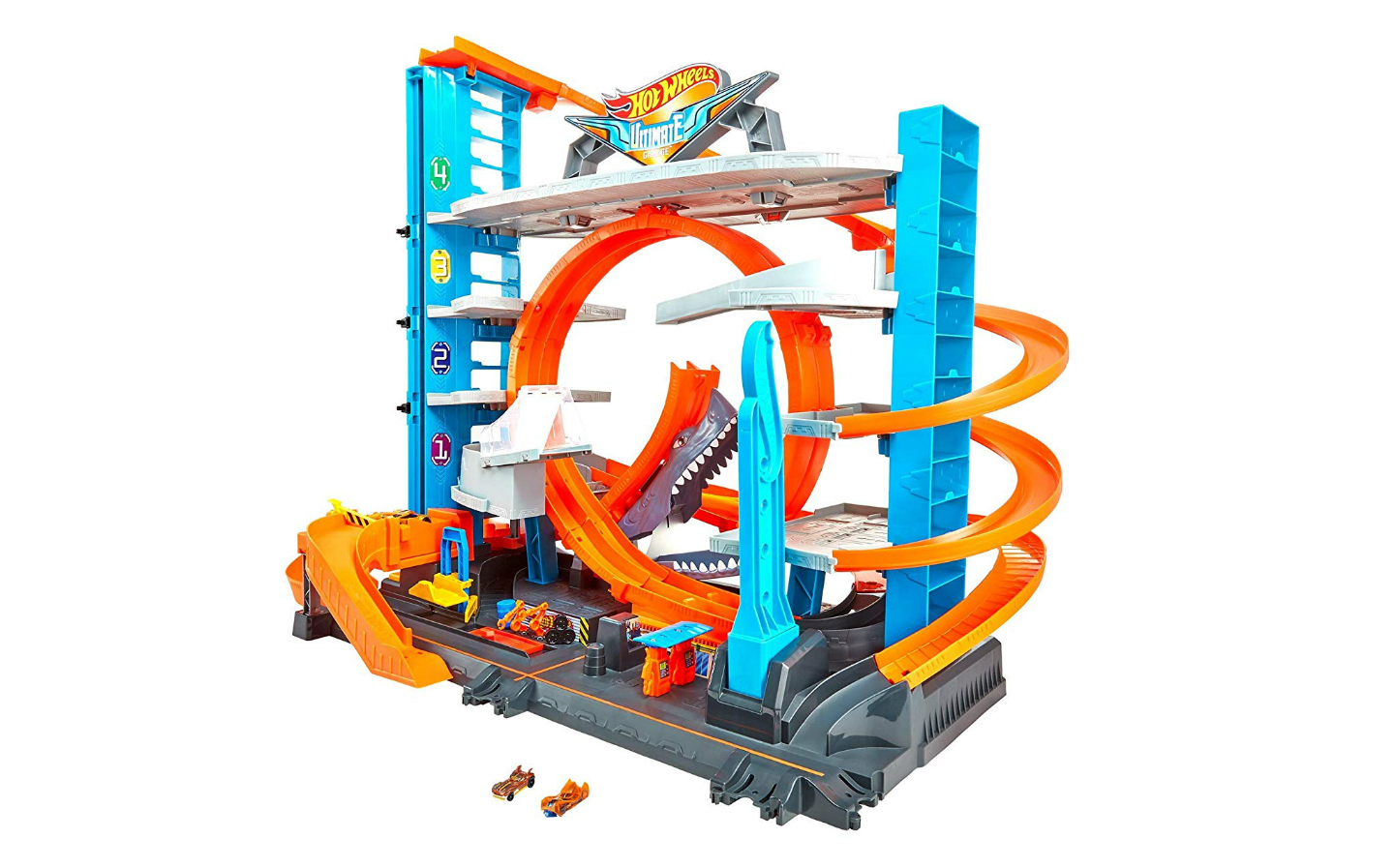 Hot Wheels has released some crazy toy sets over the years, and its new City Ultimate Garage is no exception; a garage with a dual-lane loop-the-loop and massive shark? Bonkers, but impressive, and kids should be able to sink countless hours into this toy. The set also has a garage with room for approx. 90 vehicles, which should please kids with nowhere to store their large Hot Wheels car collection.
Age 5+
Price from £104.99 (currently £64.99)
Buy it at Amazon.co.uk
Vtech Toot Toot Drivers Garage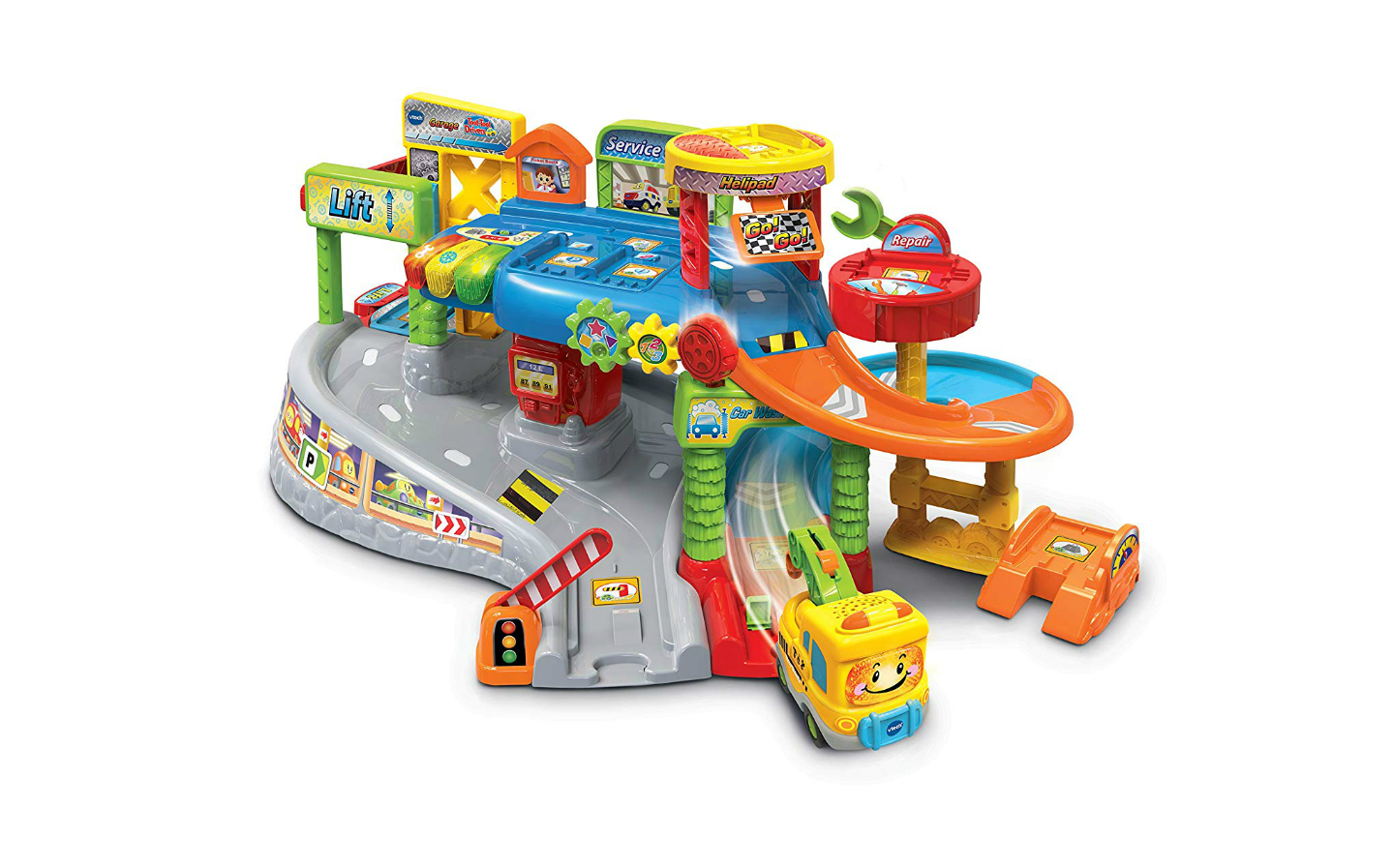 Children who aren't quite old enough to play with Hot Wheels toys need not feel left out, as Vtech's Drivers Garage set is a worthy substitute. Though there aren't any loops, the multiple compatible vehicles are electrically-powered, and there's a working lift and a spiral track section. The set comes with a tow truck toy included, with light-up buttons that trigger sounds and melodies. A proven kiddie-pleaser.
Age 12 months to 5 years
Price £39.80
Buy it at Amazon.co.uk
Paw Patrol Ultimate Rescue Fire Truck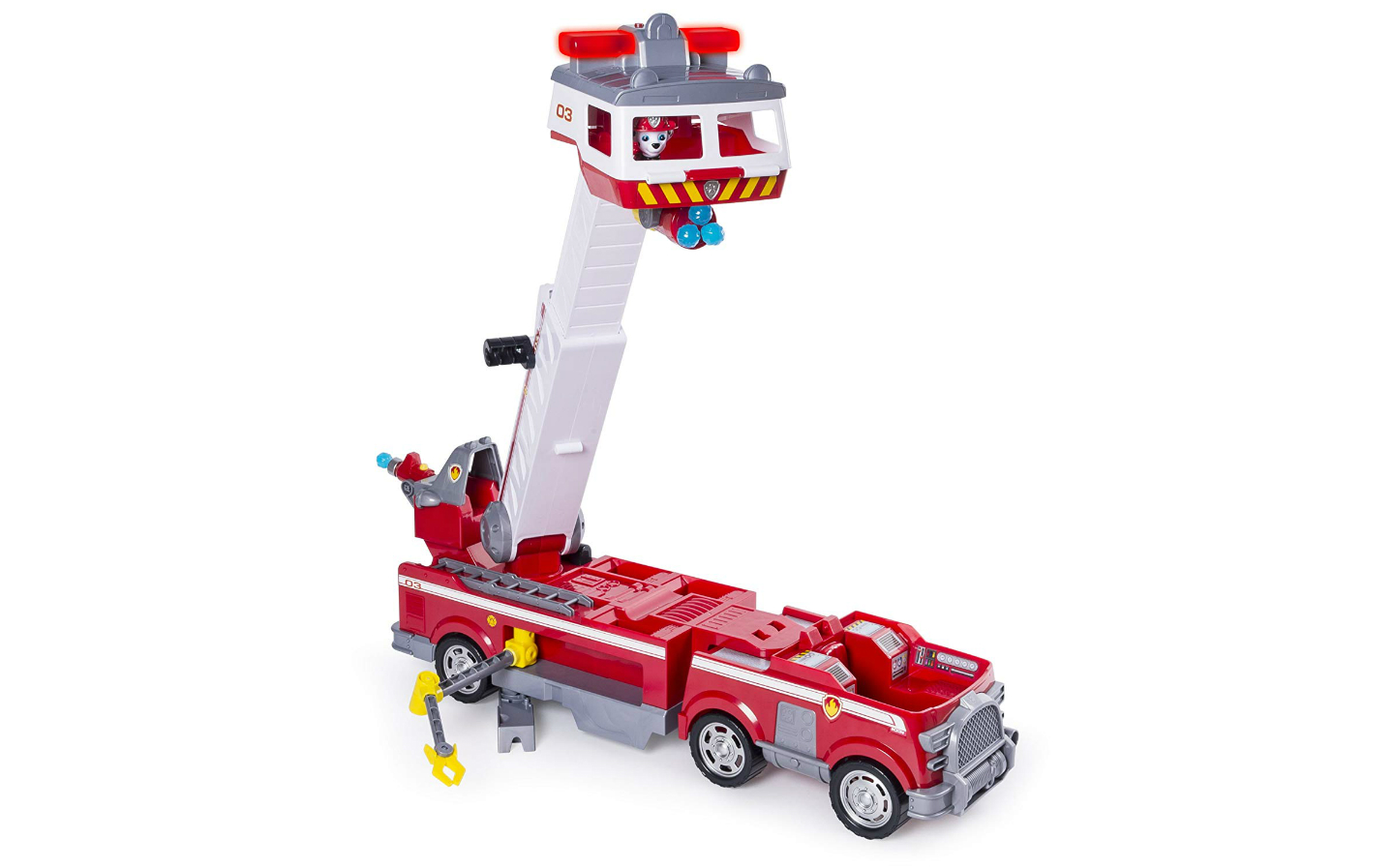 Paw Patrol is a massive hit on TV, and the spin-off toys are no different. The Ultimate Rescue Fire Truck allows kids to save the day with Marshall, and it features water cannon launchers, lights and sounds, a claw arm, a mini fire cart and a ladder that can extend up to 2ft in length.
Age 3+
Price £69.99 (currently £49.99)
Buy it at Amazon.co.uk
Barbie Ambulance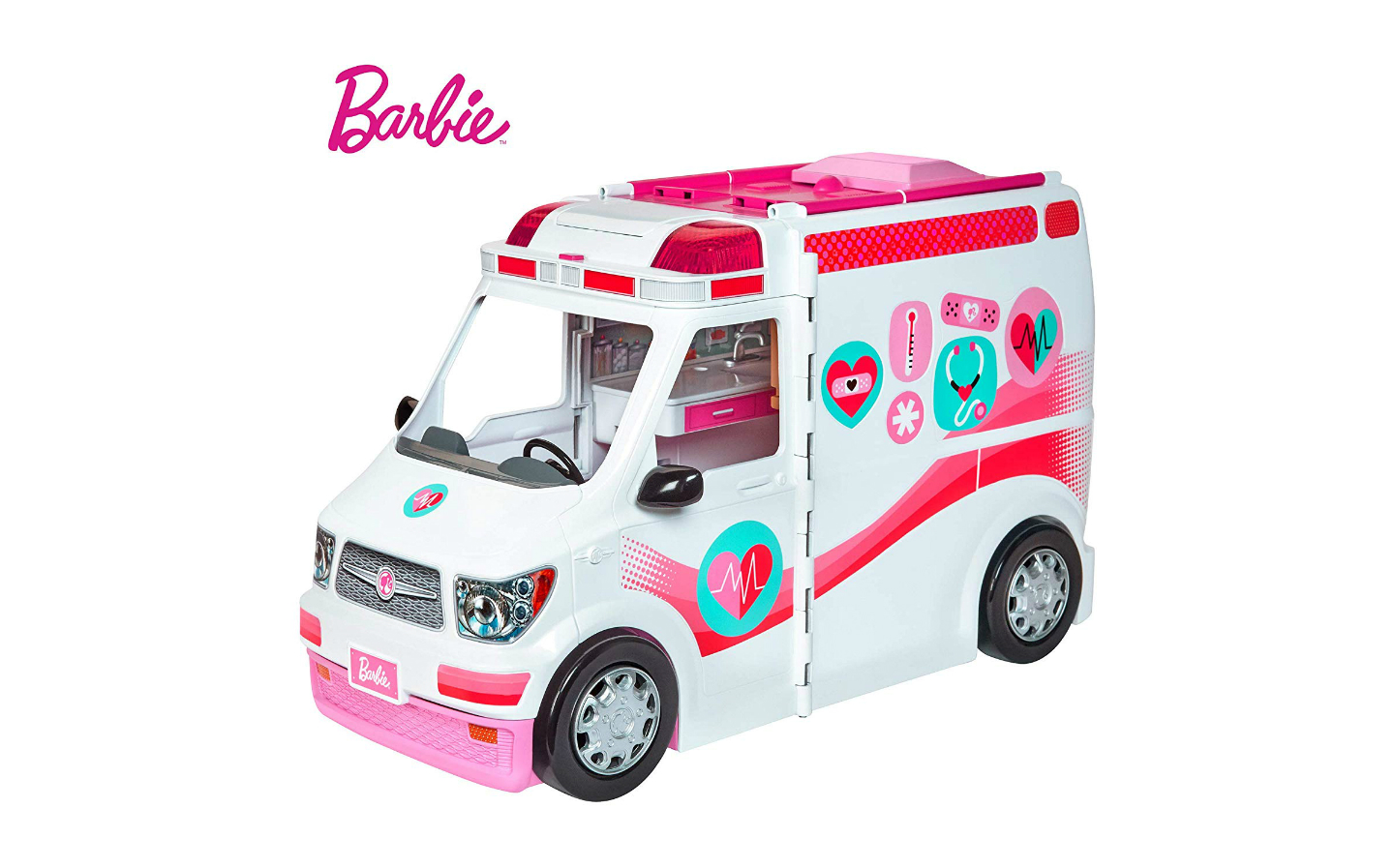 Joining in on the emergency services toy act, the Barbie range now includes an expansive ambulance set. It features functioning lights and working sirens, and opens up into a 2ft long clinic at the pull of a lever. Inside is an x-ray machine and a myriad medical equipment pieces for kids to use (and eventually lose down the back of the sofa, but don't let that put you off).
Age 3 to 10 years
Price £49.99 (currently £36.99)
Buy it at Amazon.co.uk
Fallout Fusion Flea diecast model car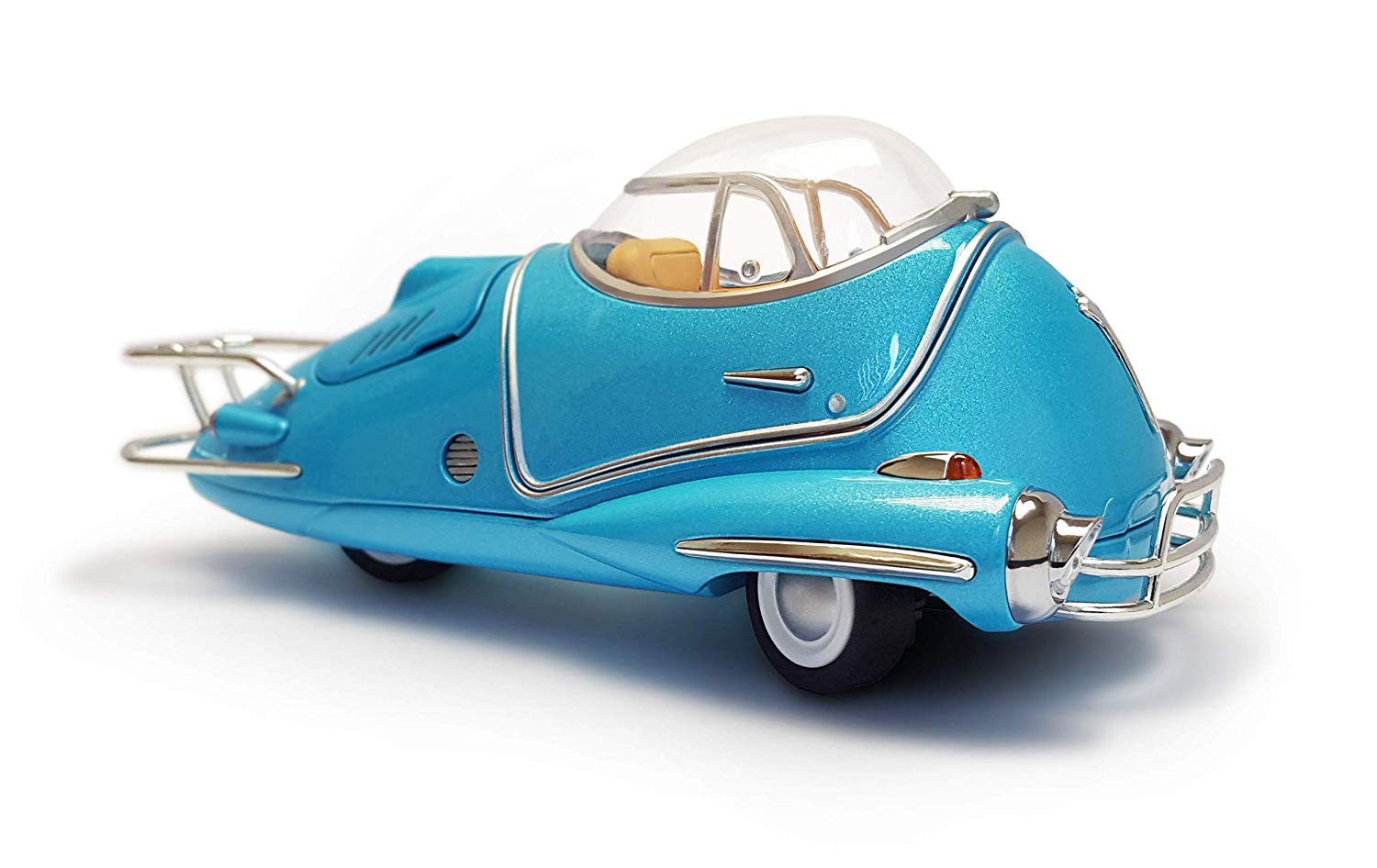 The Fallout video game series is a massive commercial hit but also enjoys a cult-like following from uber-fans, so it's no surprise spin-off merchandise is available. This intricate die-cast 1:18 scale model of one of the franchise's vehicles arrives at the same time as the new Fallout 76 game. According to lore from the post-apocalyptic game, the Fusion Flea is an employee reward for two years' service at the Chryslus Motors Co. manufacturing plant. The model's engine cover lifts to reveal a nuclear-based motor, lit with blue LED and removable glow in the dark power core. The cowling also opens to reveal the cockpit detail. The pack contains a bespoke vintage postcard, enamel pin badge and illustrated manual.
---
Video games and consoles
PlayStation 4 Pro
You've may have a PS4 already, considering Sony's sold 86m units as of October 2018, but the PS4 Pro extra power may make it worth it, given advances in TV image quality and increasingly large game files. The system has a great line-up of exclusive games (including last year's brilliant Gran Turismo Sport), and the huge player base means most games have strong online multiplayer communities.
Xbox One X console with Forza Horizon 4 & Forza Motorsport 7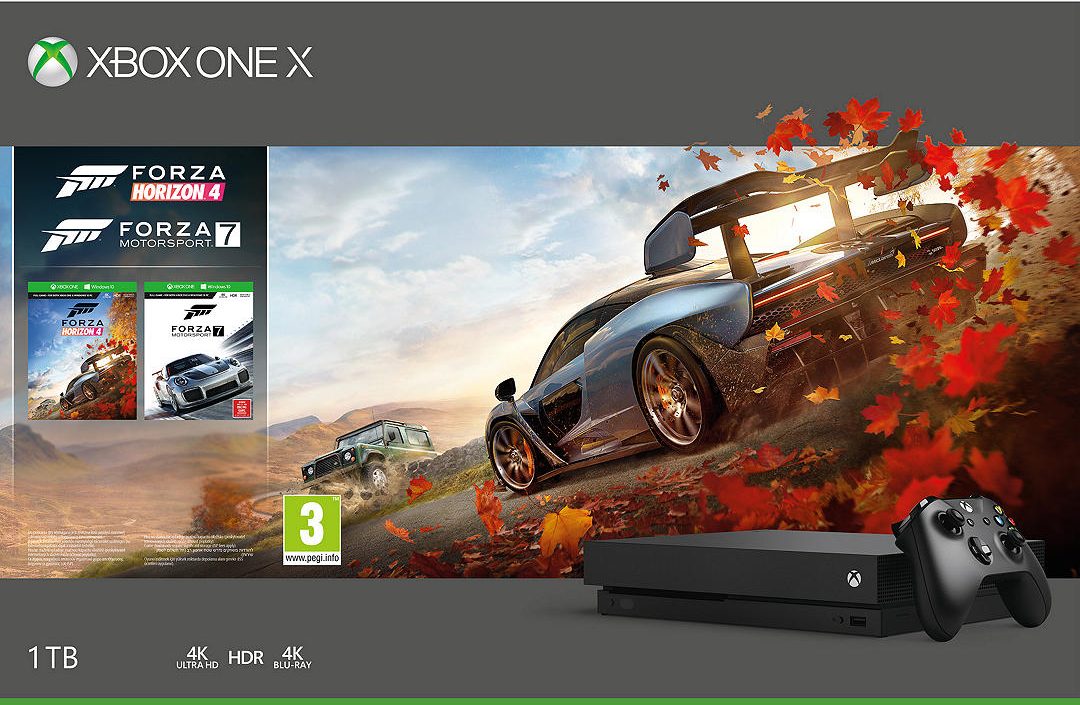 As well as being the console home of racing games such as the new Forza Horizon 4, the Xbox One X is also compatible with many Xbox 360 and original Xbox games, including older racing titles such as Grid Autosport and Driver: San Francisco. As the most powerful console on sale, it also offers incredible 4K HDR graphics, when used with a compatible TV.
Fanatec CSL Elite McLaren GT3 gaming wheel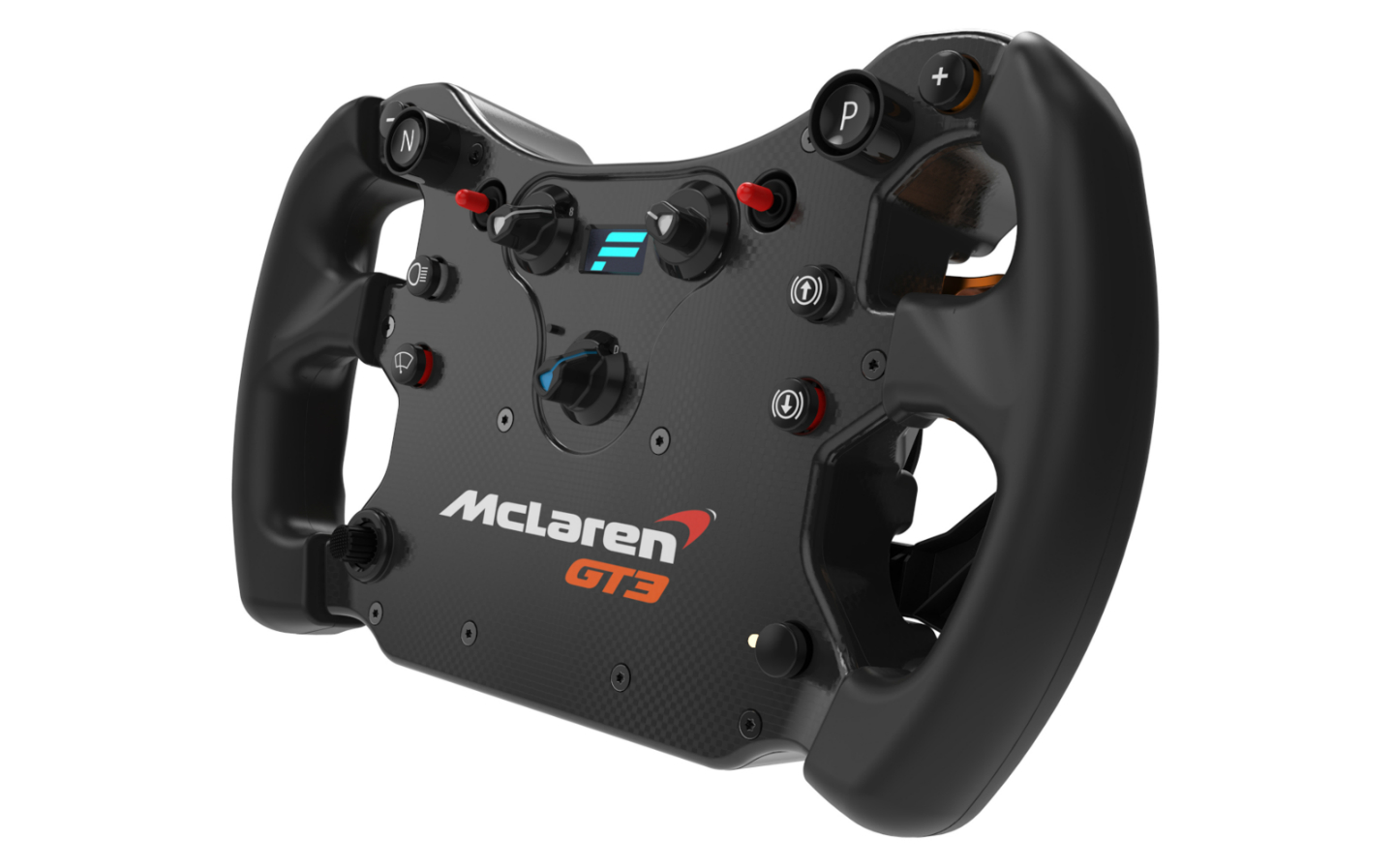 Fanatec's new McLaren GT3 rim is a special piece of kit, even by the premium peripheral maker's own high standards. As its name suggests, the wheel is a replica of the one used in the real McLaren 650S GT3 racer – complete with wheel-mounted clutch paddles you can use to make perfect starts off the line. Only for true e-racers.
Age 3+
Platform PC, XBox One and PS4, but only when used in combination with a compatible wheel base (sold separately)
Price Currently €229.95 (approx. £203)
Buy it at www.fanatec.com
F1 2018 Headline Edition game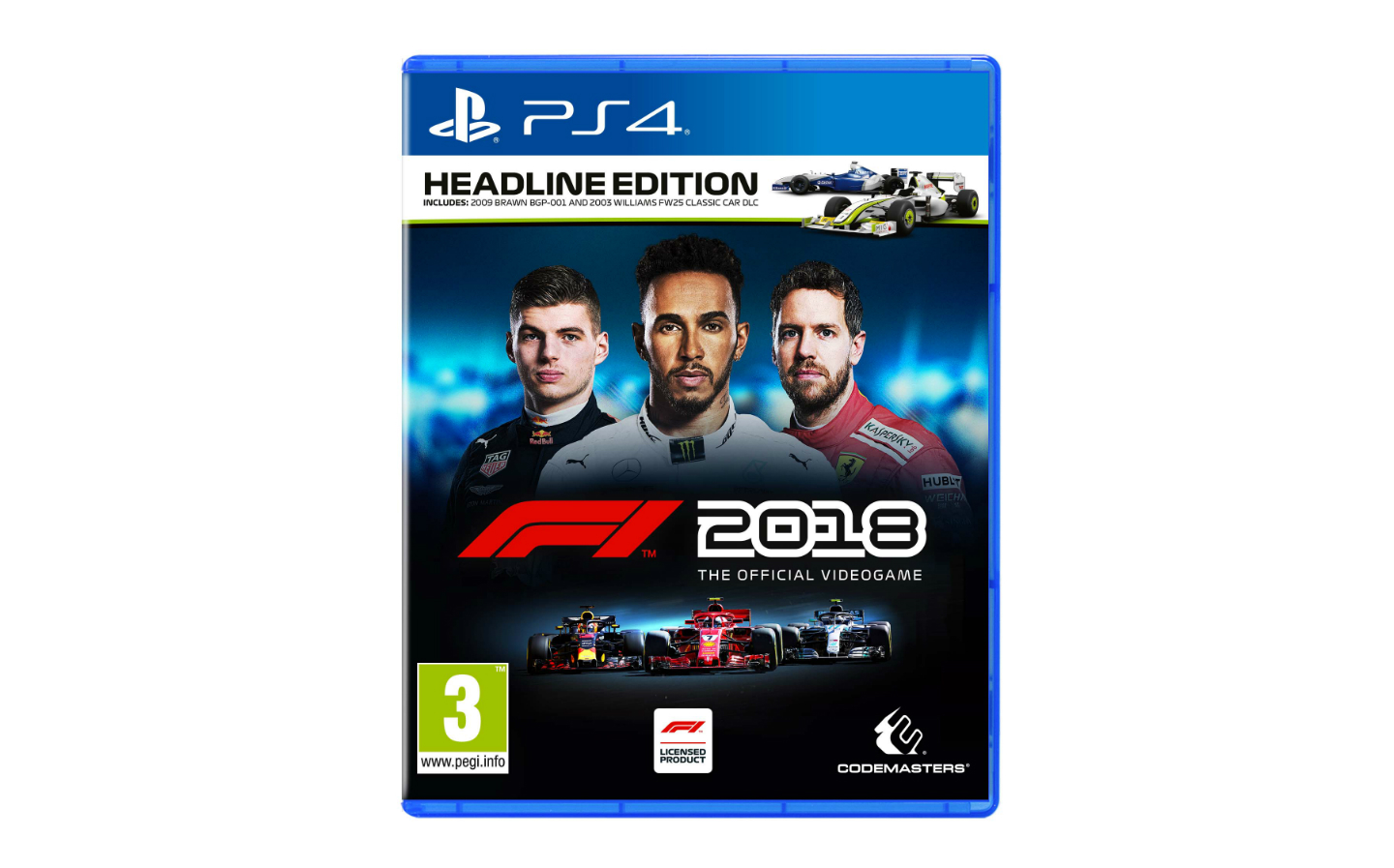 Very few drivers this year have managed to hold a candle to the now-five-time champ Lewis Hamilton, but you can have a crack at beating him to the title in the official F1 2018 game. Better still, there's more to the game than forging your own F1 career in the game: as well as featuring all the cars, tracks and drivers from this year's season, F1 2018 also features 18 historic cars from championships of yore.
Age 3+
Platform PC, XBox One and PS4
Price £22.98
Buy it at Amazon.co.uk
Forza Horizon 4 (Xbox One, PC)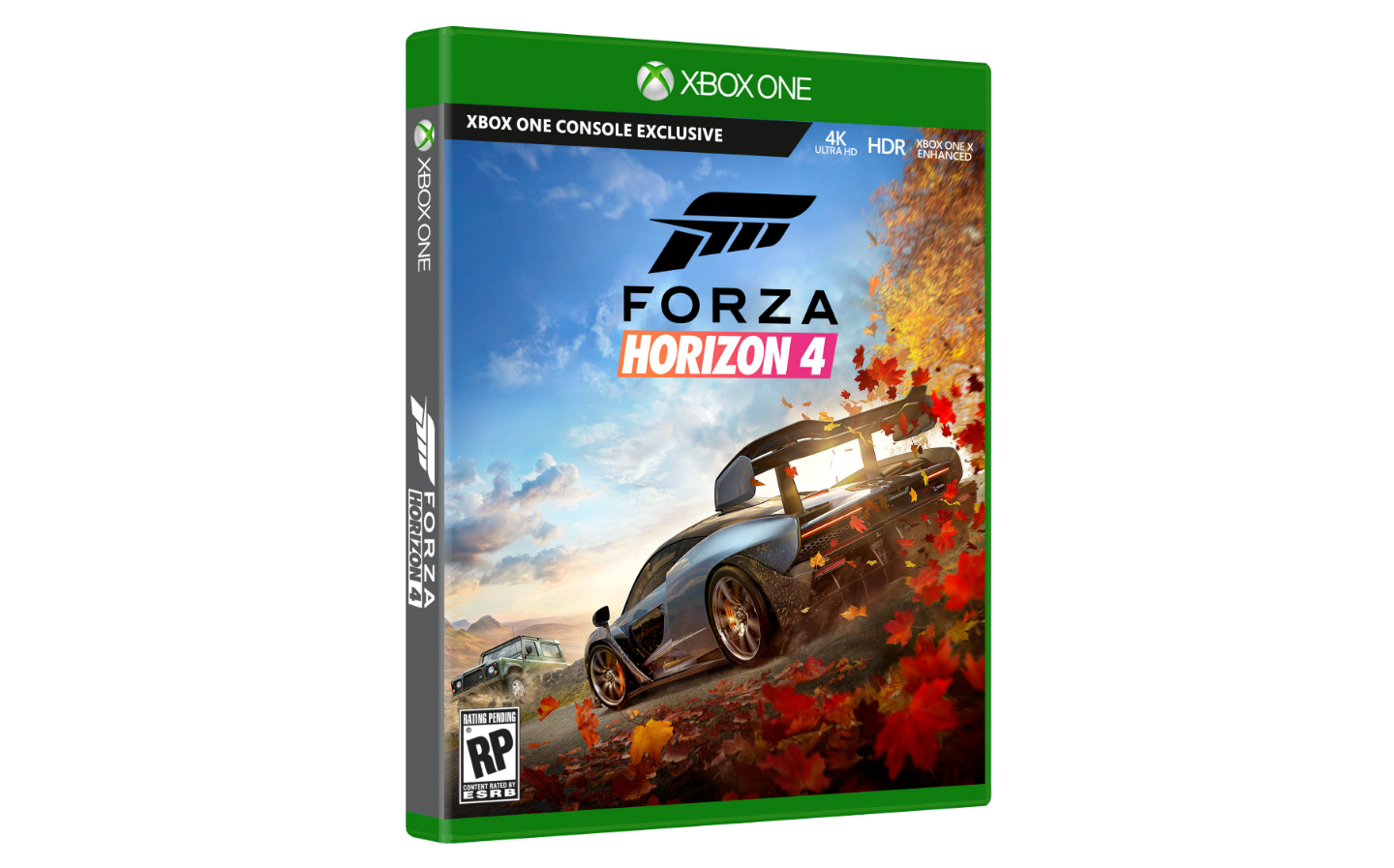 Patriotic racing game fans, rejoice: Forza Horizon 4 is here, and it's set in the rolling countryside of the United Kingdom. To perhaps prevent the weather in the game to be almost constantly set to 'rain', Forza Horizon 4 has a weekly changing seasons system, which sees the environment go through spring, summer, autumn and winter on a four-week schedule. Factor in the expansive career mode and the huge 450 car list, and you've got plenty to keep you occupied with in Forza Horizon 4.
Age 3+
Platform PC, XBox One
Price £39.96
Buy it at Amazon.co.uk
Assetto Corsa Competizione (PC)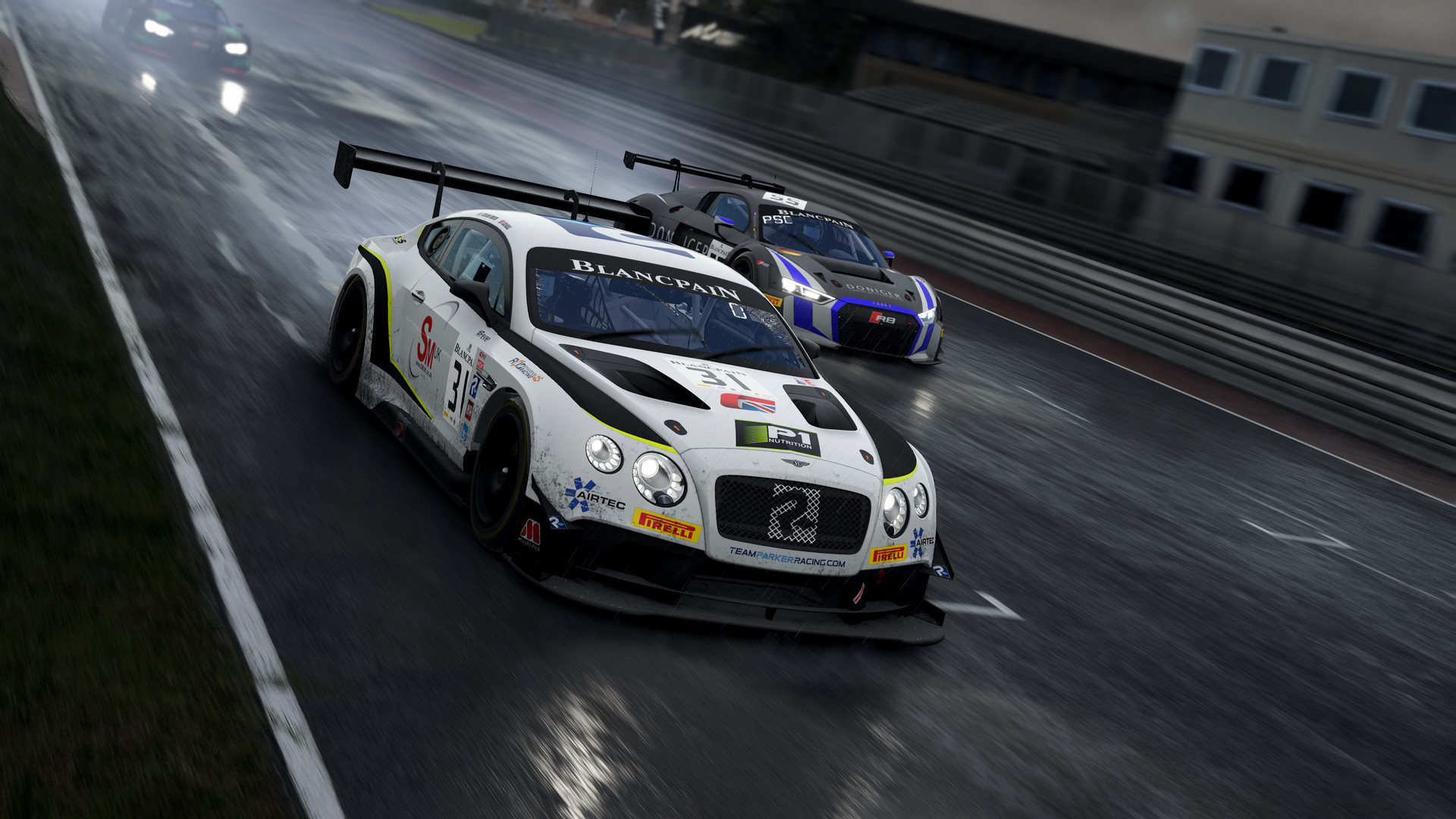 Though still in "early access", Assetto Corsa Competizione is shaping up as a superb racing game for hardcore sim fans. When the final version is finished next year, all of the cars, tracks and drivers from the 2018 Blancpain GT Series will be included, and tough endurance races up to six hours long will be in the game by Christmas. Assetto Corsa Competizione's multiplayer mode will use a player ranking system to pit players of similar skill and temperament against each other in online races.
Age Not yet rated
Platform PC only
Price £29.99
Buy it at Steam
PlayStation Classic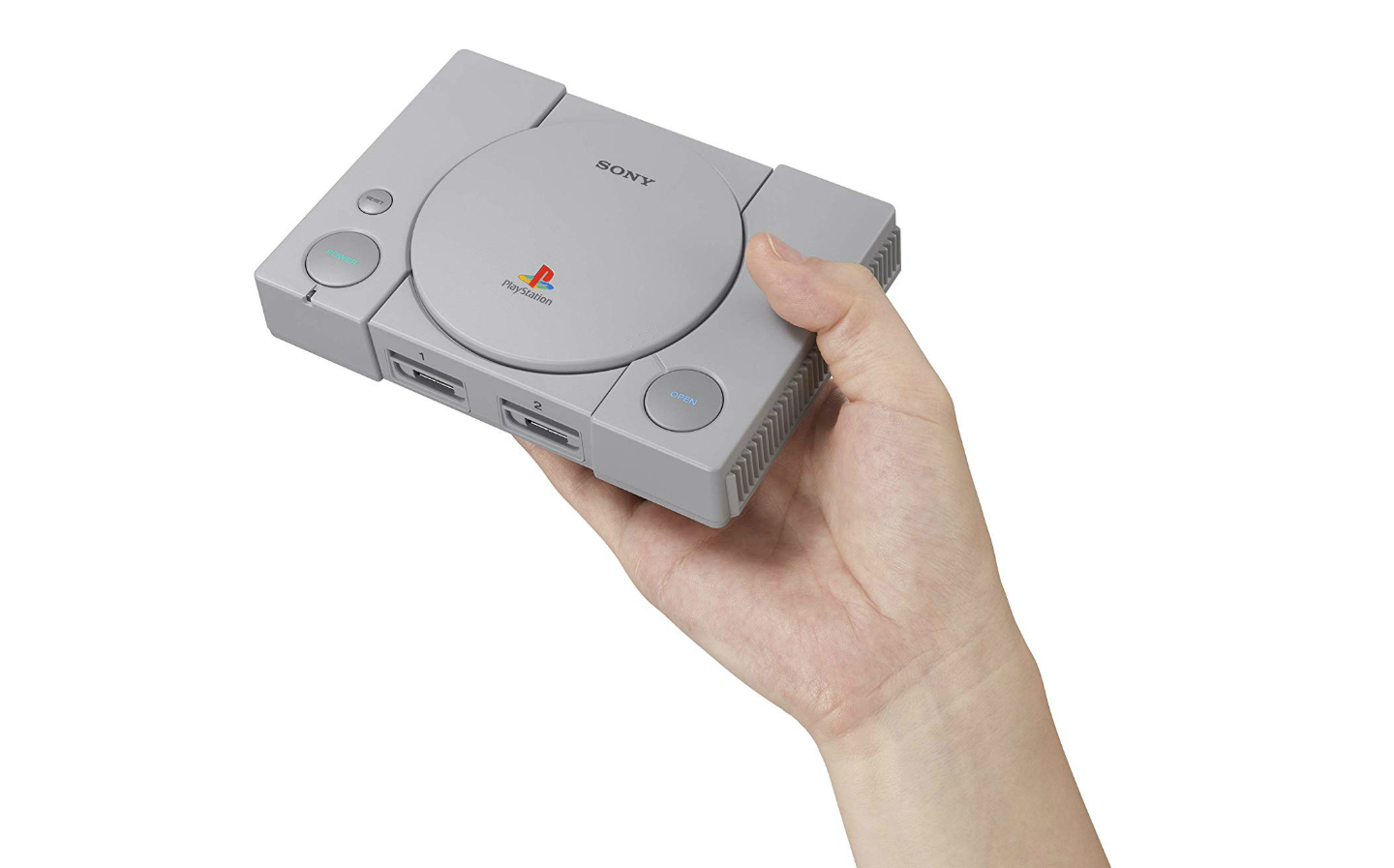 No, that's not a massive hand… it's a tiny console. Following in the footsteps of the C64, Nintendo Classic, Super Nintendo Classic, Mega Drive Classic, the PlayStation Classic is a mini version of Sony's ground-breaking games machine that wowed us in 1995. The pocket sized PS Classic comes with a pair of replica controllers and 20 of the best titles to grace the system. Sadly, there's no Gran Turismo in the list, but the inclusion of Destruction Derby, Twisted Metal and Ridge Racer Type 4 means retro driving game fans are well catered for.
Age 18+
Price £89.99
Buy it at Amazon.co.uk (pre-order ahead of release on December 3)
Nintendo Labo: Vehicle Kit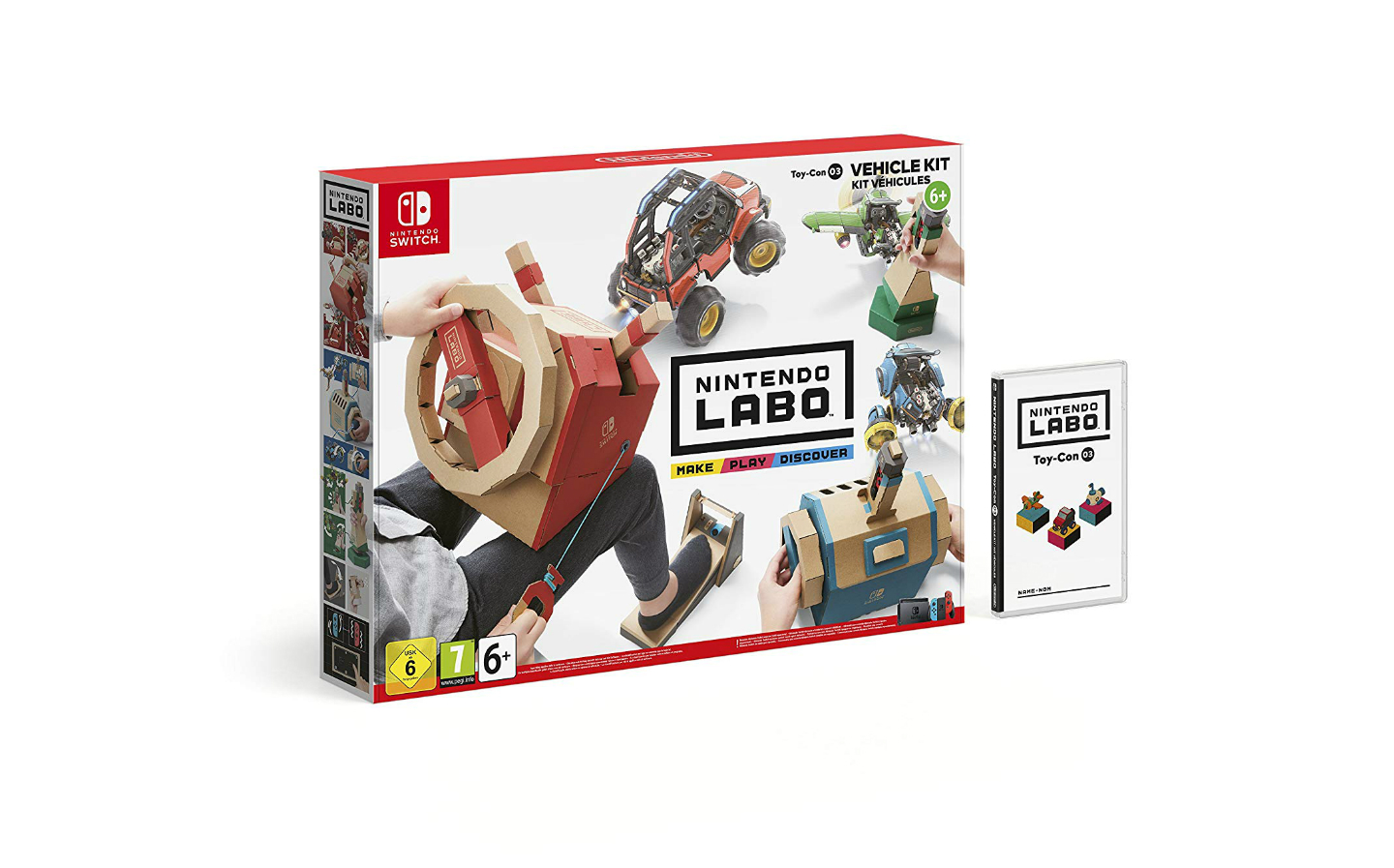 The Nintendo Switch now has a compatible racing wheel, courtesy of the Nintendo Labo Vehicle Kit. Designed as much as an educational tool as a gaming add-on, the construction kit lets players build a racing wheel using the provided cardboard set, and use the finished wheel and accelerator pedal to play Mario Kart 8 Deluxe (sold separately).  Instructions for other peripherals are included in the set too, such as submarine controls and an aeroplane joystick.
Age 7+
Platform Nintendo Switch
Price From £54.99
Buy it at Amazon.co.uk
---
Driving experiences
PalmerSport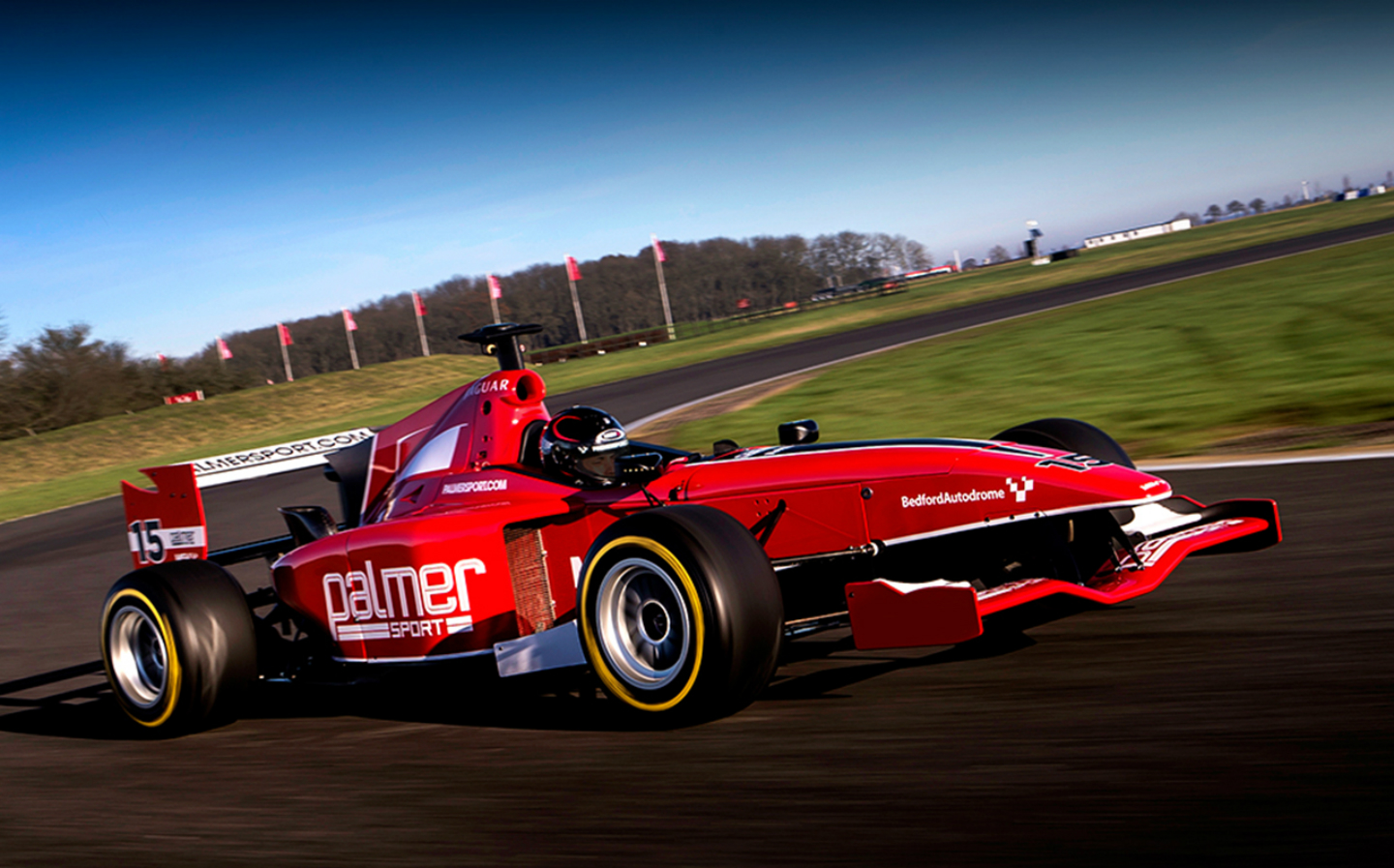 Ex-F1 driver Jonathan Palmer designed Bedford Autodrome with high speed cars in mind, so it's no surprise his world-famous PalmerSport driving experiences put you behind the wheel of incredibly exciting machines. Across the eight activities in the full day session, you'll try out an Ariel Atom, a Renault Clio Cup racer, a BMW M4 GTP, a Palmer-Jaguar sports prototype and a Formula 3000 single-seater, with prizes being awarded to whoever sets the fastest lap. The thrills aren't just out on track: there's also an off-road course to tackle in a Land Rover Defender.
Location Bedford Autodrome, Bedford
Price £1,032 for standard full day; £936 for off-peak full day; £594 for half day
Book it at palmersport.com
Goodwood 'Performance Track' Experience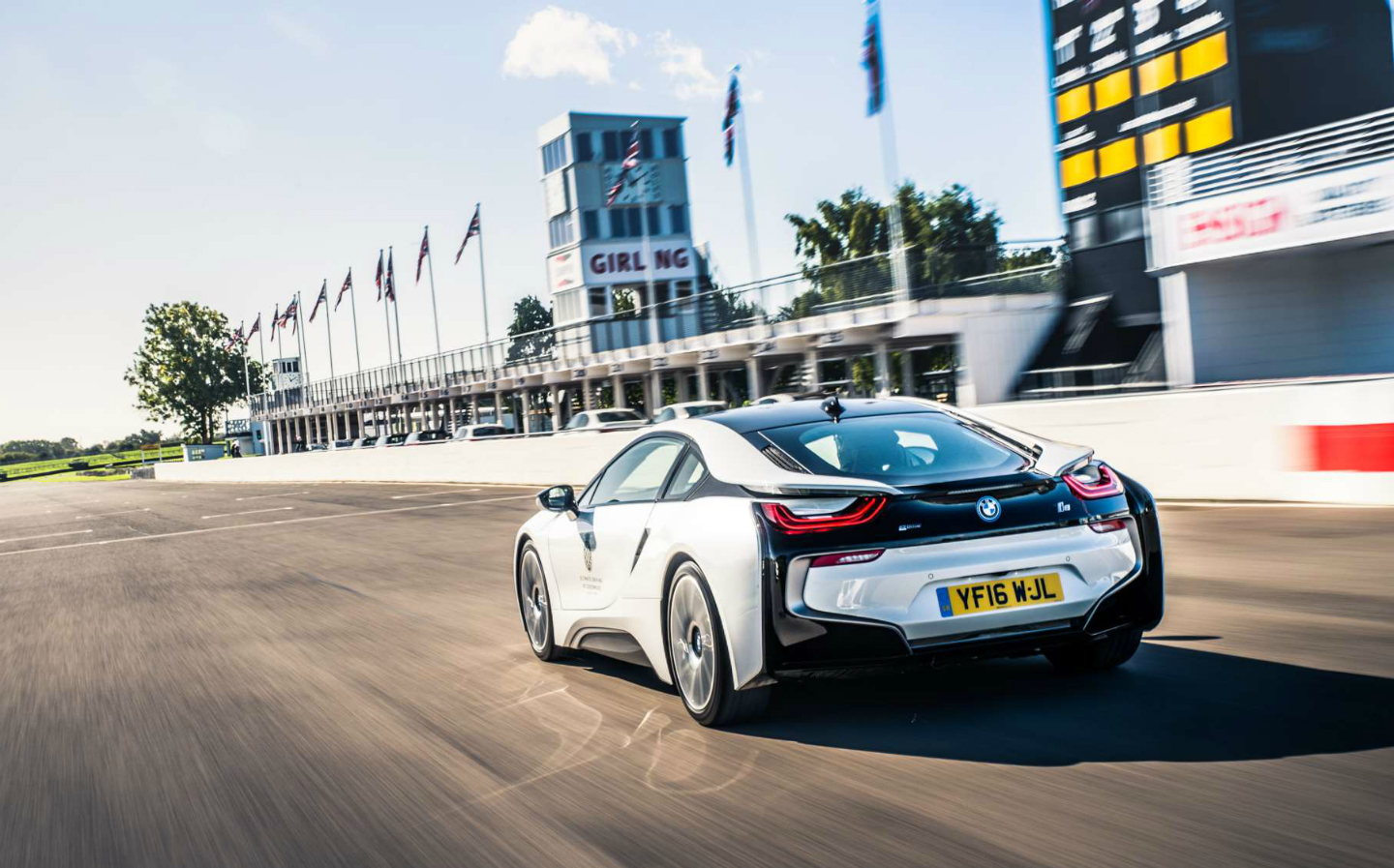 Do you know someone who's attended the Goodwood Revival and wondered what it's really like to drive around the circuit? Well, they can experience the sensationally fast, flowing track for themselves, courtesy of the 'Performance Track' driving experience. In three 15-minute sessions, customers are be guided around the challenging course by a professional instructor, in cars including a BMW M model, a Mini John Cooper Works hot hatch and a BMW i8 hybrid sports car.
Location Goodwood Motor Circuit, Chichester, UK
Price £349; approx. 45 mins of driving
Book it at goodwood.com
Land Rover Experience Drives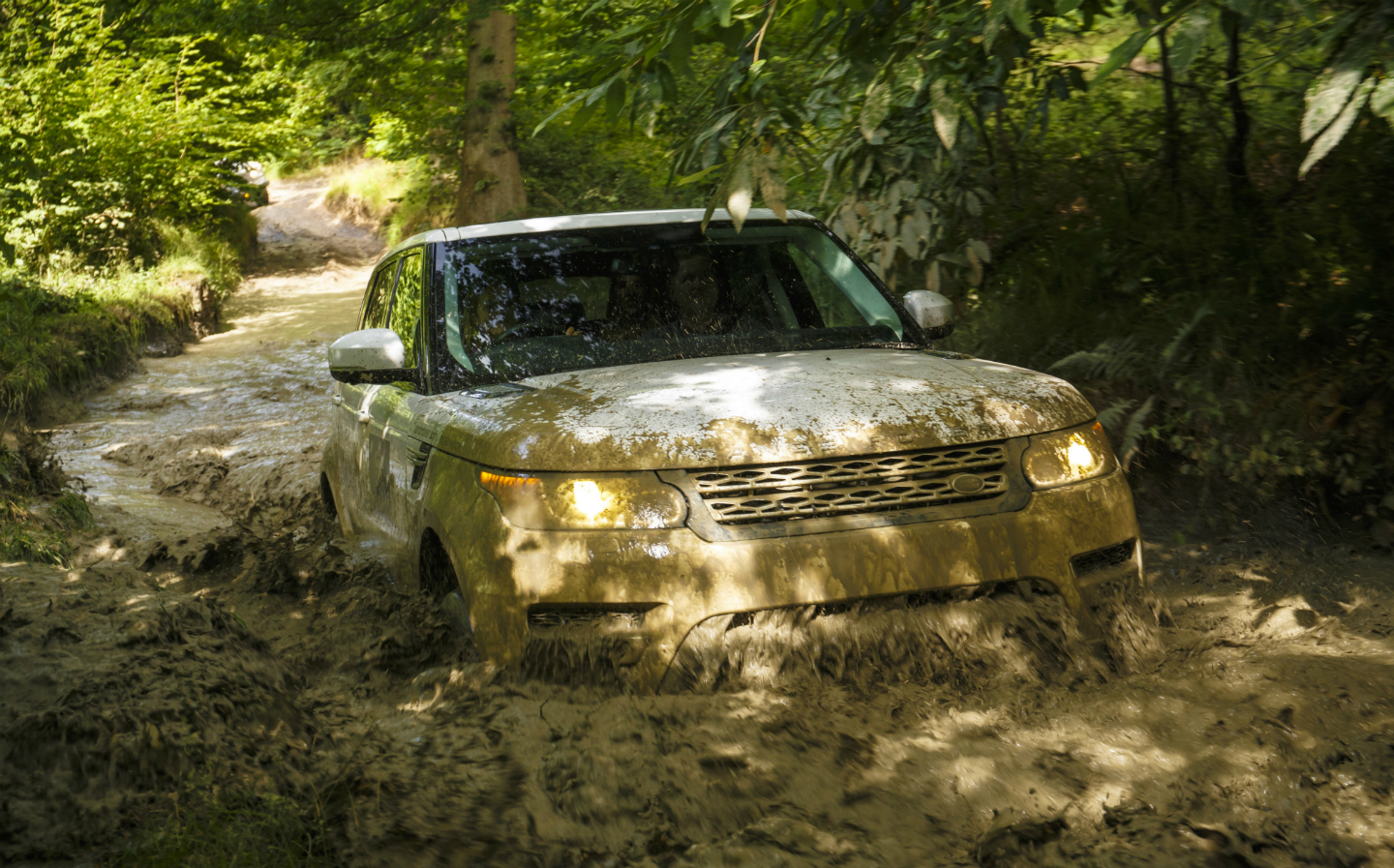 Those who want a full-on 4×4 experience will probably want to consider one of Land Rover's Experience Drives. Ranging from a one hour taster to a full day programme and an intense "advanced experience" course, the sessions involvebeing guided by an instructor up and down steep hills, through waterways and across muddy ground. Unlike the other driving sessions here, you aren't limited to one specific location either, as Land Rover Experience Drives are held at nine facilities ranging from east Devon to the Scottish Highlands.
Location One of nine experience centres nationwide (find your nearest one here)
Price £99 for one hour taster; £225 for half day; £325 for full day; £395 for "advanced experience"
Book it at landrover.co.uk
Mercedes-Benz World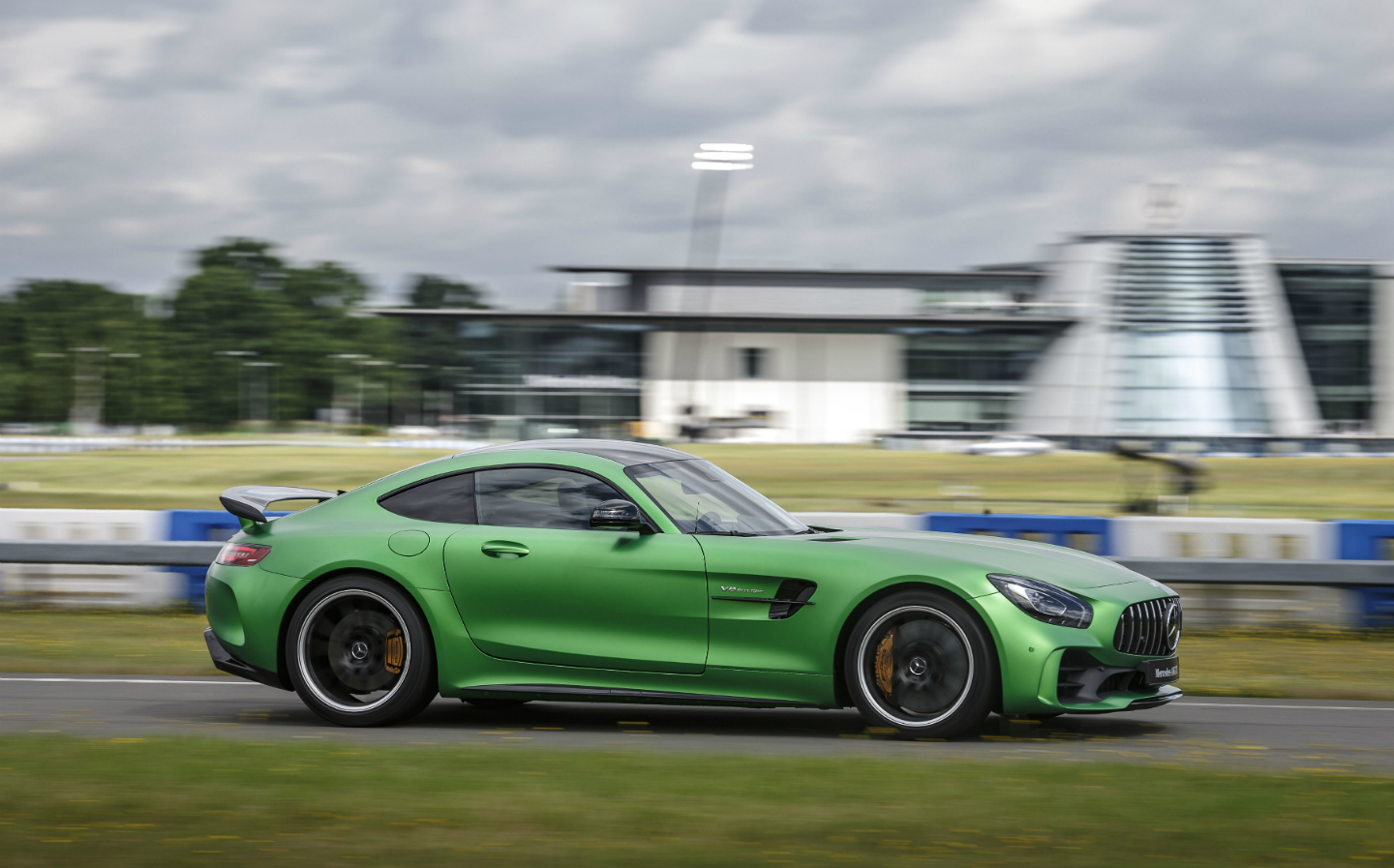 Nestled within the remains of the historic Brooklands banked circuit, Mercedes-Benz World offers driving experiences from 30 minutes to three hours in length. Petrolheads can book high speed passenger rides, put their car control skills to the test in sporty AMG models on the handling track and skid pan, or off-road on a 4×4 challenging course. Under 17s can even have a go in the HeadStart Experience. With the holiday season soon upon us, Mercedes-Benz World is also offering Black Friday and Christmas discounts.
Location Brooklands, Surrey
Price Under 17s from £50; off-road experience from £99*; Mercedes-AMG track experience from £169*(* is for Christmas offer discounts for purchases made before 31st December 2018)
Book it at world.mercedes-benz.co.uk
Porsche Experience Centre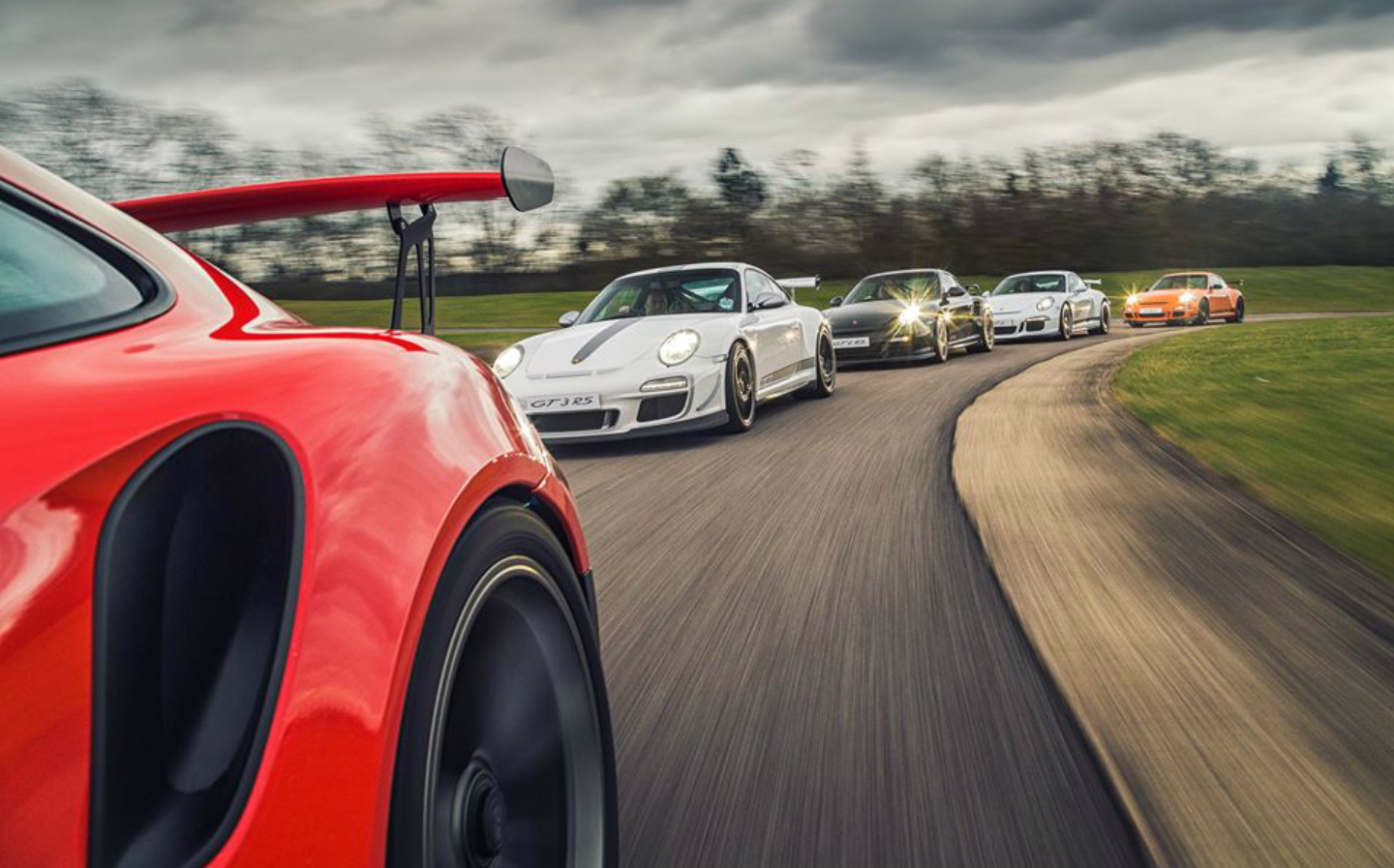 It's hard to beat the feeling of driving a Porsche flat-out around a track. Find out exactly what we're talking about at Silverstone, the home of British motor racing. Though customers won't be hammering down Hanger Straight or clipping apexes through Maggots and Becketts, they will have at least 90 minutes driving time around the excellent custom-built circuits within the Silverstone complex. Cars include the 718 Cayman and Boxster sports cars, Panamera sports GT, Macan or Cayenne SUVs or the legendary 911, with low-grip and high speed courses to try out. Go for the GT Experience, and you'll spend 150 minutes driving some of the more track-focused GT and RS Porsche models.
Location Silverstone Circuit, Northants
Price £295 for 90 mins driving experience; £995 for 150 mins GT Experience
Book it at porsche.com/silverstone/
Les Belles Echappées Citroën 2CV hire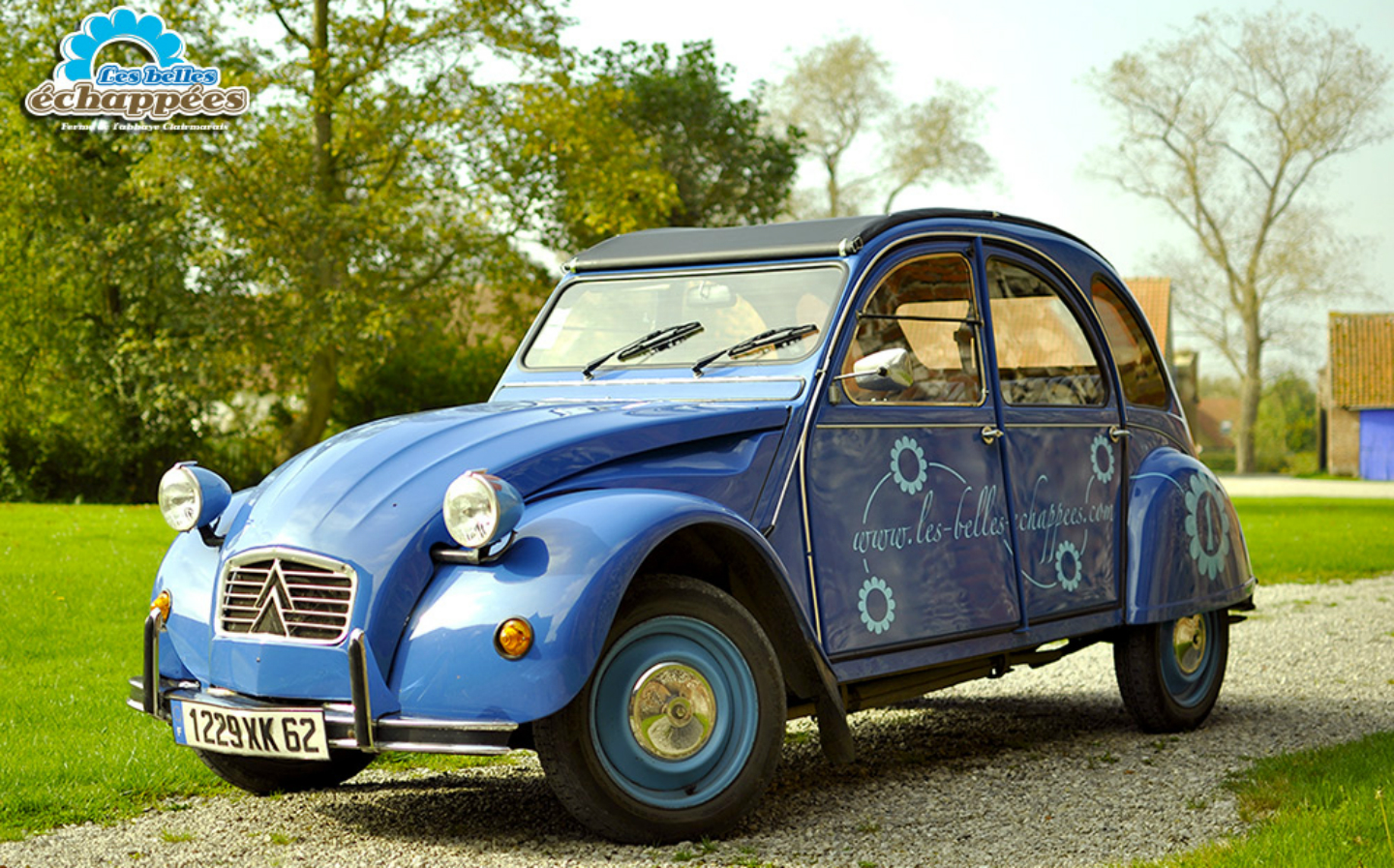 The Citroën 2CV is one of France's most famous motors, so the classic car is the quintessential vehicle in which to tour the French countryside. Whether you stick to the set route or find your own way, the 2CV's less-than-brisk pace means you'll have plenty of time to soak up the scenery, and you can even order a picnic hamper if you'd like to stop for a bite to eat during your "beautiful escape". If the Tin Snail isn't your thing, Les Belles Echappées also offers drives in Citroën Meharis, Volkswagen Combi vans and even a three-wheeled Piaggio Ape Calessino.
Location Clairmarais, France (approx. 24 miles from Calais)
Price  €90 (approx. £80) for half day; €159 (approx. £142) for full day; €259 (approx. £231) for two days
Book it at les-belles-echappees.com