News: Volvo unveils new XC90: the car for the connected family
Three months before it unveils its new XC90 SUV, the car maker has revealed the model's interior
THE VOLVO XC90 was the first SUV to be designed around the needs of the typical family. It introduced seating for seven and was designed with a focus on safety rather than how well it scaled mountain tracks.
It was an approach that helped it become one of the most enduring models from the Swedish car company; 12 years after it was launched the car remains popular with drivers. Now Volvo has released details of the cabin of an all-new model, which will go on sale at the end of the year. And this time around, Volvo's focus is on designing a car for the connected family.
The concept of seating seven passengers in comfort remains, but the level of technology is much more with the times. A tablet-style touchscreen forms the centrepiece of the new cabin and reflects the relentless march of technology over the past decade.
The tablet will integrate with an owner's iPhone or iPad, using Apple's new CarPlay system, and uses a combination of the touchscreen and Siri voice control to do away with the countless buttons that are scattered throughout the typical family car.
As well as the technology upgrade, the company has highlighted the luxury features of the new model. They include soft leather and wood coverings, a gear lever made of crystal glass, and diamond-cut controls for the start/stop button and volume control.
"These details are designed to become the jewels of the interior," said Robin Page, interior design director of Volvo Cars. "They add a bit of exclusive playfulness rather than pure functionality."
Volvo claims there is more cabin space than before, partly helped by the seven seats being thinner yet more comfortable "like classic Scandinavian chairs". The rearmost row of seats are no longer jump seats only suitable for a quick trip on the school run share – they are said to comfortably accommodate anyone up to 170cm tall.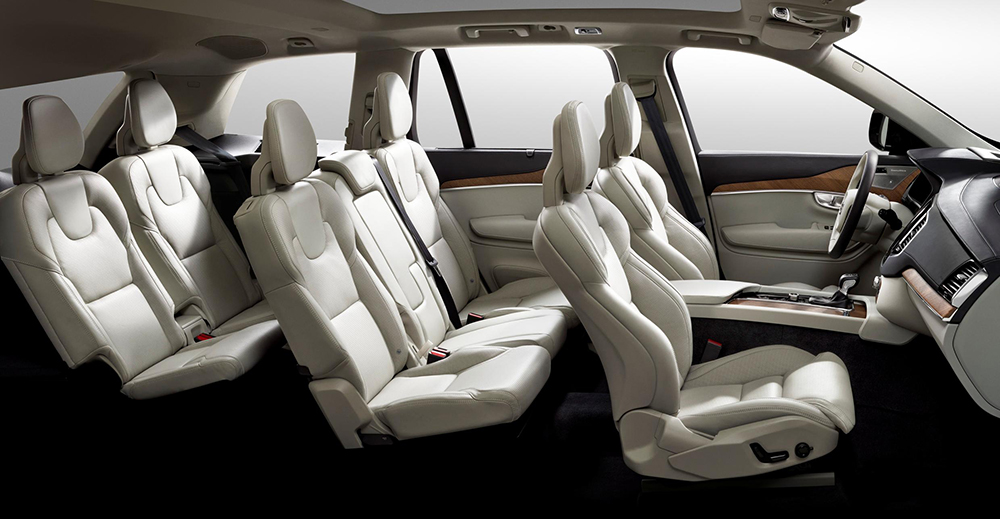 As Volvo works towards its aim of preventing any deaths in its new vehicles by 2020, it is introducing a radar-based system that can detect pedestrians and cyclists – even in the dark. If it anticipates a collision, it will automatically apply the brakes if the driver fails to do so. Another feature can monitor the edge of any road, without the need for road markings, and can autonomously steer the XC90 away from the edge if the cars wanders off path.
---
Search for and buy a used Volvo XC90 on driving.co.uk
---