New York show: BMW reveals Macan-baiting X4 coupé-SUV (video)
Proof that there's no such thing as a niche too far comes in the form of the BMW X4, writes Nick Rufford from the New York motor show.
PROOF THAT there's no such thing as a niche too far comes in the form of the BMW X4, writes Alistair Weaver from the New York motor show.
Based on the X3, it's a baby brother to the X6 and will do battle with the new Porsche Macan. It follows the formula of the larger X6, crafting a coupé-like roofline onto familiar SUV design cues, but succeeds in looking a lot less vulgar than the footballer's favourite. The interior is traditional BMW fayre.
It's 14mm longer than the X3, with which it shares its mechanicals, but sits 36mm lower to the ground. It should appeal to family types who want the high-set seating position of an SUV but aren't yet willing to give up their sporting pretensions.
There's a choice of three diesel engines, all of which are familiar to BMW watchers. The 190bhp 2.litre in the xDrive20d is likely to be the big seller. It has a six-speed manual gearbox as standard and achieves 52.3mpg. More power (258bhp) is offered by the xDrive30d which has an 8-speed automatic gearbox and combines 0-60mph in 5.8sec with 47.9mpg.
Topping the range is the xDrive35d M Sport which boasts 313bhp, hits 60mph from rest in just 5.2sec and returns 47.1mpg.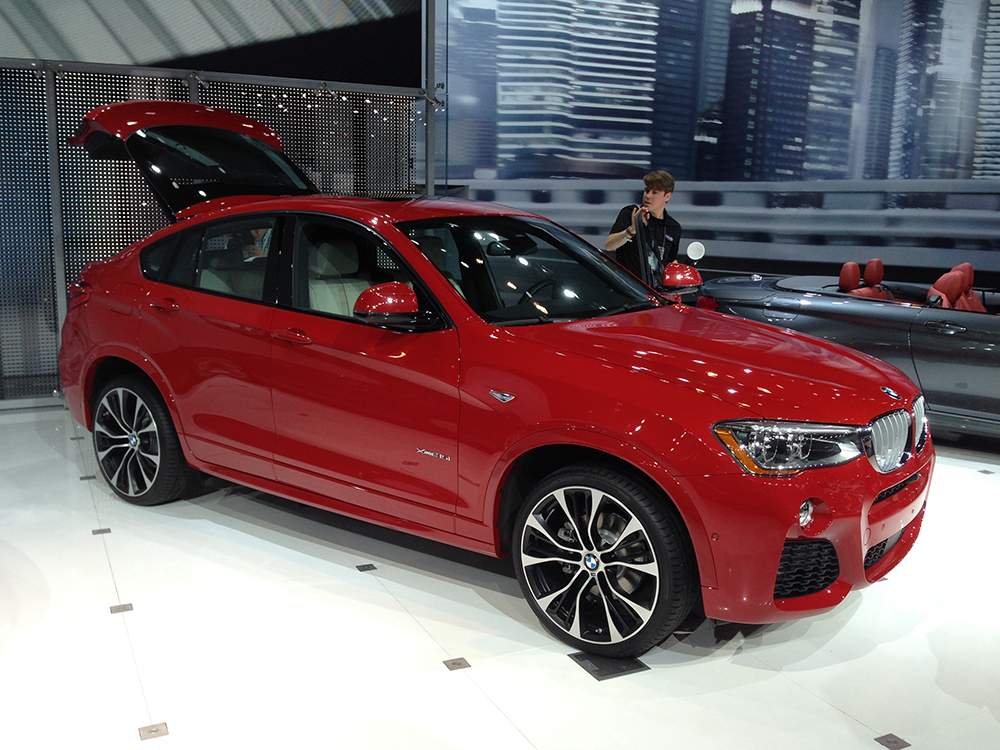 All-wheel drive is standard on every model. There's both a Performance Control system that directs power to the outer wheel during cornering to improve the X4's agility, while a Proactive Driving Assistant teaches you the most efficient driving techniques. It's BMW's new ying and yang.
Production of the X4 starts at BMW's plant in Spartanburg, South Carolina, this spring and cars reach UK showrooms in July. Model for model it's between £3,000 and £5,000 more expensive than the equivalent X3, with prices ranging from £36,590 to £48,990.